Fabric Monde is an E-procurement platform for Textiles that aims to connect small scale handloom and textile manufacturers to top brands and large urban markets.
What is Fabric Monde?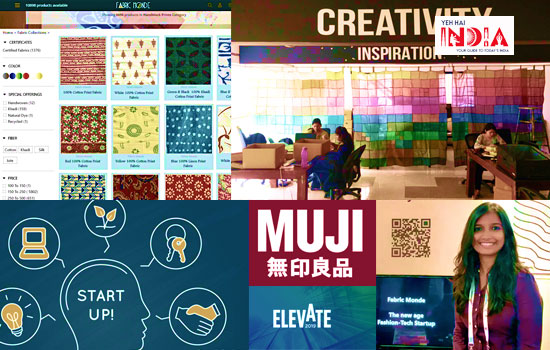 Fabric Monde was established in 2017 to connect small scale handloom and textile manufacturers to top brands and large urban markets.The company came into existence when the Co-founder & CEO Jyothi D, from IIM Lucknow, discovered that the space of homespun fabrics like khadi was only 2.5% from 2001-14 but had leapt to 35% in 2016-17.
Pursuing her dream of making the country the sourcing hub for sustainable textiles, budding entrepreneur Jyothirmayi Dakkumalla quit a high-paying job and set up a firm with an idea of catering to the demand and love of the urban markets towards indigenous handloom products.
Hailing from a middle-class family in Andhra Pradesh, she joined a top IT major as junior executive soon after getting a degree in electrical and electronics engineering. However, her desire to achieve more in life made her quit and pursue a postgraduate degree in MBA at IIM-Lucknow.
Recommended Story – Phulkari Artwork from Punjab- Wearing Rainbows
What went Wrong – Initially….
After studying the sector and working on several pilots in their business model, the co-founders, Jyothi and Hemalatha, believed they could build an enterprise based on sustainability that has now taken the world by storm. They spent about a year, failed in six business models and finally pivoted to the current business model which has been stable for a year in operation right now.
Their participation at the Bengaluru Tech Summit-a flagship event of the ITBT&ST department of the government of Karnataka, gave them a platform to interact with many other start-ups, trade bodies, mentors and venture capitalists, and helped them to revisit several business models.
What went Right!
Their homework involved travelling to clusters, organising 50+ popup stores, meeting hundreds of customers in the beginning. In the process, they met many experts like creative directors of companies like Amazon and Arvind, entrepreneurs, investors, mentors and channel partners who eventually collaborated to make Fabric Monde what it is today.
Who made it happen?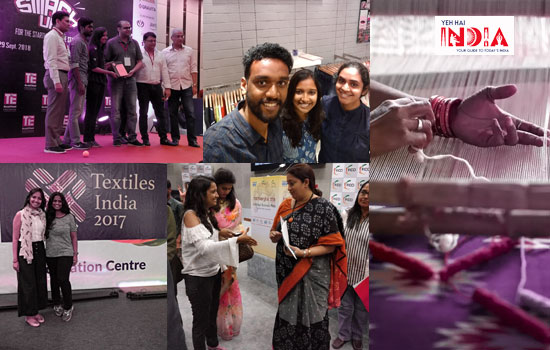 The team of Fabric Monde comprises graduates from IIT, IIM and National Institute of Fashion Technology (NIFT). The energetic team of 16 members, whose average age is below 25, is working on building a business that focusses on solving one of India's toughest challenges- making India the world's sourcing hub for sustainable textiles
Jyothirmayi D, has been nominated for the 'Top 60 women transforming India Awards' by Niti Aayog. Fabric Monde works with weaver cooperatives that produce handloom products across India and connects them to large brands and urban markets.
How do they do it?
The company's platform works with weaver cooperatives who produce handloom products such as jamdhani, natural dyed, khadi, organic and silk fabrics and connects them to large brands and urban markets.
The technology by Fabric Monde uses a two-fold approach.
An app is used by weavers to upload their swatches and then the use of 3D technology allows top brands to view the material in real time.
Weavers upload their swatches which buyers can see before ordering. Through Fabric Monde's app, suppliers can manage their inventory and access credit.
Some of Fabric Monde's clients include Japanese retailer Muji, The Raymond Group, and True Blue, the clothing venture between cricketer Sachin Tendulkar and Arvind Fashions Brands.
Recommended Story – Thangka Painting from Ladakh – The meditational Buddhist Artform
Fabric Monde is growing…. and how!
Over the span of one-and-a-half-years, Fabric Monde has added 5000+ SKUs (Stock Keeping Unit) and their portfolio is growing at a rate of 50% month on month while 4,800 weaver organisations have been on-boarded onto their platform so far.
Fabric Monde's revenue as of the year 2020 is $4 million and have a global transaction of 2000+ verified B2B visitors on the platform
Fabric Monde has been among the:
1 in 100 start-ups to get selected for incubation at IIM Bangalore in 2016
Top 400 start-ups out of 15000+ applicants in the Women Startup Program (WSP) at IIM Bangalore
Has been recognized by Forbes and has taken a place in the Forbes Under 30.
Top 50 start-ups in India recognized by Department of Science and Technology at IIM Calcutta in a competition called SMART 50
Top 10 in Social Venture Challenge conducted by Tata Institute of Social Sciences national competition
AND A LOT MORE!
What's to come?
Fabric Monde offers 13000+ exclusive fabrics from over 4000 suppliers spread across 20+ states in India…. and works with 450 small and medium handloom and textile manufacturers. Those are BIG numbers – so you know they can be trusted!
The team of Fabric Monde in future is looking to expand to 500 weaver units from the existing 180 whom they are dealing with as it helps them to increase their product portfolio and also support many more weaver units and the art forms.
They intend to increase their top line of 25 crores in one year by selling to 200+ global and domestic brands…..
A brand with big goals always needs help! Do your bit, check out Fabric Monde here- https://fabricmonde.com/
Also Read – Karomi: The Handloom Tree