India's deep cultural roots are its identity and remaining connected to these roots embedded in our identity.
It is essential for our existence because this is where the special herbal drink called "KADHA" comes from.
This pandemic has led to a significant rise in the consumption of Ayurvedic solutions as herbal immunity boosters marking the return of the health boosting kadhas.
These homemade drinks are easy to make, effective, and are suggested by several traditional medical practitioners.
We have realised that health is wealth making it essential to maintain a holistic lifestyle and follow a nutritious diet.
The pandemic has taught us to respect and understand our health and immune system.
Daily consumption of these Kadhas is recommended by the Indian Ministry of Ayurveda, Yoga, and Naturopathy, Unani, Siddha, and Homeopathy (AYUSH) in this pandemic situation.
Recommended Story – Health Benefits of Ayurvedic Natural Foods: Ginger
What is a 'Kadha?'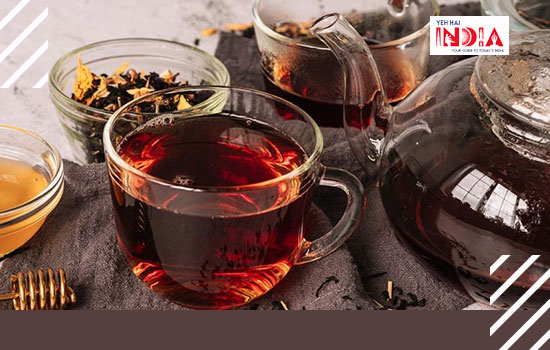 A 'Kadha' is made with dry ingredients with very valuable nutritious value that cannot be juiced; hence, these are boiled to extract the nutrients within.
Benefits of Kadha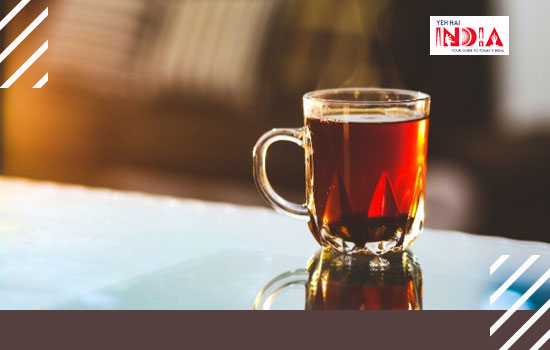 Kadha is made up of all nutritious ingredients that are rich in antioxidants, minerals, and vitamins. It has the following benefits:
The antioxidants and vitamins in them are helpful in enhancing your immune system by reducing internal infections and destroying free radicals and protecting against chronic diseases.
It is an excellent detoxification drink and keeps your body clean and healthy.
It is great for cold and cough and works well in relieving your respiratory symptoms and reduces symptoms of asthma.
A cup of it after meals can be helpful for the digestive system and to improve metabolism and helps avoid complaints like nausea, indigestion, vomiting, etc.
These drinks help in burning fat and weight loss and also make your skin look healthier by slowing down the aging.
Kadha is a great tonic for joint and muscle pain and helps in balancing blood pressure as well.
Easy to Make Kadhas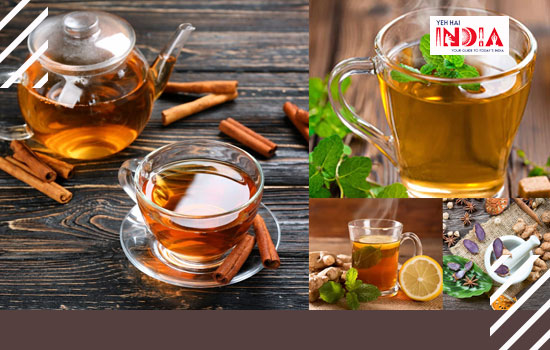 Following are few easy to make Kadhas with easily available ingredients –
Mixed Kadha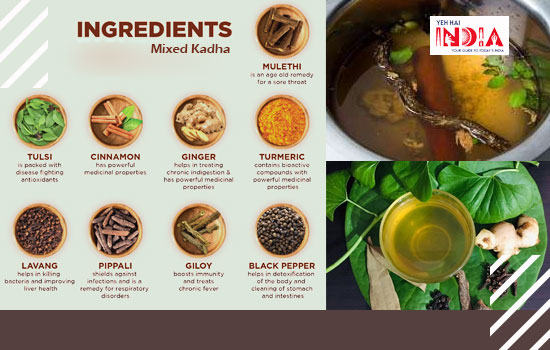 Take thick cardamom, cardamom, turmeric, cloves, black peppercorns, tulsi, ginger, munakka, and honey/jaggery.
Crush cardamom, turmeric, ginger, and cloves using a mortar and pestle.
Add it to water along with other ingredients and boil for around 20 minutes. You can add more honey or jaggery accordingly.
While cinnamon is loaded with anti-inflammatory properties and antioxidants, cardamom helps relieve sour throat and keeps the body cool.
You can store it in a thermos to keep it warm and keep consuming it throughout the day.
Recommended Story – COVID-19: Immunity boosting products by famous Indian FMCG Brands
Giloy Kadha
For this kadha, take small branches of giloy or giloy powder, basil leaves, neem leaves, cloves, whole peppercorns, and ginger.
If you have giloy stick, peel them and crush them, along with the leaves and cloves.
Make a smooth paste of this by boiling it in water and after you get a proper paste, add the required amount of water and let it boil till it is half
Strain and consume.
Giloy has been considered as one of the most efficient homemade drinks to fight infections and is widely known to boost immunity and fight free radicals.
It contains various anti-inflammatory properties and also helps control the blood sugar levels.
Dashamoola Kadha
Take 1-2 spoons of dashmoola powder and add it to water.
Boil until it is reduced to half.
Filter it and consume it twice a day.
Dashamoola is an ancient formula made up of ten herbs famously used in Ayurveda, which are – Agnimatha, Bilwa, Bruhati, Gokshura, Kantakari, Patala, Prushniparni, Shaliparni, and Shyonaka.
It improves overall health and well-being and prevention of respiratory ailments. It reduces migraine pain, treats fever, eases digestion, and relieves swelling and pain.
The powder is available online and even in pharmacy stores.
Ginger Kadha
To prepare this Kadha, boil one cup of water and add peeled and grated ginger to it.
Cover and steep it for 5 minutes.
Next add one tsp of apple cider vinegar, 1 tsp raw honey, and a pinch of black pepper.
Mix all properly and drink when warm.
Ginger is a staple in all Indian kitchens and has got powerful medicinal properties.
It can treat many forms of nausea, help with weight loss, balance blood sugar and protect heart from diseases.
Apple cider vinegar is helpful for weight loss, reducing cholesterol, lowering blood sugar levels, and improving diabetes symptoms.
Dalchini Kadha
Take half a teaspoon of cinnamon powder and add it to a cup of water.
Add to boil for some time.
Add one teaspoon of honey and one teaspoon of lemon juice and store it in a bottle.
Dalchini, also known as cinnamon, contains various medicinal properties, loaded with a variety of antioxidants and several anti-inflammatory properties.
It also helps maintain blood pressure and fight infections.
Tulsi Kadha
Take 5-6 tulsi leaves, 1 black or 2 green cardamoms, half cup sliced raw turmeric, 1 tbsp black peppercorns, and 1 tbsp munakka.
Crush the raw ginger and turmeric in a mortar and pestle, mix everything, and add water.
Boil till it gets half.
Add jaggery or honey for sweetness, strain the mixture, and it is ready.
This is an immunity boosting kadha that helps in getting rid of cold and cough, and keeps the lungs healthy.
Always remember – a spoonful of honey or a cube of jaggery can always make your healthy Kadha tastier.
Also Read – Best 5 Super-Easy Homemade Drinks to Boost Your Immunity