One of India's most enduring artistic traditions is its myriad forms of embroidery.
Embroidery, the art "painting with needle", is the skill of decorating a cloth with needle work. It is the artistic use of needle and thread to create appealing designs.
ASSORTED VARIETIES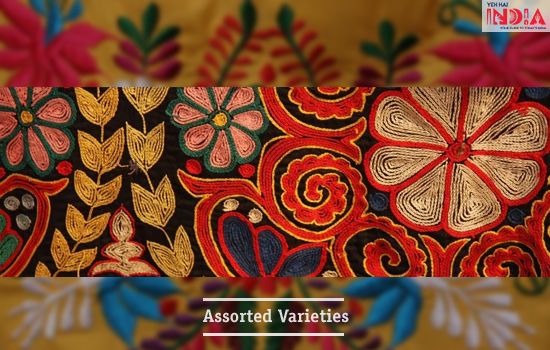 In Embroidery there is a fundamental similarity not only in the craftsmanship of stitch, but also in the choice of designs and the colours used.
Each region naturally has worked out its own modes, influenced by particular environmental conditions, customs and history.
However, all through there is a similarity in the use of the basic stitches like the satin, stem, chain, darning, running and herring-bone, which have been used in a multitude of ways with varying inspiration to give each object embroidered a characteristic beauty of its own.
HISTORICAL BACKGROUND
Few specimens of Indian embroidery before the Mughal period now survive. Bronze needles, used for embroidery, have been found at Mohenjodaro, 2500 B.C.- 1500 B.C.
Depiction on a stone sculpture of a bearded priest wearing a trefoil-patterned shawl found from Mohenjodaro is an important piece of evidence.
For the early mediaeval period we have the evidence of costumes in the Ajanta cave-paintings. These include scarves, veils, waist-cloths, and various types of tunic and jacket.
EVOLUTION OF EMBROIDERY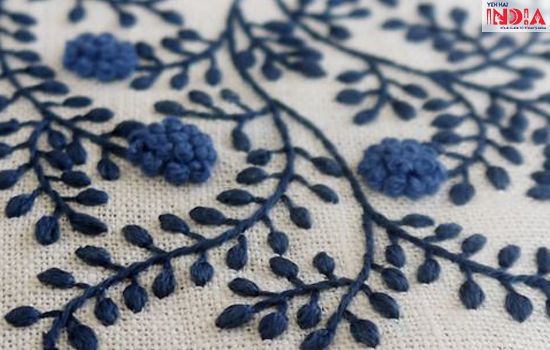 Persian and Mughal influences are also quietly commonly visible on the Indian embellishments, as many of these travelled to India with the numerous foreign invasions and empires. Today, there are several different styles and techniques of embroidery that are practised in India – some newer techniques developed over the years, many evolved from the ancient arts.
Recommended Story – Tie & Dye Techniques in India- Bandhani, Ikat & Lehariya
TRADITIONAL MOMENTOUSNESS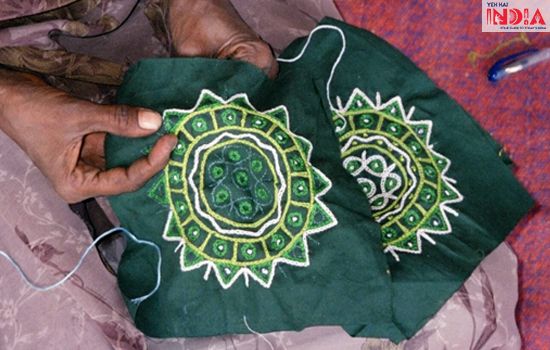 The fabrics are threaded with stories of the community, with motifs emerging from its natural surroundings, economic state and sociopolitical milieu which relate to cultural values and community experiences.
An embroidery tradition identifying a specific community is believed to exist in a form of artistic technique which is passed down within a group or society with symbolic meanings.
INTERNATIONAL RECOGNITION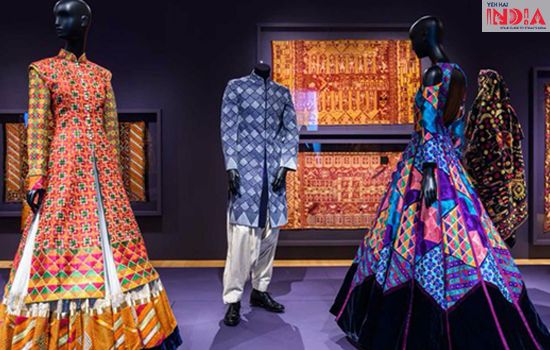 These techniques have swoon not only the national population but the international audience as well.
Belgian designer Dries van Noten has worked with embroiderers in Kolkata for decades, and Mumbai is a trade hub for a number of luxury brands seeking Indian embroidery.
Labels like Gucci, Valentino, Alberta Ferretti, Maison Margiela, Christian Dior, Roberto Cavalli, Salvatore Ferragamo, Versace and Michael Kors have collaborated with various Mumbai-based firms.
14 EXQUISITE EMBROIDERIES OF INDIA
1) PHULKARI
ORIGIN
Phulkari dates back to the 15th century and is the most famous traditional form of hand embroidery style in India practised by the women of Punjab in their homes.
A mandatory trousseau item for the community's women, the craft even found mention in Waris Shah's 18th century poem Heer Ranjha.
DESIGN SPECIALITY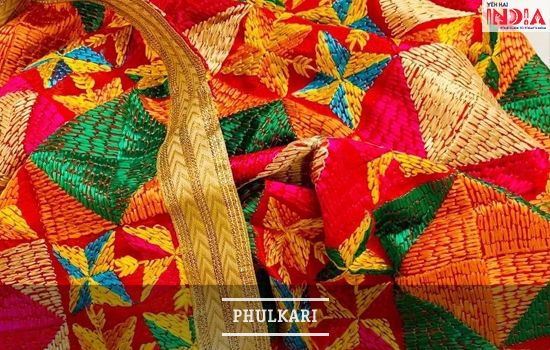 The word Phulkari originates from two Sanskrit words, "phul" meaning flower and "kari" meaning work. Phulkari literally means 'a garden of flower works' and is mainly done on hand-spun khadi cloth that is dyed in red, yellow, blue, green and darker shades, using bright coloured threads, but is now done on all types of fabric including georgettes, chiffons, cottons and synthetic fabrics.
The colours of the thread are red, green, golden yellow, orange, blue, white etc.
CREATION
The designs depict colourful motifs embroidered using a long-and-short darn stitch, which is done from the reverse side of the fabric and creates a beautiful effect on the fabric by changing the direction of the stitches.
Vibrant floss silk (loosely twisted spun silk thread) is also incorporated to create a lustrous effect.
VARIANTS
Phulkari, like most other types of hand-embroidery, has three main variants – Bagh, Chobe and Shashidar.
Bagh is the most commonly used form which involves an all-over pattern of geometric flowers. Baghs were given to a bride as a gift.
In Chobe, only the border of the fabric is embroidered, while the rest of it is kept plain.
Shashidar phulkari involves working tiny mirrors into the embroidery.
2) KASHIDA
ORIGIN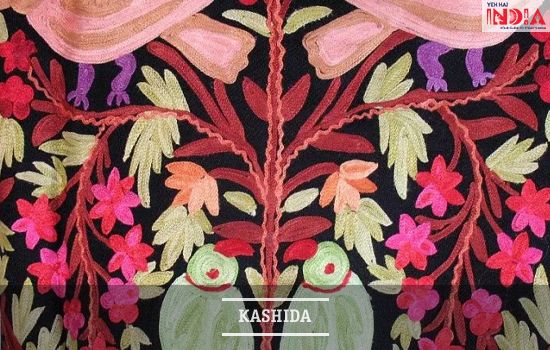 Kashida is an embroidery style of Kashmir that is practiced by men folk of the region. In the 15th century the Sultan Zain-Ul-Abidin (1420-70 AD) became a patron to the art of Kashidakari.
Under his royal patronage, weavers were brought from Turkestan and Persia, to introduce different styles of weaving techniques that are still currently used in shawl manufacturing.
CREATION
The base material for Kashida is wool, Cotswold or silk-wool using the colour which are usually white, off-white or cream, but now a days variety of colours are used like blue, yellow, purple, red, green, maroon, rani pink and black.
Wool, silk, and cotton embroidery threads are incorporated to execute the work.
The main stitches employed for Kashida are darning stitch, chain stitch,stem stitch, and satin stitch.
DESIGN SPECIALITY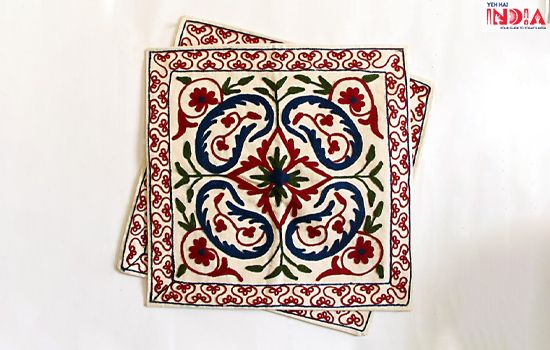 The intricate needlework is inspired from the charming natural surroundings of Kashmir.
Birds like magpie, kingfisher; butterflies; flowers like lotus, blossoms, creepers, chinar leaves, maple leaves; fruits and vegetables like gobi, mangoes, almonds, cherries, grapes and trees are the most common themes of motifs.
VARIANTS
There are three styles of embroidery followed in Kashmir: Sozni is intricate embroidery that uses stitches like fly stitch, stem stitch and darning stitch.
The aari style, also called Zalakdozi, (hook or aari) which fills-in motifs with chain stitch.
PRODUCT VARIATIONS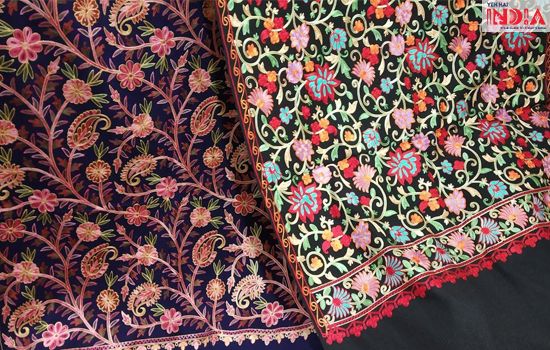 Kashmiri embroidery is primarily done on shawls and regional garments like Phiran (woollen kurtas), Gabba (woolen floor rugs) and Namdaah (woollen rugs) as well as stoles.
Nowadays, Kashida is also used to decorate household items like bed covers, cushion covers, lampshades, bags and other accessories.
3) KASUTI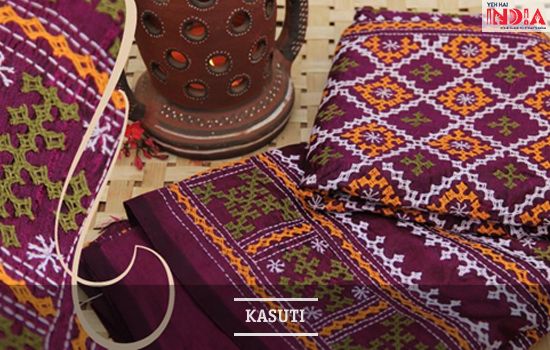 The purely feminine embroidery, known as Kasuti gets its name from that town in Karnataka State.
The name Kasuti (Kannada) is derived from the words Kai (means hand) and Suti (means cotton), indicating an activity that is done by hand on cotton.
Originally hailing from the Chalukyan period, it was practised by the woman courtiers in Mysore.
It has been a main occupation and source of income for many rural women from that region.
VARIANTS
It involves four kinds of stitches (menthi, gavanti, negi and murgi).
'Menthi' is a cross stitch resembling fenugreek seed.
'Gavanti' is a double running stitch used for creating vertical, horizontal or diagonal lines.
'Negi' is a simple running stitch that produces a weave-like effect and 'Murgi' is a zigzag stitch.
DESIGN SPECIALITY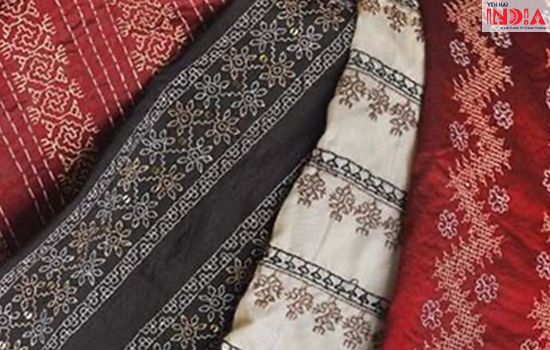 The motifs are inspired by everyday Kasuti objects, religion, architecture, flora and fauna, and culture of this region.
Resorting a combination of horizontal, vertical and diagonal stitches, with a lot of patience, skill and intricacy, an embroidery with a resembling design on both sides of fabric is crafted.
In ancient times, this embroidery was done on hand-woven dark colour cloth usually black, maroon, and brown with cotton threads in different colours like red, orange, purple, green, yellow and blue.
PRODUCT VARIATIONS
Traditionally, the embroidery was done on Ilkal sari's border and other apparel items like women's blouses and accessories like handbags, mobile pouches, belts etc.
Presently Kasuti embroidery is also done on home products like cushion covers, bedcovers, curtains etc.
4) CHIKANKARI
ORIGIN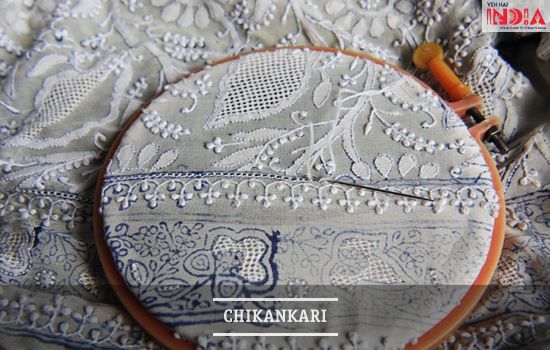 Chikankari embroidery, known as Shadow work by using herringbone stitch from the wrong side of the fabric, creates a shadow on the right side and at the same imparts an outline to the motif.
Chikankari is the practice of stitching white untwisted yarn on fine fabrics like muslin, cotton or voile.
It is an integral part of the life and culture of Lucknow "Nawabo ka sheher" and in the international apparel market the demand of chikankari embroidered garments have seen a steep rise.
Some people believe the work originated in East Bengal, while others have recorded that in the 17th century the Mughal Emperor Jehangir's wife, Noor Jahan, introduced this Persian art.
CREATION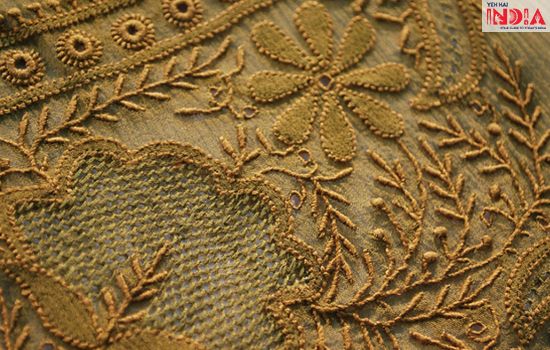 The whole embroidery process has multiple stages.
It starts with cutting the fabric into desired shape.
Followed by block printing the motifs on the fabric.
It is then handed over to the embroiderers for the further process.
Once the embroidery is done, it is washed and starched to make it ready for commercial sales.
DESIGN SPECIALITY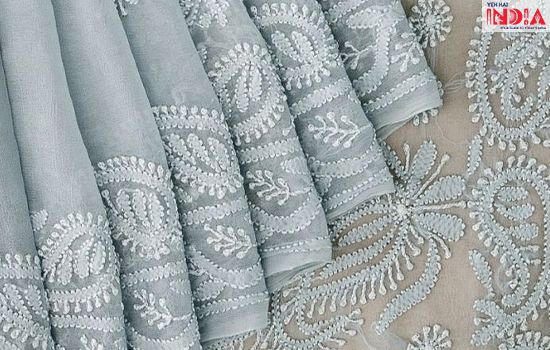 The motifs are inspired from nature's flora and fauna motifs including creepers, jasmine, five-petalled flower, mango, almond, and birds like peacock, parrots and lace-like patterns.
Finely detailed, dense floral patterns with knots, pulled network and other textural elements are characteristic of this work.
Traditionally, it was exclusively done on white fabric (known as Tanzeb) using white thread.
It is a delicate and artfully done on a variety of textiles like chiffon, organza, net etc.
In recent years, the embroidery is also being done on brightly-hued fabrics or using coloured threads.
Also done with cotton and silk threads in trendy colours, in sync with the modern times.
VARIANTS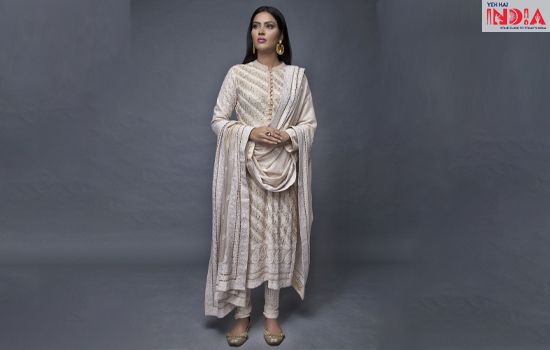 Chikankari is believed to have developed as a way of mimicking the expensive jamdani muslins.
The embroidery involves about forty different stitches, with six basic ones on which the others are built.
Each stitch has an individual name, involves a specific number of threads and has a specific use; it is never used in another part of the design.
PRODUCT VARIATIONS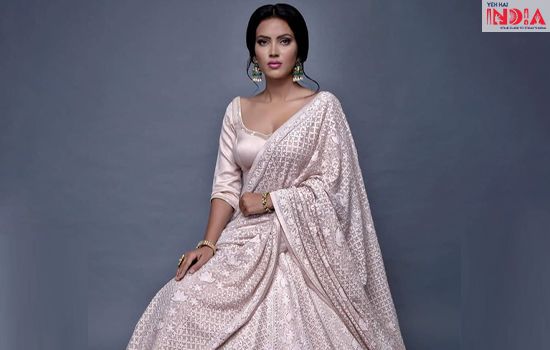 Apart from wearable garments (sarees, suits, lehengas, palazzos) it is also done on various other things like curtains, bedsheets, table cloths, pillow covers and cushion covers.
To give the embroidery a rich look, additional embellishments like beads, mirror and sequins are also adapted in recent times.
5) MUKAISH
ORIGIN
Popularised in Lucknow, mukaish is created by twisting thin metal strips into fabric.
Mukaish embroidery is used to enhance the beauty of Chikankari embroidery.
DESIGN SPECIALITY
Fardi ka kaam, dotted mukaish embroidery, is done by women, while kamdani, done by men, is used to create varying patterns.
A labor-intensive, time-consuming and shiny craft requires great expertise due to the intricate use of lustrous metals.
This technique has gradually diminished and is today known by only a handful of karigars.
6) KANTHA
ORIGIN
Believed to have originated 500 years ago, Kantha is a popular domestic and folk art of West Bengal and probably one of the oldest forms of Indian embroidery, which spread across Odisha and Bangladesh as well.
The word 'kantha' means 'rags' in Sanskrit. Traditionally, it was used to make quilts by rural women.
CREATION
Sarees and old dhotis were piled on top of each other and a simple running stitch was used to stitch them together, to make soft quilts, blankets and shawls (in Bangla, the word 'Kantha' is used interchangeably for the embroidery and the blankets).
The basic goal was to reuse and recycle as much as possible, while providing soft, comfortable warmth to people.
DESIGN SPECIALITY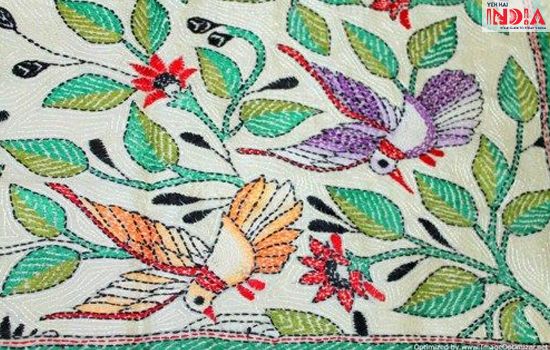 Usually, the animal and floral motifs are universal like Padma or lotus, Gods and Goddesses, animals like duck, fish, peacock; themed on daily life & geometric patterns.
The embroidery threads used are taken from the old sari borders.
Kantha embroidery on cloth gives a slightly wrinkled and wavy effect with the special feature of the pattern being the same on both sides of the cloth.
VARIANTS
The craft came into mainstream fashion in the 1980s when it started getting noticed for its vibrancy of colour, exclusiveness of design and simple yet graceful beauty.
The types of kantha work are based on the ultimate use of the product on which it is embroidered. Just to name a few…Lep kantha isusedfor quilts, Sujani kantha is used for bedspreads, Baiton kantha is used to wrap books and precious objects.
PRODUCT VARIATIONS
It is now embroidered on sarees, suits, dupattas in cotton and silk and is widely used by top fashion designers of the country.
Kantha is also used on a vast variety of furnishings and upholstery.
This is one form of embroidery that has moved from 'Rags to Riches' in the literal sense!
7) CHAMBARUMAL
ORIGIN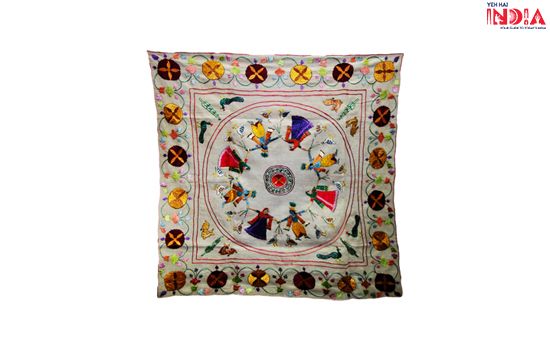 Chamba, in Himachal Pradesh, lies on the foothills of Himalayas from where Chamba rumals, the embroidery on handkerchiefs originated in the 18th century.
The embroidery is executed on mulmul, hand spun, hand-woven, and coarser khaddar.
The untwisted, and dyed silk threads 'Pat' in bright and pleasing colours like red, orange, yellow, green, blue, crimson and purple are incorporated in the embroidery making it people's first choice as a gift at weddings and auspicious days.
CREATION
The embroidery uses double satin stitch which simultaneously fills in the motif on both sides of the fabric, making it reversible.
That is why this technique is called dorukha (two-faced).
The embroidery is executed on a square piece of cloth.
In order to portray the themes traditionally drawn from indigenous tales of Ramayana and Mahabharata the motifs on the rumal are arranged carefully .
There are floral borders on all four sides of the rumal.
DESIGN SPECIALITY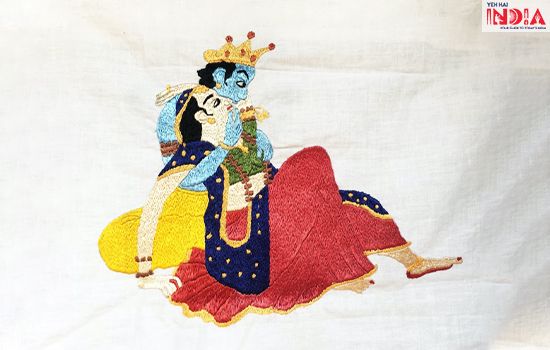 The motifs are used, inspired from miniature Pahari paintings, depicting lord Krishna legends and his playful antics.
The embroidery also depicts the flora and fauna of the Himalayan region.
Typical motifs include: tiger, goat, deer, horse, peacock, parrot; flowers, shrubs and plants, willow and cypress trees; and musical instruments like sitar, tabla, veena, tanpura etc.
PRODUCT VARIATIONS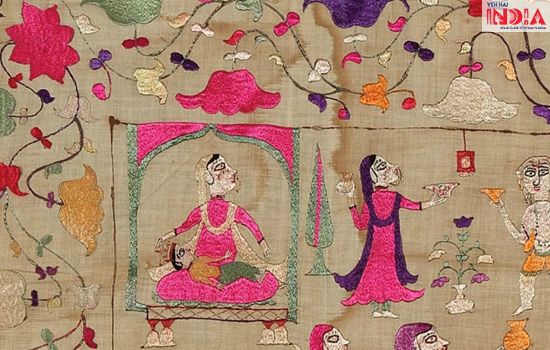 So perfect is the workmanship that these Rumals were used in ceremonial presentations, and kept as heirlooms.
Nowadays, the Chamba embroidery is done on fabrics like silk, polyester or terrycot and made into blouses, caps, slippers, cushion covers etc.
Embroidered silk wall hangings are also exported from Himachal Pradesh. 
Recommended Story – Handicrafts in India – Checkout the variety and craftsmanship
8) KUTCH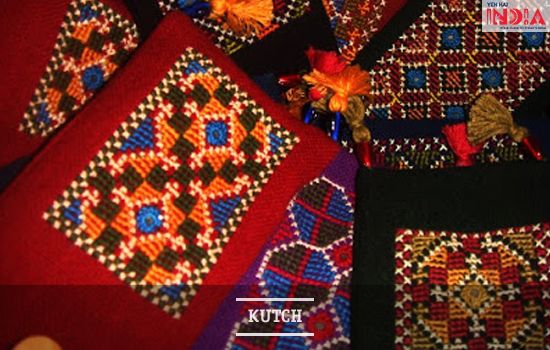 ORIGIN
It is believed that the Kutch embroidery was taught to mochis (the shoemakers around 300 years ago by a Muslim phakeer of Sindh).
The embroidery is done with multi-coloured embroidery threads, cotton or silk.
The stitches are so closely and evenly done that the satin material on which the motifs are embroidered gets an added brilliant effect.
VARIANTS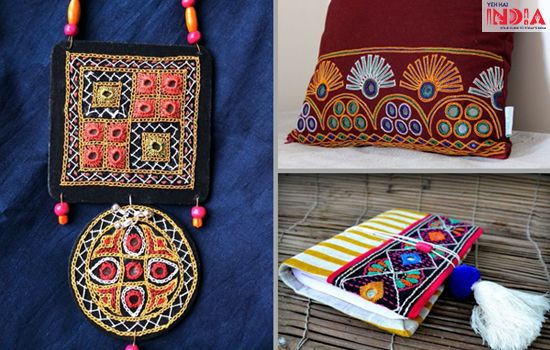 Different styles of kutch embroidery are carried out by tribal communities of Gujarat such as Mochi Bharat on satin fabric, Ahir Bharat on Khaddar fabric, Kanbi bharat on cotton, Rabari Bharat on khaddar or khadi of maroon colour.
Another technique used in Gujarat is appliqué where scraps of fabric are cut into a form and stitched onto the base fabric.
Sometimes borders are further embellished with the use of double cross-stitch to create both contrast and variety.
DESIGN SPECIALITY
The stitches style involved are namely chain stitch, herringbone stitch, satin stitch, interlace stitch, buttonhole stitch and darning stitch.
The motifs used in Gujarati embroidery are mostly taken from flora and fauna followed as flowers, creepers, trees, peacocks, parrots and elephants.
Besides it, nomadic themes such as human figures in different poses like dancing women and men are also seen in some styles of Kutch embroidery.
PRODUCT VARIATIONS
This type of embroidery adorns bags, accessories, decorative pieces and home décor.
This embroidery is colourful lavishly done on ghagras, choli, choklas, chandarawas and torans using base fabric of cotton with colourful threads.
9) MIRROR WORK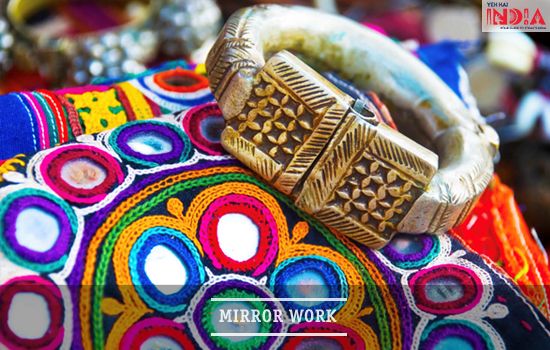 ORIGIN
Brought into India by Iranian travellers during the 17th century, Mirror Work was originally done with Mica (a mineral with a shiny surface) and silver coins.
The use of decorative mirrors became popular during the age of the Mughals.
Beyond solely decorative use, some communities believe mirror work is auspicious as a tool for warding off the evil eye, reflecting bad luck and evil spirits away from the wearer.
CREATION
Also known as shisha or abhala bharat kaam, this is the craft of encasing mirrors of varying shapes and sizes followed by embellishing the fabric with unique cross stitches to enrich the overall appeal of the cloth.
Women artisans from Gujarat's Kutch region and parts of Rajasthan are renowned for their expert mirror work.
PRODUCT VARIATIONS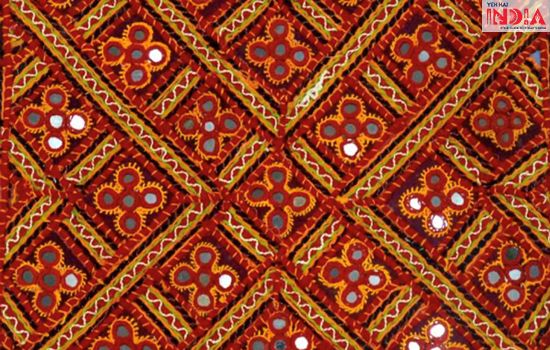 From apparel to accessories, mirror work is largely used and widely loved.
Native mirror work on garments, homeware and accessories, are widely exported.
With plenty of options available, clothes with Mirror work can be worn as daily wear or on special occasions.
In recent times, it has also been used in contemporary clothes.
Also seen in Rajasthani Ghagras and sarees, mirror work is a simple way to give that ethnic look to any western clothes like denim jackets and jeans.
Despite the constantly changing fashion trends, Mirror Work stays in vogue because of its incomparable approach to embroidery.
10) ZARDOSI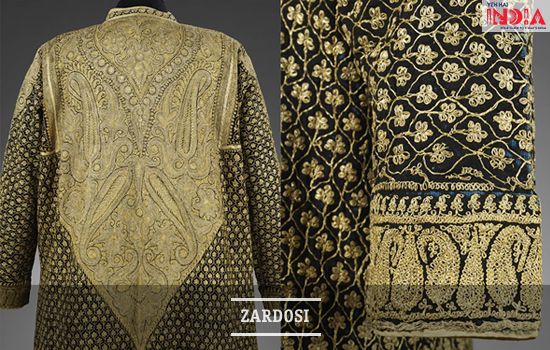 ORIGIN
Artful technique of Zardosi embroidery has been in existence in India from the time of the Rigveda.
Introduced by the Mughals in the 16th century, Zari with a Persian lineage, is the epitome of opulence.
The word Zardosi originates from Persian words for gold (zari) and embroidery (dosi). Zardosi is a painstakingly exquisite metal embroidery.
DESIGN SPECIALITY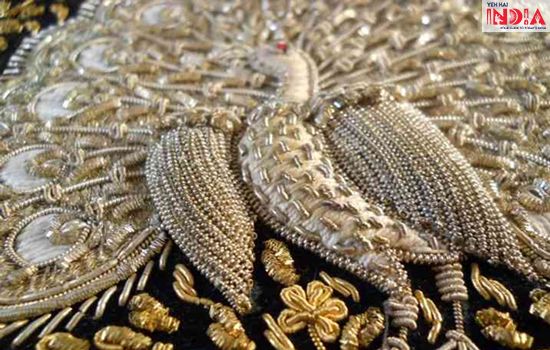 Metallic threads were complemented by lush velvet, satin, brocade and silk fabric.
It involves making intricately elaborate tightly embroidered designs and patterns. The motifs incorporate floral and geometrical themes, some popular motifs are creepers, flowering bush, floral scrolls and intricate jali patterns.
VARIANTS
A wide array of zari threads and materials are now used, like badla (the untwisted wire), salma (stiff finely twisted circular wire), gijai (twisted metallic wire), dabka (zig-zag coiled wire), sitara (small circular disc), with pearls, stones and coloured beads.
This embroidery is a costly affair. While previously this embroidery was a mark of the rich, nowadays gold-coloured plastic threads are used, making this form of art more affordable.
CREATION
The different stitches used in Zardozi are chain stitch, stem stitch and satin stitch.
The fabric to be embroidered is first stretched on a rectangular wooden frame supported on two tripods called a karchob, a hook or an awl is used to execute the embroidery.
To maintain the shine of zardozi embroidered garments they are wrapped in soft cotton or muslin.
PRODUCT VARIATIONS
The embroidery continues traditionally done on one of the most favoured ornamentation for embellishment of apparel such as lehenga choli, purses, sari etc.
Varying from 3D-like patterns to minimal designs, zardozi is commonly employed in bridalwear and couture.
Presently, Zardozi is also explored on diverse types of base materials to develop trendy products like bags, bedcovers, cushion covers, curtains, wall hangings, fabric purses, palanquin covers, trappings for elephants, and decorative fashion accessories.
11) AARI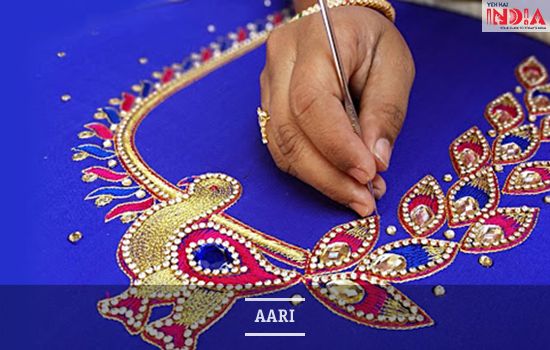 ORIGIN
Aari owes its origin to the Mughals and is practised in different forms in Rajasthan, Lucknow, Kutch and Kashmir.
One of the most painstaking and laborious embroidery techniques, albeit the one that gives brilliant, unrivalled results, the ancient hand embellishment of Aari uses a unique hook and looping method.
CREATION
One of the most painstaking and laborious embroidery techniques, albeit the one that gives brilliant, unrivalled results, the ancient hand embellishment of Aari uses a unique hook and looping method.
A sharp-edged, long needle with a hook at the end is used with thread by making thread loops and insuring sequins/ beads to create chain stitch loops in this fine, delicate art.
DESIGN SPECIALITY
Variations like Aari-Tari, popular form of Aari done with metallic wires and sequins/beads/stones/kundan/gota are practised too.
With highly detailed designs inspired by nature, Aari stands apart in its richness.
PRODUCT VARIATIONS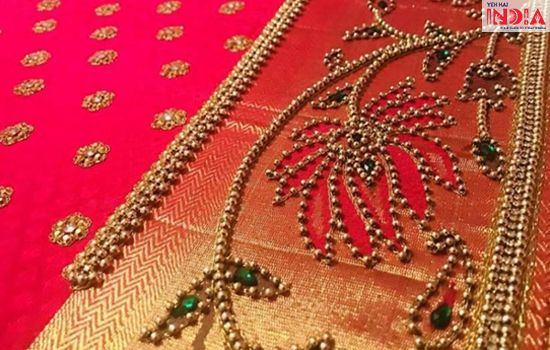 Used in Sarees, oftentimes it focusses on the pallu and body of the saree, whereas the blouse is left plain, which adds to an unparalleled style statement.
Easy to maintain and style, any material with Aari embroidery provides comfort with fashion.
12) GOTA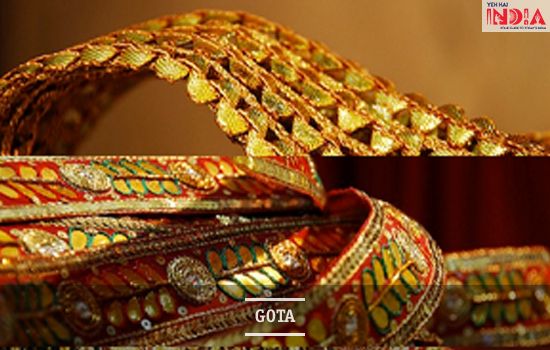 ORIGIN
Indigenous to Rajasthan, where the craft can be seen on lehengas and odhnis as well as turbans, gota refers to strips of gold and silver ribbons that are used to make appliqué patterns on fabrics or butis (small patterns).
Fabrics such as georgette or bandhini are chiefly chosen upon which the Gota is appliquéd by hemming or backstitching.
DESIGN SPECIALITY
Used with kinari work, it was originally done with gold and silver wires of varying lengths woven in a satin or twill weave.
With the motifs of local nature and community life, Gota embroidery gives a graceful and royal impression.
PRODUCT VARIATIONS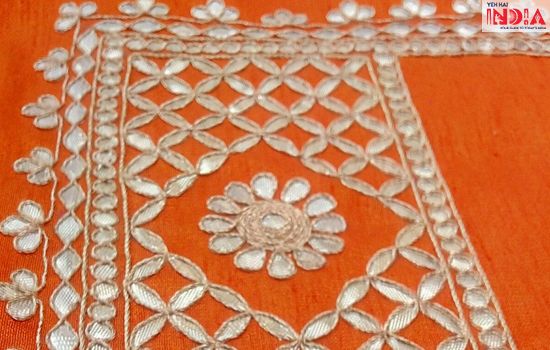 Often chosen for auspicious occasions, clothes decorated with Gota are highly embroidered, looking heavy to carry, but surprisingly light.
It is chosen by brides for its unique patterns and lightweight design, variety in colours, and choice of fabrics.
Available in suits, dupattas, sarees, ghagras, and lehengas, for an ethnic look meant for celebration, Gota embroidered clothes are the way to go.
13) TODA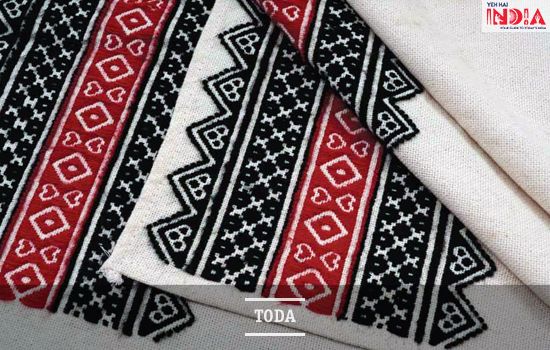 ORIGIN
Called 'pohor' (flower) in the Toda language, Toda embroidery was invented by the Toda tribe which belongs to the Nilgiri Hills of Tamil Nadu.
It is practiced exclusively by Toda women.
DESIGN SPECIALITY
Traditionally using black and red woollen threads on coarse white cloth, Toda embroidery depicts motifs of nature and/or celestial bodies in a geometrical pattern.
As the community worships buffaloes as their god, so the main motif they use is buffalo and stylised moon, sun, stars to make the eye catching patterns.
A single stitch darning needle is used for a reverse stitch method which then makes a pattern that seems to come out of the cloth, giving the piece a rich look.
PRODUCT VARIATIONS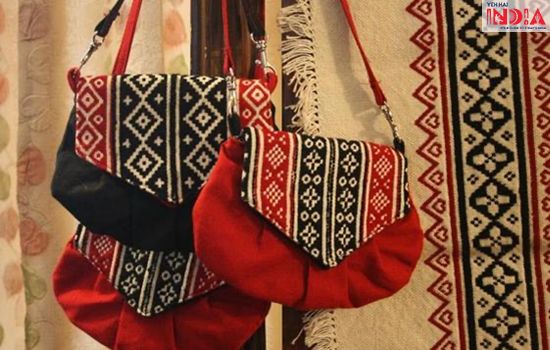 The Toda cloaks and shawls are in heavy demand.
Today, this embroidery isn't restricted to bedsheets, clutches or cushion covers, but has made its way to sarees that are perfect for an ethnic look with an edge that is unique to the Toda embroidered clothes.
14) BANJARA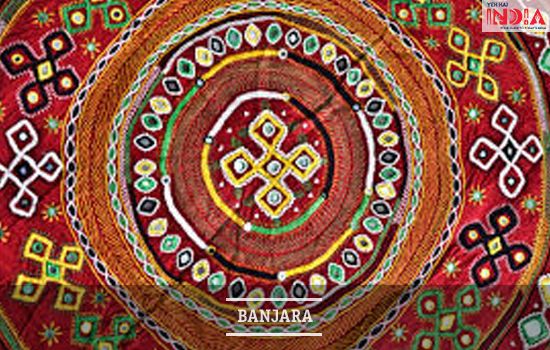 ORIGIN
The Banjara community originates from nomadic tribes who worked as the travelling suppliers of cattle, salt and grain to the Mughal armies.
Their distinctive colourful embroidery embodies this tradition, being used to help make robust garments and storage bags capable of withstanding the day-to-day rigours of a life lived constantly on the move.
DESIGN SPECIALITY
The nomadic tribes of Banjara did not limit themselves to a single geographical location which allowed this style of embroidery to disperse across various regions, facilitating variations in the technique and designs.
The stitches used in this form of embroidery are variations of the flame-like Florentine stitch (also called bargello), tent stitch (sewn on the diagonal) and satin stitch (flat stitches that entirely cover a section of fabric).
Pieces are often further embellished with pompoms, cowrie shells and mirrors.
PRODUCT VARIATIONS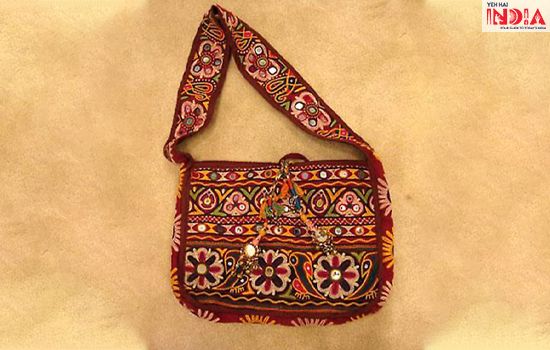 With a combination of patchwork and Mirror Work, the Banjara embroidery gives vibrance to the everyday casual look.
Providing a fusion touch to modern garments and signature ethnic look to the traditional ones; you can find Banjara embroidery on western silhouette dresses, suits, lehengas, blouses, and bags.
Banjara embroidered accessories and household items are also striking, with entire surfaces often filled with colourful, and geometric designs.
Also Read – Are you an Indian traditional block prints lover? Here's all you need to know