The term 'handicraft' essentially entails processing raw materials manually, or with the help of basic tools to create useful or decorative products from clay, rock, paper, stone, etc which are crafted by skilled artisans. The amount of skill, patience and precision that goes into the making of these beautiful pieces is commendable.
From time immemorial, the handicrafts of India have been loved and respected worldwide and have left everyone awestruck. Blessed with an affluent cultural heritage that's reflected within the intricacy of its handicrafts, India is surely a true blue shopper's paradise.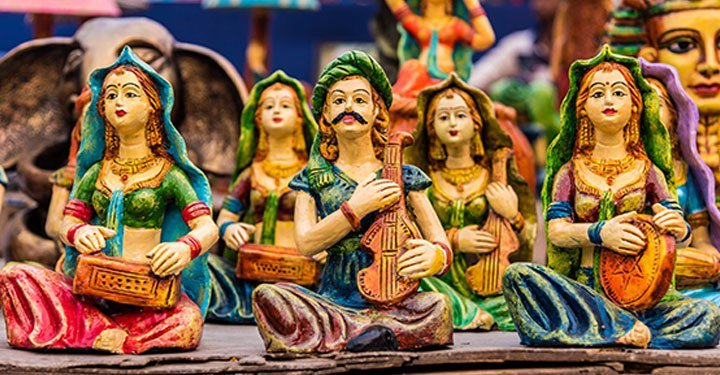 Here is a list of different types of Indian Handicrafts that we have described in this article for you:
Wooden handicrafts
Clay & pottery
Leather
Jute
Shell
Metal Handicrafts
Bamboo & Cane
Stone
Bone & Horn
Indian crafts are extremely old, and therefore the incontrovertible fact that they're still preserved today is a solid proof of their quality and significance.
They manifest India's rich culture and tradition, and every craft is is similar to a mirror reflecting the identity of the tribe that created it and still manufactures it today.

The creation of an authentic handcrafted product involves considerable skill and time, but the individual attention and care given to each item is what makes it so unique.
Role and Importance of Indian Handicraft Industry
Handicrafts are a medium to hold and conserve the rich traditional art forms and heritage along with the talents which are associated with the people's history and lifestyle. The country is blessed with innumerable highly skilled artisans. They have increased the eminence of Indian handicrafts round the globe. They are hugely important in terms of the economic development of the country.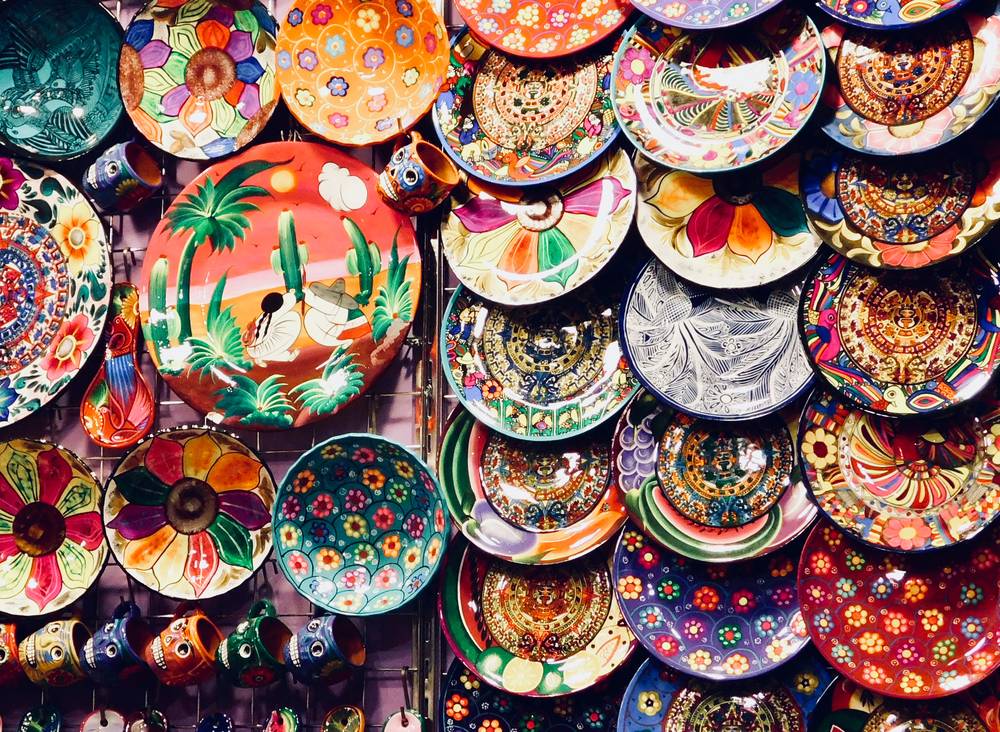 The Indian handicrafts industry incorporates around 7 million artisans and 67000 exporters, who endorse regional art and craftsmanship in domestic as well as global markets. These artisans generally comprise of women and other people belonging to the rural area of India. In other words, this industry employs a number of people from the weaker sections of the society, who earn their livelihood from their creative pieces of art and this way India is guiding the preservation of its artisans, its art and its handicrafts.
Ethnic Indian Handicrafts That Will Steal Your Sight
India is celebrated as the powerhouse of handicrafts.
India may be a manufacturing hub for creating a spread of handicrafts which is additionally famous within the international market. Enjoying the handicrafts of India is a unique way to enjoy its complex culture and many traditions. In this article we will trace the rich and fascinating history of Indian handicrafts because it makes its way across states and borders. The most famous forms of handicrafts that will delight any fan of good-quality crafts are as follows: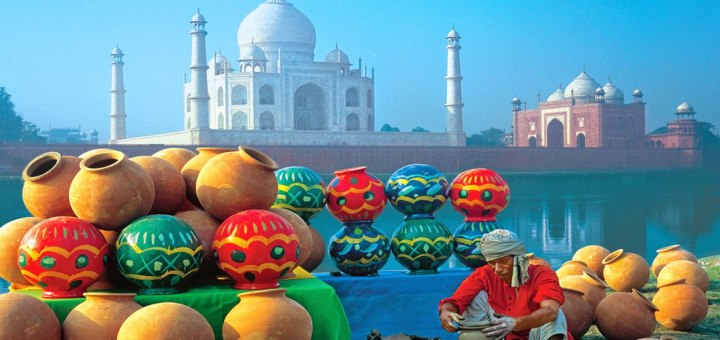 1. WOODWORK
HISTORY
Wooden handicrafts have been around in India for over 5000 years. They were prevalent in India long before stone sculptures came into existence. Assorted pieces were build by skilled artisans by shaping wood pieces. Elaborately carved chariots, temples, furniture, and homes are a hallmark of our culture.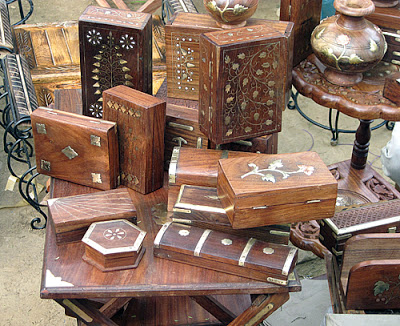 REGIONAL WOODEN HANDICRAFTS
The northern states of India have a lavish woodwork tradition that is an elemental segment of the country's centuries old handicraft culture.
Many districts in Punjab are acclaimed for its exquisite and astounding wooden furniture.
Located in the state of Uttar Pradesh, Saharanpur is well known for its wood carving industry and Sheesham, Dudhi and Sal treed wood are used by the family artisans. They also procure and work with Teak, Mahogany and Ebony. The finish of wooden handicrafts from Saharanpur is impeccable.
Kashmir is renowned for its distinguished artefacts created from the walnut trees.
In Chhattisgarh the thriving wooden craft is very much alive as the regional artisans are proficient in wooden crafts like masks, doors, window frames and sculptures
The esteemed wooden toys of Jharkhand are finest pieces of craft which uniquely always come in pair.
The contemporary aesthetic blend of Portuguese and Indian culture is the ultimate fusion of woodcarvings which are speciality of Goa. Highlighting exquisite floral, human figures and animal designs, Goa woodcrafts are a steal!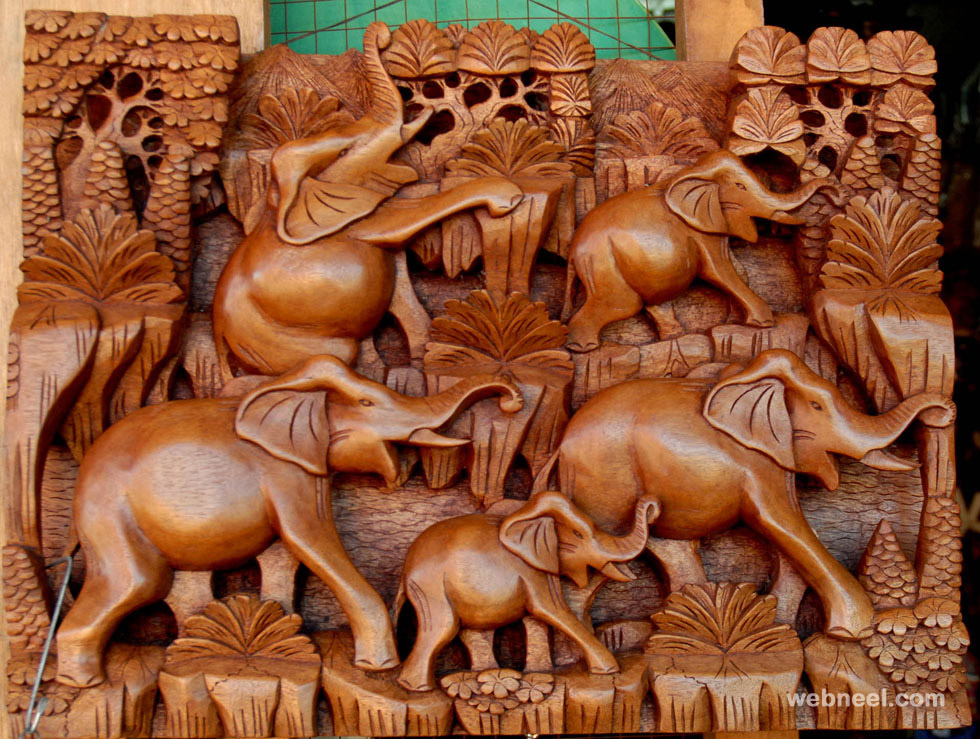 Bestowed with abundant forests and wildlife, woodwork is an admired craft in South India. It is mainly done on rosewood and sandalwood. Red sandalwood from Andhra Pradesh is carved to design cutlery, dainty boxes and paper knives in a variety of styles. These handicrafts are popular because of their exotic designs that represents the ingenious artistic creativity of our artisans.
Madurai (a city in Tamil Nadu), is sought-after for its rosewood carvings.
Prominent regions in Karnataka is acclaimed for prolifically beautiful elephants, images and furniture, fabricated from rosewood. Sandalwood is also used to create utility and decorative artefacts, which are engraved with designs of flowers, creepers, birds and animals.
In Kerala, Kumbli wood is used to carve out amazingly creative and splendid figurines of females.
DESIGNS, SPECIALITY and PRODUCTS
Every region has its own style and varieties of products. Sheesham is the most commonly used wood. Rosewood, mahogany, and sandalwood, are also utilised depending on the availability in the region.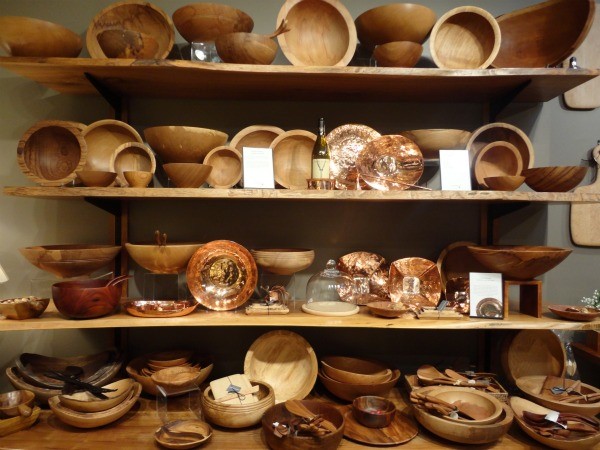 Popular designs include religious idols, artefacts, wood carved mirrors, furniture, cupboards, tables, trays and chests. A number of tiny, easy to carry toys, carved key chains, vases and boxes are also easily available. Many times, other materials such as tiles or metal are infused into the design to make it all the more attractive.
Axes, toys, utensils, embellished items, ornaments and many beguiling household items such as lamp shades, candle stands, vermilion boxes, jewellery boxes, bangle holders, etc. are few wooden artefacts that are crafted in different regions of India and decorated in almost every Indian household.
2. CLAY CRAFT or POTTERY
HANDICRAFT HISTORY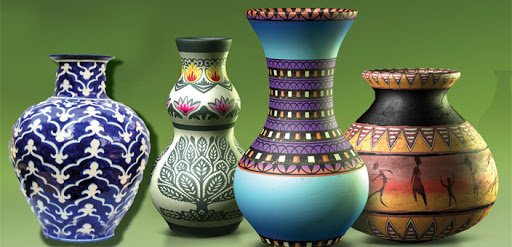 Pottery is considered to be the most sensual form of all arts. The tradition of handmade pottery is prevailing in India since the time of the Indus Valley Civilization, clay craft or pottery is said to be one of the most primitive forms of handicrafts in India. Artists engaged in pottery are called "Kumhaars".
Besides its world famous Terracotta form, pottery has got different forms like red ware, grey ware and black ware.
Recommended Story – Tie & Dye Techniques in India- Bandhani, Ikat & Lehariya
The word Terracotta has been derived from Latin and Italian words – 'Terra', which is Latin for 'earth' or 'soil', and 'Cotta', which is Italian for 'statue'. Thus Terracotta work is the art of creating statues/figurines from mud, clay or earth. Numerous terracotta artefacts dating back to 3300BC have been recovered from Harappan civilisation Sites.
REGIONAL CLAY HANDICRAFTS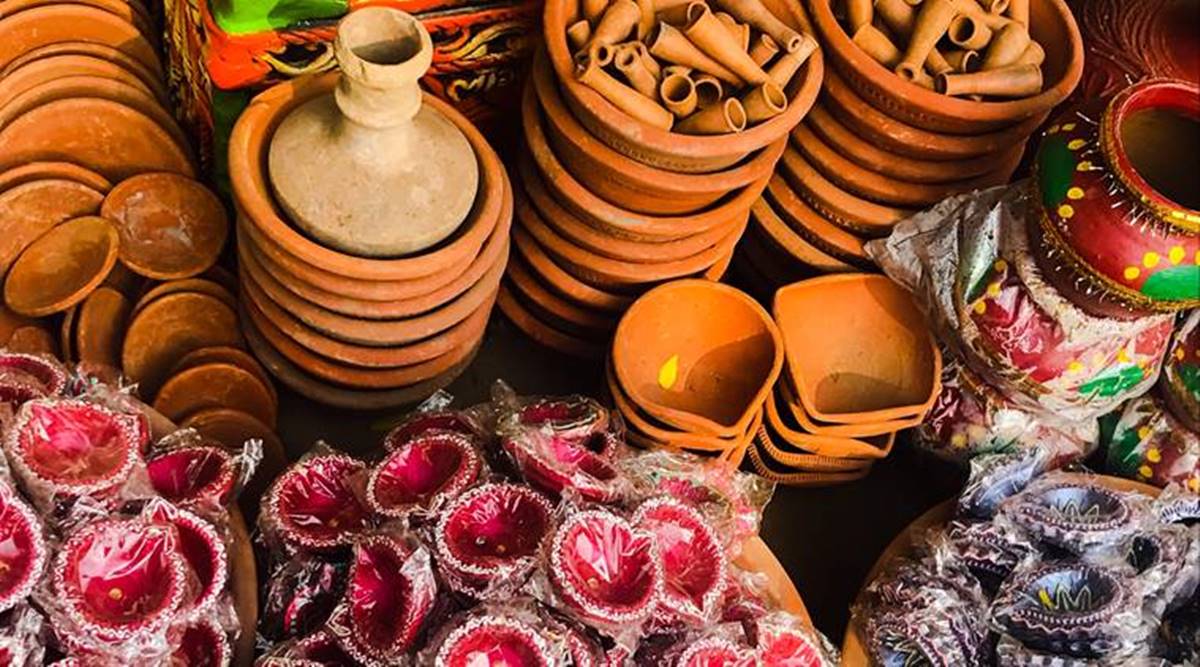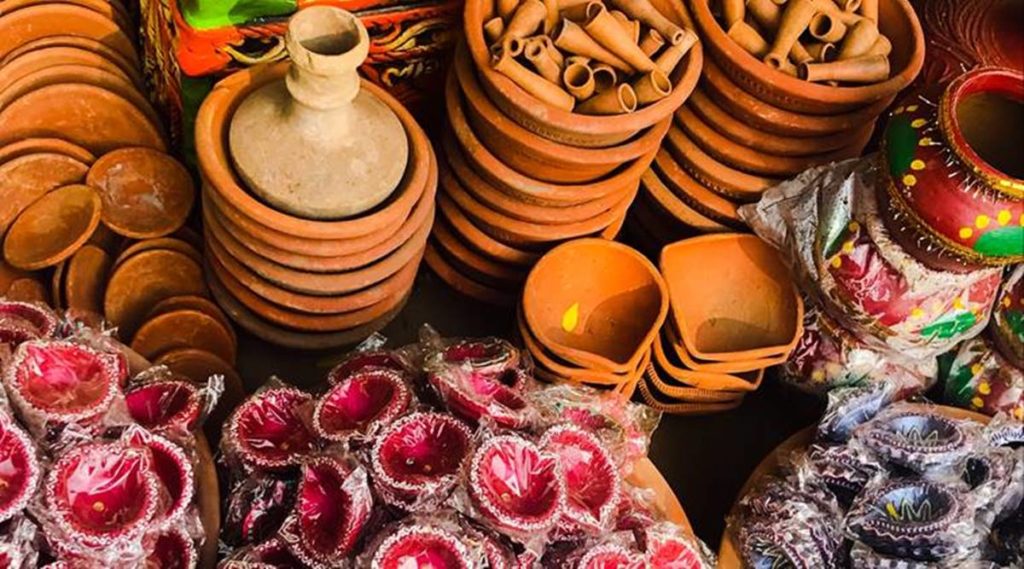 Assam's terracotta handicrafts bear striking imprints of its ancient culture. Back in the day, Assamese craftsmen used to focus heavily on making figurines of religious symbols. Today, the terracotta craftsmen concentrate equally on designer artefacts, toys, dolls, pots, vases etc. The village of Dhubri in the Goalpara district of Assam occupies a prime position in the terracotta market of the world.
North India is also known for various kinds of pottery designs, ranging from colours like orange, brown and light red in Uttar Pradesh to black and dark red in Himachal Pradesh.
Uttar Pradesh is also renowned for its painted black wares.The potter occupies a unique position in the craft traditions of India.
In Rajasthan, Bikaner is famous for its painted pottery, Pokhran for its pottery with geometrical patterns and Alwar for its Kagzi pottery.
The blue pottery of Jaipur is also very famous.The name is derived from the striking blue dye which is used to colour the pottery. The designs include animal, bird, floral and geometric motifs that have a distinct Persian influence. This is the only kind of pottery that does not use clay, but instead makes use of Fuller's Earth (multani mitti).
From the Ayanaar horses of Tamil Nadu to the potters of the gorgeous Kangra Valley (Himachal Pradesh). It is still to be found in a multitude of forms, shapes and sizes.
Besides, Krishnanagar in West Bengal, Bikaner, Lucknow, and Pune even prepare clay ware.
In Odisha, the Baragarh, Khurda, Keonjhar and Koraput districts have attracted widespread admiration for the creation of terracotta ware for centuries. The potters here still swear by traditional potter's wheels and till date.
DESIGNS, SPECIALITY and PRODUCTS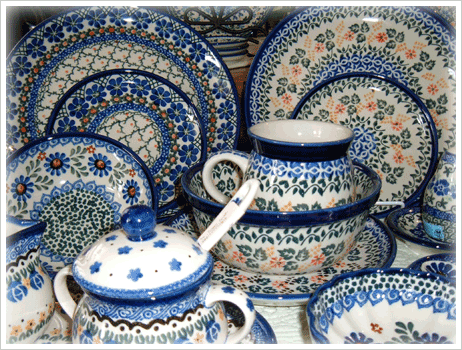 Clay lamps are the most popular product and the demand for it increases dramatically during Diwali. Apart from this, earthen vessels, flower pots and decorative items are the other products made. Animal figurines of bulls, elephants and horses are also moulded in strong, natural forms. The look of the product is usually kept as raw as possible but sometimes painted over with synthetic vibrant colours.
3. LEATHER HANDICRAFT
HISTORY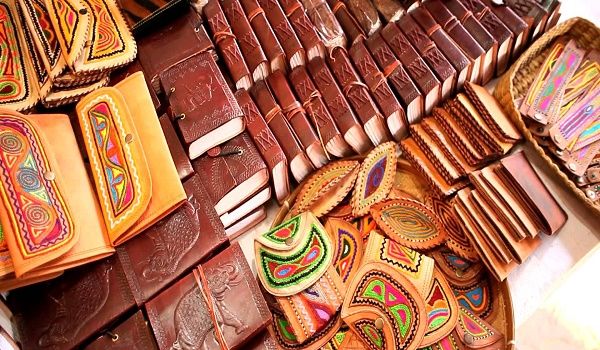 The age-old and well-established convention of leather skill in India is established by ancient sages and ascetics. The leather craft tradition dates back to Indus Valley civilisation. In the ancient times, the artisans were skilled at making clothes and footwear but also in making caps, bags, saddles, shield etc of leather. India is one of the top sellers worldwide for its leather products.
REGIONAL LEATHER HANDICRAFTS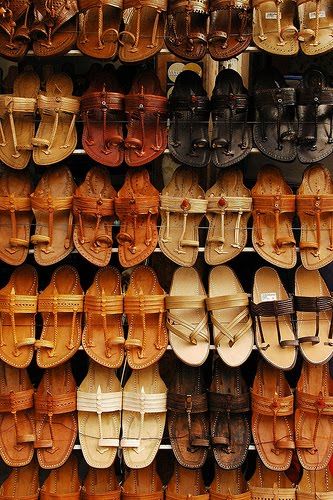 Madhya Pradesh leather craft is quite unique and inimitable and items such as shoes, bags, garments etc. are mass produced.
Maharashtra is also famous for its remarkable leather footwear called Kolhapuri chappals.
4. JUTE HANDIRAFT
Jute, the Golden Fibre of India is widely used for making magnificent and exquisite craft items. Not just cheap but also eco-friendly, this fibre own special place in handicrafts all over the world. India is a centre for jute handicrafts and people all over from the globe visit the jute handicrafts fairs to buy these works of perfection.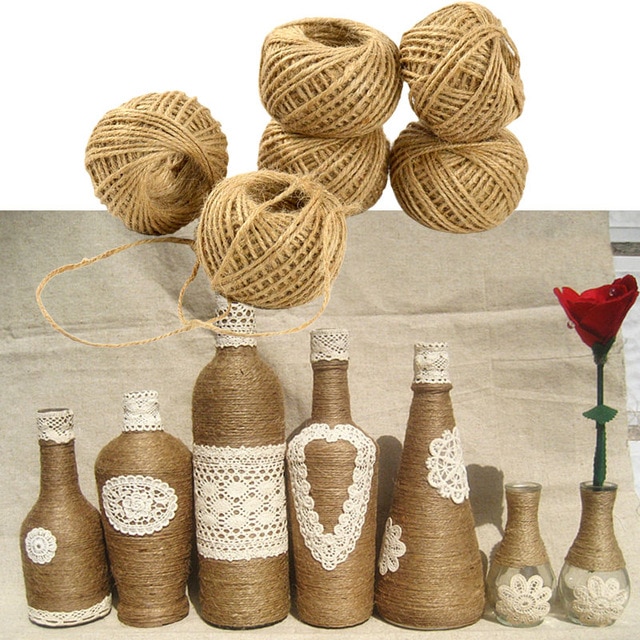 REGIONAL JUTE HANDICRAFTS
The prime jute producers in India are West Bengal, Assam and Bihar which lead the jute handicrafts market as well.
DESIGNS, SPECIALITY and PRODUCTS
The wide range of jute crafts includes crafting bags, baskets, pots, decorative pieces, stationery, bangles and other jewellery, footwear, wall hanging and many more.
5. SHELL HANDICRAFT
HISTORY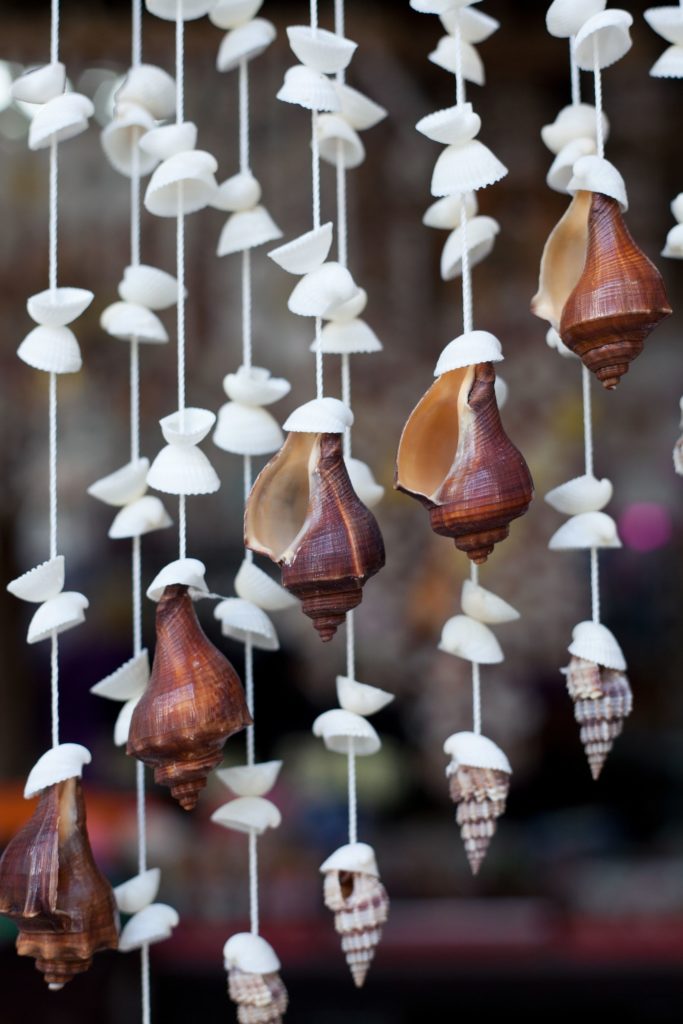 From time immemorial, shell handicrafts are one of the demandable crafts in India. Shell craft in India developed and progressed gradually and there are mainly three types of shells that are widely used in shell craft in India, the conch shells, tortoise shell and sea shell. DESIGNS, SPECIALITY and PRODUCTS
REGIONAL SHELL HANDICRAFTS
Conventionally, the places which excel in shell handicrafts are located on the sea shore like Gulf of Mannar, Goa, Odisha, and many other areas which are the centres of this craftsmanship. To experience the inexpensive shell craft shopping one should visit these states, where these artefacts are mass produced and available at affordable price.
DESIGN, SPECIALITY and PRODUCTS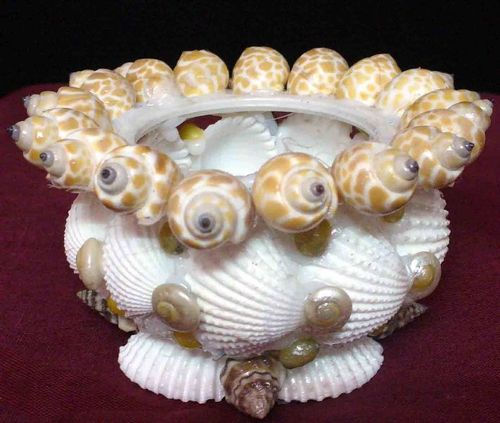 A lot of decorative and wide ranges of utilitarian items are designed out of these shells. Different kinds of artefacts like bangles, forks, decorative bowls, lockets, spoons, buttons, curtains, chandeliers, mirror frames, table mats, etc. are the products of shell crafting.
6. METAL HANDICRAFTS
HISTORY
Metal items are known to be durable and longer-lasting and that could be the reason why metal (brass, bidri) handicrafts flourished and burgeoned so well through the ages. The techniques used to work the metal are millenarian, and most of them are still used in the town of Rajasthan, Bidar, Pembarthi, and Kamrup. Producing metalware is a laborious task, that requires a lot of skill and patience.These artisans dealing with brass handicrafts are distinctively known as "Kansaris".
REGIONAL METAL HANDICRAFTS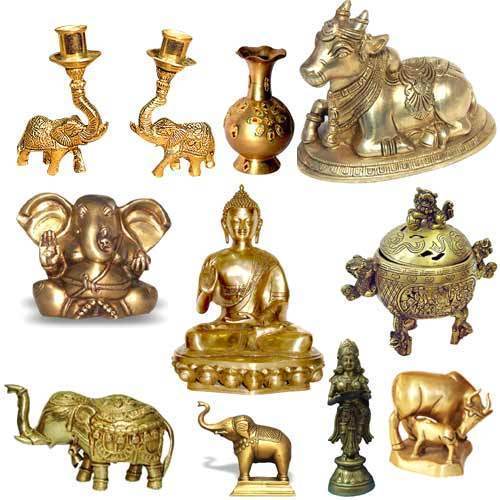 Brass
Rajasthan is the main manufacturing centre of brass handicrafts. They have antique and uniquely designs doors and windows, tables with cast iron jaalis, chairs, side-boards, swings, and even dressers that are sometimes fretted with copper and brass sheets for decoration. Items made of brass like crawling Krishna, Lord Ganesha's figure in different postures, vases, table tops, perforated lamps, ornament boxes, hukkas, toys, wine glasses, plates, fruit bowls and many more are extensively used in many Indian houses till now.
Bidri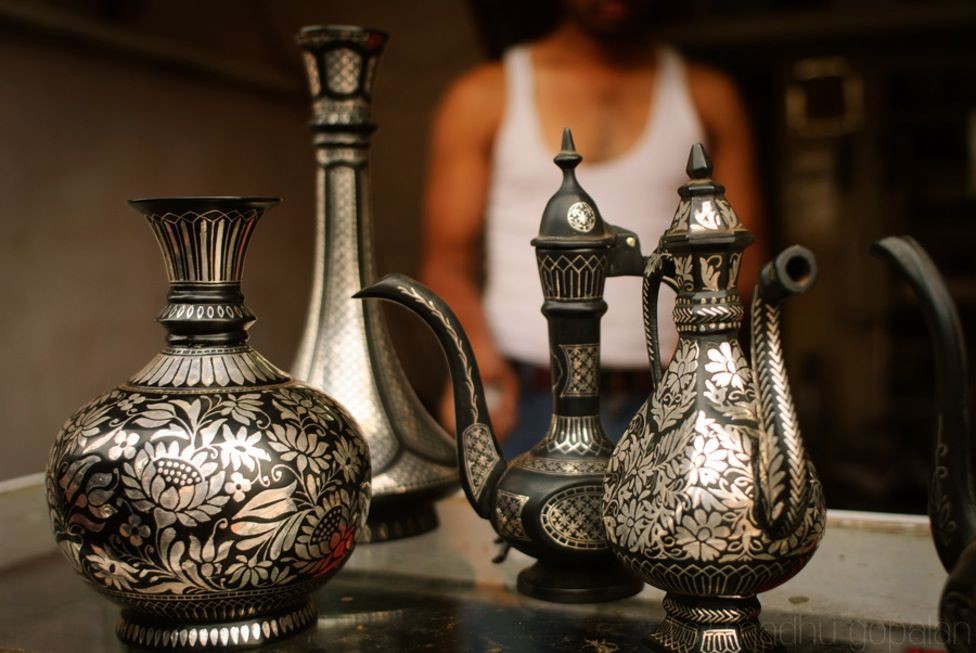 Bidar is the centre for the manufacture of these unique metal handicrafts which developed during the 14th century, where 'bidriware' gets its name. This metal is a blackened alloy of copper and zinc inlaid with fine sheets of pure silver. This makes it one of the most important south Indian handicrafts exports and is commonly prized as a symbol of wealth in many places across the world. So many products are made from the metal, including pitchers, bangles, boxes, statues, masks, buttons, and many more. Tradition is to inlay various leaves, flowers, human figures, geometric designs, and stylised poppy plants with flowers.
Pembarthi Handicraft
Pembarthi is a small village in the state of Telangana, and it is popular for its production of sheet metal artworks of extremely high quality. This kind of brass work developed during the empire of the Kakatiyas, who used sheet metal art to adorn their temples.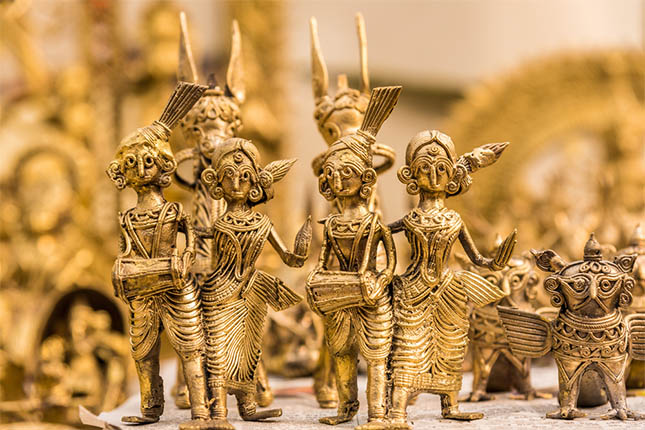 Dhokra
Dhokra is a non-ferrous metal casting using the technique of lost-wax casting, a technique used in India for more than 4,000 years. The product of dhokra artisans are known for their simplicity and folk motifs, the horse, elephants, measuring bowls, and religious images are extremely treasured.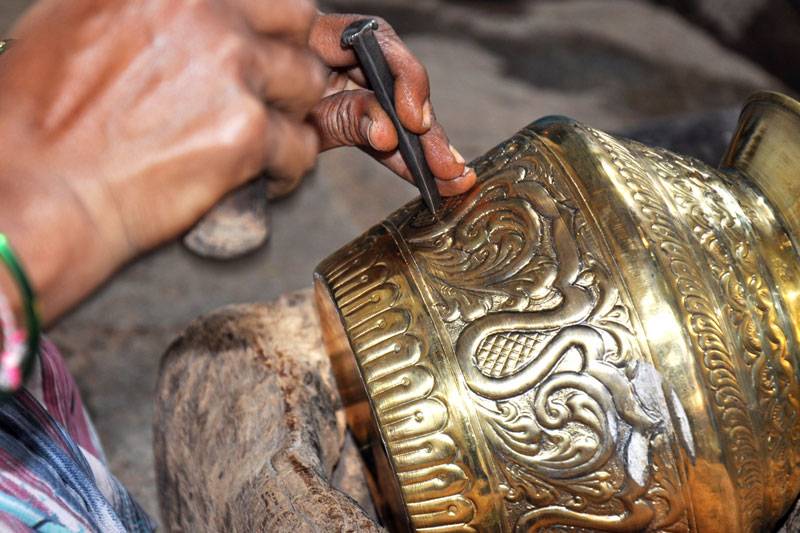 Kamrupi
Kamrupi produces some brass and bell metal products that are famous all over the country for their exquisite form and utility. Some of the main items produced by this industry are water pots, dishes, bowls, and cymbals. In Guwahati, one can visit the State Museum with its extremely rich collection of items made of gold, silver, and copper.
7. BAMBOO AND CANE HANDICRAFT
HISTORY
India is the largest producer of bamboo as well as cane and it was pretty evident that our artisans would take interest in this eco-friendly product that can be used in various artefacts. Bamboo craft is simple, unique, fascinating and creative. Bamboo handicrafts are the oldest crafts to exist.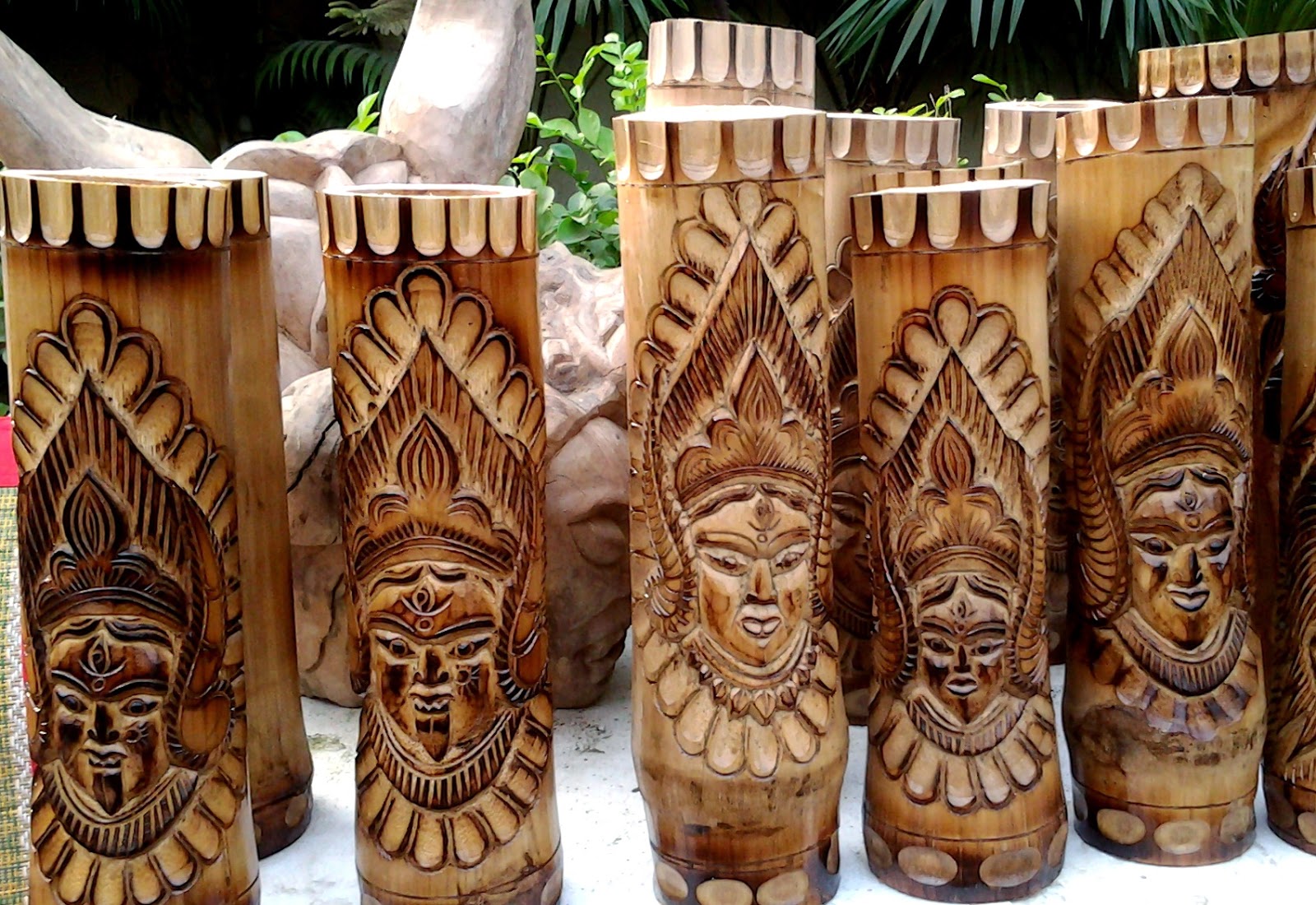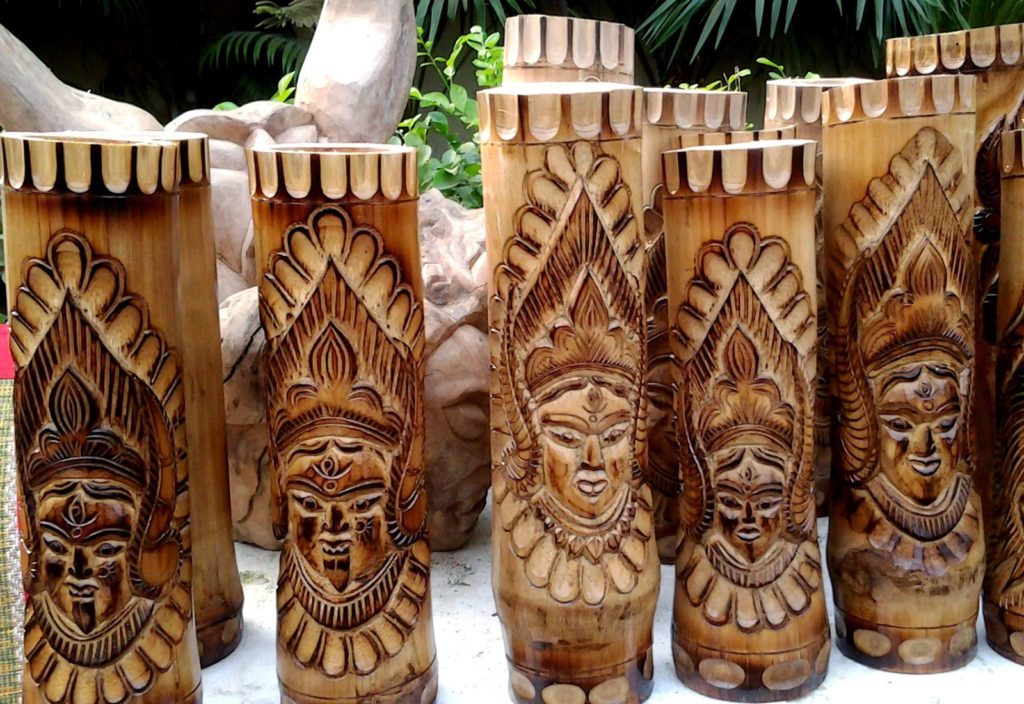 REGIONAL BAMBOO AND CANE HANDICRAFTS
The northeastern states of Assam, Tripura and West Bengal are widely known for their bamboo and cane products. They create objects for everyday use – like baskets for tea pickers, hats, etc. – as well as a variety of boxes, trays, baskets, and containers.Creating this handicraft of unique forms, amazing designs, requires a great deal of knowledge, manual skills and excellent craftsmanship.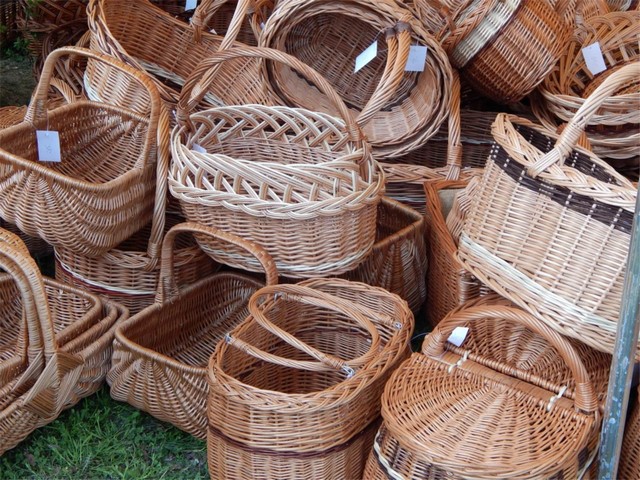 DESIGN, SPECIALITY and Products
Items made from bamboo are mostly used as household items. Nowadays, artisans create many forms of decorative items from bamboo The diverse items made from bamboo are baskets, dolls, toys, furniture, mats, wall-hangings, crossbows, jewellery boxes, umbrella handles, crossbows, khorahi, kula, dukula, saddlery, and many more. Of course, they also produce excellent furniture, to be sold both locally and internationally.
8. STONE HANDICRAFT
HISTORY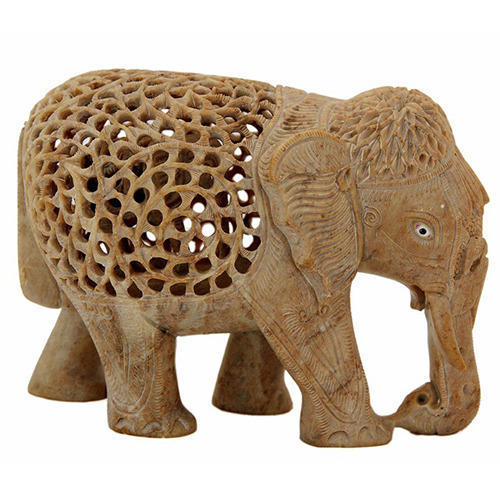 The fascination with stones has always been prevalent in India. The traces of this royal fascination are present in the intricately carved palaces and forts. This amazing artwork on the stone is an elegant combination of carving, engraving, sculptures and undercuts.
Pietra dura, known as parchinkari in the Indian subcontinent, indicates the inlay technique of using cut and fitted stones in order to create images. Each design is made by cutting the rich stone and carving varying exquisite patterns on it. Marbles, semiprecious and precious stones are used. The technique first appeared in Rome during the 16th century, and the most notable example to be found in India is the Taj Mahal.
REGIONAL STONE HANDICRAFTS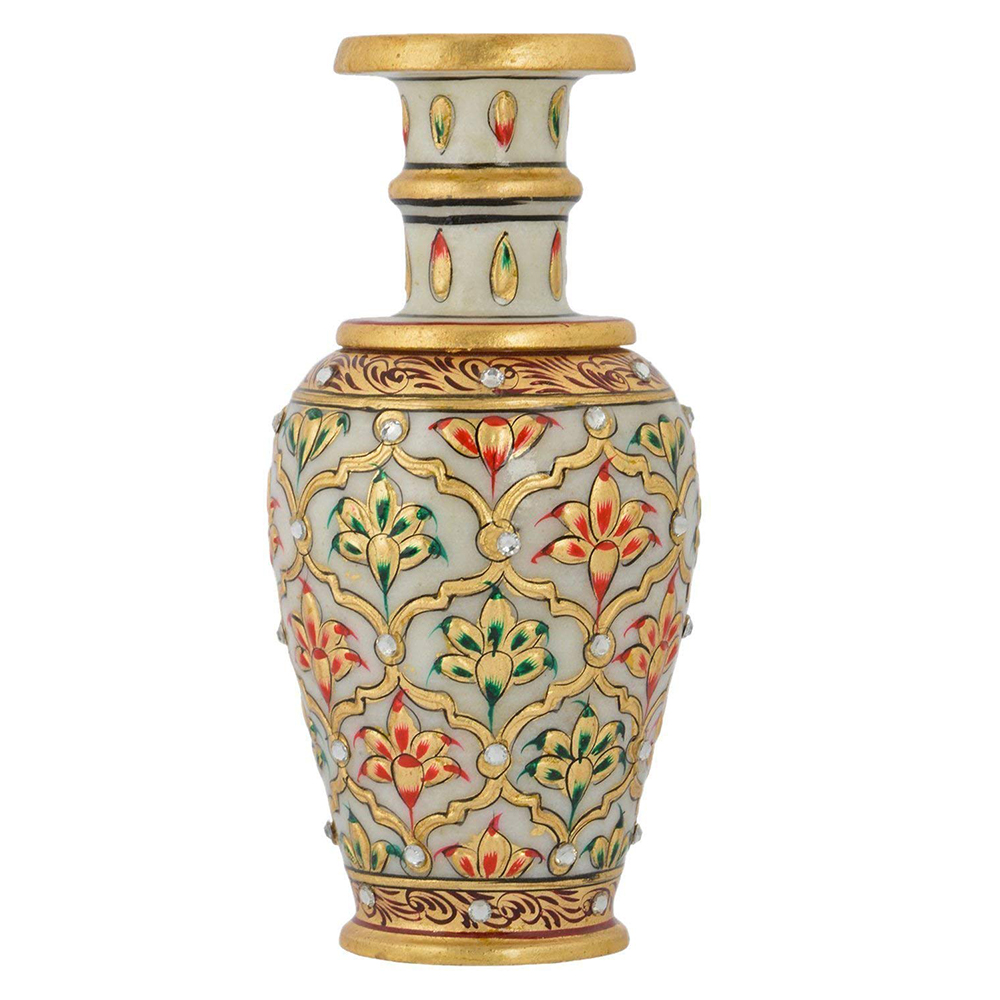 Prevalence of rock carving, one of the primitive rock art can be seen in the states of Rajasthan, Jaipur, Odisha and Nagpur.
Rajasthan, Jaipur and Madhya Pradesh are also famous for marble carvings.
The specialty of Madhya Pradesh is the art of green stones.
Pattharkatti is the unique rock craft of Gaya.
The ancient temples of Odisha are world famous examples of rock crafts of India.
Uttar Pradesh in India is still a rich centre of stone carving and handicrafts. It is common to find plates and boxes, made especially in Agra. These products are of the highest quality, and often employ floral patterns from the Taj Mahal.
DESIGN, SPECIALITY and PRODUCTS
These exquisite stone handicrafts are in great demand in India and many other countries. The intrinsic works on the white marble fascinate the buyers. The rock handicrafts can be used for personal use as well as for creating bangles, earrings, decorative items, stone ornaments, sculptures, utensils and boxes.
9. BONE AND HORN
REGIONAL BONE AND HORN HANDICRAFTS
Hailing from the state of Odisha, bone and horn handicrafts are legendary for crafting forms of birds and animals figures that seem real and lively.
DESIGN, SPECIALITY and PRODUCTS
Apart from this, pen stands, ornaments, cigarette cans, table lamps, chilli and salt sets, chess sets, napkin rings, laughing Buddha etc. are made in Odisha, Karnataka, Kerala and Uttar Pradesh.