In this article you will read about the different types of wood craft from the many states of India. Know how each one is unique and beautiful in its own way.
Various types of handicrafts have flourished over the centuries in the rich land of culture and traditions, India. Wood crafting is one such prevalent feature of Indian cultural diversity which adds to the richness of art. It includes both useful objects and decorative items.
The artisans are skilled to carve artistic traditional designs on wooden items and enhance their beauty by colouring them. Every Indian state has its own form of wooden handicraft; with a hint of difference and auxiliary elements owing to the individual craftsmanship of every state.
Let's have a look at all the options you have to choose and bring home these wooden beauties.
Gujarat Wood-Craft
Wood carving has always been an integral part of Gujarat's culture. The traditional and old houses still can be seen having carved wooden doors with the images of Goddess Lakshmi and Lord Ganesh in the archway.
Furniture, bedposts, cradles and toys for children are some of the major woodcraft items famous in the land of Gujarat. Places like Kutch, Rajkot, Junagarh, Jamnagar, Bhavnagar, etc; are the centre of lacquered wooden items like toys, kitchenware and furniture. The Sadeli art of Surat is also famous if you need stuff like carved articles and boxes with precisely cut geometrical shapes and designs.
Recommended Story – A Tour of National Gallery of Modern Art, New Delhi
Himachal Pradesh Wood-Craft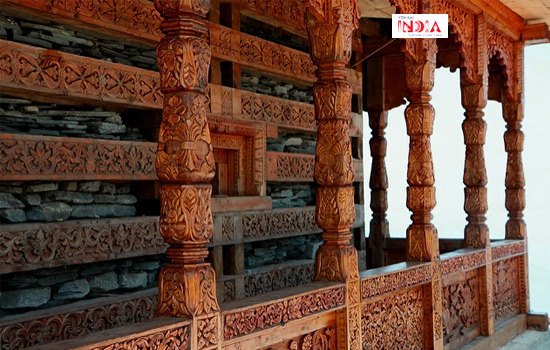 The tradition of temple wood carving is prevalent in the state of Himachal Pradesh where the complex etching on the doors and pillars can be witnessed. The rural artisans are indulged in making wooden sculptures according to their local styles.
Presently, the craftsmen nonetheless show their skill by making homewares like wooden vessels and eating bowls. Bharmour and Chatrahi are the famed places whereas Chamba specialises in wooden boxes for grain storage.
Punjab Wood-Craft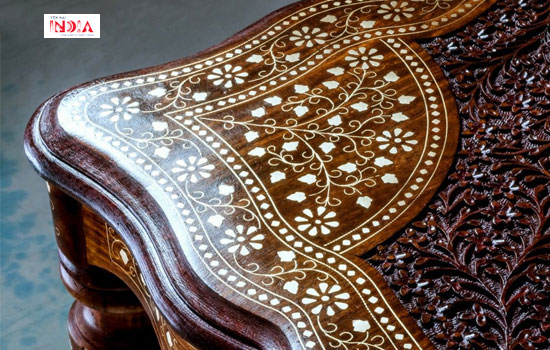 The primary centres of woodcraft rich places in Punjab are Amritsar, Hoshiarpur, Bhera, Ludhiana, Chiniot and Jalandhar. These places excel in predominantly using Shisham and Himalayan Cedar with minimum under-cutting.
The Hindu and Sikh designs have intricate floral patterns and mythological forms on the craft which make them even more beautiful.
Kashmir Wood-Craft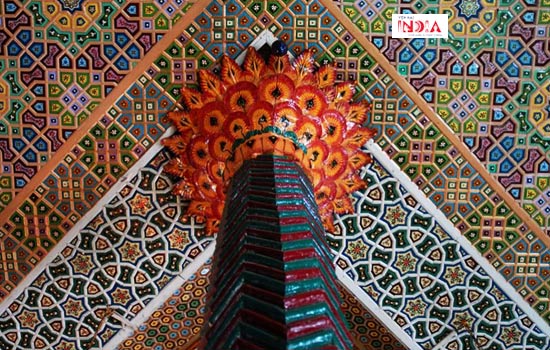 The speciality of Kashmir's woodcraft is the soft and delicate-toned wood of Walnut trees. Kashmiri handicraft is world-famous for its minuscule and magnificent floral designs carved on things like tabletops, table lamps, boxes, cigarette and cigar cases. The state also creates items like furniture, bowls, lattice screens and also panel on ceilings and pillars known as Khatambad.
Uttar Pradesh Wood-Craft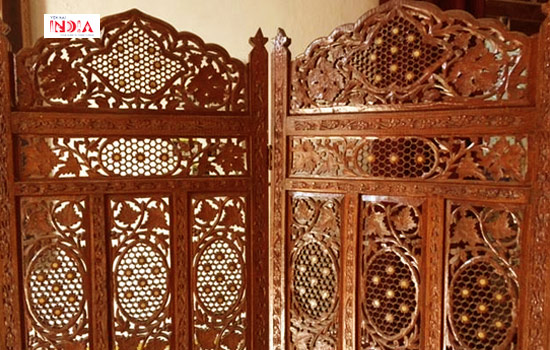 The state uses Shisham, Sal, Neem and Ebony for furniture like chairs and tables with Saharanpur, Aligarh, Lucknow, Azamgarh and Nagina being the big commercial centres. Nagina or Bijnor has an elegant style of sculpting the ebony and the decoration is mostly delicate, crisp, floral with geometrical traces.
Rajasthan Wood-Craft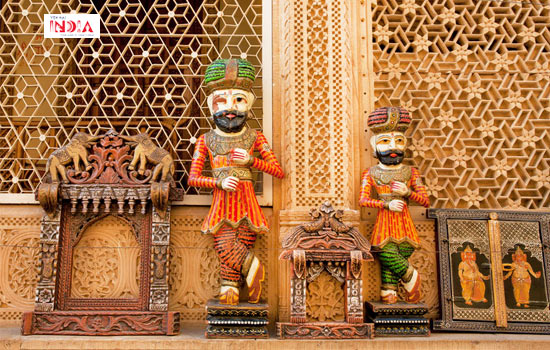 The state of Rajasthan is esteemed for its exquisite culture and heritage. Of many different traditional festivals, Gangaur Festival is celebrated with the eminent use of wood carving to make Isar and Gauri figures. Chittorgarh, Pipad city and Pali district are famed for paper-thin wood-carved bowls. Bassi and Udaipur are rich in making the world-famous puppet figures and wooden toys made by zigzag and dana technique.
Kerala Wood-Craft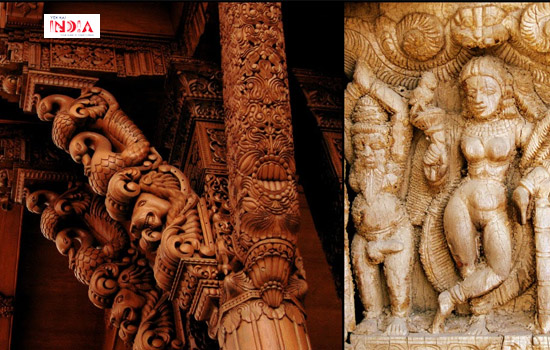 The most eminent woodcraft seen in Kerala is for religious purposes. The motifs of elephants in distinct postures and women at work can be witnessed in different sizes, be it in a temple or the church. While the rosewood is used to make animal designs, Kumbli is used for that of women. Also, rosewood beds and boxes with the decoration of brass bands and patterns are the specialities of Kerala.
Assam Wood-Craft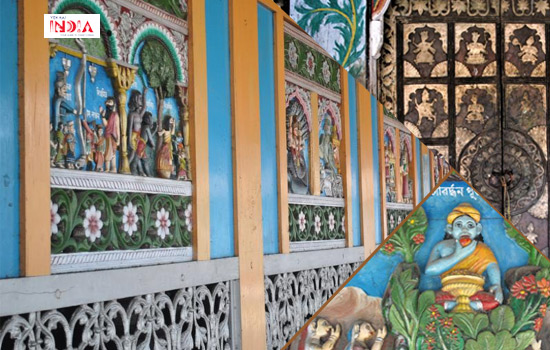 The unusual and fascinating wooden houses known as Manghar or Kirtanghar are exceptional in the state of Assam. These houses have a throne like seat supported with different sculptures like that of peacock and tortoises.
Assam is also home to finely carved multi-use chests, small stools and mini tables, book-rests, etc.
Recommended Story – TRADITIONAL INDIAN CARPETS
Madhya Pradesh Wood-Craft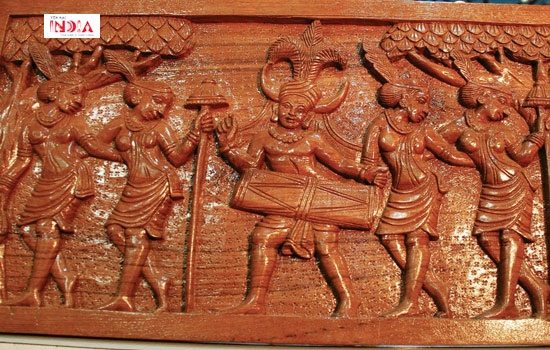 The woodcraft in Madhya Pradesh originated with the practice of carving the latest happenings and daily life on the wood. The tribals of the state seem to behold the gifted art of wood-crafting and can make almost everything with the same. He varieties include utensils, containers, combs, panels, etc. Musical instruments are also made using the Kumbi wood that's found locally.
Tamil Nadu Wood-Craft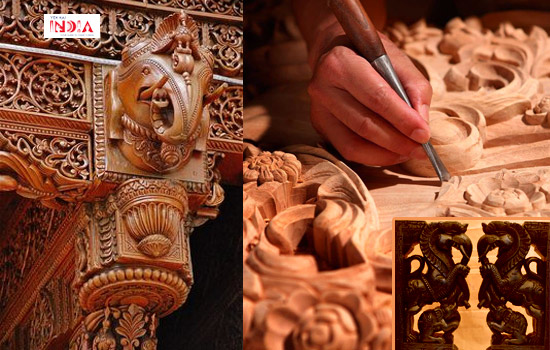 Traditionally designed show-piece items, house-hold articles and different sized panels are the woodcraft items prominent in Tamil Nadu. While Madurai is famed for rosewood carving, other places like Devakattoi, Nagarcoil, Suchindram and Virudunagar are well-known for the traditional style used in carving figures.
Andhra Pradesh Wood-Craft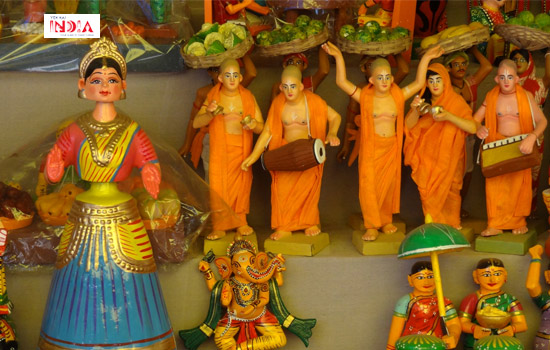 Known as the land of toys, the Adilabad district of Andhra Pradesh is prominent in its ancient craft of woodwork. Very light toys are made by glueing different parts as ground Tamarind seeds are put to use. Classic miniature designs and tinted painting is what makes these toys differ from all the other wooden toys.
Andhra Pradesh is also famous for the brilliant sculptures of Birds, Animals and Kondapalli dolls made using oil colours and the long painstaking process by the artisans.
Karnataka Wood-Craft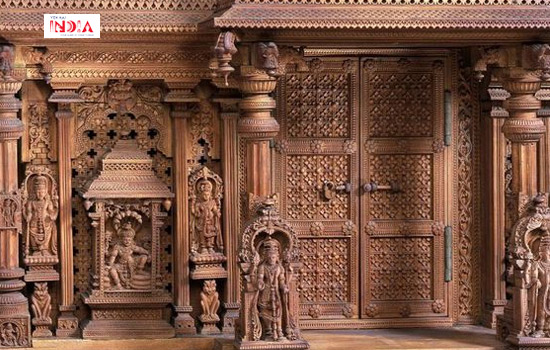 The state of Karnataka is another well-known destination for its ancient traditional wood-carved articles. Channapatna holds a significant place is making lacquered wares with the primary use of Hale wood. The lavish material of Sandalwood and Rosewood is considered the best suited for detailed carving & engraving artistic articles and modern furniture,  simultaneously.
Maharashtra Wood-Craft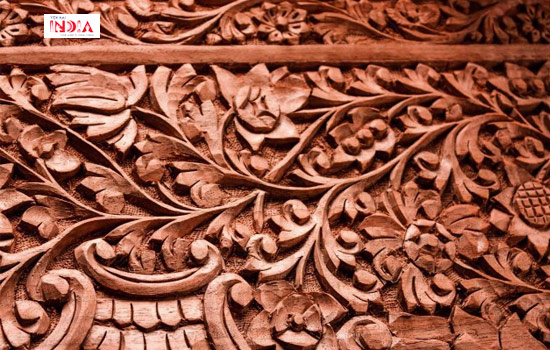 In Maharashtra, Nashik is the centre of carved timber houses and other wood carvings. In these timber houses, each window, beam, door brackets and pillars are artistically ornamented carving based in the pattern of sacred lotus.
West Bengal Wood Craft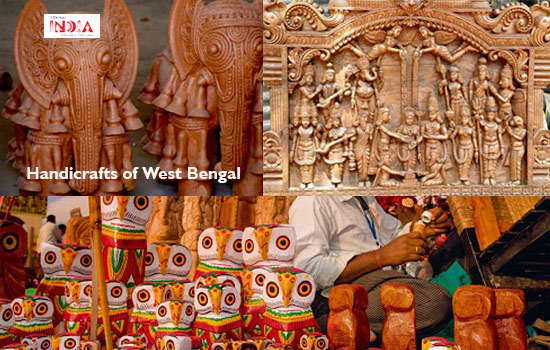 The wooden sculptures of Bengal can be mostly witnessed in the form of Gods and Goddesses figurines, floral and animal motifs as well as in the beams and pillars of community halls. Bel and Neem are the primary wood used to design these woodcrafts.
Also Read – Handicrafts in India – Checkout the variety and craftsmanship