We Indians have a major weakness for sweets. Whether it is a scoop of your favourite ice-cream or a bowl of Gajar ka Halwa, we just cannot say no to any of these tempting choices.
Where we have such diverse variety of sweets and desserts in India, we also prefer trying delicious desserts which are specialties of different countries.
What if we say that you can have the best of both worlds?
We mean you can indulge in some lip-smacking desserts where the East meets the West and lands on your plate to satisfy your cravings?
Here are 10 drool worthy fusion desserts that will make you crave for more :
Recommended Story – Top Healthy Salads You Must Try- Now!
1. Gulab Jamun Cheesecake
One of the most prominent desserts of India and can be usually found as a part of every festive celebrations, Gulab Jamun can be considered as a major weakness for many.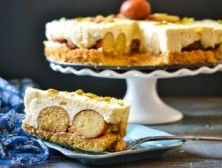 Gulab Jamun cheesecake is a delightful combination where the tender and easily melt able pieces of Gulab Jamun are placed between the cheese and the biscuit part. The crunch of biscuit as base along with light creamy cheese with sweetness of Gulab Jamun makes this dessert an ultimate hit in the world of fusion desserts.
2. Thandai Mousse Cake (Eggless)
Thandai is an integral part of Holi festival and is known for its delicious taste. With eggless sponge as the base, it has the perfect blend of different flavors with Thandai syrup and whipped cream which is loaded with pistachios. The mousse is the western concept which in this recipe consists of the combination of chocolate ganache preferably white chocolate as it goes along with the flavours which are all desi and whipped cream. Give it a try and you would surely want more!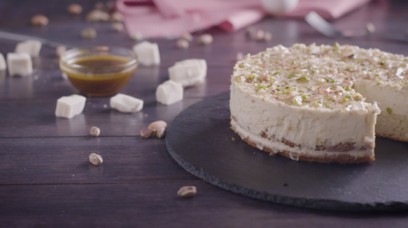 3. Peach Phirni
Peaches are one of the most used fruits when it comes to desserts. The fresh and sweet taste adds a different twist to the dessert. Phirni needs perfection as consistency is the most important parameter here. Peach puree is an added flavour which gives it a fruity and rich twist. This rich, creamy, thick and loaded with flavours dessert will surely send you into a dessert coma.
4. Vegan Carrot Halwa Trifle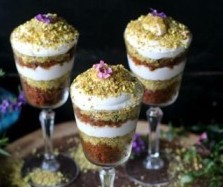 Trifle is one of the most loved western forms of dessert which can be used with many variations and can be experimented with different substitutes. This trifle recipe consists of layers of Vegan Gajar ka Halwa which is a healthier option, pistachios and coconut whipped cream. Not only is it a healthier version but also will make you indulge in it sinfully.
5. Butterscotch Toffee Sheera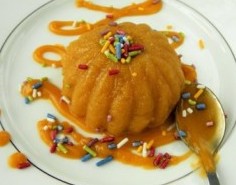 Sheera, an easy to make dessert can also be given a western twist by adding the butterscotch flavour to it. In this fusion dessert, the traditional ingredient 'Rawa' is used along with the Butterscotch flavoured instant pudding mix. Easy, yummy and hard to resist!
6. Chocolate Cinnamon Gujiya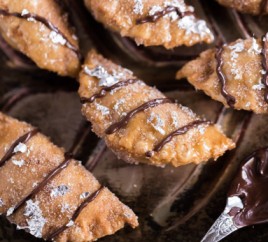 Gujiyas are sweet dumplings traditionally filled with Fried dal, jaggery and dry coconut or has rich filling of reduced dry milk (mawa), semolina, sugar and dry fruits.
In this fusion desert, the dumplings are filled with milk solids, nuts and chocolate chips and rolled in cinnamon sugar. Heavenly, isn't it?
7. Saffron Macaroons with Cardamom White Chocolate Ganache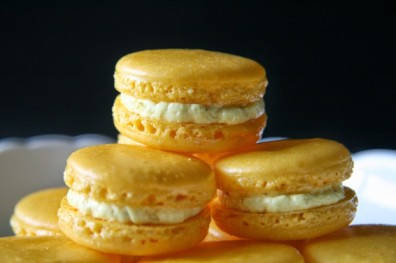 A French Delicacy with a crazy desi twist is all you need to get the best of both worlds.
The rich flavour of saffron mingled up with not so sweet and with a hint of savory and aromatic cardamom gives an unusual twist to this scrumptious dessert. The base is semi-crunchy bursting with saffron with the filling of rich white chocolate ganache with a hint of cardamom is an instant hit.
8. Berry Srikhand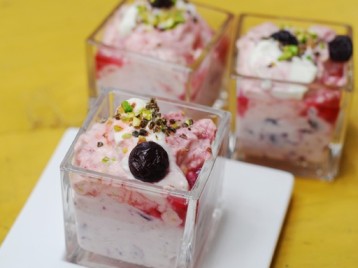 This sweetened yoghurt dish is basically everyone's favourite and can be experimented with berries. It can be prepared using mashed blueberries and strawberries. You can then add a handful mixture of rich dry fruits such as crushed almonds and pistachios and can make this fusion dessert an ideal choice to feast upon.
9. Mango Cheesecake Bhapa Doi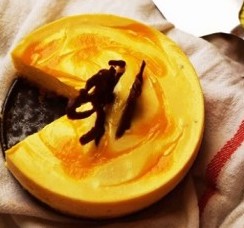 A Bengali delicacy, 'Bhapa Doi' or steamed yogurt pudding is as easy and quick just like cheesecake.
By combining juicy and aromatic mangoes, you can turn the authentic Bhapa Doi into a totally awesome mango cheesecake. Not just the base of the dessert but you won't even miss the silky smooth cream cheese as the topping which adds up to the smooth texture of this interesting dessert.
10. Ricotta Rasmalai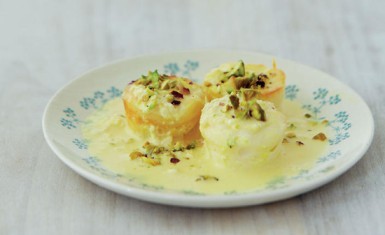 Ricotta Rasmalai is a perfect example of sweet and savory dessert and also serves as an interesting option in the world of Global Fusion Desserts. Rasmalai is traditionally made by using flavoured milk and topping it up with saffron and dry fruits. But here malai dumplings are prepared by baking the ricotta cheese in the oven and then following the standard recipe procedure.
Do you know any other such interesting fusion desserts? If yes, then do let us know!
Read Also – Under Quarantine? Here's what you can do!