An Ayurvedic Kajal made from pure organic ingredients not only makes your eyes look bigger and brighter but also works to protect them from heat and pollutants.
Kajal is an important part of Indian culture. It is the single-most make-up item that women use to enhance the beauty of their eyes. But in the earlier times, Kajal was used as protection for the eyes against harsh sun rays and irritants present in surroundings.
Even today, a Kajal is often the lynchpin for many people's outfits and a signature item they never go anywhere without.
Kajal was initially made at home from camphor and ghee. However, soon even the production of kajal was commercialized and soon chemicals were added in it for better application.
Ayurvedic Kajals are infused with many therapeutic qualities. They keep the eyes hydrated, improve vision and prevent impurities from getting inside the eyes.
Ayurvedic Kajals also possess astringent qualities and keep the eyes clear.
Some of India's best brands are bringing back the process of creating Kajal as advised by Ayurveda, to let the users benefit from them without any side effects.
Here are the best Ayurvedic Kajals in India you can avail to improve the health and beauty of your eyes.
10 Best Ayurvedic Kajals To Buy In India:
1. Forest Essentials Ayurvedic Gulaab Khaas Kajal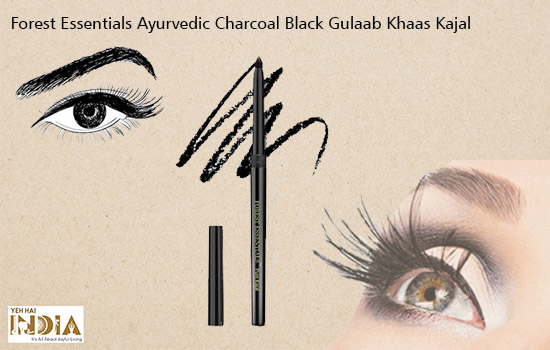 Forest Essentials' Gulaab Khaas line of Kajals is deeply saturated with natural pigments in order to augment the natural beauty of your eyes.
The Kajal is incredibly creamy and glides onto your lashes like butter.
The key ingredients include coconut oil, pure cow's ghee and the roses for which the line is named.
It is cool and soothing on the eyes and keeps them bright and clear. It is even safe to wear with contact lenses.
Price: ₹775 on Amazon.
Recommended Story – 10 Organic Kajals That Stay Long And Are Absolutely Chemical Free
2. SoulTree Ayurvedic Kajal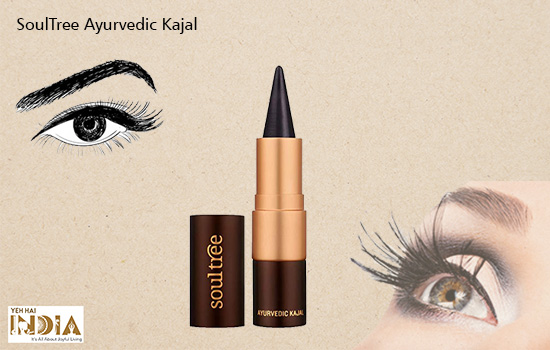 SoulTree's Ayurvedic Kajal is prepared using a 3000 year old traditional method.
It is infused with organic ghee to soothe the eyes and camphor to provide a cooling and cleansing effect. Even the pigments of this excellent Kajal are extracted naturally.
The ingredients are grown and extracted by farmers without any chemical alterations.
It also has a lovely fragrance and is very dark immediately upon application. It is also available in a multitude of colours and can match any look.
Price: ₹795 on Amazon.
3. TATSAT – 100% Natural Ayurvedic Kajal Pencil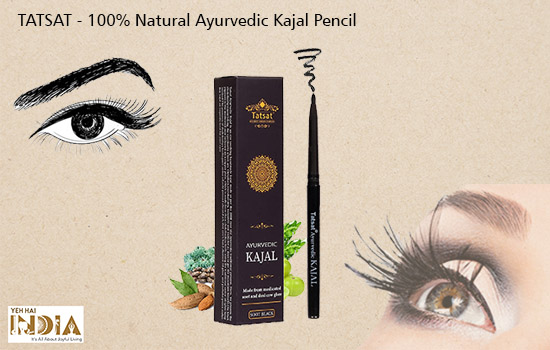 Tatsat's intricately produced Ayurvedic Kajal is safe and nourishing for the eyes.
A cotton cloth is dipped into a solution of Triphala and Daruharidra Kashaya, Tulsi and Sahadevi juice for 21 days until the contents are absorbed into the cloth.
This cloth is then turned into a wick which is burnt to create the medicinal soot which eventually acts as the Kajal we apply to our eyes.
It is a therapeutic grade Kajal made for every day use and therefore, not very long lasting or smudge proof but incredibly soothing and safe.
Price: ₹444 on Amazon.
4. Shahnaz Husain's Vedic Solutions Ayurvedics Shaeyes Herbal Kajal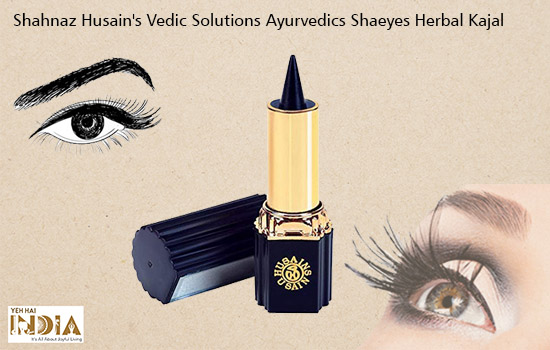 In Shahnaz Husain's excellent Kajal, the goodness of the natural oils combined with the herbal extracts nourish and relax the eyes.
The Triphala in the Kajal is also highly beneficial for the eyes and helps to maintain good vision.
It glides on to the eyes beautifully and gives the eyes a beautiful shine. It is completely safe for every day use and provides a cooling effect for the eyes.
The product may smudge a little but on the upside, it comes off very easily with a moist cotton pad.
Price: ₹305 on Amazon.
5. Just Herbs Retractable 2 in 1 Herbal Eyeliner + Kajal'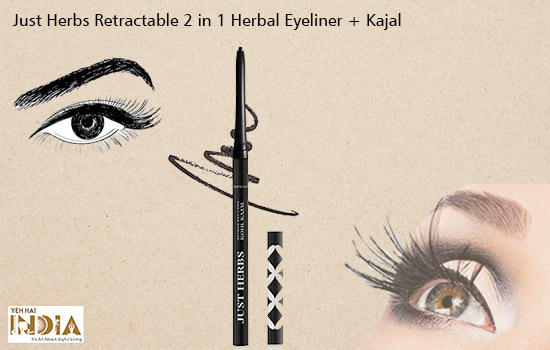 Just Herbs' Herbal Eyeliner and Kajal boasts of its ability to stay on your eyes for 11 hours with only a single swipe.
The creamy matte texture also ensures that its long stay will not be cumbersome or irritable at all.
The Kajal is rich in Vitamin E which is a strong antioxidant which locks in moisture and hydration keeping your eyes delightfully smudge-proof.
This product can be worn all day to any occasion, even physically strenuous ones like the gym.
Price: ₹295 on Amazon.
6. Biotique Magikajal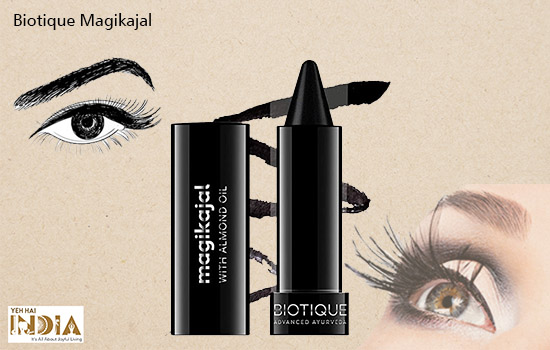 Biotique's Magikajal is manufactured in the traditional Ayurvedic way using Ayurvedic ingredients and processes.
It is blended with pure sesame oil which improves your visions and strengthens and elongates your eyelashes.
It is also infused with sweet almond oil, the essence of Eclipta Alba, Berberis Aristata and Indian Gooseberry, all of which help protect the eyes from the sun.
It is the perfect kajal for a smouldering or subtle look.
Price: ₹135 on the Biotique website.
Recommended Story – Top Organic Beauty (Cosmetic ) Brands in India Offering Best Organic Skin Care Products
7. Just Herbs Naynam Day Long Sharpenable Kajal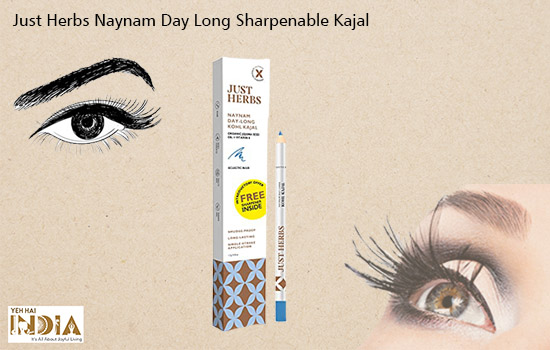 Just Herbs' Naynam Day Long Sharpening Kajal does as the name promises and stays on your eyes all day without any smudging.
The pigment is delightfully buildable and is perfect for an intense eye look.
The lightweight formula stays on your eyes quite easily through all sorts of weather. It promises single stroke application and a creamy matte texture. It also comes with a sharpener customized to the Kajal!
Price: ₹135 on the Biotique website.
8. Santulan Ayurveda San Anjan Kajal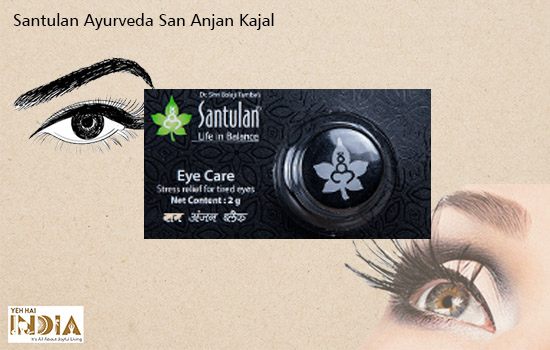 Santulan's Ayurveda Kajal comes in an easy twist up form and offers a breathtaking deep black finish.
It is dermatologically tested and very safe for the eyes. It is just what you need as a cherry on top of your eye make up.
However, the Kajal may smudge a little and it is not recommended that you do more than one application at a time.
It has a very cooling effect on the eye and is perfect for a dramatic eye look as you go about your day.
Price: ₹190 on Amazon.
9. K-Veda Eyeurvedic Kohl Liner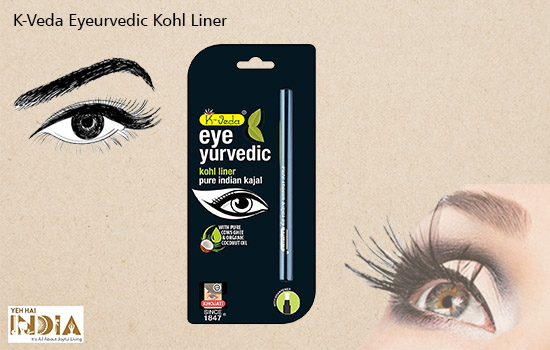 Made entirely with natural ingredients, the K-Veda Kajal provides a stunning eye look. It is the perfect kajal for a stunning and luxurious look and is infused with organic coconut oil and pure cow's ghee.
The Kajal also comes with a divine aroma and an instant cooling effect. It is very long lasting and a deep and intense black.
You may have trouble with it smudging but this can be easily countered with the help of face powder.
Price: ₹499 on Amazon.
10. Sreedhareeyam Ayurveda Herbal Baby Kajal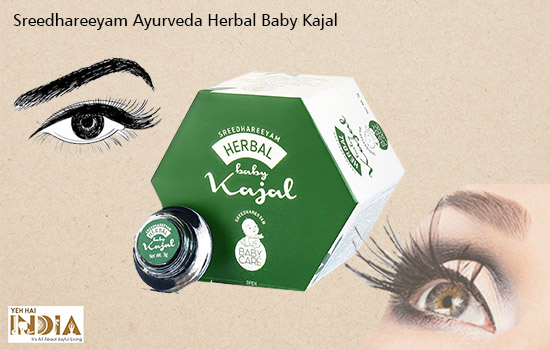 This Kajal is a little unique as it is specifically manufactured for the sensitive skin of babies.
It has been extensively dermatologically tested and is hypoallergenic. It is made with completely natural ingredients as well.
Sreedhareeyam's reputation for quality control, extensive research and innovative products is reflected in this Kajal as it brings an intense black colour to the eyes as well as Ayurvedic protection to the eyes of little children.
Price: ₹95 on Amazon.
With Ayurvedic Kajals, you don't have to worry about the many side effects that come from the chemicals found in non-organic Kajals these days.
You can use it daily to enhance the beauty of your eyes without any allergies or infection disturbing your peace of mind.
Preserve the natural beauty of your eyes with Ayurvedic Kajals made from natural extracts.
Also Read – Best Ayurvedic Makeup Products: Indian Brands