Silver Toe Rings are an elemental part of Indian jewellery and are worn by Indian women to represent the conservative nature of Indian culture.
Since the dawn of time, Jewelry has played a crucial role in Indian culture. The History of Indian Jewelry goes thousands of years back, all the way back to the Indus Valley Civilisation.
Married Indian women adorn themselves with traditional accessories such as the Mangalsutra, Bangles, and the toe rings. Also called as bichiyas in local language, Toe Rings are a great addition to any ethnic look and are considered as a symbol of respect for Indian culture.
Wearing this jewellery piece is also believed to bring a host of health benefits as per Ayurveda.
Cultural Significance Of Silver Toe Rings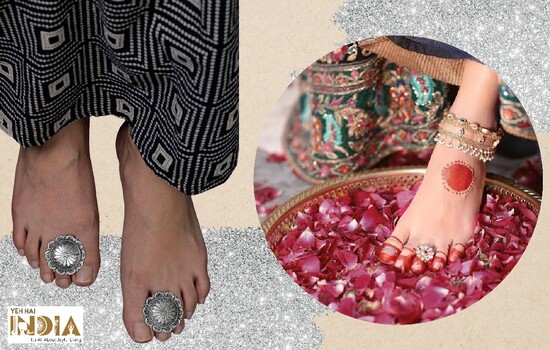 As per Indian rituals, wearing a toe ring made of silver is one of the most common traditions practiced by married women in India. Jodavi, Bichuya, Mettelu, Metti, and Kalungura are some of the many names for toe rings in India.
Toe rings are also a part of the "Solah Shringaar " in essence, the 16 bridal ornaments which comprise of sixteen steps that women adhere to for her beautification from head to toe during the wedding.
Apart from being the 14th bridal ornament of the 16 bridal ornaments (Solah Shringaar), silver toe rings also hold a lot of astrological and scientific significance and qualities.
Moreover, in today's world, silver toe rings make the most apt accessory and hence many women wear two-three of those in each foot.
Recommended Story – Types of Indian Traditional Jewellery for Brides and Jewellery Lovers
Historical evidence backing the science behind silver toe rings: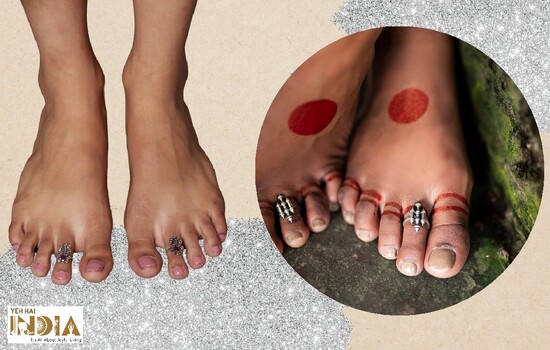 Many of the rituals and practices have been perpetuated from generation to generation based on Vedic Literature, and Manuscripts. Traditionally, people wore large rings in order to symbolize their marital status.
As toe rings or bichiyas are considered to be symbolic for married woman, Hindu religion prohibits unmarried girls from wearing bichiyas on their second finger toes. Even in present times, girls wear toe rings on their third finger toes before marriage.
Toe rings also symbolize a woman's dual status as sister and wife. She wears two rings representing the two most important men in her life i.e, her husband and her brother. If one of them dies, a set is removed. The analogy is that if the death of her husband took place then her brother would provide her protection.
In the Ramayana, Sita Devi's toe ring plays a huge role. When she was abducted by Ravana, she dropped her toe ring on the way as a symbol of identification for Lord Rama. This implies that toe rings have been around for a very long time.
In Uttar Pradesh and Bihar, the bichiya or toe ring is one of the most important symbols of marriage. Women are encouraged to decorate each toe with different rings with myriad motifs ranging from paisley, to fish to flowers.
Here are few points on the scientific importance of silver toe rings: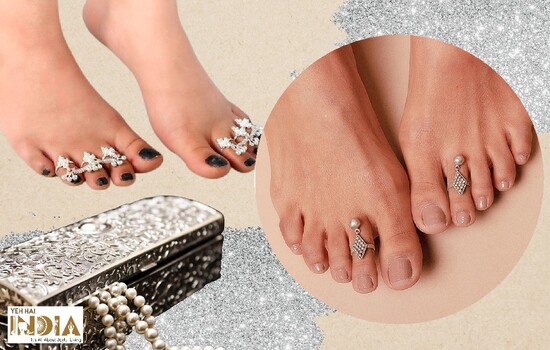 As per the Ayurveda, wearing toe rings on the second toe of both feet is very helpful for women in order to conceive.
Wearing toe rings helps the married women to keep their menstrual cycle in check.
In a way, wearing toe nails also work as acupressure for the ladies which helps the nerves from the soles of their feet to their belly button work normally.
It is said that the second toe of both feet are especially connected with the uterus of the ladies, which is why wearing these toe rings help a woman to get pregnant.
Silver is said to be the conductor of coolness, hence, wearing them in their feet helps the women to remain calm and feel fresh.
According to Ayurveda, the rings exert pressure on the women's sciatic nerve, speeding up blood circulation and maintaining appropriate blood flow from the uterus to the intestines.
Wearing toe rings also help to keep their blood pressure in control.
Why are toe rings traditionally made of silver in Indian culture?
According to Indian Mythology, toe rings should always be made of silver and not gold. This is because gold is a symbol of Goddess Lakshmi. Wearing gold under the waist is an utter disrespect to the Goddess of Wealth and can also result in financial problems. Wearing toe rings requires a lot of caring and a lot of respect. Women must ensure that they do not lose their toe ring and taking it off is frowned upon.
Never give a toe ring that you are wearing as a gift to somebody, as it is a symbol of suhag and rights of the woman who has had them since the very beginning.
In conclusion, several excerpts from the Ayurveda and historical references to toe rings indicate that they are indeed an important part of our culture, and are a perfect combination of health and aesthetic.
Also Read – Indian Traditional Jewellery from Head to Toe