Mumbai street art offers a glimpse into the heart of Mumbaikars through its larger-than-life creations that pay tribute to our most beloved Bollywood movie characters and also throw light on the grave social issues plaguing our country.
The city of celebrities and the economic capital of India, Mumbai, offers more than just cinema and stock exchange. This city attracts the most creative minds in India who come up with the most innovative and beautiful ways of expression through art, dance, music, poetry, and cinema.
Art has always been a fundamental form of expression that not only reflects personal stories but also casts a light on the culture of a place and delivers social messages.
The street art phenomenon is an artistic reflection of the culture of Mumbai. Street art originated in New York during the 1920 and 1930 when building walls, old factories, and even roads became the canvas for creative people to turn their imagination into reality.
Mumbai caught up with these events and today it has become a street art hotspot.
Often the decaying walls of old buildings, factories, and godowns serve as the perfect canvas for the creative street artist who, using his imagination, produces some of the most beautiful and colourful illustrations representing different themes.
Some of these murals may also be commissioned paintings including those that are present in public buildings like railway stations.
What Are The Themes In Mumbai Street Art?
Since street art is usually correlated with the culture of a place it comes as no surprise that the majority of Mumbai street art is dedicated to cinema.
Many Street artists draw up the posters of famous evergreen artists like Amitabh Bachchan, Rekha, Madhubala, and others. It is a way for street artists to pay tribute to their favourite film stars.
Some murals may depict big and extravagant posters of famous movies like Sholay or depict the heroes in famous characters.
Apart from cinema, many paintings depict the history of Bombay city itself. Many paintings depict the coastline of the city situated at the shore of the Arabian sea.
Some paintings also illustrate modern Mumbai and may exhibit a positive or negative commentary on contemporary issues. Mumbai street art is a treat for the eyes of art and cinema lovers.
Famous Murals In Mumbai:
Given below are some of the iconic street art paintings one should not miss out on while in Mumbai:
1. Amitabh Bachchan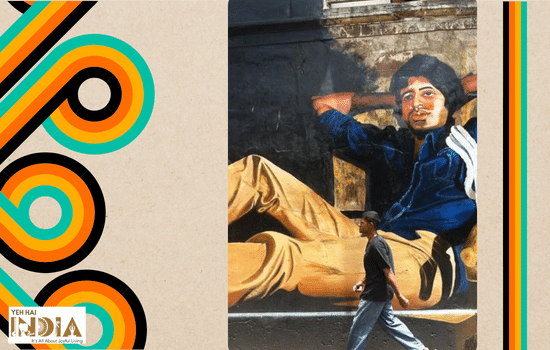 This painting is inspired by the iconic Bollywood hero Amitabh Bachchan and the style of this art reflects vintage Bollywood.
The mural on the wall of an old bungalow portrays Amitabh Bachchan as the energetic and handsome angry young man from the movie Deewar.
You can spot this painting while traveling from Mehboob studio to the Bandra bus stand.
2. Between Us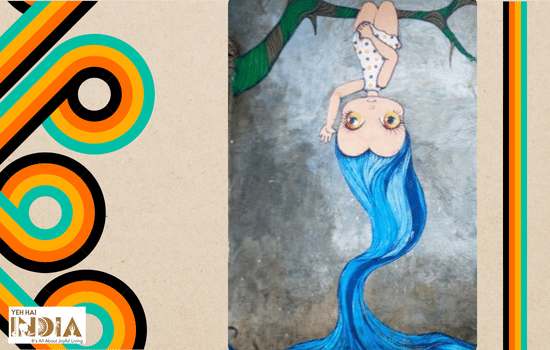 This vibrant and playful street painting portrays a little girl hanging upside down from the branch of a tree with beautiful blue hair flowing down and turning into a river.
The contemporary style painting can be spotted outside the Maskara gallery in Colaba and is the work of a famous Brazilian street artist named Nina Pindalfo.
Her work is also famous in London, Brazil, Germany, Florida, and New York.
Recommended Story – Kathakali: A Flamboyant Folk Art Of Kerala
3. Anarkali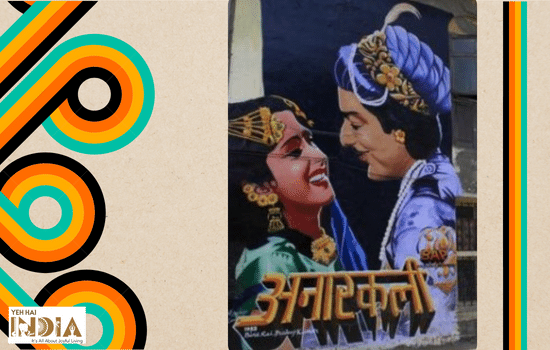 Another street art inspired by classic Bollywood can be found on the walls of an old building near Duke restaurant on Chapel road.
Anarkali, starring Dilip Kumar and Madhubala, is one of the most famous and iconic Bollywood movies that received recognition worldwide and inspired many artists throughout the world.
This exquisite mural was created by Ranjit Dahiya and his friend Tony Peter.
4. Mahatmaa Gandhi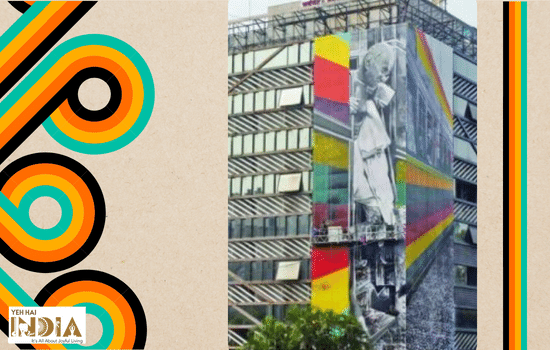 This mural is painted on the south and east walls of the Churchgate station. The exquisite image of the father of the Indian nation was painted by the famous street artist from Brazil, Eduardo Kobra.
The image portrays unique and vibrant geometric shapes and is visible from a substantial distance.
Being 25 meters long and 8 meters wide, this huge mural will always catch your attention whenever you travel near this station.
5. Sassoon Docks Street Art
Street art project collaborated with several artists and creative people to transform the 142-year-old Sassoon Docks into a visually appealing and vibrant artistic masterpiece.
The different paintings on the walls of the dock portray various messages and demonstrate the culture of fishermen and women.
One notable painting among them is Shilo Shiv Suleman's mural which shows the role of women in fishing and how they are breaking the rigid stereotypes.
6. Rajesh Khanna
This exquisite and vibrant painting of Rajesh Khanna is made by the same artist who made the famous painting of Amitabh Bachchan.
This was made after the demise of the famous Bollywood actor in 2012 as a tribute.
7. Lion Gate Wall Art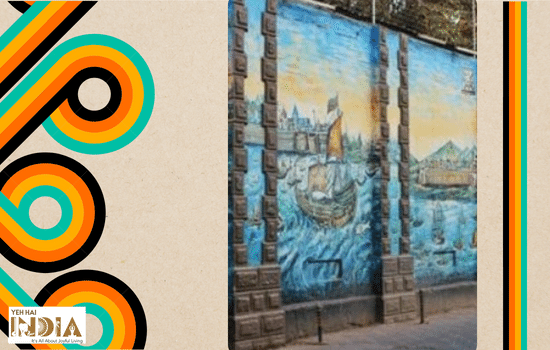 The Lion Gate Wall Art shows 19th-century Bombay with its maritime trade culture. It is a highly detailed painting that shows the history of this magnificent city.
This mural was made by a mysterious artist unknown to everyone but people have different theories to explain the reason for creating it.
Some people speculate that this art has been made to cover up the spoiled walls.
8. Bond
The Bond street art can be spotted near Mount Mary Basilica in Bandra West which was created as a part of the St+art project.
Bond Truluv, the renowned street artist from Germany, is famous for his unique street art style in which he paints his name bond in different colors and styles.
This monochromatic image of Bond is a work of optical illusion in which the letters look like they are made with different pieces of cardboard stacked at various angles.
Summary:
Street art depicts different themes in vibrant and glorious colors and is often a useful tool in social commentary. Mumbai is home to the film industry and has many iconic street art and murals inspired by classic and contemporary Bollywood movies.
Many street paintings on the walls of abandoned buildings portray famous actors and iconic movies. Some of the murals are painted by famous graffiti artists while others may be painted by anonymous painters who don't crave recognition.
Mumbai also attracts graffiti artists from numerous countries like the USA and Germany who collaborate on Indian art projects. Street art always attracts the common man and has something to tell us.
The breathtaking murals depicted in Mumbai Street art brilliantly highlight the finer traits of a celebrity or theme in a way that acquaints people with the intricacies of stardom and life in Mumbai.
Also Read – Kathputlis: A Vibrant Expression Of Rajasthani Folk Art