Highlighting the religious mindsets and struggles of the middle-class people, Kalighat paintings became an eminent cultural symbol of Kolkata and also a tool for social awareness that connected very well with the common man of the era.
Originating from the Kalighat Kali Temple region in Kolkata, the Kalighat paintings represented the religious and cultural beliefs of the people of this region.
The bright and vibrant paintings were made using homemade dyes of bold hues like yellow, red, and green and painted on mill-made papers.
These paintings were the perfect souvenirs for visitors of the well-known Kali Temple as they portrayed Kali maa in different forms in beautiful and vibrant colours.
Some paintings also depicted other avatars of Kali maa like Durga and Parvati and other Hindu gods like Shiva or Vishnu. The art form soon became popular and the paintings started illustrating a broader range of themes.
Several significant events in Indian mythology and epics were depicted in some of these paintings. Owing to the unique style, colouring scheme, and theme, the Kalighat painting emerged as a distinct, recognizable painting style.
Even though Kalighat paintings were frequently associated with religious themes, there was another type of painting that had nothing to do with religious imagery.
The Oriental school of Kalighat paintings depicted all the religious themes including gods and goddesses, characters from epics and mythology, and important events from holy texts.
The other domain of Kalighat paintings called the "Occidental school", focused on the lives of ordinary city dwellers. A unique feature of the Kalighat painting is the depiction of gods and goddesses as normal people.
An example of such a painting is "Shiva's outing with the family" which depicts Lord Shiva, Parvati, and Ganesha as a regular family. Some of these artworks also depicted social evils like corruption or dowry or illustrated the Indian independence movement.
Kalighat paintings were not done by a single artist and were largely the efforts of the whole family where some handled the responsibility of making the dyes, some were good at drawing the outlines, and others filled in the colours.
Prominent Features of Kalighat Painting Style:
Kalighat paintings feature figures in a simple form. The figures are depicted through light and shade and sometimes simple linear treatment.
The shading used in the Kalighat painting is a very simplified version of the highly detailed chiaroscuro shading done by western artists.
Contouring through dark and light shades is done to delineate the forms and for the depiction of volume.
Traditional Kalighat painting is devoid of any background.
There is a specific sequence of colouring. Firstly the face, arms and legs, and other exposed body parts are coloured, then the clothes followed by other details.
Famous Kalighat Painters From India:
Even though historically, Kalighat painting has remained a collective effort with multiple members of the same family contributing to finish the painting, several contemporary painters have explored Kalighat paintings and given a personal touch to them. Given below are some of the most notable and respected Kalighat painters:
1. Jamini Roy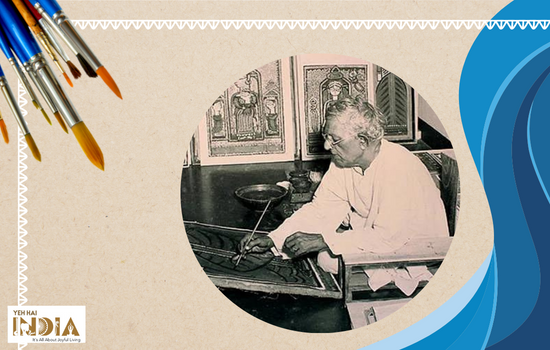 The most famous name associated with Kalighat paintings is that of Jamini Roy. He started as a portrait painter but soon found his love for Kalighat paintings after observing the exquisite paintings outside of the Kali Temple.
He found his mission and wanted Kalighat paintings to be a tool that would portray the life of the regular people of Bengal, popularize Indian art forms all over the country and make the art easily accessible to middle-class people.
Jamini Roy's paintings were very affordable for middle-class Indians and his artwork became famous leading to being displayed in New York City and London. His painting revolved around religious themes and portrayed Radha-Krishna, Ram Sita, and also Jesus Christ.
He also painted the lives of Santhals and experimented with natural paints made from dried flowers, mud, and chalk powder.
His notable paintings include Ramayana, Bride And two companions, Krishna And Balarama, Crucifixion With Attendant Angels and Dual Cats With One Crayfish. 
Recommended Story – Phad Paintings of Shahpura
2. Anwar Chitrakar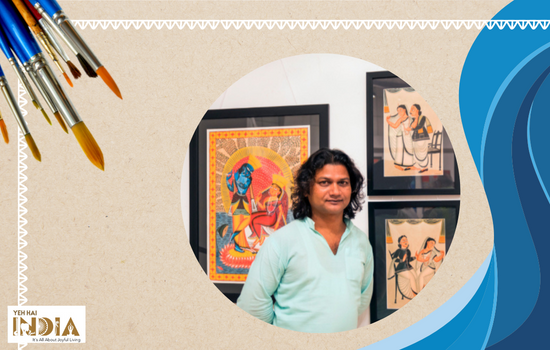 The "Chitrakar" title is given to an award-winning artist. Anwar Chitrakar is a famous Kalighat painter whose work is displayed in the Albert and Victoria Museum in London and the International Airport in Mumbai.
His family was into patachitra which is the mythological and traditional heritage of West Bengal.
The artwork of Anwar Chitrakar portrays bright and vibrant colours like dark green, yellow, and blue and depicts social and religious themes.
3. Kalam Patua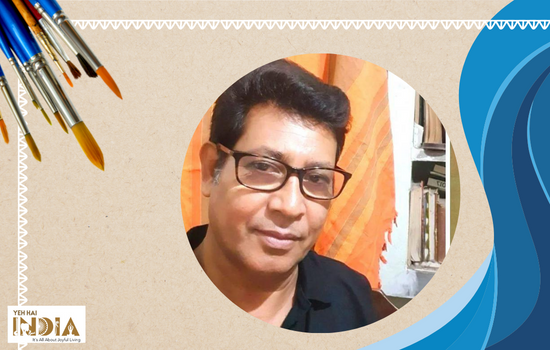 By adding a modern touch to the traditional Kalighat painting style, Kalam became a famous Kalighat artist. He began his career as a postman while selling his paintings on the side for only 20-25 rupees.
Today his artwork is priced at 30 thousand rupees. His artwork is displayed at the Queensland Art Gallery and Hall of Modern Art.
4. Bhaskar Chitrakar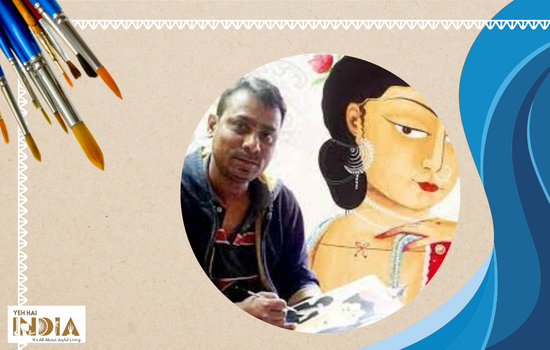 Bhaskar Chitrakar from Patua Para of Kolkata considers himself to be the last Kalighat painter. He was passionate about art and painting from his younger years and even used to sneak into art exhibitions held at the government college of Art in Kolkata.
He began his career as a sculptor in Gujarat but soon realized that his heart lies in painting. Most of his paintings are sold to NRIs and his love for painting has kept the Kalighat painting alive.
He illustrates contemporary themes in his paintings. From the coronavirus pandemic to cyberbullying, his paintings portray numerous current issues. You can find his art online on Mojarto.com and Khazana.com.
Where To Find Kalighat Paintings?
You can find several famous and enchanting Kalighat paintings from the 19th century up to the modern era at the Chitrakoot Art Gallery in Kolkata.
You may also visit the website maintained by the Indian Ministry Of Culture, www.ngmaindia.gov.in, and virtually get a look at the beautiful old Kalighat paintings present at the Indian National Gallery of Modern Art.
One can find Kalighat Paintings online on websites like www.mojarto.com. Many everyday items like clothes, jewelry, and utensils may have Kalighat paintings.
Summary:
Kalighat paintings originated near the Kalighat Kali temple and were inspired by Maa Kali. Most of the paintings depicted religious figures like Durga Mata, Ram-Sita, and Radha-Krishna, and important events from Indian epics like Ramayana and Mahabharata.
One special feature of Kalighat's painting was the depiction of gods and goddesses as regular people.
Another type of Kalighat painting emerged which illustrated the daily lives of the common man in Kolkata. Kalighat painting was popularized by artists like Jamini Roy and Anwar Chitrakar in the west.
Kalighat painters made art affordable for the middle class and used it as a tool for social commentary, shedding light on social evils.
Today one can find Kalighat paintings in various eminent museums across the country like the Indian National Gallery of Modern Art and the Chitrakoot art gallery.
So, if you have an inclination towards mythology, having atleast one Kalighat painting in the prayer room or your living room would be an ideal thing to fill your home with positive vibes.
Also Read – How To Make The Majestic Tanjore Painting