Paintings are a form of expression which reflect the cultures and traditions of a place.
India is home to some of the most brilliant painting styles which have gained recognition all over the world.
These Indian painting styles may have originated in royal Mughal courts or the tribal villages and colourfully showcase the lives, faiths, beliefs and practices of the people from which these paintings have originated.
Most people are aware about the famous Indian art styles like Madhubani or Warli.
India has a lot more to offer apart from the above two painting styles which have not got the exposure they deserve due to many reasons.
But if you spare some time to observe these extinct painting styles, you will be totally mesmerised by the finer details about Indian culture highlighted in these paintings.
There are many unexplored Indian painting styles which have not gained enough recognition from the media or the outside world but these mesmerizing styles deserve our attention.
10 Little Known Painting Styles From India:
1. Thangka Painting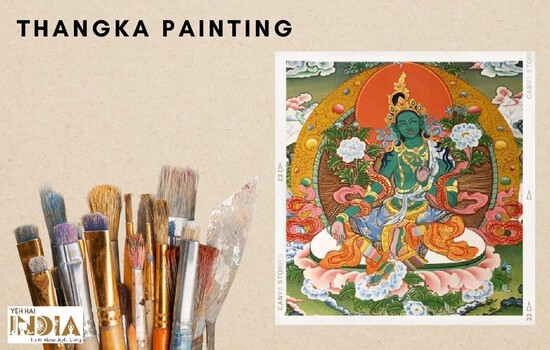 Originating in the beautiful state of Sikkim, these mesmerizing art forms are engraved on cotton canvas bordered with a silk frame and showcase the valuable teachings of lord Gautama Buddha.
The traditional paintings were originally done by the buddhist priests and monks of the hilly state to convey religious messages.
Later on, the aesthetic appeal attracted many creative souls who picked up the painting style and popularized it as an art form.
The colorful pictures depict Buddha as the central subject encircled by several symmetrical figures. They are rolled up and attached to a supportive fabric. 
Recommended Story – Rajput Painting
2. Saura Painting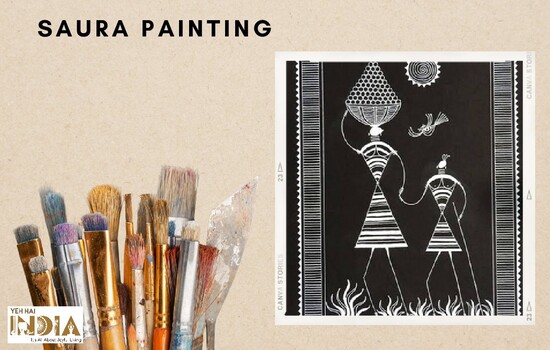 Saura paintings originated from the state of Orissa and have quite a lot of similarities with the Warli painting style of Maharashtra.
These paintings depict religious themes and are made to celebrate important events like marriage or childbirth. The paintings use geometrical shapes signifying religious and folk stories.
An elaborate border is drawn first and then the motifs are filled up using bright colors like blue, red and white. The background is filled with contrasting bright colours like yellow and red.
3. Manjusha Painting
The Manjusha art form originated in Bihar and it is one of the only art forms which represents a series of paintings that together narrates a story.
Prominent displays of these paintings were done at a festival related to the worship of a snake god in ancient times in the present day Bhagalpur district.
This painting style became famous during British rule but started fading away which led the Bihar government to take initiative to popularise this art form.
4. Kalamezhuthu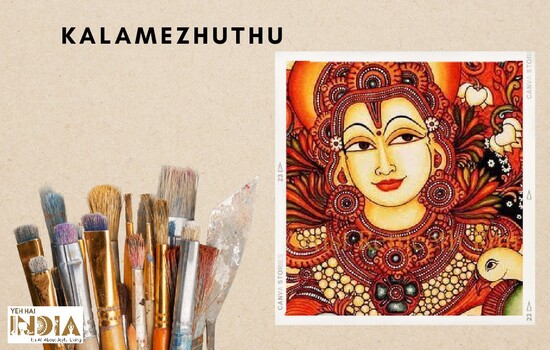 It is a type of religiously significant painting style involving ritualistic art representing deities like lord Ayyappa or Kali. This painting style is practiced with naturally available plant based powders and pigments.
Traditionally only five colours are used for these paintings and the figures within the drawings have an aggressive expression of emotion including happiness or anger.
The main sources of pigments include turmeric, rice powder, tree leaves and burnt husk.
5. Pichwai Paintings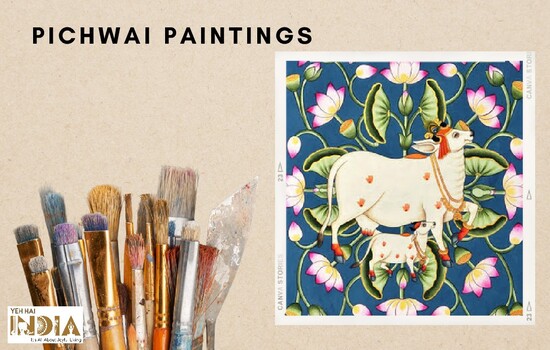 The Pichwai painting originates from Nathdwara in Rajasthan and depicts the Hindu deity, Lord Krishna. Different forms of Krishna are represented in the spiritual paintings featuring him with various expressions, colours and clothes.
Nowadays, the pichwai artists live in chitron ki gali and chitrakaron ka mohalla in Rajasthan.
Usually, many painters work together to make a painting under a lead artist and create a beautiful piece of work. This art form is passed down from one generation to another.
6. Santhal Paintings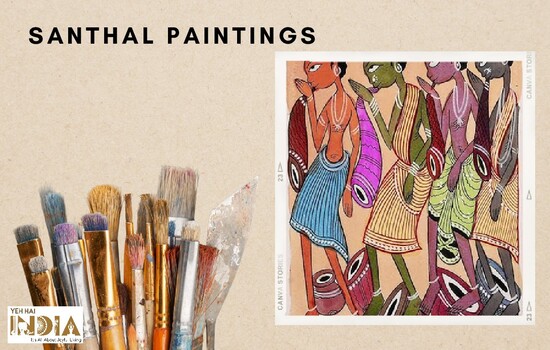 Santhal painting style is common in Orissa, Bihar and West Bengal. It is a free hand painting style made with naturally derived colours and pigments which depicts day to day life.
The main themes of these paintings include harvest, celebration, family festivities, different rituals, gods and goddesses.
Recommended Story – Ajanta Cave Paintings
7. Khovar and Sohrai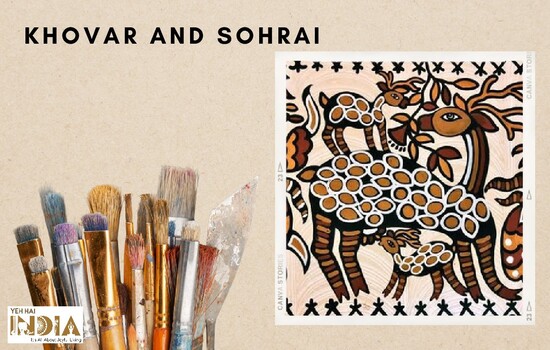 Khover and Sohrai are practised by the tribal people of Hazaribagh and its surrounding district of Jharkhand and is a mural art form.
The inspiration for these art forms are drawn from the life experiences of the artists who are mainly the women of forest dwelling tribes.
The paintings depict nature including wild animals like tigers, deers and elephants and domestic animals like cows and bulls.
Khovar is painted by the women during the marriage season spanning from January to June.
8. Pithora Paintings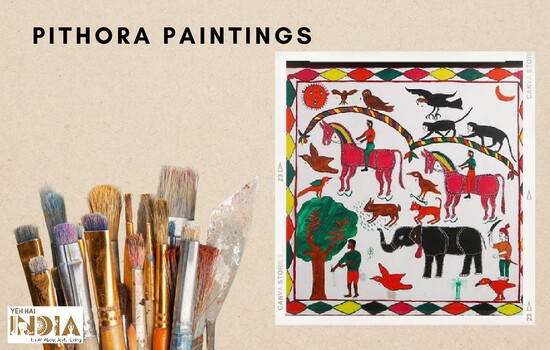 These ritualistic paintings are practised in Madhya Pradesh and Gujarat. Rathwa, Bhilala and Bhil tribes practice the Pithora painting style which is done on the wall and believed to bring prosperity, peace and happiness in the homes.
The paintings depict trees, birds, wildlife, animals and the sun and the moon along with the people, ghosts and the ancestors.
The main wall of the house, separating the balcony and kitchen, is considered to be sacred and therefore embellished with the Pithora paintings.
9. Aipan Art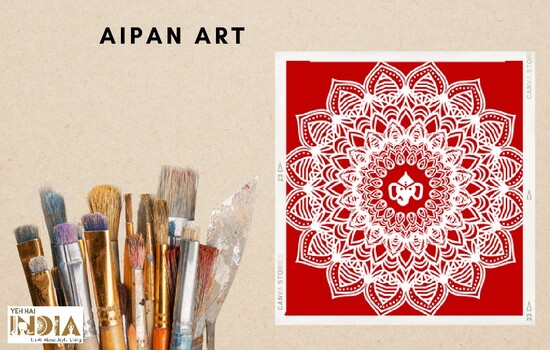 Originating in Almora in Uttarakhand and flourishing under the Chand Dynasty, Aipan art has many variations but mainly depicts religious themes related to Hinduism, Jainism and Buddhism.
The motifs and designs of the paintings are inspired from feelings of community hall and natural elements.
The painting is done using red and white colours and it is believed that red paint on the wall brings good fortune.
This style of painting can be a bright and ethereal addition to the modern day homes.
10. Kohbar and Pidhiya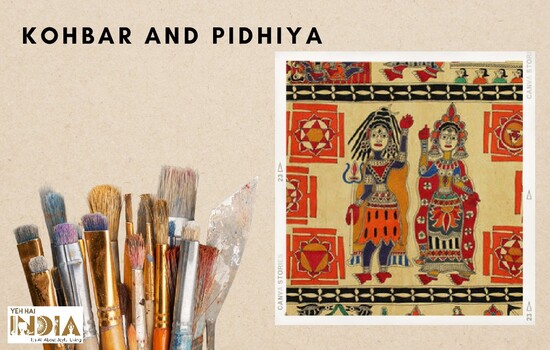 These are forms of prominent Bhojpuri painting styles. Kohbar represents gratification and affection while Pidhiya depicts a wide variety of subjects ranging from animals, plants and deities.
The Bhojpuri paintings are often gifted to couples as it is thought to bring good fortune and blessings for the newlyweds.
Many Bhojpuri paintings present in the temples depict the Hindu deities Lord Shiva and Parvati.
The union of Lord Shiva and Parvati is one of the most important and powerful events and therefore is an important theme for these paintings.
Summary: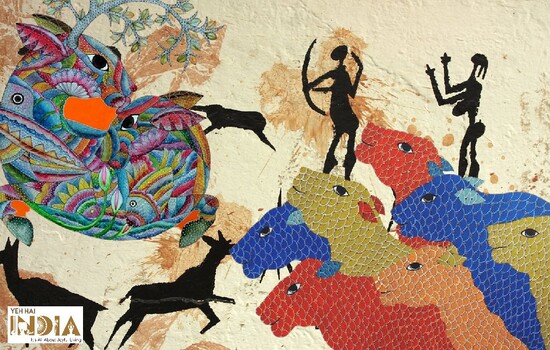 India is the land of culture and creativity mixed with spirituality and religion. The different types of painting styles in India represent different religious and natural themes and aesthetics.
Most of the painting styles originating from tribal communities use natural pigments and simple colours depicting everyday life.
These not-so-famous Indian painting styles which originate from ritualistic and religious practices depict themes of gods, goddesses and religious teachings.
Adorn your homes, offices and also your daily items like clothings and bags with these paintings styles from ancient India.
Also Read – Tanjore Paintings : Classical South Indian Painting