For Indian Brides, a maang tika holds a special meaning that goes beyond its aesthetic appeal.
India is a country that has always placed great value on self-expression through ornamentation. Every piece of clothing and accessory holds deeper emotional, spiritual and symbolic meaning. Jewellery is no different.
According to Indian traditions, Jewellery is and will always be an important part of Indian attire. What type of jewellery is worn on which event conveys a great deal about the person wearing the jewellery.
Keeping this in mind, it is important to know what jewellery is worn when and for what purpose. This is especially true for an Indian bride.
The solah shringaar, or sixteen ornaments, that adorn a bride serve a special purpose and have both spiritual and symbolic meaning.
What is a Maang Tika?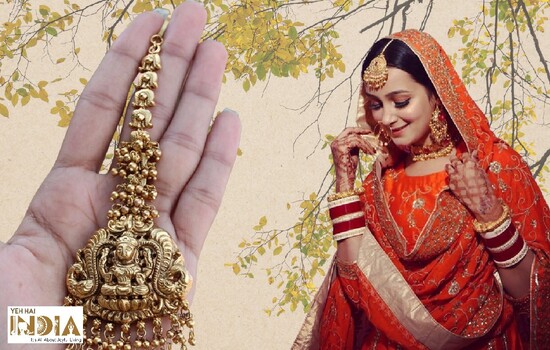 In India, there's no piece of jewellery that does not signify a specific purpose or meaning. In fact, each one has spiritual, emotional and cultural value associated with them and Maang Tika is no different.
Maang refers to the parting of the hair in the centre and Tika means ornament. The Maang Tika is a traditional Indian headpiece, worn over the middle parting so that the Tika rests in the middle of the forehead.
The Maang Tika consists of a chain or serai that rests on the hairline of the bride. It comes equipped with a hook that attaches to the hairline of the woman while the Tika adorns her forehead.
Although, it was traditionally worn by a woman on her wedding day, it is now worn even by little girls across the world for all sorts of reasons and occasions.
Recommended Story – Types of Indian Traditional Jewellery for Brides and Jewellery Lovers
The Significance of Maang Tika: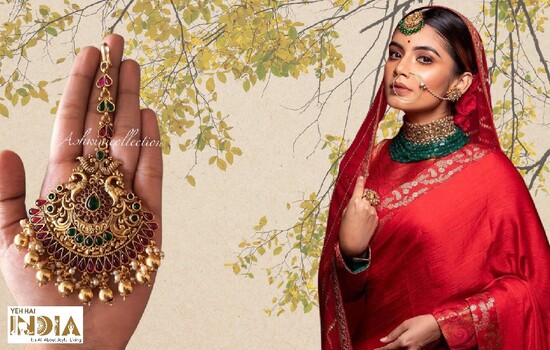 The first instance of Maang Tikas that can be found dates back 5000 years ago, when our ancestors began crafting jewellery. They were proudly worn by both men and women as evidenced by various sculptures and paintings.
The legend that surrounds the origin of the Maang Tika is also unsurprisingly connected to the origin of another deeply important symbol of marriage, the sindoor.
It is said that whenever a king from Ancient India would return victorious from war, he would smear the blood of his defeated enemies onto the forehead of his queen.
This gave birth to the tradition of a wife applying sindoor to her forehead. Ever since then, the application of sindoor to one's forehead has become a sacred symbol of one's spouse's safety and victory over all the challenges they face.
It is believed that the Maang Tika came into existence as ornamentation in order to cover the sindoor from evil eyes. This is the tradition that makes Maang Tika a vital part of the solah shringaar also known as the 16 ornaments that a Hindu bride wears on her wedding.
According to the Vedas, the forehead is home to the third eye referred to as the Ajna Chakra which is the seat of all wisdom. Hence, the Maang Tika's position is hailed for its ability to control emotions and tap into one's concentration.
Therefore, it is meant to bestow the wearer with the wisdom and strength they need to embrace their new journey in life and who needs such courage and wisdom more than a bride who is about to embark on a new life entirely?
The bride wearing a maang tika is believed to be gain knowledge, courage and wisdom.
Traditionally, the circular tika or chakra is made up of two separate petals merging together. It is believed that this is where Ardhanarishvar resides, a deity who is half male and half female, the merging of Shiva and Shakti.
Hence, the Chakra itself is meant to represent the holy union of the male and the female in marriage in all senses, physically, spiritually and mentally.
Scientifically speaking, the Maang Tika helps regulate the heat of the body which in turn helps regulate emotions and maintain one's wits around them even in stressful and highly emotional situations like a wedding.
Even after the wedding, it is an important marker of a married woman.
Types of Maang Tikas: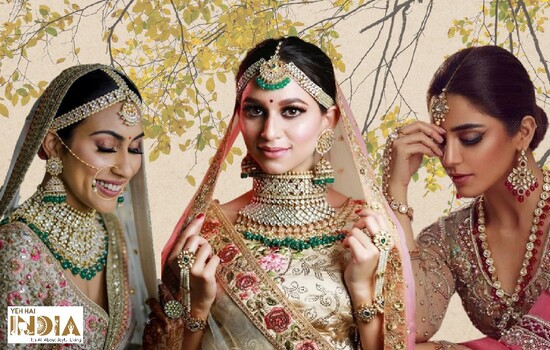 It is speculated that traditionally Maang Tikas were flowers that were worn in the centre of the forehead as a symbol. Over time, they must have changed to precious metal and stone. One can even see floral designs prominently in modern-day Tikas.
Here are some of the most beautiful Maang tikas for Brides that can make you look like a million bucks on your wedding day:
1. Chaand Tika
This is a very classic design for Maang Tikas. It features beautiful moon-shaped designs embellished with pearls. It is commonly worn by Punjabi brides.
2. Borla Tika
The Rajasthanis and particularly, the Rajputs tend to wear a drop-shaped Tika made of silver and gold. The name is inspired by the jojobe fruit, often known as bor in Hindi.
3. Single String Tika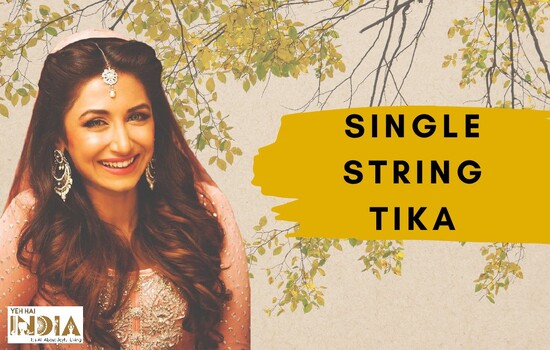 Simplicity is the aim of this Tika. The serai is a single string that cuts across the hairline to rest on the ajna chakra of the bride. It gives a
Recommended Story – Indian Traditional Jewellery from Head to Toe
4. Jhoomar Tika
Muslim brides prefer something more elaborate. Chandelier-style tikas made out of Kundan and embellished with gemstones and pearls are quite common among them. They may also wear them draped across the side of their heads rather than the centre of their forehead.
5. Maatha Patti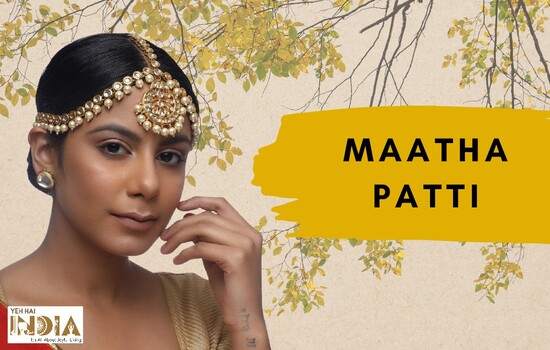 The South Indian Maang Tika rests on the forehead but also extends to the side to cover the hairline and frame the face of the bride. This draws special attention to the eyes of the bride and adds elegance to her look.
6. Tiara Tika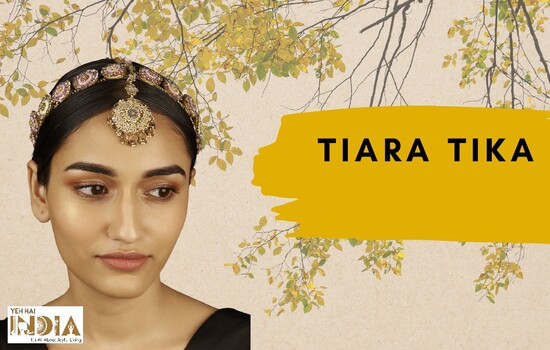 This particular tika rests on the crown of the bride before dipping into her ajna chakra. It gives every bride a very regal look.
Conclusion:
Although the Maang Tika is now worn by people all across the world for various reasons, Hindu culture dictates that it must be first worn by a bride on her wedding day.
It is a marker of pride and tradition when worn by a radiant bride. It is a piece of jewellery that holds a lot of significance and should not be missed by a bride no matter what kind of wedding she is having.
No matter how expensive a maang tika might be, it's beauty and grace are matchless and cannot be replaced by modern jewellery pieces.
Also Read – 11 Most Stunning And Popular South Indian Wedding Jewelleries