When you go to the grocery market what qualities do you look for in your potential purchase? Do you look for freshness, brand name or the aesthetic appeal of the product? Most food products try to provide the best to their customers in all these aspects but since the last decade, there has been a rise of health conscious consumers and you can't fool them easily! Because of these skeptics and critics, the companies are now forced to make better choices regarding the ingredients of the products.
We have seen so many labels on almost each and every product like "zero sugar", "zero trans fat", "low cholesterol", etc. These tactics worked for a while but the digitally literate, scientifically curious segment of the society couldn't be pleased for long. Questions like "How is the product made?", "Which ingredients are used?", "Where do these ingredients come from?, "Are they safe?", are asked by the consumers more often now than ever before as people are starting to make informed choices regarding their food.
All these factors have contributed to the increase in the organic food market in India. Currently, the market is witnessing an impressive growth rate of 17 %. There are about 15000 certified organic farms in India. In 2018, all farms of the state of Sikkim were certified organic, making it the first Indian state to be 100% organic. Likewise, many other states are following this trend.
Recommended Story – ORGANIC FOOD – All you need to know about!
The Rise And Fall Of Traditional Farming: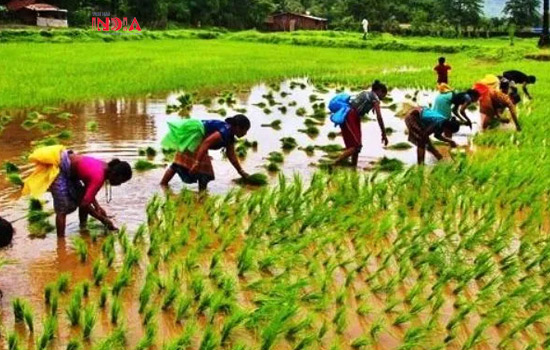 Long before technology and industrialization touched our motherland, almost all food had to be grown organically. However, after the development of medical science, the population of the earth grew enormously and to handle such a huge population we needed to produce more food. The output per unit of land was always low with traditional farming. Certain chemicals could increase the output for the land and was the need of the hour to feed a growing population on our planet.
Several chemicals were used throughout the 19th and 20th century, which changed the course of farming as we knew it. Tons and tons of these pungent smelling, artificially produced chemicals were dumped over our crops. All these efforts were indeed successful in increasing the outputs of farms which was termed as the "green revolution" and was highly applauded by the nation as a symbol of scientific development.
The products were affordable and easily available in abundance. GMO crops were introduced which was another breakthrough in biotechnology. However, such endeavours ignored the consequences, and soon people realised that all these can do more harm than good sometimes. And this is what happened with the green revolution. Many of the chemicals were used in unregulated amounts. Later on, many studies were conducted over the long term effects of these chemicals which concluded that many chemicals used in excessive quantities for the long term can be detrimental to human health and well-being.
What Is Organic Food?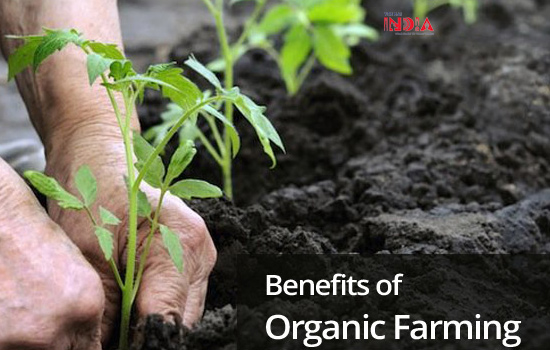 Organic food is the food made from produce of organic farms, that is, in a broad sense, farms where artificially manufactured chemicals like fertilizers, pesticides or insecticides are not used. Usually, there are many rules which a farm needs to adhere to, to get the certification from USDA and other organizations which regulate organic farms. Companies need the certifications to get credibility as an organic company.
Recommended Story – Organic Farming in India
Why Go Organic?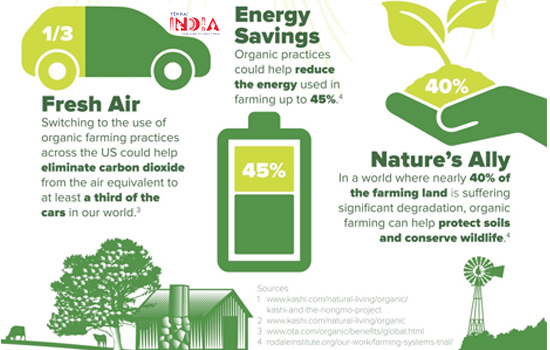 There are several reasons why one can choose to go organic.
Health of the Body: One obvious reason is to improve health by avoiding excess of harmful chemicals that come from traditional foods.
Health of the Environment: Traditional farming has taken a toll on the environment and its biodiversity. The sites of excessive farming often show signs of decreased species diversity due to the use of insecticides and weedicides. That's why organic food has become a choice for the environmentalists.
Better Taste: Some people also think that fresh organic food tastes better than traditionally farmed and artificially hybrid food items.
Avoid GMOs: Some people go for organic because they want to avoid Genetically Modified crops. Though GMOs have not shown any adverse health effects but certain plants may have a negative effect on biodiversity.
Back To The Basics: Reasons For The Rise In Organic Food Space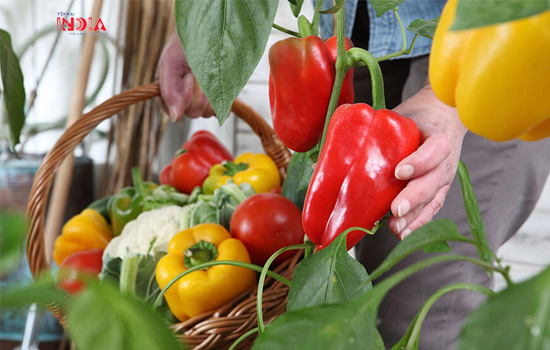 There are several factors which contribute to the rising organic food market in India.
1.Increasing e-commerce:
Today, many people shop online as it saves time and money. It helps you to avoid the crowd and the scorching hot weather of India and shop from the comfort of your home. The potential customers of the organic market belong to the society of highly digitalized people who prefer to have their products delivered to the doorstep. This factor has been exploited by the organic food companies for reaching out to these people through the use of social media. Many such companies sell their products through online stores and many of these products are also available on the online shopping giants like Amazon and Flipkart.
2. Competitive Prices:
The one disadvantage that organic products had was the price. Usually, organic farming led to lower output which in turn led to the increase in the selling price of the products but nowadays, the prices are quite similar to the regular products. One reason for this is the "farm to table" approach, according to which, locally grown food is sold directly in nearby markets which reduces the added costs of stakeholders, transportation, etc., making the food cheaper. Moreover, economic growth has made it more acceptable for people to spend a few extra pennies for the sake of their health.
3. Government Support:
There are several organisations by the government that support organic farming like NMSA, Mission for Integrated Development of Horticulture (MIDH),
National Food Security Mission (NFSM) and Rashtriya Krishi Vikas Yojana (RKVY). All these initiatives have proven to be very effective for promoting organic farming practices. Last year, an organic food festival was hosted by the WCD which was inaugurated by Smriti Irani and in which more than 180 women entrepreneurs participated.
4. Demand in the West:
Several countries in the world are seeking organic food but not every country is self-sufficient in natural resources to grow enough of their own food which makes a natural resource rich country like India a good import destination. The demand for organic products has been increasing throughout the world and companies in India are taking advantage of this fact by exporting foods to those countries. This is a great way to grow the business in India.
Also Read – Top Startup In Organic Food Business In India