Aloe vera is truly a miracle plant used since ages in beauty recipes and health potions owing to its benefits for skin, hair, and overall health.
Loaded with antioxidants and profound antibacterial properties, aloe vera works especially well on the skin and can be used on all skin types such as oily skin, dry skin, and sensitive skin.
For instant relief from skin issues, nothing beats freshly extracted aloe gel, but today's Indian market has many aloe vera products designed for use on face, hair and body.
With satisfactory results, aloe vera gel is truly a magical ingredient that promises to leave your skin hydrated and nourished, and your hair, luminous and full of life.
Why Should You Use Aloe Vera Skin Products?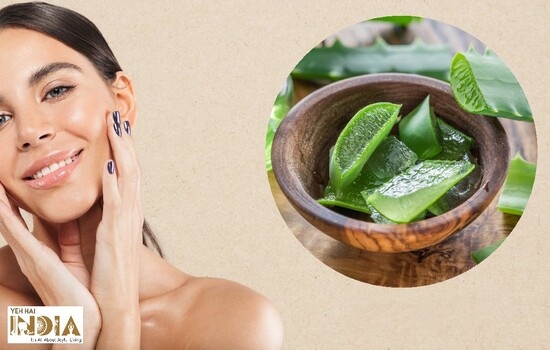 When you search for the only hydrating component that's natural and has no side effects on your skin, aloe vera is the only element you discover in the ingredient list of natural skin products manufactured by renowned brands.
Ruling the skincare dominion with its amazing anti-oxidants and anti-inflammatory qualities, aloe vera blesses your skin with essential nutrients to repair and revamp its appearance.
Enriched with viramins A, C and enzymes, it helps restore normal moisture levels in skin and increases the rate of cell repair to heal dull, damaged skin.
When scooped out of the leaf, aloe vera gel might feel difficult to deal with due to its rich water content making it hard for some people to use it raw in their beauty recipes.
To fill in this need for a no-fuss solution to the tiring procedure of extracting fresh gel, there are loads of products formulated with aloe vera gel to address a range of skin issues.
Today we will look at some of the best aloe-vera based products available in the market to pamper your skin.
Recommended Story – Skin-Saver: Switch To The Best Herbal Face Washes In India
10 Best Aloe Vera Based Products To Buy In India:
1. Lacto Calamine Skin Balance Daily Nourishing Lotion
Fortified with the goodness of kaolin clay and aloe vera, this face lotion is designed for dry to normal skin types.
Kaolin clay absorbs excess oil and also acts as an exfoliating agent to remove dead skin cells, while aloe vera restores water balance and keeps the skin hydrated.
It also gives a healthy glow and relieves skin irritation.
Price: 120 INR for 100 gm bottle.
2. Lotus Herbals Aloehydra Moisturizing Gel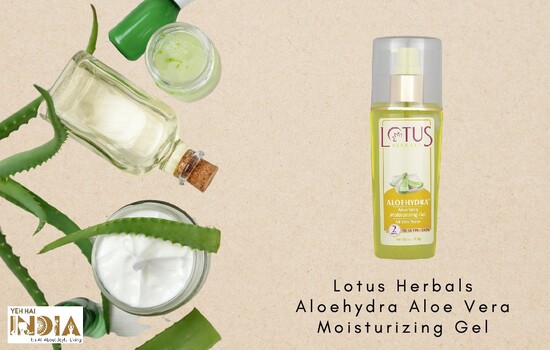 This Aloe Vera Moisturizing Cream comes in a clear bottle with a pump dispenser.
As the name implies, this is a gel-based moisturizer and is ideal for people with oily skin.
Since it is oil-free, it does not stick to your skin and restores moisture without leading to any further outbreaks.
In addition to aloe vera, this moisturizer also contains other ingredients such as honey, rose water, and glycerin.
The gel is quickly absorbed by the skin, making it soft and supple. It is also light and gentle on skin.
Price: 270 INR for 100 gms pack
3. Aroma Magic Aloe Vera Sunscreen Gel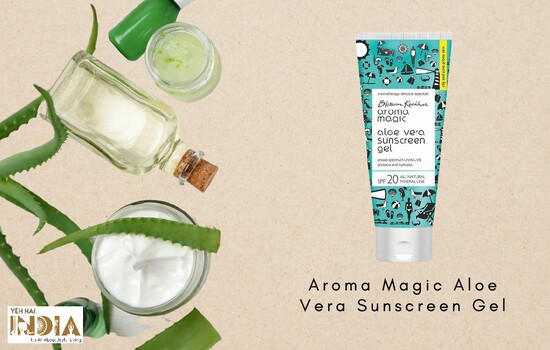 Sunscreen is an important part of your daily skincare routine and should never be skipped.
Aroma Magic Aloe Sunscreen is a broad spectrum sunscreen that protects against both UVA and UVB rays.
It contains SPF 20 and is free of parabens, alcohol, and harsh chemicals.
A non-greasy, easy-to-absorb gel, it soothes, moisturizes, and cools the skin. Along with this, it is easily available and is budget friendly.
It is indeed the best aloe vera sunscreen in the market.
Price: 160 INR for 50 ml product
4. Biotique Bio Vera Face and Body Sun Lotion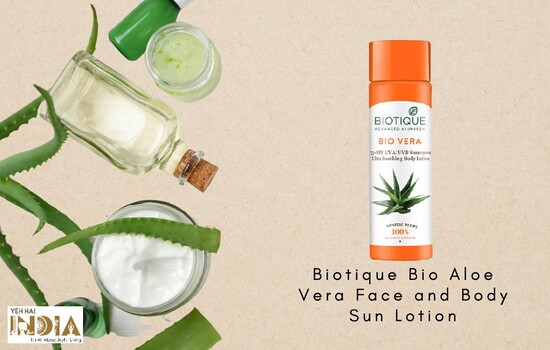 It is a broad-spectrum sunscreen that provides an SPF of 30 to retain skin moisture and prevent sunburn.
It calms irritated skin and is non-sticky. This variant is designed for normal to oily skin and contains no preservatives or harmful additives.
Price: 290 INR for 120 ml bottle
5. FabIndia Aloe Vera Moisturizing Lotion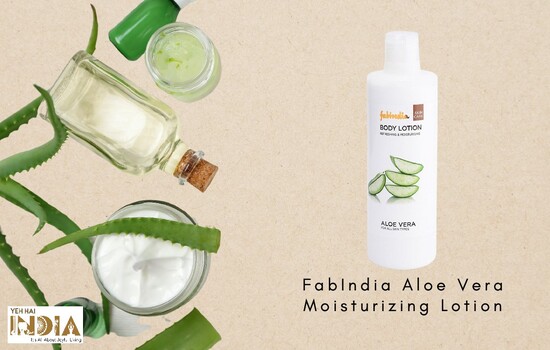 Fabindia Aloe Vera Moisturizing Lotion comes in an attractive, travel-friendly packaging.
It is ideal for normal to oily skin. Being light on the skin it easily spreads to offer deeper level of moisturization to neglected areas without leaving a greasy film.
This product is perfect for moisturisation needs in summers and has a pleasing scent that calms and rejuvenates your senses.
Price: 290 INR for 200 ml pack
6. VLCC De-Pigmentation Night Cream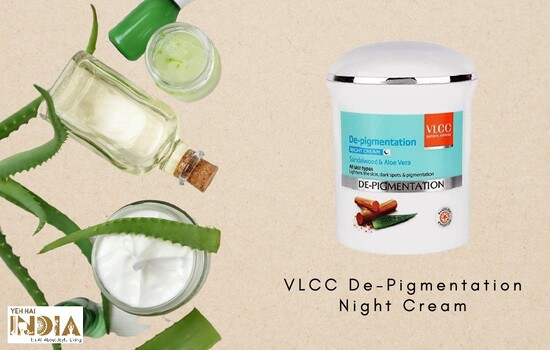 Fortified with the goodness of sandalwood, aloe vera and sunflower oil, VLCC De-Pigmentation Night Cream is suitable for all skin types.
It comes with a creamy texture, that is quickly absorbed by the skin.
Aloe vera night cream is non-greasy and works to slough away dead skin on pigmented areas to reduce pigmentation and reveal spot free complexion without drying the skin.
Price: 450 INR for 50gm pack
7. Himalaya Herbals Aloe and Cucumber Refreshing Moisturizer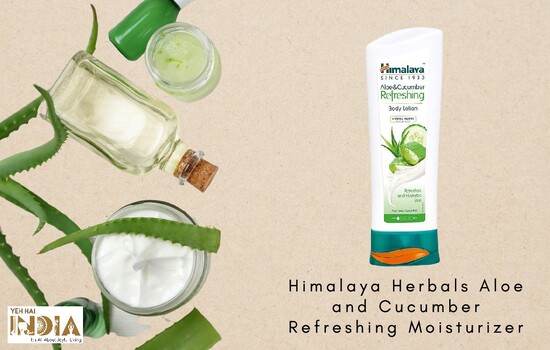 This skin revitalizing lotion contains plenty of herbal ingredients like Aloe vera and cucumber, perfect for summer season.
It's consistency is just right to immediately address drying skin on different parts of body and face.
It is quickly absorbed into the skin without feeling sticky.
The lotion is light textured, comfortable in application and has a cooling effect. The scent is mild and refreshing, which is another plus.
This lotion comes in a sturdy bottle packaging that is convenient to carry.
Price: 140 INR for each 200 ml pack
Recommended Story – 10 Best Natural Ingredients To Look For In Anti-Acne Products
8. Forest Essentials Revitalizing Kashmiri Walnut Gel Scrub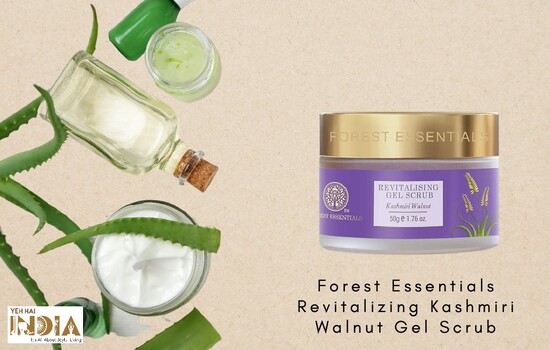 This product is an Ayurvedic formulation with walnuts and aloe as its main ingredients.
Aloe Vera Peel in this scrub beautifully exfoliates skin to remove dirt, impurities, and dead skin cells to uncover visibly brighter skin with no trace of marks or blemishes.
Also, it leaves your skin soft and supple while also adding a healthy glow.
In addition, it is a cruelty free product and does not contain parabens or synthetic fragrances.
Price: 1095 INR for 50 gms jar
9. The Body Shop Aloe Soothing Day Cream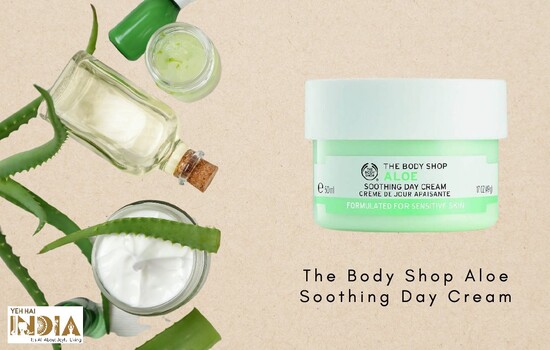 This cream is a great deal from the Body Shop. It contains ingredients that are ideal for those with sensitive skin, such as aloe vera and glycerine.
It has a smooth texture and is non-greasy and moist. It soothes the skin and does not contain any alcohol or preservatives.
Price: 995 INR for 50 ml jar
10. Khadi Aloevera, Neem and Basil Facial Massage Gel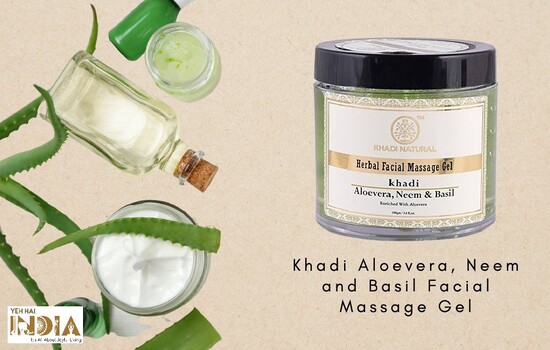 This is one of Khadi's best products, one that really works! It's a green hued Aloe Gel Facial Moisturizer that is extremely effective in reducing acne and, when used regularly, can also prevent the appearance of future scars.
It is loaded with skin purifying herbs like basil and neem that work to cleanse the skin and restore firmness to aging skin.
It is light enough to be quickly absorbed into the skin and keeps it clean and fresh.
It has a calming effect on irritated skin and is suitable for all skin types.
Price: 180 INR for 100gms container
Let these rejuvenating Aloe vera skin potions work their magic in giving you a spotless and younger looking skin!
Also Read – 9 Miraculous Benefits of Aloe Vera Juice