Folk dances from the Southern part of India are known to imbibe the finest elements of the history and culture prevailing in South India.
India, a rich and diverse country, was once a conglomeration of many kingdoms that were distinct from each other. Even today, as a proud nation, India retains that distinction.
Every single region has its own culture and history and the stunning folk dances of India are no exception.
What separates a folk dance from a classical dance is the technicality of the latter. While classical dance requires training and practice, folk dances are quite easy to learn while being no less important or graceful than most classical dance forms.
Therefore, folk dances tend to be more popular among those wanting to learn the basics of traditional dance forms that find meaning in the cultural context.
Here, take a look at the most famous folk dances from South India that are in every way a treat for the lovers of folk art.
10 Must See Folk Dances Of South India:
1. Kummi – Tamil Nadu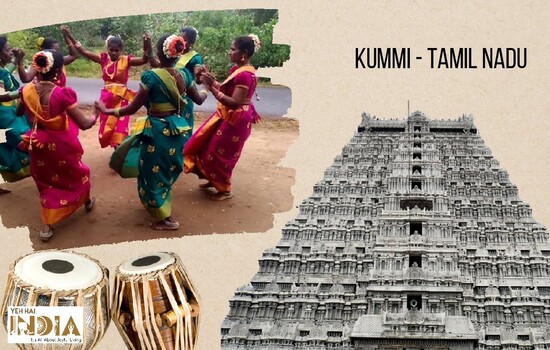 Kummi is a dance performed in circles and is accompanied by rhythmic clapping that originates in Tamil Nadu. This beautiful dance form requires no musical instrument to accompany it.
The performers themselves play music, sing songs and dance in rhythmic movements. Hence, the entire dance depends on the dancers moving in rhythm with one another.
The synchrony of the dancers with the hand clapping is a thing to behold. This dance can be enjoyed at family ceremonies and occasions of the sort along with festivals like Pongal and Navratri.
Recommended Story – Ghoomar: A World Famous Folk Dance From Rajasthan
2. Padayani – Kerala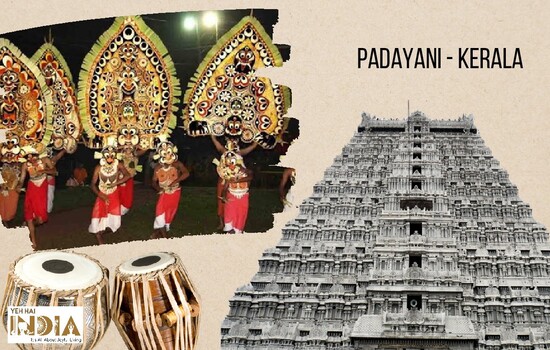 Padayani dance is mostly performed in the temples of the Goddess Bhadrakali, a prominently worshipped godess in Kerala. This dance is inspired on mythology and portrays scenes from it.
It resembles the dance performed by Lord Shiva to celebrate and placate Goddess Bhadrakali after she defeated rakshasa Darika. There is a lot of preparation that goes into this dance performance.
The dancers undergo rigorous training and even adjust their diets in order to purify their souls before the performance.
Elaborate costumes consisting of special headgears and masks known as Kollam are an integral part of this dance which are representations of divine and spiritual energy. Kaimani and Chenda are the accompanying instruments to a Padayani performance.
3. Kolannalu – Andhra Pradesh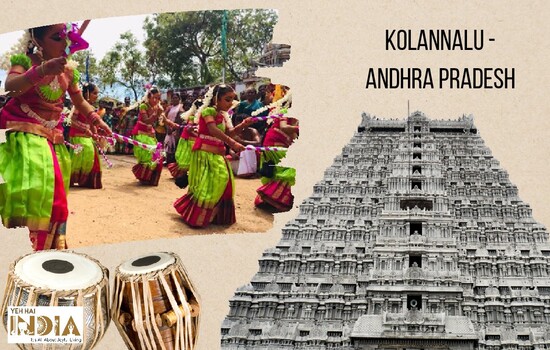 This is the South Indian equivalent of the famous Gujarati Dandiya and uses two sticks to provide beats while they dance to the song that is playing. The dancers dance together in circles and strike the sticks of their fellow dancers.
It is generally performed during festivals in villages by eight to forty women dancing in pairs.
The dancers are led by a leader who urges them to move in and out of two circles while striking the sticks of the person opposite them.
4. Mayilattam – Tamil Nadu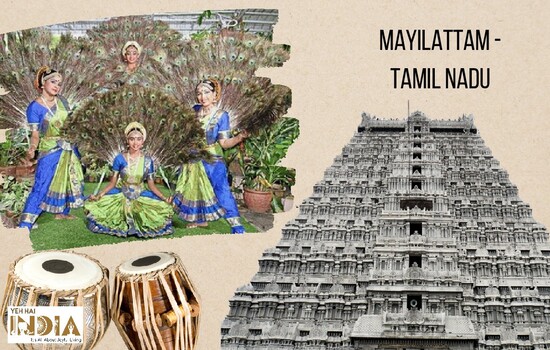 The word Mayilattam literally translates to 'peacock dance' named after the costumes of the performers which look similar to the peacocks. This dance pays tribute to the most devoted attendant of Lord Murugan.
The attires have a movable beak to indicate the singing of the peacocks and plumage that shimmers. The dancers are required to move gracefully and imitate the movements of this elegant bird.
Mayilattam dance is performed on long pieces of wood that are attached to the dancer's feet leading them to make specific movements.
5. Veerageese – Karnataka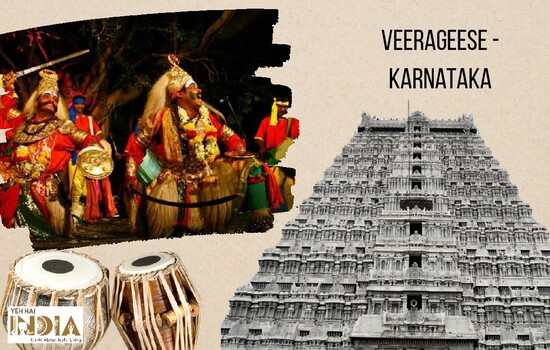 Veerageese is a dance form that is mostly performed by the Jangamas, an order of Shaivic monks during the Dasara processions in Karnataka. The performance usually portrays stories from the Shiva Puranas.
An elaborate costume is prepared to help make the dancer resemble Shiva. The dance is performed wearing traditional white headgear, a bright red dress, rudraksha beads around their neck, a belt, a neck ornament in the shape of a snake and anklets.
The dancers smear vibhooti over their faces and carry a wooden plaque of Lord Veerbhadra in one hand and a sword in the other.
6. Theyyam – Kerala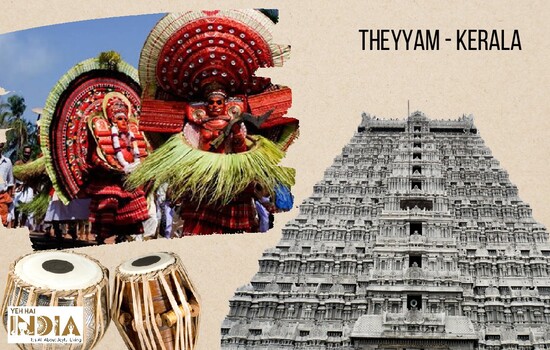 This is another folk dance that brings to life ancient stories embroiled in South Indian culture. It is a way of paying tribute to the Gods in hopes of a good harvest and prosperity.
The introduction to a Theyyam performance is known as Vellatam which can be followed by any of the over 400 sets of Theyyam all of which have their own unique styles and music.
The dancers usually dress up in elaborate costumes and make-up that changes with every performance. It takes skill and rigorous training to perform Theyyam.
Recommended Story – Odissi: A Stunning Temple Dance From Odisha
7. Perini Thandavam – Telangana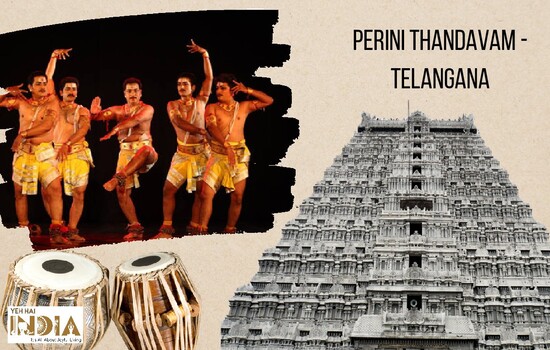 Perini Thandavam is a male warrior dance that was generally performed in front of an idol of Lord Nataraja before leaving for battle. It was believed that performing a dance in honour of Lord Shiva, the God of destruction, before battle would aid them in being victorious over their enemies.
This dance is performed to the beats of drums and employs energetic dance moves. It is also meant to clear the warrior's mind and prepare him for battle.
It was once patronized by the Kings of the Kakatiya dynasty and has been revived in recent times by Padmasri Dr. Nataraja Ramakrishna.
8. Garadi – Tamil Nadu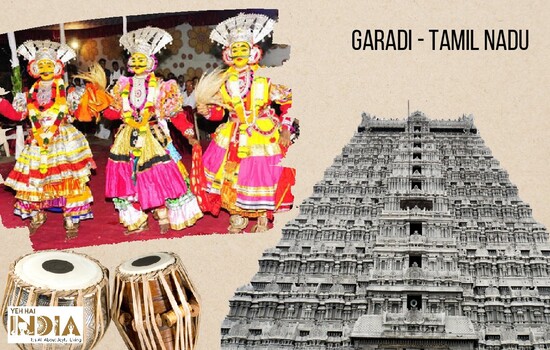 This is an acrobatic form of dance performed during the main festivals in Puducherry. The dancers dress up as monkeys and imitate their movements.
It is a dance that finds its origin in the Ramayana when the army of monkeys performed to express their elation over Lord Rama and Sita's safe return from Sri Lanka after battle with Ravana.
The dancers wear ten iron rings on each leg known as Anjali and dance to the Ramadolus drums. The performance can last for five to eight hours and often runs late into the night on festivals.
9. Thapetta Gullu – Andhra Pradesh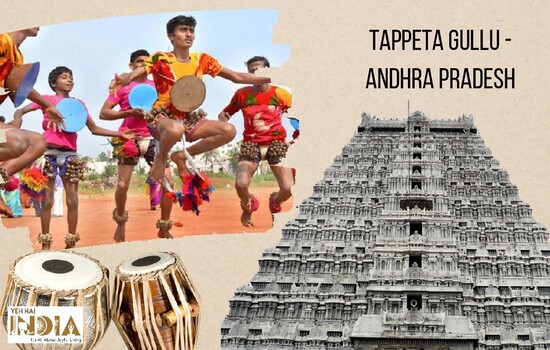 Performed in the Srikakulam dynasty, by at least a group of ten or more dancers, the Thapetta Gullu is one of the most graceful folk dances in India.
Named after Tapetta instrument, this dance used to be performed in ancient times to appease the goddess of rain.
The dancers wear drums around their necks and loud ghungrus around their ankles and waists and play the music as they dance.
In modern times, one can see dancers performing Thapetta Gullu on important ocassions and ceremonies observed by people of Andhra Pradesh.
10. Oppana – Kerala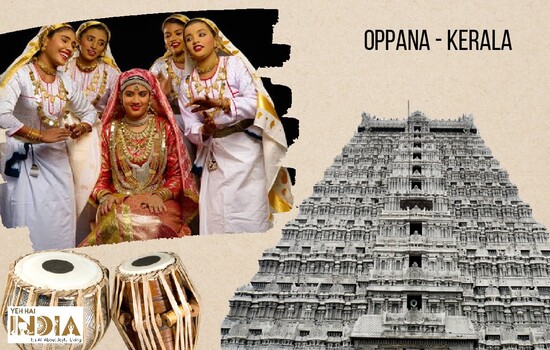 Oppana is performed by young girls during marriage ceremonies in Kerala. Although it originated in the Mappila community, it is now performed all over Kerala to celebrate the bride.
The bride is made to sit in the centre and the dance is performed around her. The girls dance and clap to the music while one of them sings the song.
There are usually around fifteen performers, although, this may vary depending on the number of relatives a bride has.
This is a short and incomprehensive list of the various folk dances you can find in South India. However, many of them are now fading out due to a lack of audience and payment to the performers.
Regardless, these folk dances highlight the most important aspects of South Indian culture and the life they live.
Get an insight into the folk rituals and customs practiced in different regions of South India with these glorious South Indian folk dances.
Also Read – Mohiniyattam- The Enchanting Dance From Kerala