Give your home a festive makeover with these stunning eco-friendly lighting fixtures.
The festival season is here and it won't be right to participate in the celebrations without lighting up your entire home and neighbourhood.
It is the time for celebrating togetherness which makes it all the more necessary to celebrate it consciously.
Any Indian festival requires lots of preparations and decorations that might pose a great risk to the environment due to the hazardous practices involved in manufacturing of festival products.
This risk leads to a greater concern for the environment. The constant use of electricity that gets spent on lighting harms our earth in more ways than one.
When it comes to saving the earth and sustaining our environment, each small step counts.
So, for this year, we have a list of sustainable and eco-friendly choices for you to decorate your home.
This will not only help you harness the true festival spirit but will also encourage you to make environmentally conscious choices as a way to contribute towards protecting the environment.
10 Best Eco-Friendly Lights To Light Up Your Home:
1. Earth Heart Mullamottu Banana Fibre Light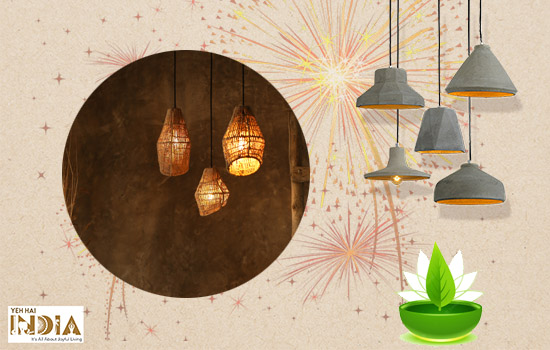 This light fixture has a shape inspired from Mullamottu flower found in Kerala. The lamps are woven by Tamil women artists from Banana fibres.
These lamps are also available in other shapes on the Earth Heart website. Their prices range from Rs 3500 to Rs 8500 based on the design you desire.
You can also buy Earth Heart products from the Little Black Book Website.
Earth Heart is a Bangalore-based home décor brand that has an aesthetic and environmentally conscious catalogue of products curated by contemporary Indian artists.
Their line of products includes light fixtures, dining essentials, mugs, planters and vases made from eco-friendly and sustainable materials.
2. Mianzi Lotus Pendant Bamboo Lamp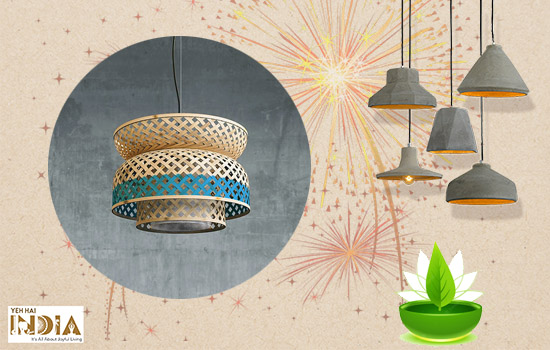 This Lotus pendant lamp is shaped just like its namesake and is woven from bamboo. It serves as an intriguing and earthy centre lighting piece for your home.
Handwoven in the states of Madhya Pradesh and Assam, these lamps are unique in their weave, colour and finish. They are priced at around Rs 3500 per piece.
Mianzi is an Indian home décor brand that utilises small-town and village-based artisans who create all the products from scratch.
The brand was founded with the sole intention of protecting the planet in all its products catering the home decor needs of different people.
Recommended Story – Top 10 Summer Folk Festivals Of India
3. Fermoscapes Macrame Lamp Shade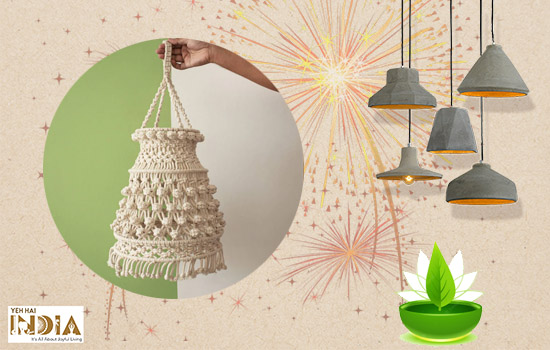 Ceiling lamp shades made from cotton macramé add a boho look to your décor while still keeping it classy with the off-white, pretty designs for your lights.
Amala Earth sells beautifully handcrafted macramé hanging lamp shades from Fermoscapes at affordable prices ranging between Rs 850 and Rs 1000.
This site is a one stop destination with carefully curated brands and their products that focus on a sustainable, environmentally conscious and community-based lifestyle.
Their products showcase everything from mindful eating and holistic wellness to natural beauty and health care and earth-friendly home décor.
4. Arthat Ashoka Bamboo Table Lamp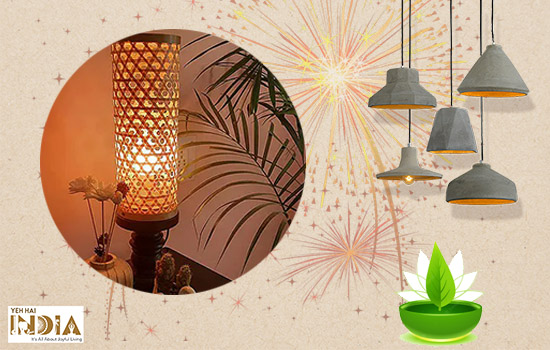 Table lamps woven from bamboo exude a calm and pleasing energy, perfect to fill your home with aesthetically pleasing designs and lighting that traverses between its layers.
Arthat's Ashoka bamboo lamps are exquisitely handcrafted from bamboo by women artisans from the heart of Delhi.
Arthat is a brand that stands out not just because of the exclusive collection of beautifully handcrafted home décor items as the brand was founded with the sole purpose of empowering women artisans of India.
The price of this Ashoka bamboo table lamp is around Rs 2900 before any festive offers.
Along with this, Arthat also sells its other gorgeous and sustainable home décor pieçes through the Little Black Book website.
5. Aadyashre Macramé Lamp Shades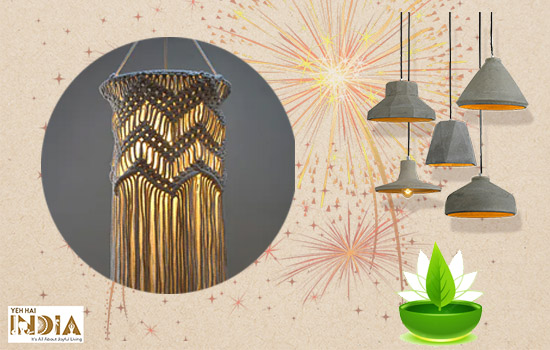 Aadyashre is another Indian earth-friendly home décor startup that creates beautiful products for your homes and gifting requirements that are made out of 100% natural materials.
The products are hand-knitted and woven by local artisans. Aadyashre majorly sells its products through their Instagram account and Little Black Book Website.
The macramé lamp shades from Aadyashre are available as table tops, hangings and floor tops priced between Rs 760 to Rs 2250 based on the designs.
6. Earth Heart Terracotta Pendant Lights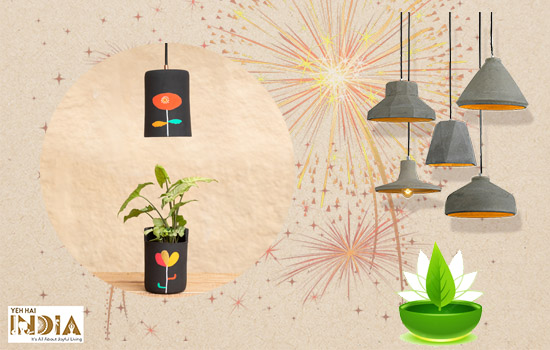 Earth Heart's Glow and Grow concept has a set of cute, hand-painted pendant lights made of terracotta. Thus clay-based ceramic has been used as a medium for artworks such as sculptures, architecture and utensils for a long time.
The Glow and Grow concept pendant lights are made artsy and cute with hand-painted designs on a black terracotta lamp.
They are priced at Rs 1899 per piece. These lights are available at both the Little Black Book website for home décor and Earth Heart's website.
7. Oorjaa Brick Wall Lamp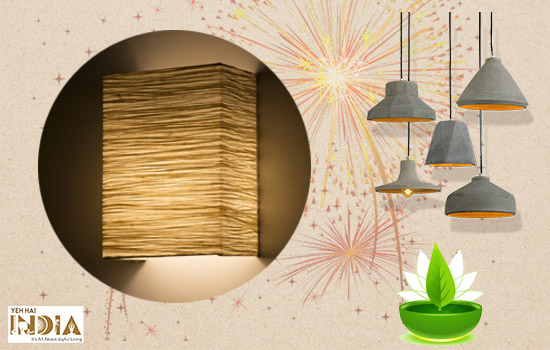 Oorjaa is one of the earliest artisanal paper studios in India and houses around 35 artisans today. They focus on home lighting solutions in the most sustainable and environmentally friendly designs and products.
The Brick wall lamp from Oorjaa is a city-inspired design with a mortar or brick shape. It is made by hand from crushed banana or Lokta fibre paper and priced at Rs 3354 per lamp.
These lamps can be ordered online from Oorjaa's website, their Instagram account and Pepperfry.
8. Woodshells Cupid Table Lamp
Woodshells provide homes with 'modern, minimal and meaningful lighting solutions.' They design all their products with sustainability as the highest priority.
The products are carved from completely natural materials like cane and jute. The Cupid table lamp is a uniquely designed lamp made of cane and lined with jute on the inside.
The lamp is 12.7 inches tall and 5.5 inches wide. Priced at Rs. 1500, it looks quirky, stylish and makes great table décor for living rooms, bedrooms or any living space.
9. Samoolam Handcrafted LED Fairy Lights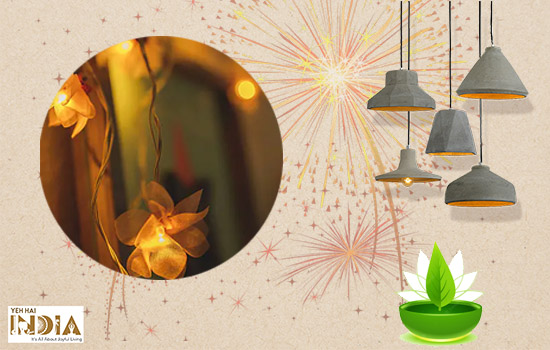 Fairy lights bring cheerful vibes to any room where we hang them, especially ones that are crafted in the shape of little orange blossoms.
These little handmade orange blossoms fitted with LED string lights from Samoolam are great choices to brighten up any kind of space .
Samoolam is an Indian handicraft brand founded in 2009 to create job opportunities for women living in rural areas. Their handmade products are affordable, homely and sustainable.
The price of these pretty handcrafted LED fairy lights is Rs 1350 and can be ordered online at the Little Black Book site.
10. Earth Heart Cane Cocoon Lamp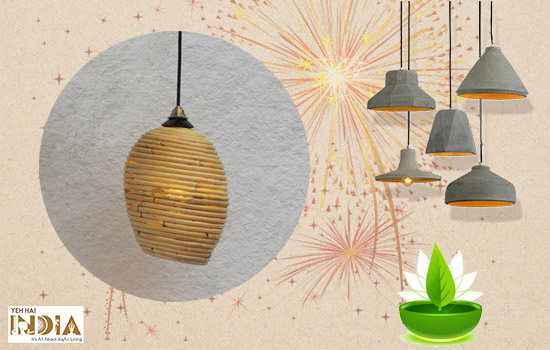 These cocoon-shaped lamps from Earth Heart are made from white light cane bent and woven to form beautiful cylindrical shapes.
Like all other Earth Heart products, these cocoon lamps are all-natural, eco-friendly and produced with sustainability in mind.
The cocoon lamps come in 3 sizes – small, medium and large priced at Rs 3100, Rs 5000 and Rs 7000 respectively. Each one of these cocoon lights is handcrafted in the state of Karnataka and makes for a cosy home décor.
They emit a warm light and create a comforting ambience in the living space or dining room.
Summary:
The festival season is not rightly celebrated without the right décor to brighten the insides of our homes.
The brands we have included in this article, such as Earth Heart, Oorjaa and Woodshells, are all Indian and use materials that are 100% natural, eco-friendly and sustainable.
Lamps and lamp shades are crafted from wood, bamboo, cane, jute, macramé, etc. The light bulbs used in these indoor lights are LED lights that require 90% less energy and produce brighter light and recyclable bulbs.
These help in conserving energy and resources while being recyclable to not have any harmful effects on the environment.
Spend on these eco-friendly lighting pieces to light up your home and hearth this festive season.
Also Read – Seed Fire-crackers: A Greener Approach To Diwali Festivities