Here is a list of the most popular alcohol brands available in India. Whiskey, Rum, Wine, Beer, Vodka- which one would you like to pick today?
Check their Price, Flavours, alcohol % and some facts.
| WHISKEY | RUM | WINE | BEER | VODKA |
| --- | --- | --- | --- | --- |
| Amrut Single Malt | Old Monk | Myra Misfit | Bira 91 | Magic Moment |
| Paul John Brilliance | Old Port | Fratelli Sette | Kingfisher | White Mischief |
| 8 PM | Contessa | La Reserve | White Rino | Romanov |
| Royal Challenge | Khodays XXX Rum | Sula Reisling | Simba | Fuel |
| Blenders Pride | Hercules XXX Rum | York Arros | Bro Code | Vladivar |
| Jack Daniels | Wild Tiger | Bellstar Cult Prosecco | Carlsberg | Eristoff |
| Glenlevit | Captain Morgan | Zampa Soiree Brut | Budweiser | Ciroc |
| Glenfiddich | Malibu | Sula Dindori | Heineken | Smirnoff |
| Chivas Regal | Bacardi | Chateau d'ORI Merlot | Hoegaarden | Grey Goose |
| Johnie Walker Black | Havana Club | Chene Grand Reserve | Tuborg | Absolut |
So, we bring to you the top beers, wines, and spirits that you MUST try. Here is a list of best and most popular liquor/alcohol brands available in India:
WHISKEY (Liquor)
Whiskey appeared in India in the 19th century during Biritsh Raj, when Edward Dyer set up a the first Indian brewery at Kasauli, which was later moved to Solan. Years later, it was converted to a distillery, which is still operated by Mohan Meakin. In terms of volume, India is the biggest consumer of whiskey in the world.
Did You Know?
Scotland's export rate is almost 42 bottle of whiskey per second.
Whiskey is the official state beverage of Albama. (brb, moving to Albama!)
A type of whiskey was sent to the ISS (international Space Station) to determine how zero gravity affects the maturation process.
The earliest known records of Whiskey making can be dated back to 1494, Scottland.
The age of bottles usually refers to the time duration for which is was stored in barrels. Once it is bottled, the maturation process stops.
1. AMRUT SINGLE MALT WHISKEY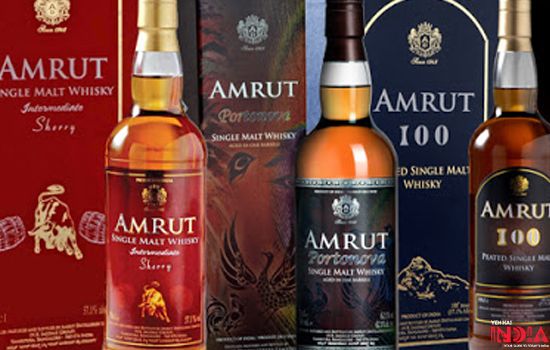 With a notable flavor of richness, Amrut Whiskey is made from hand-picked Indian barley from the foothills of Himalayas. It is matured in New American Oak.
Flavour
It has a flavour of burnt honeycomb and toffee, along with a citrusy bitter-sweet balance. It has a cream toffee finish at the end.
It also has licorice and molasses sugar. It is the barley that gives it an outstanding flavour that is enjoyed by everyone.
Price
Rs 3,608 -750 ml bottle
2. PAUL JOHN BRILLIANCE WHISKEY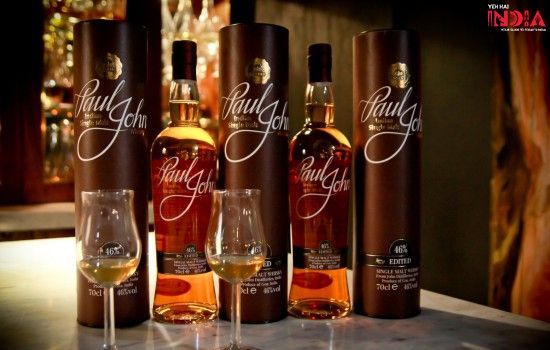 It is distilled in Goa and matured in bourbon barrels for three to five years. It gives off a beautiful aroma of spices and wheat.
Flavour
It has an exciting flavour that starts with pleasant fruitiness and moves on to honey, cinnamon, apple, and vanilla.
It is known for its long and smooth finish that leaves strong vanilla and creamy texture on the tongue
Price
Rs 2,627 for 750ml
Alcohol %
46%
Best Enjoyed with
Grilled Indian meat and an assortment of pies
3. 8 PM – Alcohol Brand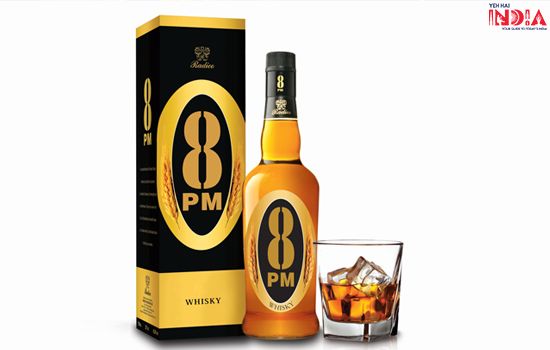 A product of Radico Khaitan, 8PM made it to the LIMCA book of records for the most sold brand within the first year of its launch. Radico Khaitan is also the producer of Magic Moments Vodka.
Flavour
8 PM is made from the finest grains and is a super popular whiskey in the Indian market and quite affordable.
Price
Grilled Indian meat and an assortment of pies
Alcohol %
42.8%
Best Enjoyed with
A mixer such as water or soda
4. ROYAL CHALLENGE – Alcohol Brand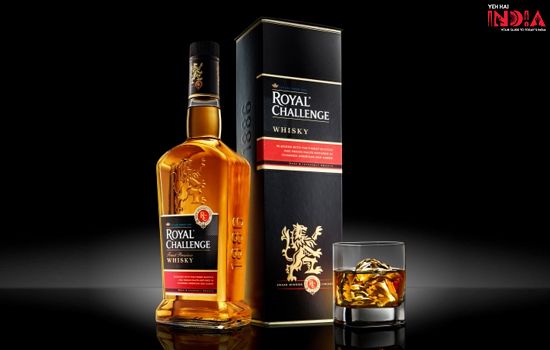 Popularly known as RC, this whiskey is manufactured by United Spirits Ltd and was launched in the early 1980s. It sponsors the IPL team known as Royal Challengers Bangalore. . Records say that over 4.5 million cases of Royal Challenge are sold every year!
Flavour
Charred American oak casks and the best of Indian grains are used to create this intense whiskey
Price
INR 720 for 750 ml
5. BLENDERS PRIDE – Alcohol Brand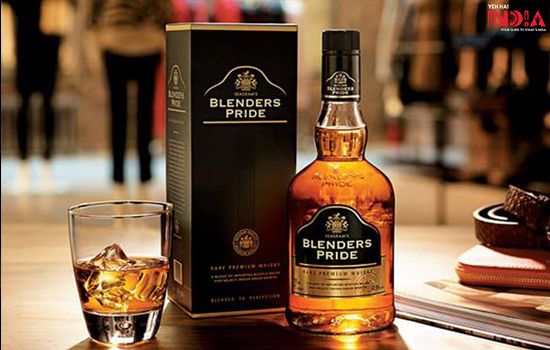 Launched in 1995, this is an Indian whiskey that contains grains, scotch malt, and zero artificial flavours. In December 2011, a premium version of Blenders Pride, called Blenders Pride Reserve Collection was launched in India, and it became the most expensive whiskey produced in India.
Flavour
It has a pleasant finish with a sweet and buttery taste
Price
Blenders Pride alcohol 750ml costs INR 929
6. JACK DANIELS
Matured in the cooler spaces of the barrel warehouses, JD prefers to age its whiskey for as long as it needs, and do not put a number to it. This is actually because of the dramatic and unpredictable changes in the weather of Tennessee and Kentucky.
Flavour
The aroma of vanilla and butterscotch invites you to try Jack Daniels. A warm caramel finish with a hint of spiciness makes it just perfect.
Price
Rs 2600-2700
Alcohol %
37%
7. GLENLIVET
The pleasant balance of summer fruits and fresh spring flowers makes Glenlivet one of the most famous malts in the world.
Flavour
It has a pleasant finish with a sweet and buttery tastTaste wise, the soft citrus of lemon and grapefruit is well complimented by nuttiness of almonds and hazelnut. Bringing a burst of flavour, the finish of this malt is delicate, citrusy and dry. The aftertaste picks up some qualifies of oakiness and melon.
Price
Available in select markets, it is priced between Rs 4700 to 6700.
8. GLENFIDDICH WHISKEY
Founded in 1886 in Speyside, the best-known expression of this whiskey is 12 years!
It is one of the best single malt whiskey brands that are loved all over the world. It has even won at the International Spirits Challenge in 2014
Flavour
The consistent and reliable taste of fresh pear combined with the subtility of oak makes it so popular.It has a tempting floral aroma, with hints of honey and citrus. It leaves a slight spiciness on the tongue.
Price
INR 4400- INR 9800 (depending upon quantity)
9. CHIVAS REGAL
Made in the 20th century by the Chivas Brothers, this is now a world-famous Scotch blend.
Flavour
A creamy combination of vanilla custard, lemon curd and star aniseed make up for the irresistible aroma of this whiskey. A sweet finish, the after taste is that of spine and black pepper. There's also a creamy and spicy texture of barley on the palate.
Price
3700 for 750 ml
10. JOHNNIE WALKER BLACK LABEL
This complex blended scotch has successfully won hearts all over the world. It was created in 1820 and was released in the market in 1909 under the name Black Label.
Flavour
Made up of 40 single malts and the choicest of grain whiskeys that are each aged for 12 years, this is a premium whiskey that offers a neat and sweet finish
Price
Rs 3,545
WINE (Liquor)
An alcoholic drink typically made from fermented grapes, wine is climbing the stairs to being one of the most enjoyed alcoholic drinks in India, even though it is still far behind beer, whiskey and vodka. However, some of our local Indian wine brands are winning the consumer market.
Did You Know?
Women are more likely to be affected by wine than men.
Unlike other alcoholic beverages, wines leave you guilt-free! Most wines are fat and cholesterol free.
20 glasses of apple juice equals to the same number of antioxidants found in wine.
Worldwide, California is the largest producer of wine.
There's a reason why wine is always stored lying down- that if it is stored standing up, the cork would dry, and possibly drop into the bottle.
1. MYRA MISFIT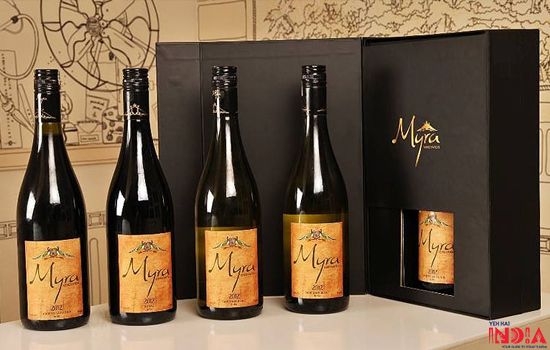 Headquartered in Bengaluru, the vision of Myra is to make wine accessible to everyone. They had launched a limited edition wine in 2013, called "Misfit"- a blend of classic Cabernet Sauvignon and Shiraz. It was India's first unfiltered wine. It had a fruity and a slightly spicy flavor, and a sweet finish. Its alcohol percentage is 13%.
Price: 750 ml bottle of MYRA MISFIT alcohol brands prices is available for INR 1500 (approx.)
2. FRATELLI SETTE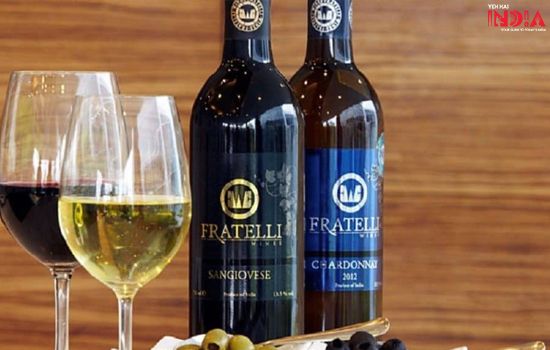 It is one of the leading alcohol brands of wines in India. Based in Akluj, it has gained recognition for its quality and has made a new benchmark for wines. Sette has a slightly citric taste and traces of vanilla. It is a barrel aged red wine which takes fourteen months to mature.

It has won many awards over the years as well. It also has subtle flavors of blackberry, plum, and cherry. The top quality 1% of grapes from Fratelli's vineyards in Akluj go into creating this well-loved wine. Though it is a little pricey than all other wines in India, the flavor is worth it.
Price : With an alcohol percentage of 13.5%-14.5%, a 750 ml bottle is available for INR 1600.
3. LA RESERVE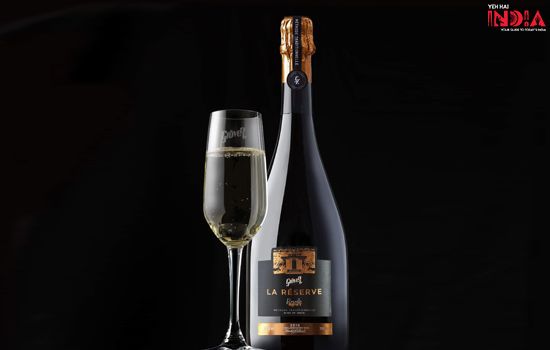 Another alcohol brand of Indian origin. It has a distinctive oak flavor, which comes after it takes sixteen months to mature in French oak barrels. It is a blend of Cabernet Sauvignon and Syrah or Shiraz grapes and offers spiciness and fruity flavor. It has a smoky aroma, and one can taste traces of bacon and roasted plums. It is manufactured in the Grover Zampa Vineyards of Bengaluru.
It tastes best when served at a temperature of 18°C-20°C.
Price : LA RESERVE price is INR 800 for a 750 ml bottle.
4. SULA RIESLING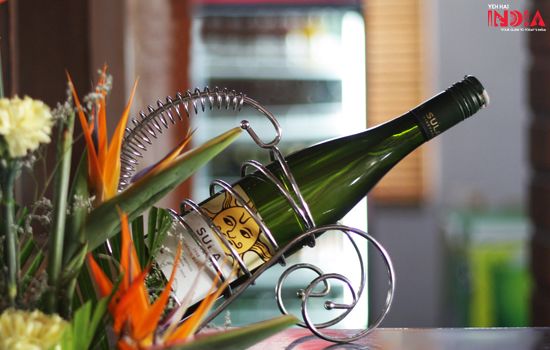 Sula is a well-known alcohol brand name in India and also the first winery to start it's winemaking operations in Nashik. This wine is a white grape variety of German origin and has different variants. It has the aromas of lemon zest, apples, apricots and a touch of pineapple. Served at 6° C to 8° C, this wine should be served chilled. It has a beautiful balance of sugar and acidity. It has also won various consumer choice awards over the years.
Price: Sula Dindori 750 ml liquor costs Rs 1020
5. YORK ARROS
Coming from Maharashtra's York winery, it is a blend of the finest wines produced. It takes over 2 years to produce this wine, for it is aged for a period of 13 months in American oak, and then spends 12 months stored in the bottle before it is released. Fruity, with a pinch of Indian spices and a subtle note of vanilla, York Arros is definitely a popular taste in India. It has an alcohol content of 14.3%.
Price: A 750 ml bottle york arros liquor priced between INR 800-1500.
6. BELSTAR CULT PROSECCO
From the house of Bisol, this is an Italian white wine. The USP here is definitely the grand packaging! The taste of this wine is rather sweet, and can range from slight to medium sweet, along with an underlying rich fruitiness. A sharp acidity balances out this sweetness. This is a relatively new addition to the product portfolio of Prosecco.
INR 1200 (approx.) for 750 ml.
7. ZAMPA SOIREE BRUT
Falling in the category of sparkling wines, Zampa Soiree Brut is known for its pleasant flowery aroma. Shaded light pink, the texture of this wine is light and creamy. The strong flowery aroma comes from red cherries, dried apricots and strawberries that are used to make this wine. The alcohol content of this wine is 12%
750 ml Zampa Soiree Brut is available for INR 1200
8. SULA DINDORI RESERVE SHIRAZ
With a long pleasant finish, this is an intense wine with flavours of berries and vanilla. Grapes that are grown in the foothills of Dindori are aged in American oak barrels to produce this beautiful wine. It tastes best when paired with mild Indian spices or different varieties of cheese.
You will have to shell out INR 1000-1200 for 750 ml.
9. CHATEAU d'ORI MERLOT
Carefully crafted with fineness from the best of Merlot grapes, the outstanding taste of this wine is the result of it being stored in oak barrels. The aroma is this wine is enough to make you want just more than one glass of it!
It costs INR 1200-1500 INR.
10. CHENE GRAND RESERVE
A product of Grover Vineyards, this is widely loved for its beautiful taste and aroma. In fact, Chene grand reserve was also awarded the Hong Kong International Wine Award in 2013. The stunning acidity of this wine is due to the Tempranillo grapes that are used for the production.
INR 1700 for 750 ml.

RUM (Alcohol)
Often considered to be the best alcohol drink for bone-chilling winters that often seize the northern part of India, Rum usually has a 42.8% alcohol content. Indian rum is famous all over the world. The reason behind this is that it is distilled from molasses, a byproduct of sugar- and India as a huge sugar industry!
Did You Know?
The Caribbean produces 80% of the world's rum.
Rum was also used as currency. Yikes! In the 18th century, sailors were paid in rum.
The British Navy gave away gallons of beer to their sailors to prevent an outbreak of scurvy.
"Angel's Share" is known as the amount of rum that is lost to distillation over the years.
The infamous Admiral Nelson had his body preserved in a cask of rum before it was laid to rest.
1. OLD MONK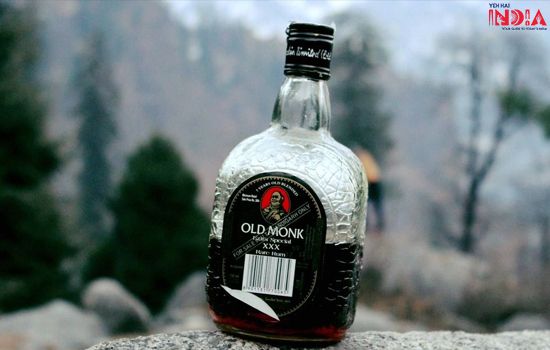 Manufactured in Mohan Nagar in Ghaziabad, Uttar Pradesh, Old Monk is India's most loved alcohol brand of rum. It is blended and aged in oak barrels for a minimum of seven years. It has such a loyal fan base that it has continued to celebrate massive success in India despite zero advertising.

Old Monk has close to six variants such as Old Monk Supreme Rum, Old Monk Gold Reserve Rum, Old Monk XXX Rum, Old Monk Deluxe XXX Rum, Old Monk White Rum, and Old Monk Legend-Limited Edition Rum. Its taste has hints of vanilla, chocolate, and caramel. It has a soft taste even though it has 42% alcohol content. It has various production units in India apart from the main one in Kasauli.
Price: Readily available and affordable, a 1L bottle alcohol costs INR 750 (approx.)
2. OLD PORT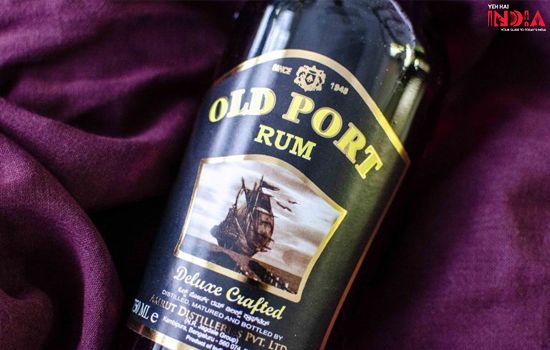 It is produced by Amrut Distilleries in Bengaluru using 100% Indian cane. It is charcoal filtered and has a slight taste of vanilla and butterscotch. It is available in four variants, namely- Old Port Deluxe Rum, Amrut XXX, Old Port Matured Rum, and Amrut XXX Classic Rum. It has a very high alcohol content of 40%. This brand also manufactures whiskey, brandy, gin, and vodka. The only missing thing in this rum is that it lacks the exotic taste of oakiness.
Price: 750 ml of Old Port alcohol is available at INR 260.
3. CONTESSA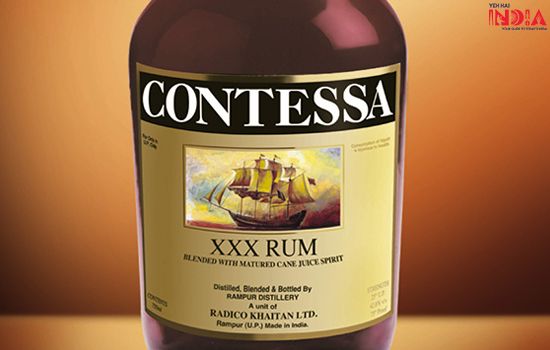 Most popular alcohol among the Armed Forces, this rum is usually aged for twelve years and has subtle flavors of dried fruits, cocoa, and vanilla. It also has a slight taste of raisins. It is owned by Radico Khaitan group and is made primarily from sugarcane spirit. This is sold in over 60 countries and is popular for its robust flavor and dark rick color.
Price : For 180 ml you will have to pay INR 65 for contessa alcohol.
4. KHODAYS XXX RUM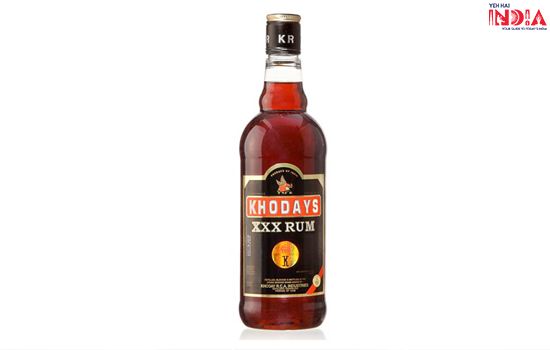 Popular since 1960, it is one of the oldest rum brands in India. A strong taste and rich punch make up this rum. This rum is matured in oak casks in its distillery in Bangalore, and blended with the finest rum. The additional strength of this rum comes from its unique distillation process and strong flavour. It is available only in selected places in India.
Khoday's XXX Rum Price- INR 600/750 ml.
5. HERCULES XXX RUM
Another gem from the House of Khoday's, Hercules aptly signifies the extra punch that this rum delivers. Blended in oak casks and blended with the finest wines, Hercules is best enjoyed without a mixer. Available in top select markets of the country, this rum contains strong flavours of oakwood, vanilla, and chocolate. The distinguishing feature, of course, is the flavour and smell of musk that runs with the other godly flavours, making this a favourite among wine-lovers.
It is available for a price of INR 750-950.
6. WILD TIGER
The perfect blend of molasses, and sugar cane is aged using wood casks to make this premium rum. The great packaging is definitely a plus and his hard to miss. Unlike other rums, it gives a smooth finish and the taste lingers long enough to make you miss the feel of it in your mouth. Wild Tiger is the perfect gift for someone who is a die-hard rum fan!
One of the most premium rum brands, it would cost you somewhere around INR 2,000
7. CAPTAIN MORGAN
Named after 17th century Sir Henry Morgan from Wales, who died in 1688, This rum is a tribute to seamen, the tagline of which runs like- "To Live, Love and Loot." Captain Morgan has a rich and dark flavour, which almost taste like honey. In India, the Caribbean process of rum distillation is used to make this. It has a fruity aroma, and is a little sticky on touch.
INR 700 for 750 ml.
8. MALIBU
This coconut flavoured rum is loved by the Indian population. It is a product from the house of Pernod Ricard. It is smooth and fresh, and is produced from Caribbean rum. As of 2020, Malibu offers these flavours apart from coconut- passion fruit, banana, pineapple, mango and melon. Three flavours are available in India- Original, Red- a blend of rum and tequilla, and Snowcoco. The alcohol content of this rum is 21%
1L Malibu will cost you INR 1700.
9. BACARDI
A premium alcohol brand, Bacardi has over 200 products in the markets of 150 nations globally. Bacardi Rum comes in various amazing flavours- lemon, orange, green apple, and dragon berry. Three variants of this are available in India- Bacardi Select, Bacardi Gold and Bacardi Superior. The most loved original flavour of this rum has slight tones of vanilla.
750 ml original Bacardi rum is available for INR 1550-1650.
10. HAVANA CLUB
Tracing its inception to Cuba in 1934, it is the fifth biggest rum brand globally. There is a unique flavour of Caribbean vanilla and chocolate in all its rums, and a smooth and light finish. During the manufacturing, it is aged in oak casks for 7 years before it is bottled.
For 750 ml, you will have to shell out INR 1100-1200.
BEER (Liquor)
One of the most widely consumed alcoholic drinks, beer is the third most popular alcoholic drink the world after water and tea. It is a hit among all age-groups, and suits all occasions!
Did You Know?
World's longest hangover lasted 4 weeks after a guy consumed 60 pints of beer at once!
There's an African beer that is brewed from bananas.
A government funded organization is Amsterdam hires alcoholics to clean the streets-and pays them in beer cans!
World's oldest beer can be dated back to 3000 B.C.
1. BIRA 91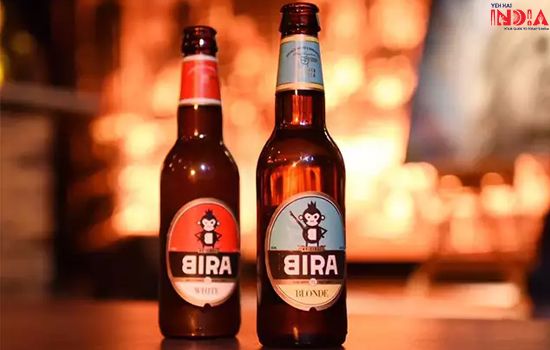 Introduced in February 2015, it is a new beer brand that has taken the market by storm.
It comes in a quirky bottle and is one of the favourite liquor brands among millennials. Recently it also launched a low-calorie beer, with a calorie count lower than that of other liquors be it beers, champagne, and breezers.
One of the variants of Bira is a High-Intensity Wheat Beer.

BIRA 91 had a brewing unit in Belgium, which has now been moved to their manufacturing unit in Indore because earlier the availability of 300 ml bottles was irregular.
The founder, Ankur Jain, had traveled to Europe for three months to make the perfect beer to suit the new generation of India! It is a refreshing beer with low bitterness, a hint of citrus, and has a soft finish.
Fun fact– the 91 in the liquor brand's name stands for the Indian telephone code.
Price: If you're lucky enough to be in Delhi, 300 ml of BIRA 91 Blonde alcohol will cost you INR 175.
2. KINGFISHER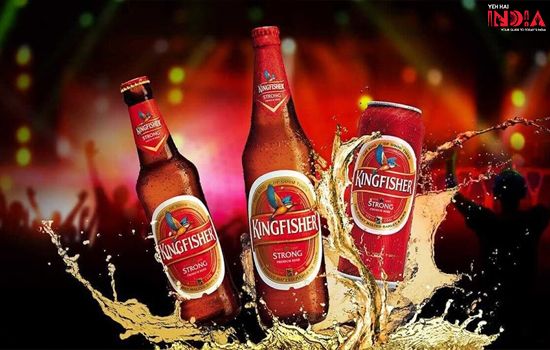 Even though the tagline of the brand, King of good times, is ironic to the situation of its owner, Kingfisher stands as a famous Indian alcohol brand of beer. It is known for its wild advertisements, fantastic taste, and affordable prices. Kingfisher Strong has an alcohol percentage of 8%, while Kingfisher Premium has 4.8%. Its deep-rooted distribution makes it readily available everywhere.

The recently added variant of Kingfisher is Kingfisher Ultra, which is made from imported ingredients. It gives a tough fight to Kingfisher Blue, which is increasingly appealing to youth. With a mild watery flavor and grassy bitterness, it is a strong beer and has 8% alcohol content.
Price: INR 100 for Kingfisher Draught Beer 500 ml INR 125 for Kingfisher Premium Lager Beer 650 ml.
3. WHITE RHINO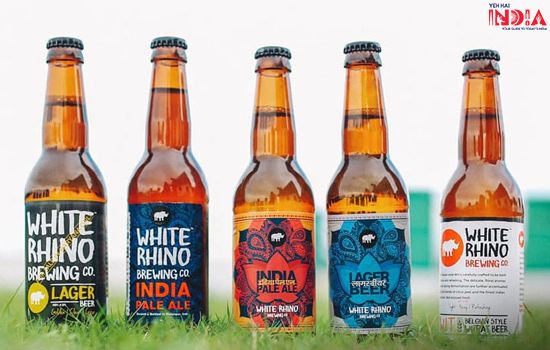 Another alcohol brand made in India is a beer brand. The first beer to be crafted and bottled in India, its main brewery is located near Gwalior. Its specialty is that it is the only beer in the market that does not use preservatives, foam enhancers or any other artificial elements. Currently, it has two variants- Munich Lager and Belgian-style Wheat Beer. Neither of them is very strong, and have only 5% alcohol.
Wheat beer has a lower bitterness and is refreshing and aromatic. White Rhino partnered with a British beer distribution firm in 2018 to expand the business to the UK.
Price: You will have to shell out INR 150 for White Rhino Wit Beer 300 ml.
4. SIMBA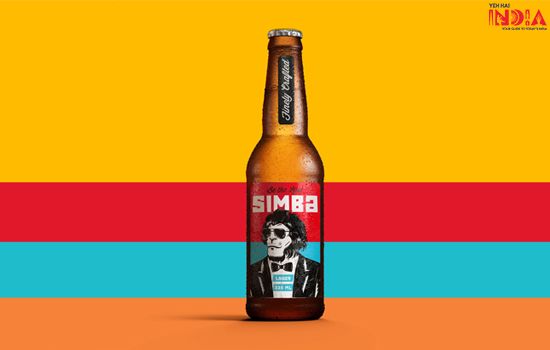 One of the new liquor brands in the Indian beer market, Simba was an instant hit with the younger generation. Launched in 2016, it comes from a brewery in Durg, Chhattisgarh, and has four variants- Wit, Strong, Lite and Stout. In 2019, the CEO, Prabhtej Singh Bhatia planned to set up a brewery in Arunachal Pradesh as well. So far, Simba liquor is available in Delhi, Goa, Bangalore, Mumbai, Kolkata and Chattisgarh.
The price ranges of this liquor between INR 110 to INR 150 for 500 ml.
5. BRO CODE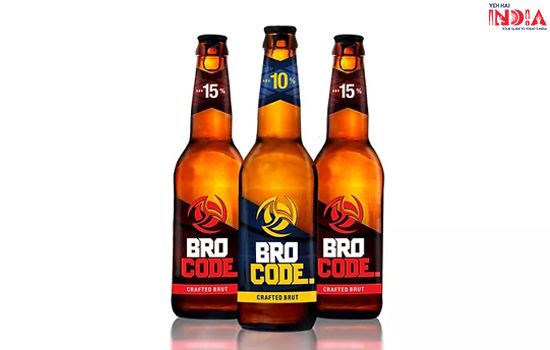 With 15% alcohol content, Bro Code is one of the strongest Indian beers. With its manufacturing unit located near Goa, Bro Code is slowly gaining high popularity in the Indian liquor market. The variants available are Bro Code 10, Bro Code 15, and Bro Code Club Soda. The USP here is definitely the high alcohol content, which gives you a slow buzz that lasts for a long time.
6. CARLSBERG
Known for its balanced bitterness and light buzz, this is a superior quality beer enjoyed all over the world. The excellent European grains used for making this beer give it a distinct taste of slight bitterness and richness that is appreciated by beer lovers around the globe. The variants available are Carlsberg Elephant and Carlsberg Smooth, both having a slight hint of malt.
Price: 650 ml for INR 210.
7. BUDWEISER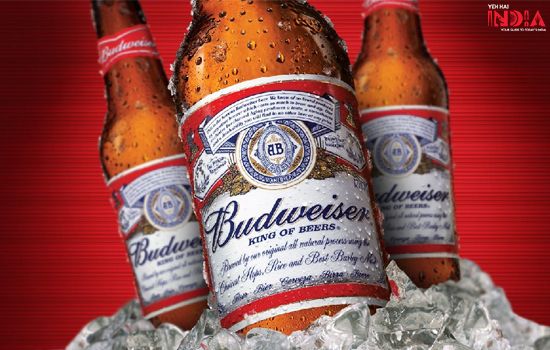 Budweiser is a leading brand not only in India but also in the USA. This is a very light beer, with 5% alcohol content in Budweiser Premium and 6.5% in Budweiser Magnum. The flavour of this beer is somewhat that of sweet rice and bitter hops- of course, not too bitter. Best enjoyed watching a football match with your best buddies or sitting by the poolside on a hot day, Budweiser is a go-to beer.
Price: This will cost you INR 265 for 650 ml.
8. HEINEKEN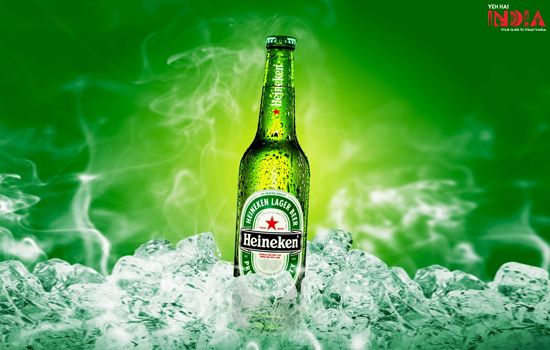 One distinctive feature of the manufacturing process of Heineken is that it is brewed in horizontal tanks for better consistency. While other beers are brewed for over a fortnight, Heineken is the only one that takes almost a whole month to prepare- resulting in its fantastic flavour and finish. Coming straight from Holland, this is a slightly stronger beer as compared to others. The variants available are Heineken Premium and Heineken Draught.
Price: You will have to shell out INR 365 for 650 ml.
9. HOEGAARDEN
(An absolute personal favourite!)
First brewed in 1445, this is probably one of the oldest beer brands in the market. It is also known as the Original Belgian White Beer and is available only in select markets. The secret behind its cloudy appearance is that while it is being brewed, coriander and orange peel are left unfiltered to give it full flavour. With one swing, you will be easily able to make out the faint flavour of cloves and bananas in this beer.
Price: INR 360-380 for this beauty.
10. TUBORG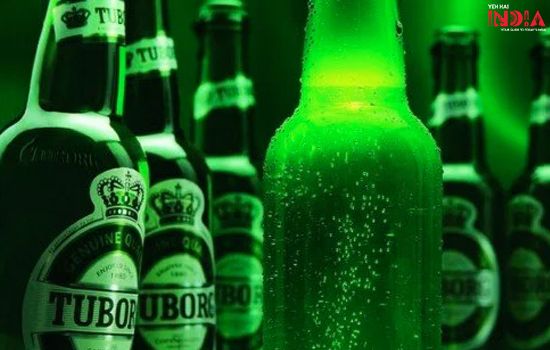 A lager beer with 4.8% alcohol, Tuborg tastes best when paired with spicy Asian dishes or salads. The mild and fresh taste of this beer comes from its brewing process, that happens on lager malt. It actually stands at no. 2 in India when it comes to beer brands. The variants available in the market are Tuborg Strong, Tuborg Green, Tuborg Classic with Scotch Malts.
Price: Ranges between INR 100- 180 (depending upon the variant.)
VODKA
Who knew water and ethanol could great something so mesmerizing?
Mage up of water and ethanol, Vodka originally comes from Russia & Poland. Traditionally, grains and potatoes were used to manufacture vodka by distillation. Over the years, various additions have been made to enhance the flavours and quality. Sugar beans, rice, and sweet potatoes are also used to make vodka! It is also used in various Italian cooking recipes.
Did You Know?
It is one of the purest drinks in the world- does not use sugar, yeast, fat, sodium, or cholesterol.
It can be helpful in skin tightening and filling up pores.
Vodka is used to make aftershave!
Vodka is the only drink to have been carried into space by Russian astronauts!
Vodka does expire. After opening, a bottle starts losing taste and must be consumed within 12 months- after which it starts to taste weaker.
1. MAGIC MOMENTS
A product from RadicoKhaitan, this is easily available in every market in India. The sharp taste of vodka is given a slight twist with flavours such as lemongrass, raspberry, chocolate and orange. The most recent addition to this product line is the "Verve Magic" remix. It is a triple distilled spirit made from the best of rice grains. It goes down with a slight spiciness and a vague metallic finish. It has an alcohol content of 38%.
INR 590 for 750 ml.
2. WHITE MISCHIEF
Acquiring 48% share of the Vodka market in India, White mischief is widely loved. Triple distilled to get the most out of the flavour and taste, this has 42.8% of alcohol content. It is a product of United Breweries Group, and has won several international awards. Some amazing flavour that white mischief offers are apple and cinnamon, mango and mint, and a strawberry combination that is most liked by women.
This will cos you Rs. 455 for 750 ml.
3. ROMANOV
It borrows its name from the Romanov dynasty, who ruled Russia from 1612 to 1917. It is produced by the well-known company, United Spirits. This has alcohol content of 42.8% and comes in various flavours- apple, lemon, orange, and a few others. The rich taste and spiciness will definitely make you go back for this. Romanov is one of the cheapest brands of vodka available in India.
INR 310 for 750 ml.
4. FUEL
Falling in the luxury vodka segment, Seagram's Fuel stands spells uniqueness and youthfulness, and is targeted specifically towards the younger audience. Owned by Pernod Picard and Launched in 2005, they have orange and apple flavours in the market. The filtration system used for this vodka is made up of activated charcoal. This technique results in Fuel being a strong spirit with a smooth finish
You will have to shell out INR 525 for 750 ml.
5. VLADIVAR
Keeping up with the tradition of triple distillation, Vladivar is made of the best of grains and charcoal, which are filtered rigorously to get the best finish. Available in flavours like green apple, orange zest, and lemon zest, Vladivar is best enjoyed with spicy Asian or Indian dishes. It has a rich texture and a clean taste, and alcohol content of 40%. It is the second most popular vodka in the UK
This would cost you INR 600 for 750 ml.
6. ERISTOFF
Originated from Georgia, this vodka is made through triple distillation and charcoal filtration and follows a technique invented in 16th century in Russia. There is a story behind its logo of a wolf howling at a crescent moon- it represents the Persian name for Georgia. There are many flavours available- wild berry, lime, blood orange and caramel are among the most popular ones. It is a pure grain spirit, and uses charcoal for distillation.
For this 750 ml, you'll have to shell out INR 800.
7. CIROC
One of most premium French brands available in India, it is made with French grapes and has a sweet taste. It is used to make various cocktails, especially martinis. The unique packaging style of this brand makes it a popular elite gift option. The pineapple and coconut flavours of this brand are most loved by people.
1L of this would cost you INR 3960.
8. SMIRNOFF
Coming from Diageo, this is the finest British spirit available in India, and is a great combination of stunning taste and class. Alcohol content in this is 37.5%. Some of the most popular flavours of Smirnoff are- vanilla and lime. It was awarded the World Spirit Award in 2012 in the Best Vodka category.
Priced affordably, it costs INR 1190 for 1L.
9. GREY GOOSE
Manufactured by Bacardi Ltd., it is a widely consumed brand. Awarded the best tasting vodka in 1998 by the World Tasting Institute, the variants available are Cherry Noire, La Poire, Le Citron and many more. Founded in 1990, it is one of the very few active brands that use ancient French methods for manufacturing, that does not use any additives, and the result is a classic taste which is hard to find anywhere else!
Falling on the premium side of the spectrum, 750 ml of this will cost you INR 6000.
10. ABSOLUT
Pernod Ricard ABD of Sweden produces the various flavours of Absolut, namely- Absolute Karnat, Absolut Peach, Absolut Citron, Absolut Pepper and Absolut Mandarin. Known for its iconic bottle, this is the oldest brand of vodka. Apart from the unique taste, another unique feature of this brand is the set of 7 miniature flavoured vodka bottles which is a perfect gift for your loved ones!
750 ml can be bought for INR 2000.
*Hic-hic-hiccup!* Here's wishing you a great weekend. Cheers!
Here's wishing you a great weekend. Cheers!
Also Read: Top 7 Pubs In Bangalore For Parties