Soul-quenching, minimalistic, and easy-to-assemble, Nutrition bowls are your go-to meal for that much-needed nutrient boost. Nutrition bowls, nourish bowls, power bowls, grain bowls – call them whatever you want to, this uncomplicated meal option easily fits into your overwhelming routines to replace the tedious full-course meals.
Nutrition bowls started as substitutes for unhealthy snacking. And later, with a few tweaks in their ingredient list, became a filling nutrient-rich meal in themselves.
A perfect antidote to untimely hunger pangs, these super nourishing bowls are super easy to make. Just having the ingredients ready and tossing them together creates a filling meal no matter the time.
What is a Nutrition Bowl?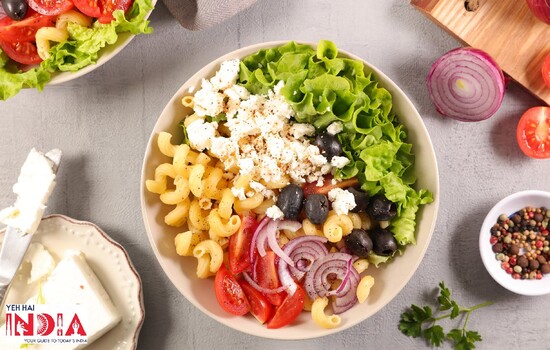 A nutrient bowl is a concept focused on meeting a part of your daily nutrient requirements through nutrient-rich foods. And, typically served in a bowl.
Ideally, a nourishing bowl consists of carbs, proteins, vitamins, minerals, antioxidants and fats in balanced proportions.
A dash of creativity in food pairings can help you build several types of bowls to complement your taste buds and health goals.
From smoothie bowls, and fruit bowls, to snack bowls, noodle bowls, soup bowls and salad bowls, there's tremendous scope for experimentation while you're at it, enlisting the food items you have.
The trick is to have a perfect combination of your macros and micros, which will not only suffice your hunger for a major meal but would make up for the definition of a balanced nutritious meal.
Recommended Story – 10 Low-Sugar Fruits and Vegetables Good For A Low-Carb Diet
How To Build A Nutrition Bowl?
The basic procedure enlists layering different food groups in a step-by-step procedure:
Step 1: Start with a base of Leafy Greens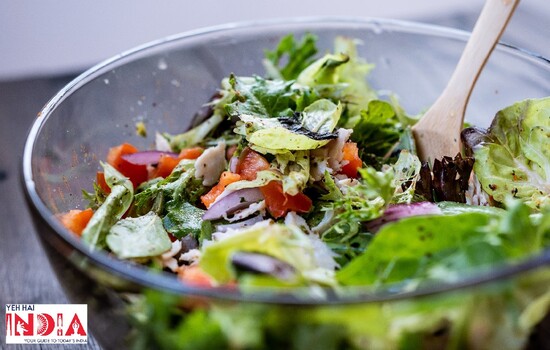 Leafy greens such as lettuce, spinach, kale or cabbage go in the bottom of the bowl to form the base. You can play around with the colour of your leafy veggies to give more depth to the bowl.
Step 2: Toss in rainbow-coloured veggies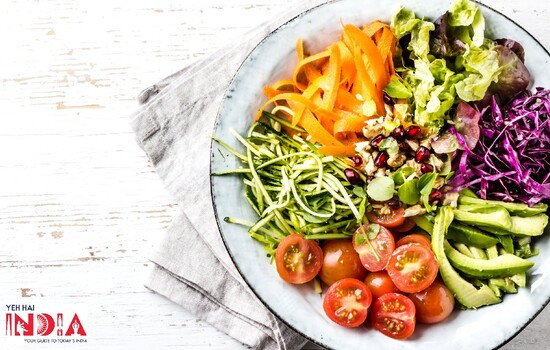 Layer a cup of quartered or diced coloured vegetables such as carrots, cucumbers, bell peppers, string beans, cabbage, broccoli, cauliflower or tomatoes.
Add them raw, roasted or steamed, whichever way you like.
Step 3: Top them with lean proteins and carbs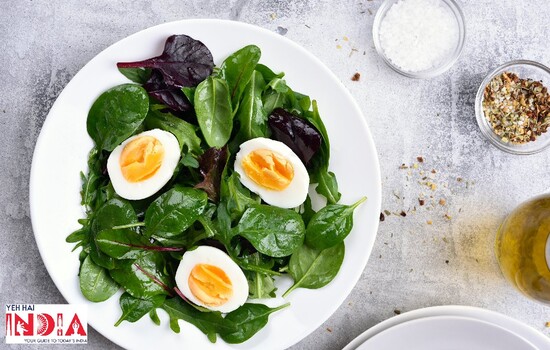 For a spike in nutrition, top the veggies with protein-dense foods like tofu, paneer steamed beans, rice or lentils, quinoa, fish, egg, or shredded chicken seasoned to perfection with salt and pepper.
You can also add steaming hot gluten-free noodles or pasta before adding chicken, fish or egg to boost energy.
You can also use lentil noodles which would be a perfect protein plus carbohydrate source to make up the balance and reduce the effort.
Step 4: Finish with a dose of healthy fats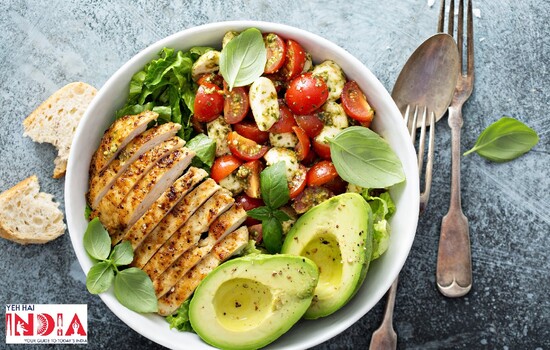 Stir in roasted or raw nuts or seeds like chia, flax, pumpkin, black sesame, skinned almonds, cashews, pistachios, hazelnuts or peanuts.
Prefer adding this element roasted or raw as this would add a certain crunch to it and would be a perfect partner with your protein to give you a nice and long satiated feeling. For more added crunch, add roasted rice flakes or flattened and puffed wholegrains.
Step 5: Trickle in your choice of dressing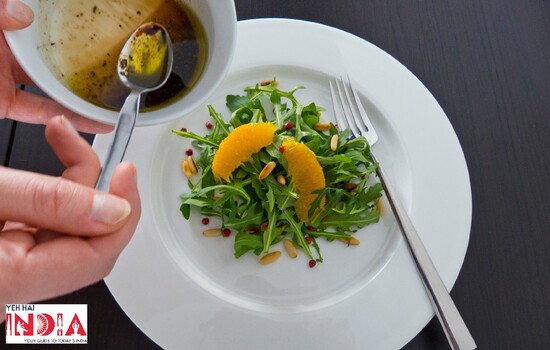 Finally, to take the contents of the bowl to the level of completion, finish off with a spoon full of any salad dressing like tahini, hummus, lemon-olive vinaigrette or yoghurt-avocado dipping sauce tipped into the bowl.
How To Build A Fruit Bowl:
Summers demand meals which are light, refreshing and majorly hydrating- A perfect place to swoop the Fruit bowl in. Here are the steps to follow when creating a fruit bowl:
Recommended Story – Sowing the seeds to a healthier lifestyle – Adopting a plant-based diet
Step 1: Choose your fruits wisely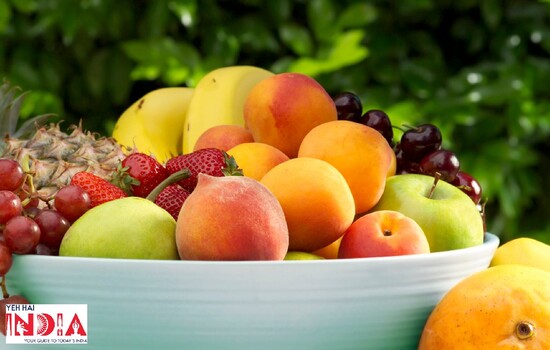 To create a fruit bowl, you must be clever in choosing the ingredients. Fruits that pair well together need to be given preference.
Note: Avoid adding tart fruits like oranges, lime and grapefruit with sweet fruits such as banana, chikoos (sapota), and papaya as well as with your dairy and dairy substitutes like yoghurt, milk, etc.
Suggested fruit pairings:
1. Bananas – Mangoes – Cantaloupe – Watermelon
2. Kiwifruit – Oranges – Grapes – Pomegranate
3. Pineapple – Sweet Lime – Black Grapes – Grapefruit
4. Guava – Strawberries – Papaya – Olives
Step 2: Form the base with big-sized fruits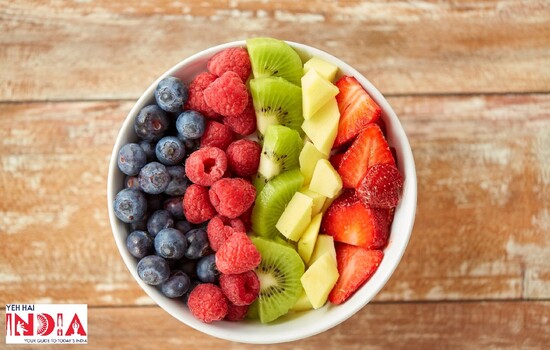 Firstly, arrange diced or cubed fruits or both at the bottom of the bowl. Fruits like kiwis, watermelon, cantaloupe, orange, and grapefruit are great options for the base.
Step 3: Top with chopped fruits and berries: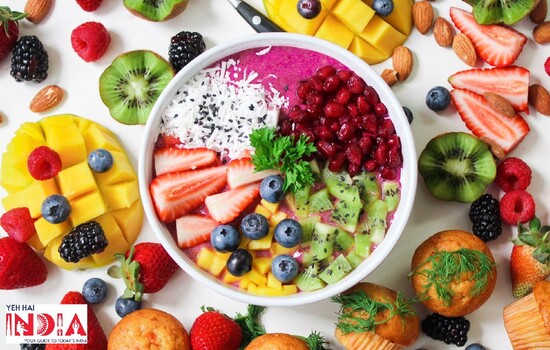 Add chopped fruits like mango, and pineapple or small-sized fruits like grapes, strawberries, bananas, cherries, blueberries, blackberries and olives.
Step 4: Garnish with seeds and nuts: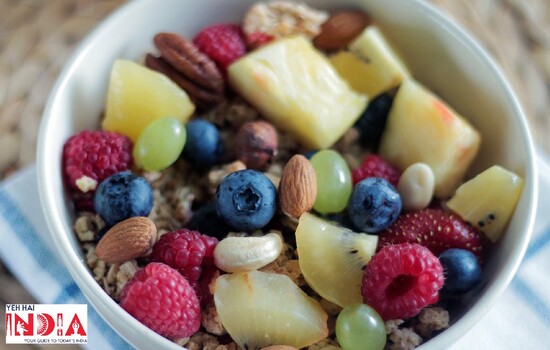 Then, sprinkle some fresh pomegranate seeds, chia or melon seeds or crushed nuts over the layered fruits.
Step 5: Season with a sweetener: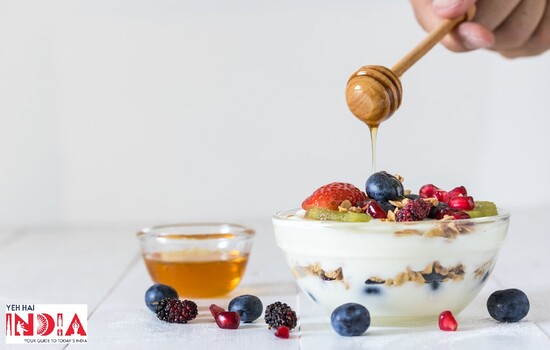 Drizzle maple syrup, honey or lemon dressing over the fruit mix. You have your super fruit bowl ready for you.
Desi Nutrition Bowls
These two power bowls can easily replace your otherwise boring meals and would not only entice your taste buds but would also help you meet daily nutrient requirements for a happy and healthy you. These nutrition bowls have hit the news now, but the Indian way of having a nutrition bowl has been running down through ages in your family.
Confused, right?
Your one-pot meals made in your cooker are also a type of nutrition bowl which contain all the macros and micros and are a great way to reduce your effort but still have a healthy nutritious meal.
The vegetable moong dal and rice khichadi, dal dhokli with methi or palak in it, upwas misal with sabudana, groundnuts and potatoes, biryani with vegetables and chicken/paneer, bis bele bhat with dals, rice and vegetables are the Indian versions of your nutrition bowls which contain adequate balanced nutrition with zinger spice bombs.
Power nutrition bowls are a way to get nutrition and health one step closer to you in your every mood. Using Indian vegetables and fruits and creating your nutrition bowl is the way you can have a healthy tasty meal without thinking twice.
Churn out your power bowl anytime, anywhere and let it bowl over your friends and family with its spectacular colour and flavour!
Also Read – Collagen Diet: 9 Best Foods To Boost Your Body's Collagen Levels