COVID-19 has brought life to a screeching halt for all of us. While the New year 2020 was a mad celebration, all festivals since then have been celebrated with much less enthusiasm. Keeping the incremental state of COVID-19 pan India in mind, the Government has downsized the celebrations of the much-loved festival, Ganesh Chaturthi as well.

Hindu mythology says Lord Ganesha was created on the request of devas to Lord Shiva and Goddess Parvati. This 10-day festival marking the birth of the God of wisdom and intelligence, Lord Ganesha, is celebrated at a grand scale in states like Maharashtra, Goa, Tamil Nadu, Kerala, etc.
Falling on the 22nd instant, this year, the devotion and reverence remains just the same, but the celebration..well, not so much! In line with getting used to the 'new normal', here's what you need to know:
What's the new normal – Ganesh Chaturthi
1. Community Celebration is a Strict No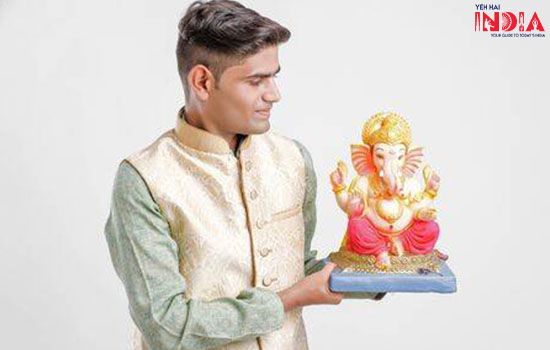 As social distancing has become a routine habit in 2020, community celebration has to take a backseat this year. For instance, in Mumbai, the BMC has appealed for one ward-one Ganpati to curb the spread of coronavirus. Moreover, partaking in the processions in large numbers is also not recommended considering the safety of the people.
2. Going Digital with the Aartis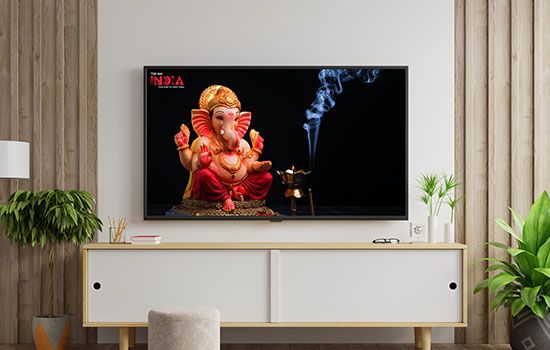 Probably the only good thing that the outbreak of this pandemic has done is making people more digital-savvy! In a very smart move, the Maharashtra government has also decided that all mandals will hold digital streaming on the aarti through Facebook, cable television, and other suitable mediums. This will help to avoid large gatherings, and also allow people to seek blessings from Lord Ganesha, digitally!
3. Less is More. Always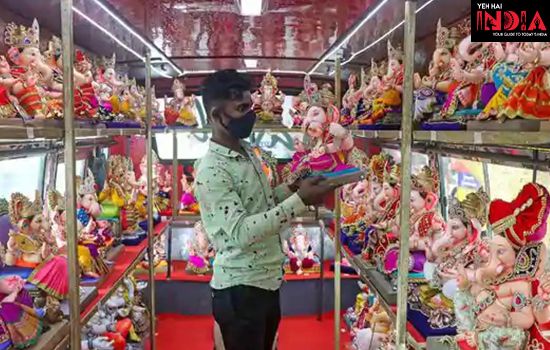 Every year, Ganesh Chaturthi attracts visitors from all over the world. The most fascinating of all festivities is Lalbaugcha Raja, where the height of Lord Ganesh's idol goes up to 18-22 feet. Considering the current situation, the Maharashtra government has capped the height of all idols to 4 feet and less. This has been done keeping in mind the fact that idols have to be immersed at home or in artificial lakes and ponds. While the usual turnout at Lalbaug sees film stars, politicians, and celebrities from all walks of life, Lalbaugcha Raja Ganeshotsav Mandal is stepping back from holding the Ganeshutsav this year.
4. Immersion Takes a new Route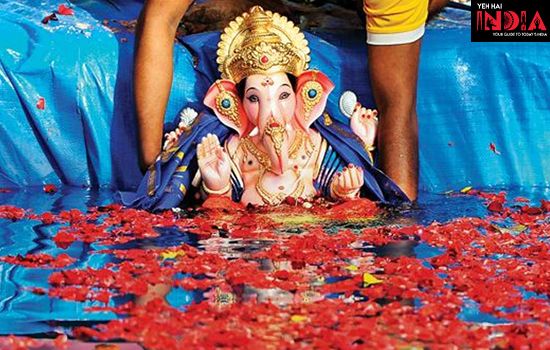 The immersion ceremony is one of the most important parts of the festival. Contrary to usual times, when immersion was synonymous with mobs dancing wildly on the road, and sandals in almost every locality, BMC's directives for this year have made it quite the opposite. According to the latest notice, the idols need to be immersed in the metal tanks and artificial lakes. The water can be reused for trees and plants in the locality.
As of today, Mumbai has over 622 containment zones. For people whose homes lie in these areas, immersion must be done only at home. Further, mandals located in these containment zones must immerse the idols in their pandals.
The changes are daunting and time-taking; but certainly not impossible. The virus has kept us confined but not our spirit. Being a true devotee, you can celebrate Ganesh Chaturthi in an eco-friendly way in a bid to reduce the environmental damage and fight the microbe mayhem at once.
So, if you are contemplating where to find the best sustainable idols, worry not. Here comes a quick list of websites offering earth-friendly idols without compromising on the quality.
Where to shop Eco-friendly Ganesh
1.My Eco Ganesh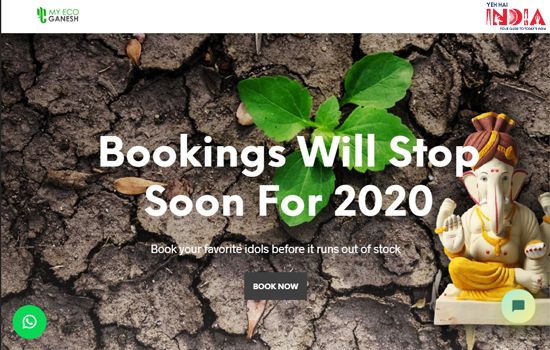 As the name suggests, this website sells environmental-friendly Ganesha of different sorts. True to its commitment, My Eco Ganesh offers idols made up of clay and non-toxic colours. Apart from the former, the other 2 popular variants of Ganesha idols available on the website are Plant Ganesha and Paper Ganeha. Plant Ganesha consists of seeds helping to plant trees after immersion. And the latter one is composed of paper mache and organic colours. These are light-weight yet sturdy in nature.
2. NurseryLive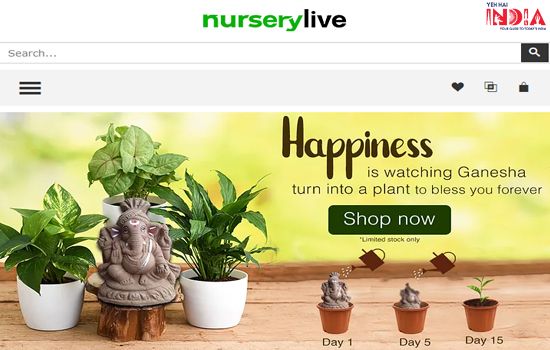 NurseryLive can be described as a one-stop destination for one's gardening needs. However, to help the environment mend, they have taken the initiative of delivering eco-friendly idols over the past few years. Along with the Ganesha idols, they also proffer soil for visarjan at home. Owing to the lockdown, this website is currently delivering idols to Pune, Bangalore, Chennai, Mumbai, and Hyderabad.
3. My Pooja Box
My Pooja Box is another online brand that caters to all the pooja samogri needs at an attractive price. They boast a collection of Ganesha idols that are completely organic and sustainable. Additionally, these figurines after getting dissolved bloom into plants carrying the auspicious energy of Bappa. Too good to be true, ain't it?
4. Jaypore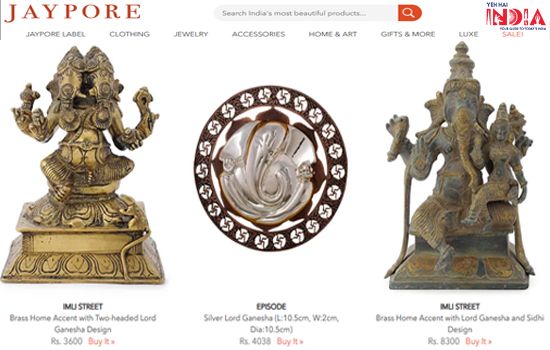 This is a perfect example of a home-grown brand that delivers high-quality products made by the local artisans. You can buy both eco-friendly and permanent Ganesha idols. Made up of brass or choco-silver plated, the idols may be a bit pricey, but worth investing in. The website also sells a gamut of other items making it easier for you to gift your near ones something special amid the clutter.
5. Amazon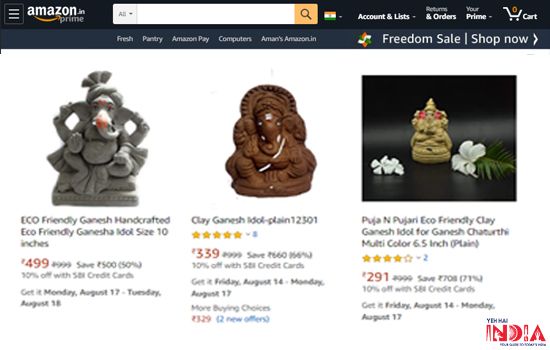 How can we forget the Overlord of e-commerce! Cruise over its website or app to get the best deals on eco-friendly Ganesha idols. Amazon has tied up with many estimable idol makers and sellers to cater to customers pan India. Apart from the affordable price and superior quality, you can also experience a hassle-free delivery with this portal.
Final Words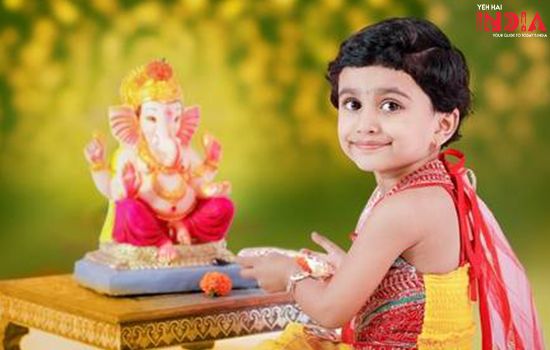 The current pandemic is unprecedented, and so are the implications. While 1.8 million people in the country fight COVID-19, let us take every measure we can to stop further contamination. Devotion must not overpower science.

So, we urge all of you to please follow every possible safety measure while celebrating this auspicious festival within the safety of your homes. You may not be able to tap your feet on the thumping songs or enjoy the enthralling sound of Dhol and Tasha, but you can surely cherish the festival with your family with each bite of Modak.
Ganpati Bappa Morrya!