Cave paintings in India were discovered in Karnataka, Madhya Pradesh, Maharashtra, and Uttar Pradesh among many other places. India's rich history of paintings has called for recognition from all over the globe.In this article we have covered the Top 10 Cave paintings in India, where they are located, describing the type of paintings and their history.
India is known for its diversified art and culture. As per research and records, the oldest existing proofs of art in India can be traced back to the stone age. This tells us that the aesthetic value of art is such that it found a way to flourish even at the time when man was not civilized. Dating back to 30,000 years ago, paintings have for long been associated with Indian civilization.
Here are some of the most famous cave painting found in India:
Bhimbedka Cave Paintings – near Bhopal in Madhya Pradesh
Sittanavasal Paintings – Puddukotai district of Tamil Nadu
Ajanta Caves – near Aurangabad in Maharashtra
Ellora Caves – near Aurangabad in Maharashtra
Lenyadri Cave Paintings – Junnar in Pune district in Maharashtra
Badami Caves – Bagalkot District in Northern Karnataka
Adamgarh Hills – Hoshangabad town in Madhya Pradesh
Jogimara Cave Paintings – Chattisgarh
Saspol Caves – Saspol village in Leh district
Elephanta Caves – Ellora Island in Maharashtra
1. Bhimbetka Cave Paintings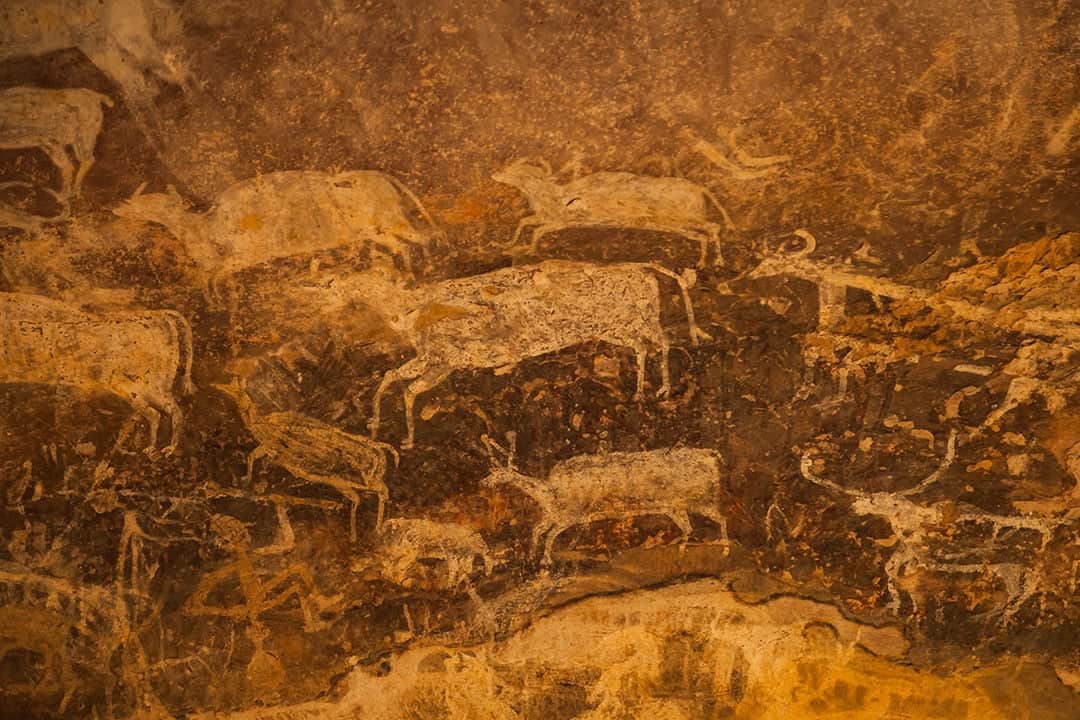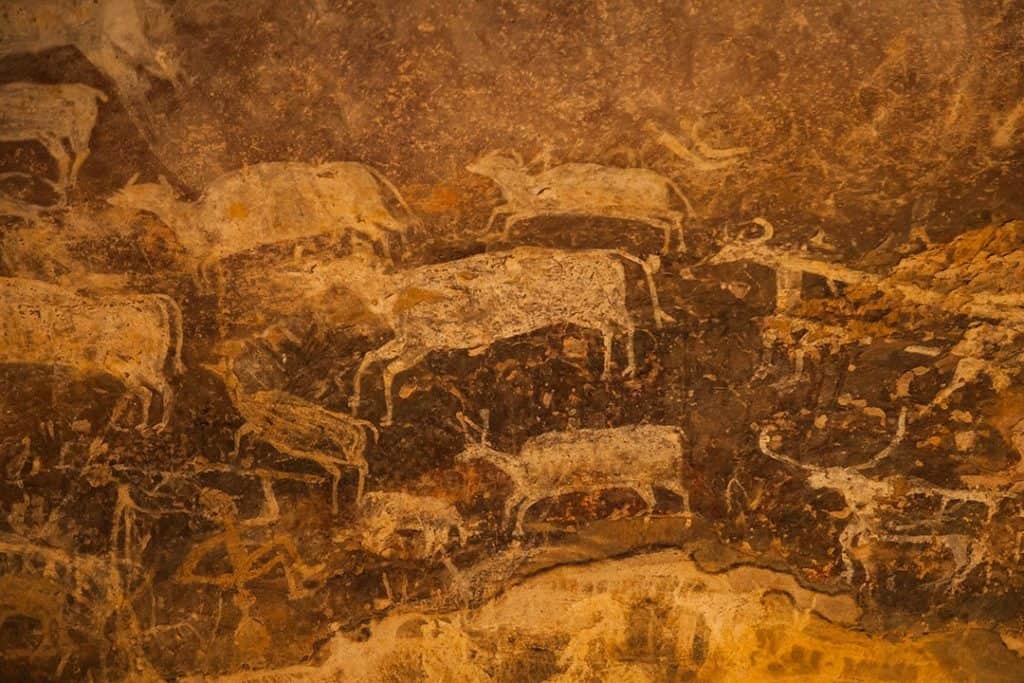 Location: Near Bhopal in Madhya Pradesh
The paintings found at Bhimbetka Rock Shelter are said to be the oldest form of human expression. The interesting thing about these paintings is that they were not inscribed on stones. Instead, they were painted using ancient types of dyes and colours. Discovered by VS Wakankar in 1957, these paintings are a marvel that has survived the effects of time and erosion. The depictions in these works of art include animals, culture and celebration of festivities. Nearly 20 layers of paintings can be seen here-one on top of the other.
Know indepth about Bhimdedka Cave Paintings HERE
2. Sittanavasal Paintings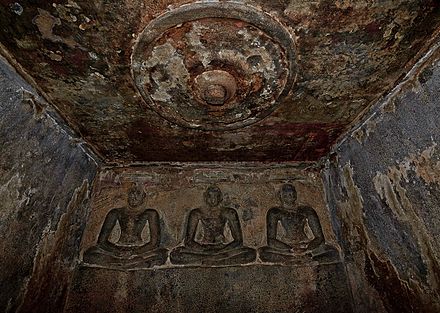 Location: Puddukotai district of Tamil Nadu.
Sittanavasal cave is believed to have been home to Jain priests who had come down from the eastern parts of the country to propagate Jainism.The caves have figures of ducks, fish, dancing figures, etc., along with inscriptions from the 9th and 10th century . They are said to have been made with vegetable dyes. . The intricately designed borders that cover the walls and roof are a must see. Murals from the 7th century fill the roofs. One of the most famous paintings here is that of people picking lotuses from a pond.
3. Ajanta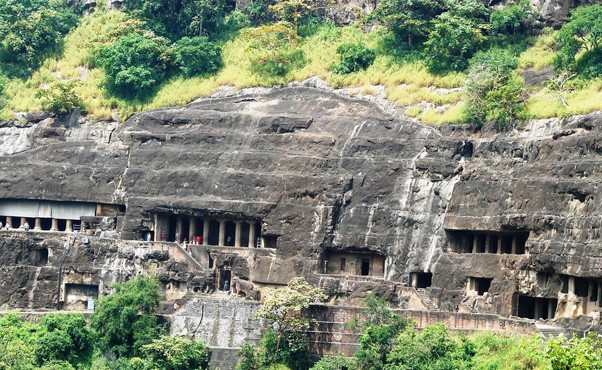 Location: 100 Kms from Aurangabad in Maharashtra
Ajanta is a Buddhist cave. The paintings here are a golden proof of Buddhism in India and their unique artistic sense. The depictions revolve around the life of Lord Buddha and his disciples. UNESCO has termed these paintings to be masterpieces of Buddhist religious art that had a significant impact on the art that followed. There are twenty-nine caves in Ajanta most of which were residences of Buddhist monks. The theme of the paintings runs along the lines of Jataka- incarnations of Lord Buddha. An astounding feature of the Ajanta cave art is the protective layer of lime plaster over the paintings.
Know in detail about Ajanta caves HERE
4. Ellora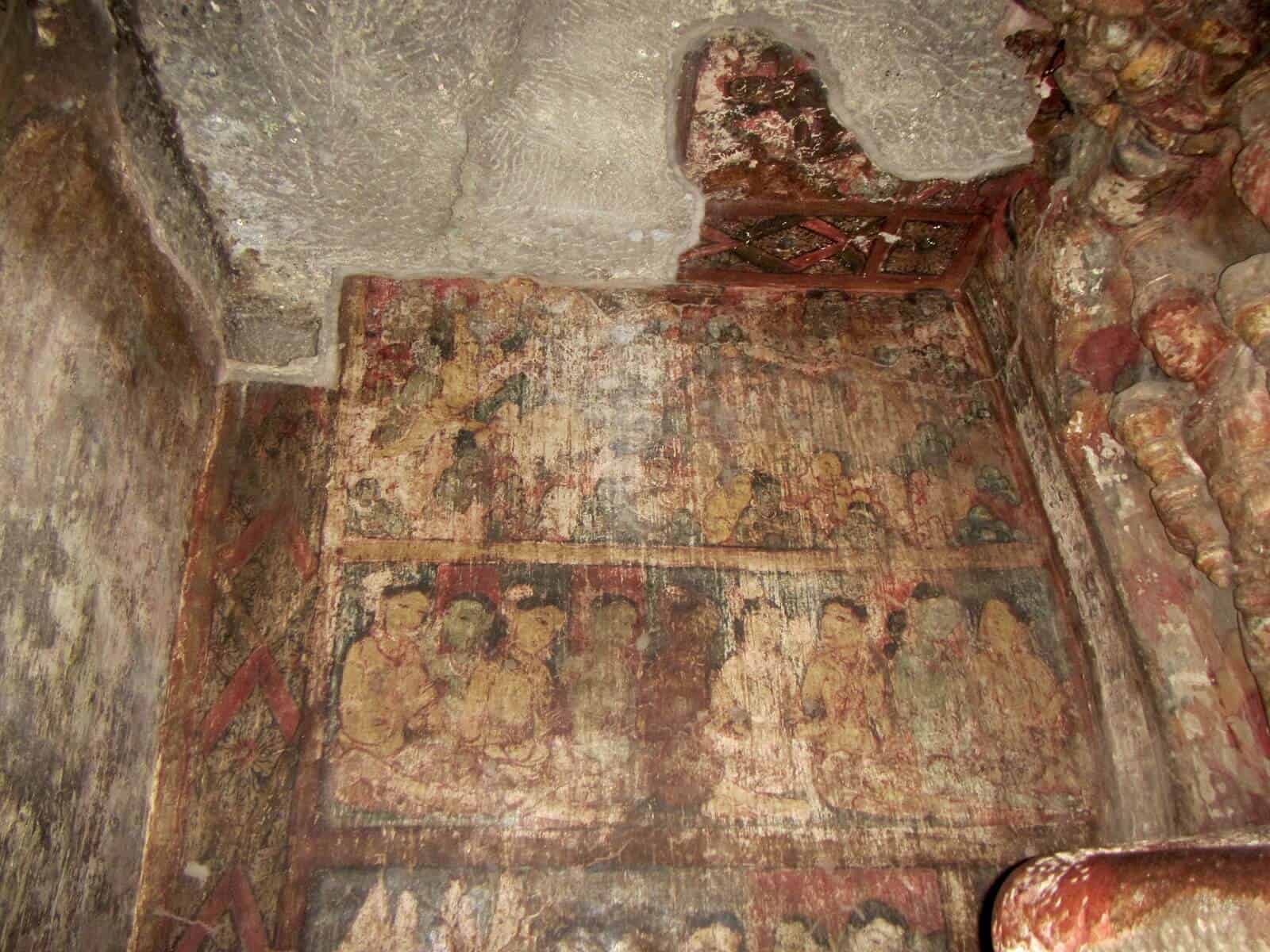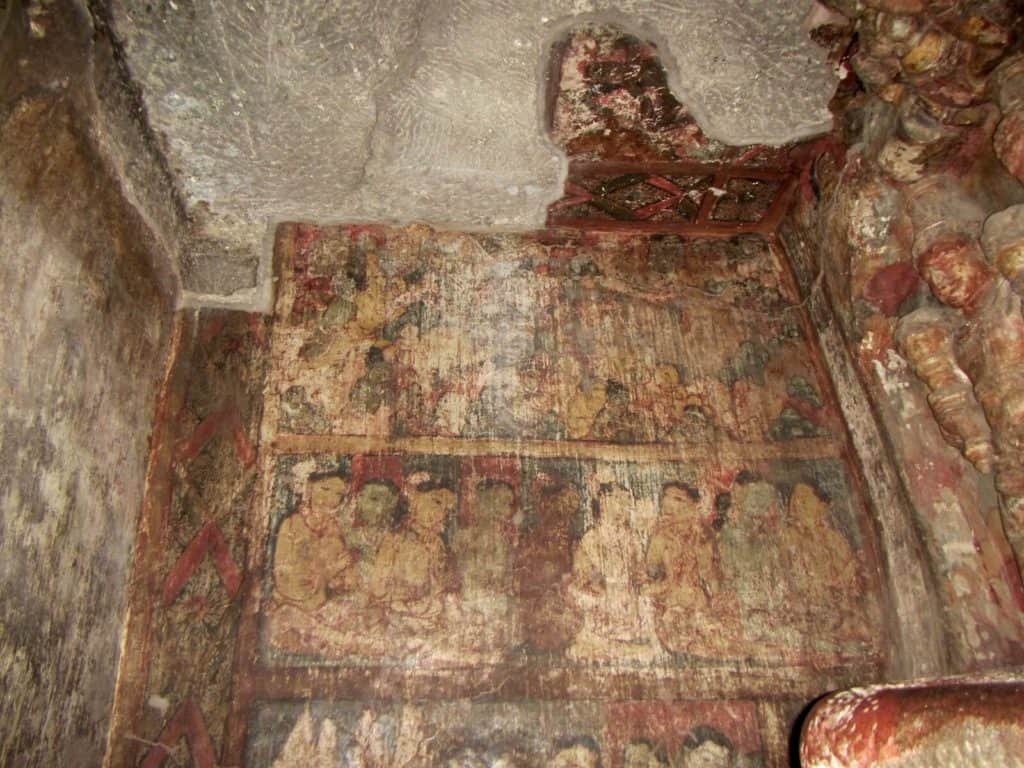 Location: 18 miles to Aurangabad in Maharashtra
Hidden among the Chamadari hills, the Ellora caves have been declared as a World Heritage Site. There are 34 cave temples here which celebrate three religions- Buddhism, Hinduism, and Jainism. Dating back to 550-750 AD, the paintings in the Buddhist caves show the life of Lord Buddha. Cave no. 12 is well-known for its magnificent three-story structure. 17 Hindu caves are said to have been made in 600-875 AD, and the paintings consist of apsaras, trees, nature, gods, and goddesses. The most famous painting here is that of one Lord Vishnu and Goddess Laksmi with clouds in the background. Jain caves can be traced back to 800-1000 AD and have various well-preserved murals.
5. Lenyadri Cave Paintings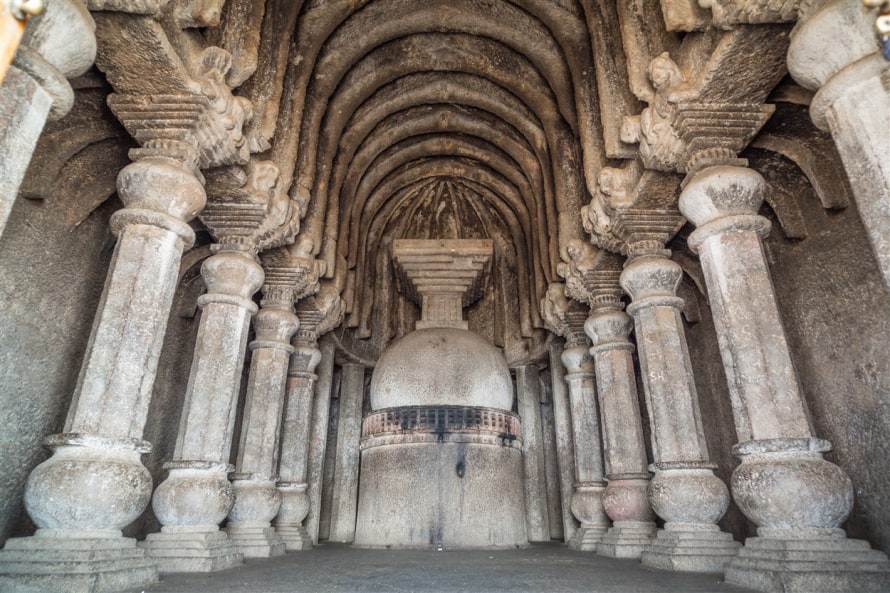 Location: Junnar in Pune district in Maharashtra
Lenyadri caves served as Buddhist monks' residences at a point of time, but Hindu legend says that it is the birthplace of Lord Ganesha. One of the caves has been converted into a Hindu temple, and the paintings here are as recent as the 19th century. Majority caves here have preserved traces of Buddhist paintings- which comprise intricate designs, concentric circles on the roof, lotuses, and geometric patterns.
Also read: Brief History Of Miniature Paintings
6. Badami Caves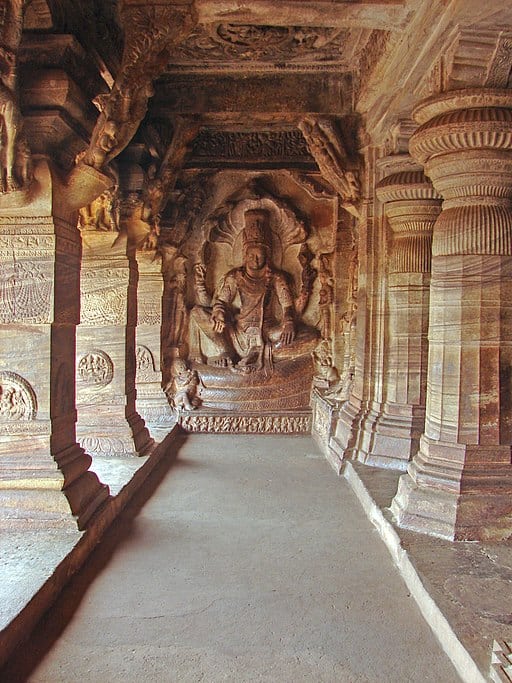 Location: Badami, a small town in Bagalkot District in Northern Karnataka
The murals of these caves are the oldest surviving Hindu paintings and are inspired by Puranas. Depictions of Shiva and Parvati have been made here. Out of the many famous paintings that can be seen at Badami caves, the prominent ones are of Lord Shiva and Parvati with a serpent, forms of Lord Vishnu, the life of Lord Mahavir. Even though art has barely survived here, it is still an artistic marvel and lures enthusiasts from all over the world. The rock-cut caves where these paintings are housed are estimated to have been made in the 6th and 8th centuries. It is said that Badami caves have heavily inspired the monuments at Mahabalipuram.
7. Adamgarh Hills
Location : Hoshangabad town in Madhya Pradesh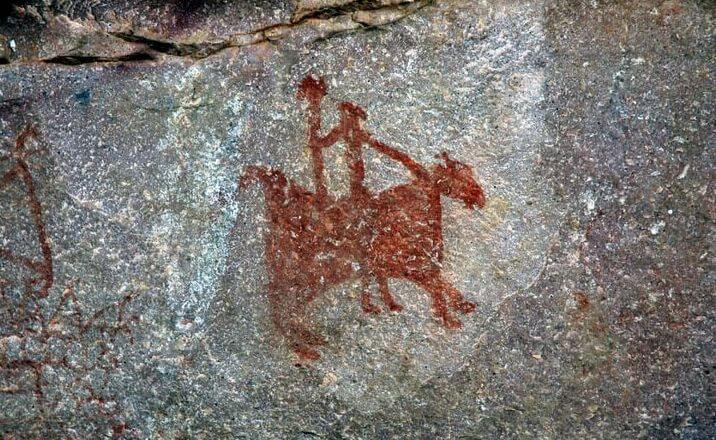 Being filled with dense forests, Madhya Pradesh was always an ideal place for human habitation. And hence, many forms of art are found here. The paintings here can be dated back to the era when man had newly discovered the use of tools made out of stone- Palaeolithic period. They depict the daily lifestyle of people, hunting, grazing animals, etc. It was first discovered by Manoranjan Ghosh in 1932. It is interesting to note that the colors used in these paintings were red and white.
8. Jogimara Cave Paintings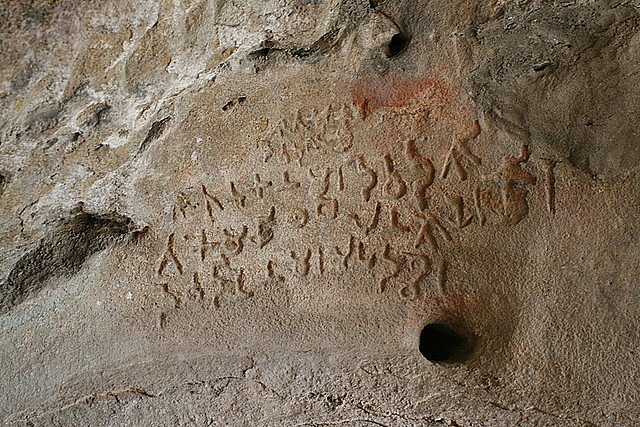 Location: Chattisgarh
Known for pre-Buddhist era paintings, they outdate the Ajanta caves. These are the first evidence of perfect painting done by humans- an attempt to deliberately beautify the look of the place with paintings; a form of interior decoration. The depictions that cover the roof include men, fish, elephants, etc. Colors like red, black, white and yellow were used. Unclear paintings of chariots, girls and singers adorn the walls of this cave. Each painting has a red outline. They are said to be from 300 BC. To add to its peculiarity, the inscriptions here are messages of love and talk about the deep affection between Devdutta and Sutnika.
9. Saspol Caves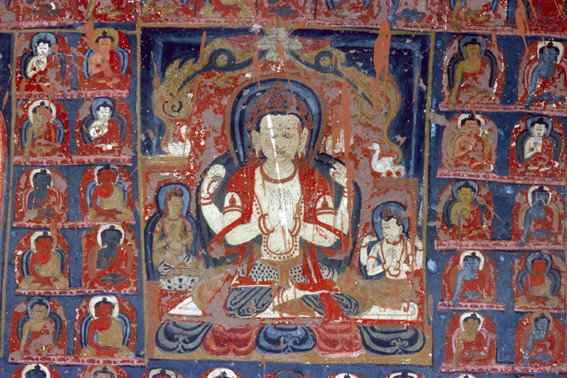 Location: Saspol village in Leh district
The paintings here show an amalgamation of Indian Buddhist and Tibetian art. Before creating these brightly colored paintings, the walls were plastered with clay. The pictures include that of Hevajra- who represents the final stage of medication- a fully enlightened being, and Samvara- a guardian deity. Cave 2 has been painted orange, and the paintings in Cave 1 &3 are faded because of the amount of time that is has stood strong. There are no hints of any external influence in these paintings. These paintings are housed in rock-cut temples that are from 13-15 century.
10. Elephanta Caves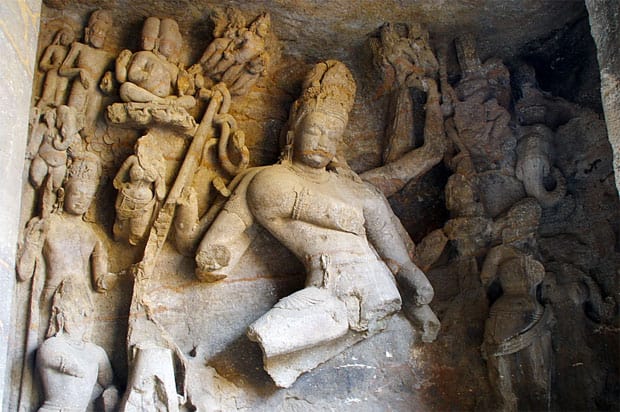 Location: Ellora Island in Maharashtra
These painting were made around the 18th Century.These caves are very famous due to their close proximity to the city of Mumbai. People take a ferry from Mumbai to reach here. These caves have many bright coloured paintings. The caves were in the past covered with plaster on which the paintings were made. Now the remains are few.
Paintings represent the culture of its makers. We have seen that while some caves had stick figures and patterns as drawing, there were many others that had particular paintings. They tell us about the social and economical life of the people of that era, and also show the gradual evolution of man from an uncivilized being to using plant fibers as brushes to create paintings that we see today.
We hope that now you have enough information on the top cave paintings of India.
Hope the above article gave you detailed insights on the art form. To know about other art forms in India stay connected on Yeh Hai India