Yoga is a group of physical and spiritual exercises born in ancient India as a way to attain physical and mental well being.
This science aims to bring positivity in life by controlling the min. Hinduism, Buddhism and Jainism have different yoga schools, practices and goals, and traditional and modern yoga is practiced all over the world.
Practicing a downward-looking dog or trying out a new balance pose in a yoga studio is challenging enough on its own, but even more difficult when you're wearing clothes that are sagging, too tight, or inappropriate.
Therefore, it is important to buy clothes that are breathable, flexible, and comfortable. Though the selection you make in yoga wear is highly dependent on your personal taste and type of yoga you want to practice.
What to look for in Yoga wear?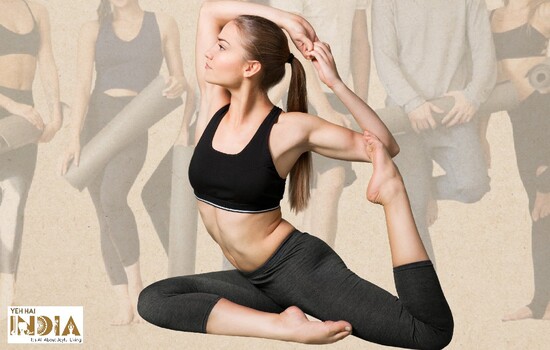 Yoga wear belongs to a category often referred to as "leisure wear". People today wear yoga outfits for fashion reasons as well as for their functionality.
To suit the varying needs of people you can find a huge variety of designs in yoga clothing that comes with pockets, mesh columns, neon colors, wild patterns and more.
Try looking for breathable and flexible bottoms like yoga pants and shorts. Also, breathable fitted tops work well in tough yoga postures. For women, a sports bra or wired bra that fully supports your body in different types of yoga postures you are practicing is necessary.
This is all fun, but if you're planning on getting dressed for a real yoga class, don't forget to look for their suitability in adapting to different yoga postures.
Consider doing light yoga when trying out items. Test the flexibility and comfort of your clothes in the dressing room or at home. 
Recommended Story – A Yogi's Heaven: 10 Must Have Yoga Accessories 
Here are some parameters to help you find the best yoga wear for yourself:
1. Breathability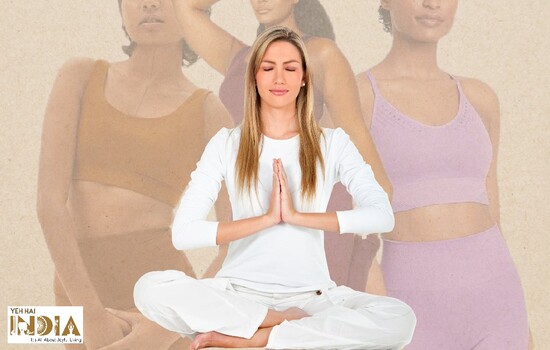 Depending on the type of yoga you practice; you may sweat a little or a lot.
It is important to wear breathable and moisture wicking materials to keep you cool and comfortable, especially when you sweat out.
Tank tops, cut out shirts and yoga pants with mesh pockets improve breathability and help keep your body cool.
Avoid cotton clothing for workouts as it retains moisture, becomes hot and humid, and is prone to rubbing and chills at the end of class.
2. Comfort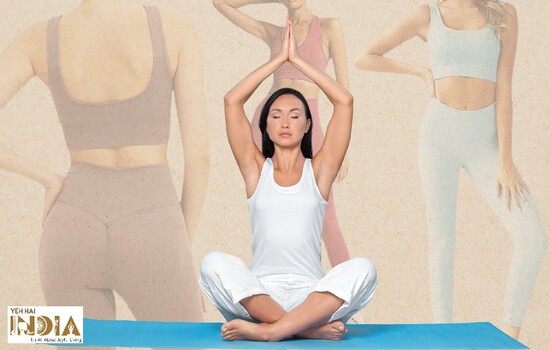 Nothing is worse than practicing yoga in unpleasant clothing.
When trying to buy a perfect pair of yoga clothes, pay attention on their fitting and check the seams, labels and zippers to ensure a smooth finish on the insides of the garment so you can wear them comfortably and move freely.
Check the insides of the waistbands to ensure long lasting comfort.
3. Flexibility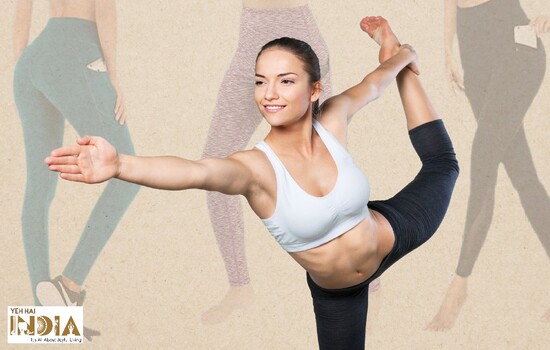 Yoga requires highly sophisticated movements such as bending, stretching, expanding and rolling.
To let you freely move your body for different requirements, your clothes need to be able to keep up with these movements, which means the fabric material should consist of at least 15 percent spandex for high flexibility.
Here's a list of Yoga outfits you must have in your wardrobe.
Must Have Yoga Outfits For Women:
1. Yoga Shirts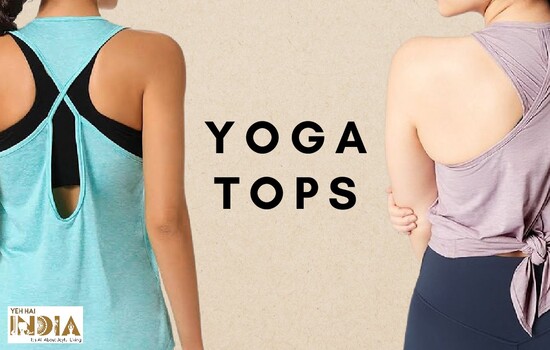 Regardless of style, most yogis prefer to wear a tight-fitting T-shirt or tank top around their hips and waist. This slim fit prevents the hemlines from coming off you abdomen when bent.
Shirts made of breathable, wicking materials and soft seams are also suitable for intense workouts.
Many yoga tank tops also have a built-in sports bra. Test your yoga top by stretching your arms above your head to check it's flexibility and bending sideways on either sides, one at a time in the dressing room.
2. Yoga Leggings
Many yoga wear brands offer different types of yoga pants in different lengths and fits. As with all yoga clothes, look for pants or leggings that offer an excellent combination of breathability, flexibility, and comfort.
Nylon-polyester-spandex blend pants are a good choice as they allow moisture to escape while moving while changing postures.
If you are concerned about the coverage when bending or stretching, we recommend high-waist leggings or pants. They are usually less likely to slip during stretching.
There are two style options in leggings, mid-calf length and full length leggings. Yoga pants on the other hand, are more suitable for slow paced yoga sessions.
Generally, yoga pants are not recommended for Power yoga classes as their loose hemlines can affect mobility.
If you're looking for loose-fitting pants in a challenging yoga class, look for options to lace around your ankles.
3. Sports Bra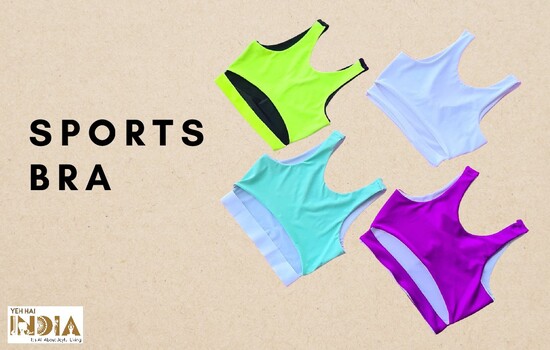 The choice of sports bra depends on the size of the bra and your coverage needs. In general, high-strength classes like Power Vinyasa include a lot of twisting and bending (upside down) and therefore require more support.
If you are doing low intensity workouts such as recovery yoga, lowering your support level may help.
It is worth noting that in high intensity workouts, most female yoga instructors only wear sports bras without tank tops or T-shirts as they are designed to offer full coverage that comes with tops and shirts.
There's also an option to skip wearing sports bras as some yoga shirts and tank tops also come with a built-in bra.
Recommended Story – Top 10 Yoga Mats available in India
4. Yoga Shorts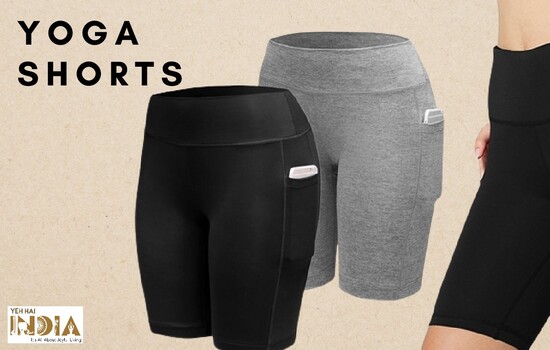 Some brands make yoga shorts with a built-in liner for flexibility and stretchy exercise comfort, or you can find long yoga shorts that go down to your knees. This is useful for coverage during inversion.
Spandex yoga shorts, usually for women, are a tricky business. They tend to ride during training and do not cover much in complex poses.
However, some people find it the most comfortable option when they have a lot of heat and sweat, such as in a hot yoga class.
In general, avoid yoga bottoms that are too thin, transparent, sagging, or cotton. Keep in mind that long coverings of your legs can be a bonus for arm balancing poses.
The fabric helps prevent your feet from slipping off your sweaty arms.
5. Yoga Jackets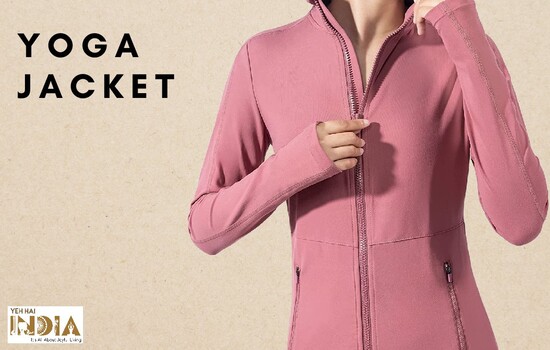 If you plan to do errands after your yoga sessions, you may need a warm and comfortable yoga cover-up like a jacket, quarter zipper, or sweatshirt.
This is especially useful in the winters. The extra layer can prevent the momentary cold that you may experience after leaving a warm room.
Places to shop Yoga wear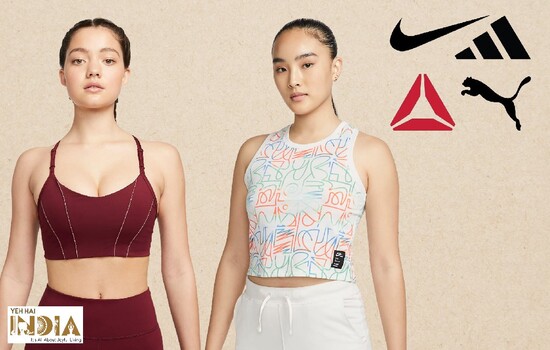 In India, if you want quality yoga wear, you can shop from branded stores like Adidas, Nike, Reebok, Calvin Klein, or Puma. They have really good 'atleisure' stuff, and it is worth the money you spend on them.
Also, you can reach out to websites like Zivame, Clovia, and Decathlon. Make sure you choose the right size, and fit for your body needs.
Slay your yoga outfits like a diva and move freely into a regular fitness routine for a healthy future.
Also Read – How to set up a Yoga Studio at home- The Rules