The pandemic might have put many individuals into the habit of regular exercising but when it comes to Yoga, it has sustained its applicability in the minds of people since ancient times. The benefits of this age-old health ritual have far outgrown the expectations of people who are not aware of all of the health wonders it can bring into our lives.
Choosing a yoga mat might seem fairly simple but it takes effort to choose the right one. Several factors have to be considered while buying a Yoga mat if you wish to enhance your overall experience and enter into a peaceful vibe while practicing Yoga.
It can be hard choosing from hundreds of varieties of Yoga mats that have come into existence these days. It also depends on your level of experience in Yoga, as for beginners the needs are much different than for those with advanced skills. The kinds of asanas you practice also impact your decision in selecting a mat that adheres to your requirements.
Let's get you through all the different kinds of yoga mats available in India and the ones that match your convenience and practice:
Recommended Story – Top Ashtanga Yoga Teacher/ Trainers in India
TYPES OF YOGA MATS
Cork Yoga Mats
Cork Yoga Mats are one of the most eco-friendly mats, a reason many yoga practitioners are switching to this option. Cork is a natural raw material that is 100% biodegradable, recyclable and renewable. You can replace your usual yoga mat with the cork yoga mat, it is environment-friendly and free from harmful ingredients, unlike other yoga mats.
2. Natural Rubber Yoga Mats
This kind of Yoga Mat is the most prevalent and among the initial ones to enter the market for yoga practitioners. It is made of natural rubber that contains non-toxic and eco-friendly elements. Also, they have a slip-resistant feature that works perfectly for advanced yoga practitioners.
3. Plastic Elastomer Yoga Mats
Plastic Elastomer Yoga Mats are both health and environment friendly due to the absence of PVC, latex, and other toxic materials. Their slip-resistant feature and excellent traction make it affordable and most suitable for beginners or moderate level yoga meditators.
They are easy to clean and can easily flick off moisture leaving you dry and clean and therefore contribute to a comfortable and peaceful practice.
4. Cotton Yoga Mats
Cotton Yoga Mats are the most popular among famous yoga practitioners. They provide excellent support for your asanas due to their soft texture and sweat absorption feature. They are easy to use and wash. The possibility for wear and tear is more in this category since the material is sensitive, but the quality they render is still much better than the plastic ones.
5. Lightweight Travel Mats
Travel Yoga Mats serve for various purposes other than for practicing asanas. They're extremely soft, comfortable and easy to carry for nature-loving freaks to carry out a yoga session in the middle of mountains. The material used in travel yoga mats is much thinner and flexible when compared to other mats. They can be rolled and carried along easily which makes them suitable for travel use.
6. Jute Yoga Mats
Jute Yoga mats are increasingly being used to promote green living. Advancements in environment-friendly production have made it possible for us to make informed choices to help sustain our planet. Jute Mats might be more expensive than the regular ones but they prove to be great companions as they allow you to be close to nature. The material is biodegradable, long-lasting and perfect for your every day yoga practice. Quite unlike what most peoples think It to be, Jute mats are very comfortable.
After inspecting all the above categories of Yoga mats available in the stores, we have compiled a list that you can always refer to for buying the best one keeping in mind their utility for Yoga learners.
Brands of Yoga Mats you can choose from
Kobo Yoga Mat 15mm
Kobo is very famous for the production of sports equipment that features NBR material which is nitrile butadiene rubber. This material is eco-friendly and biodegradable so it also helps you save the planet and accomplish all your fitness goals. It comes with delicate cushioning to give optimum support during workouts and is perfect for your yoga routine.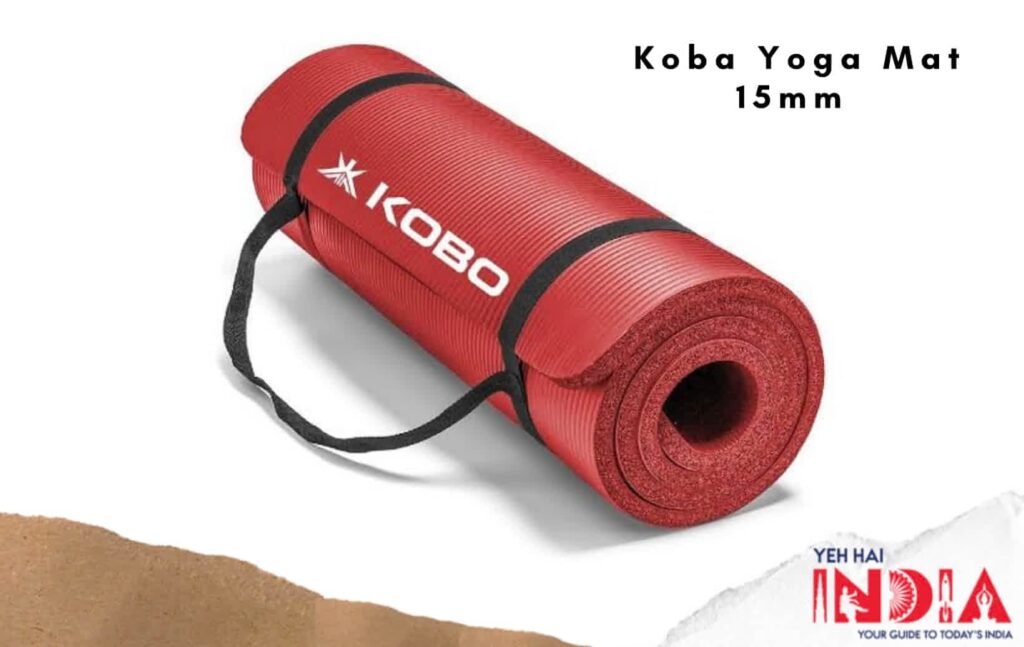 The NBR Kobo Mat is long-lasting and does not show any wear and tear Even after repeated use. It does not slip, has a great grip, and is water resistant.
Qatalyze TPE Yoga Mat
It is one of the widest yoga mats in India and comes with a premium carry case but it is thicker than usual which makes it a little heavier and therefore difficult to carry.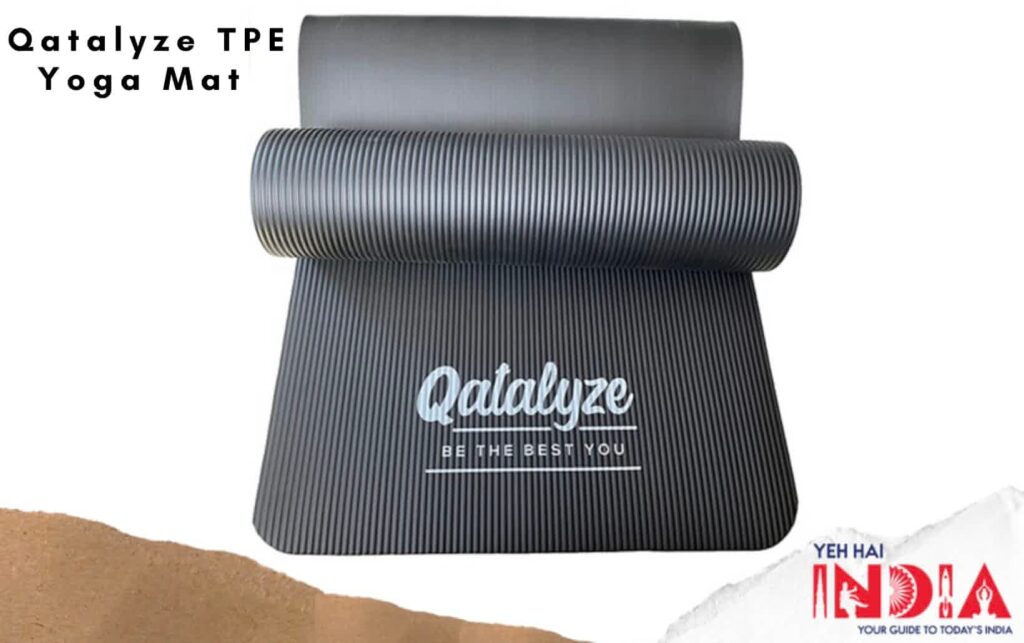 It has a width of 66 cm and the quality surpasses that of other mats. It is widely used and bought by renowned James in the yoga industry. The front of the mat is engraved with 3000 anti-skid lines and the back has wavy lines to make it skid proof.
Boldfit Yoga Mat
Boldfit Yoga Mat is suitable for both men and women and is 10mm thick. It is cheap and affordable and provides better quality than the ones you normally find in the market.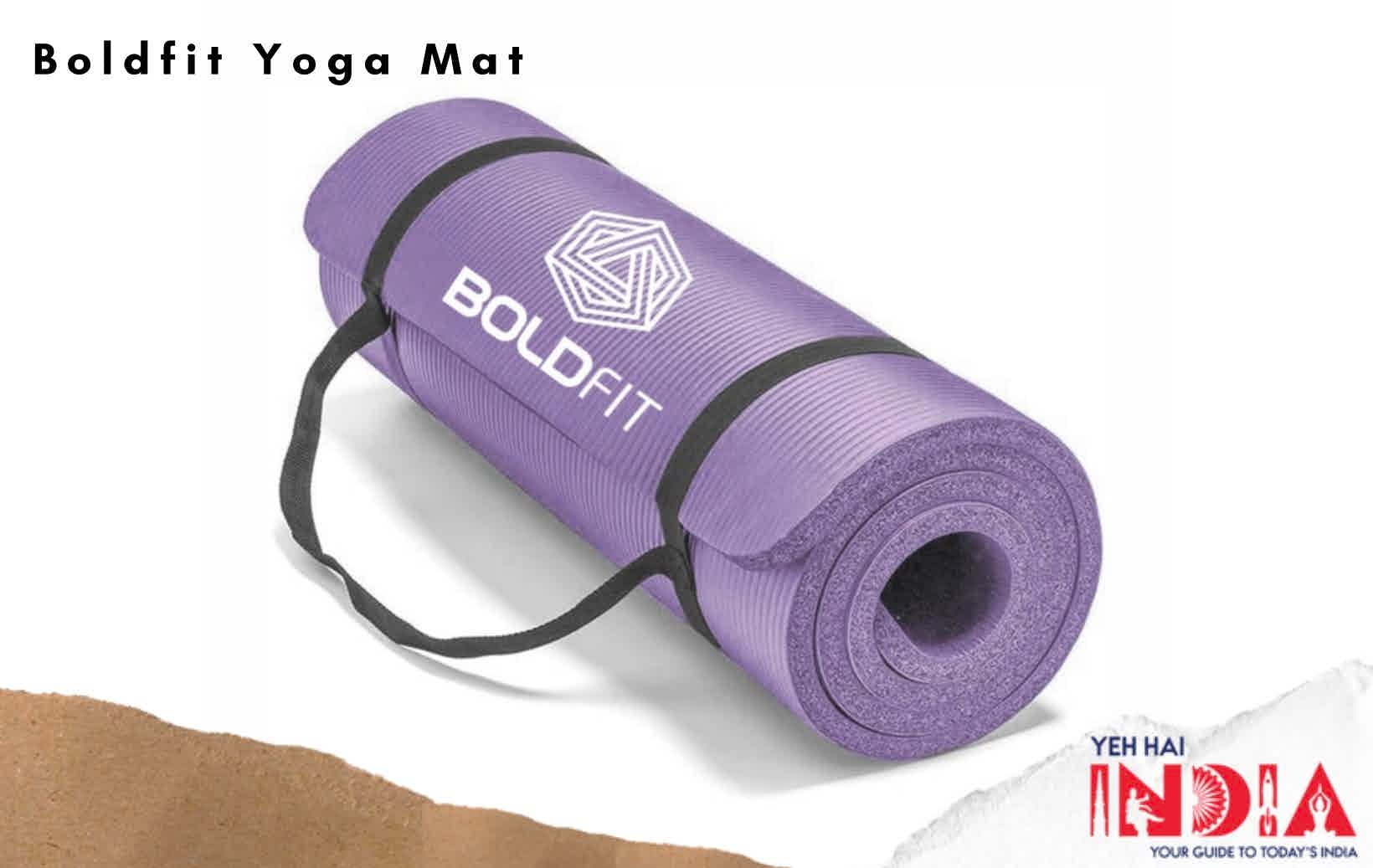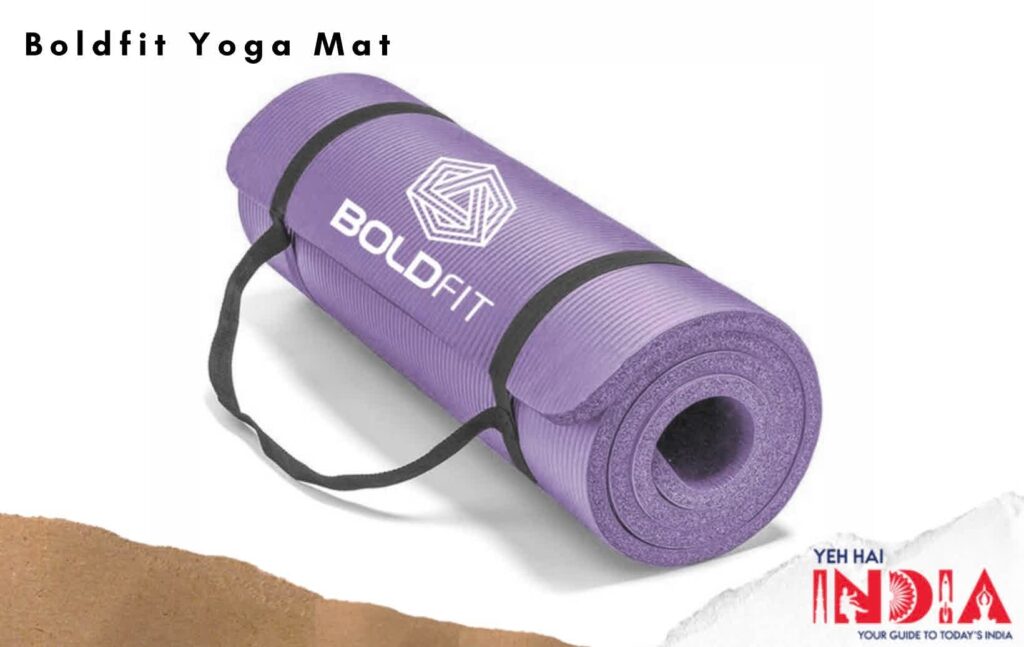 Boldfit Yoga mat can be used for other exercises as well like stretching or skipping. Use of NBR material lends touch of eco-friendliness to this mat.
Dr. Trust Yoga Mat
Dr. Trust Yoga Mat is yet another mat with NBR material which also makes it eco-friendly and at the same time, biodegradable. It's good for people with joint disorders and the material offer extra support and minimizes the risk of injury due to poor surface.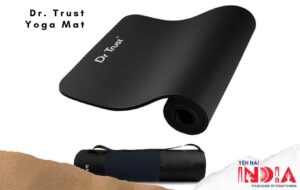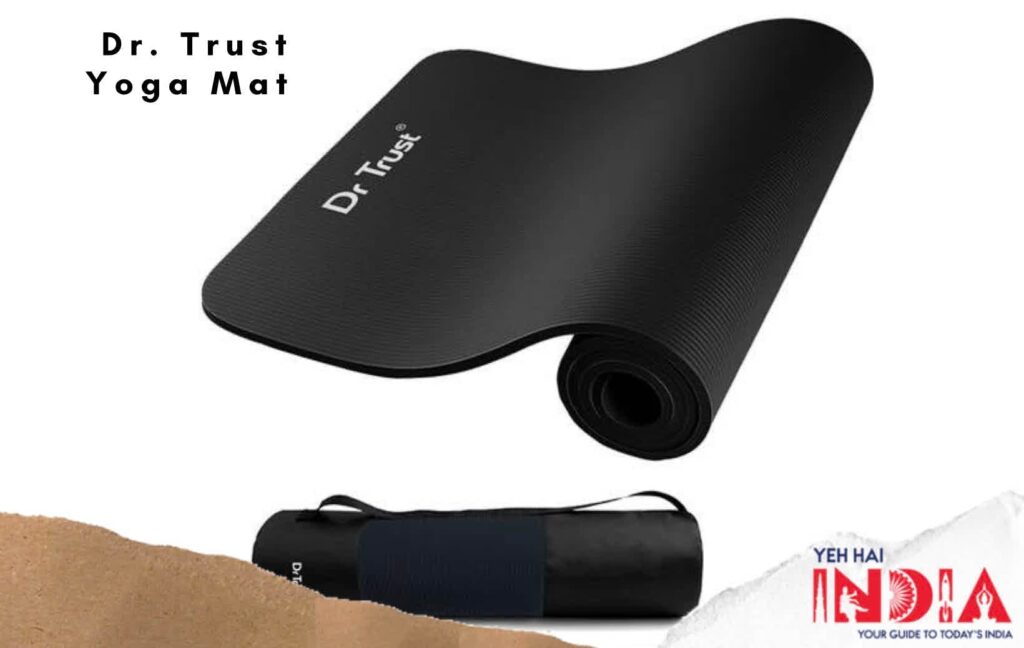 The material is scratch proof and is compression resistant which allows the mat to adhere to different body movements. 
Recommended Story – Best Yoga Poses for Females to Lose Weight Faster at Home
Amazon Basics 13mm Extra Thick Yoga Mat
Amazon Basics Yoga Mat has extra thickness meant for advanced learners to prevent any chance of damage during workouts.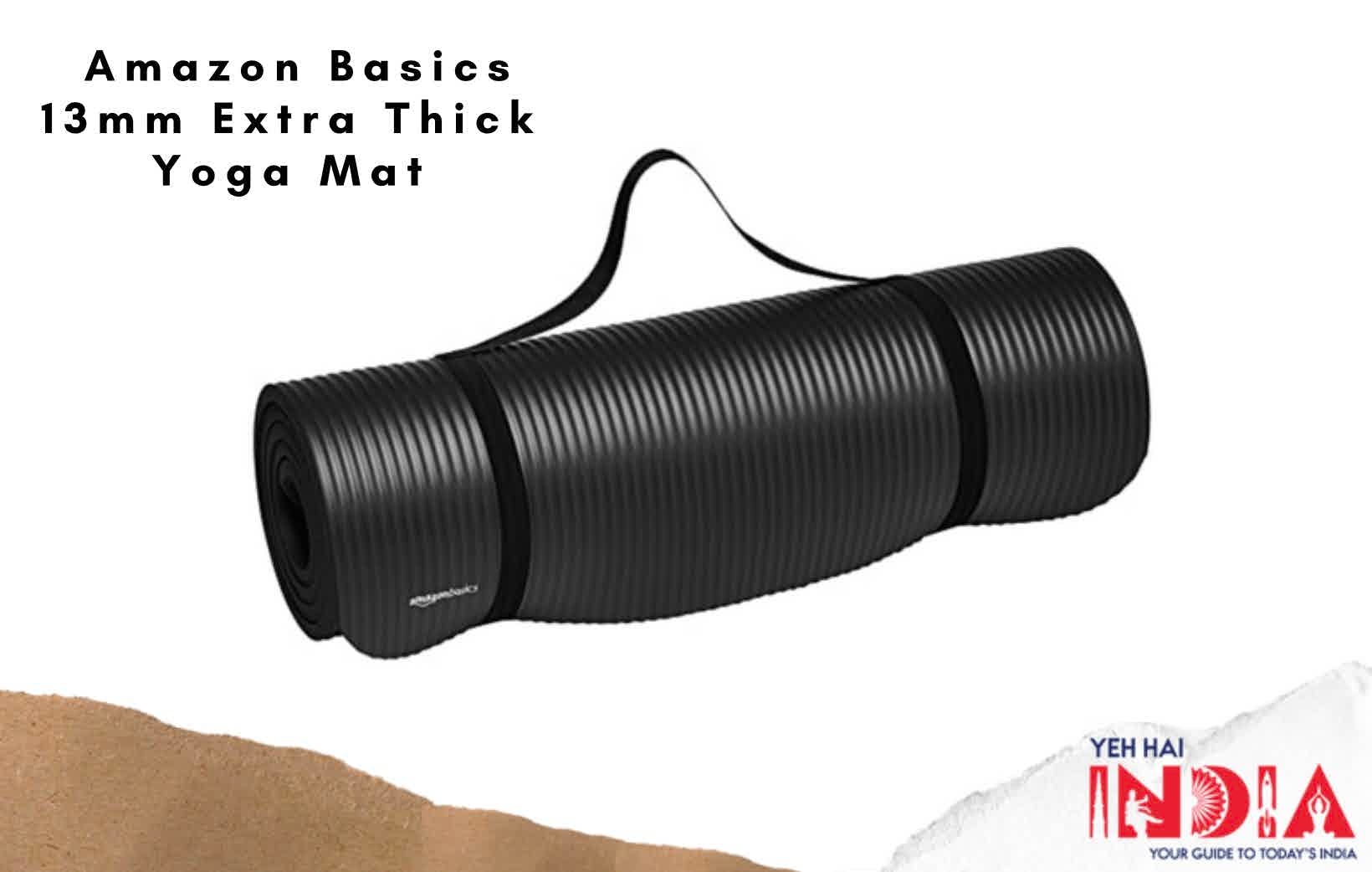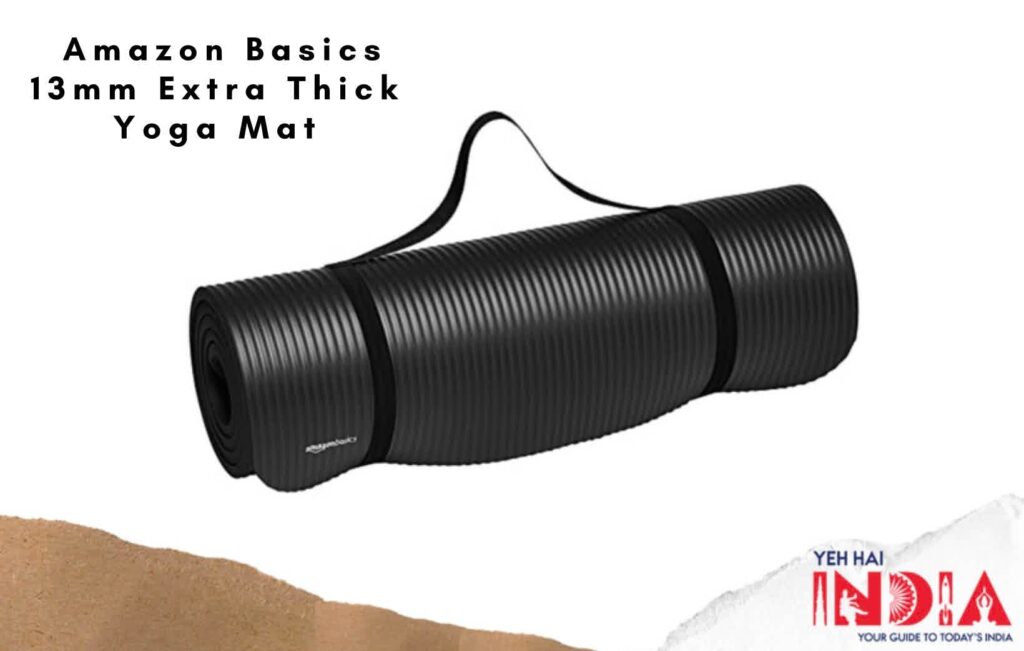 The 13 mm thickness also provides additional support to knees, elbows, and the back. It comes with an adjustable strap and you can buy it in multiple colours. Measuring 24X74 inches, this mat comes with textured surface to make it stay put during workouts and offer stability to the learners.
VIFITKIT Yoga Mat Anti Skid EVA Yoga Mat with a bag
This mat comes in various sizes and the price varies according to the size you choose. It's fused with anti-skid technology to make it skid free.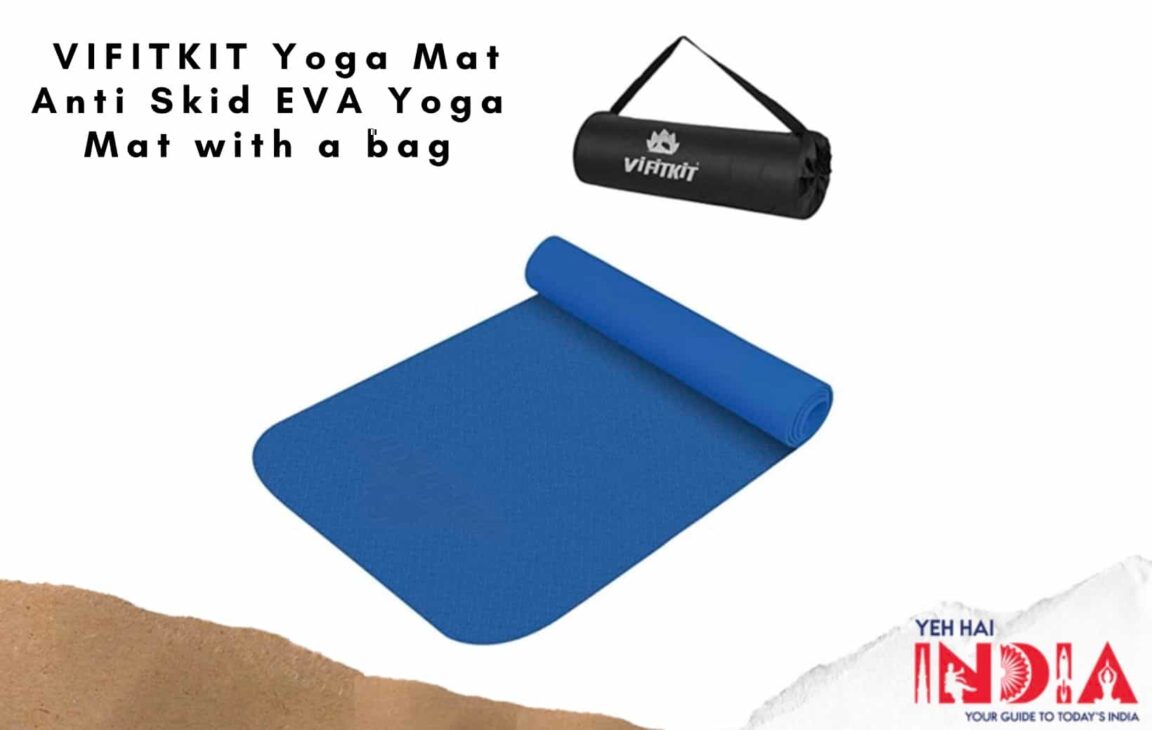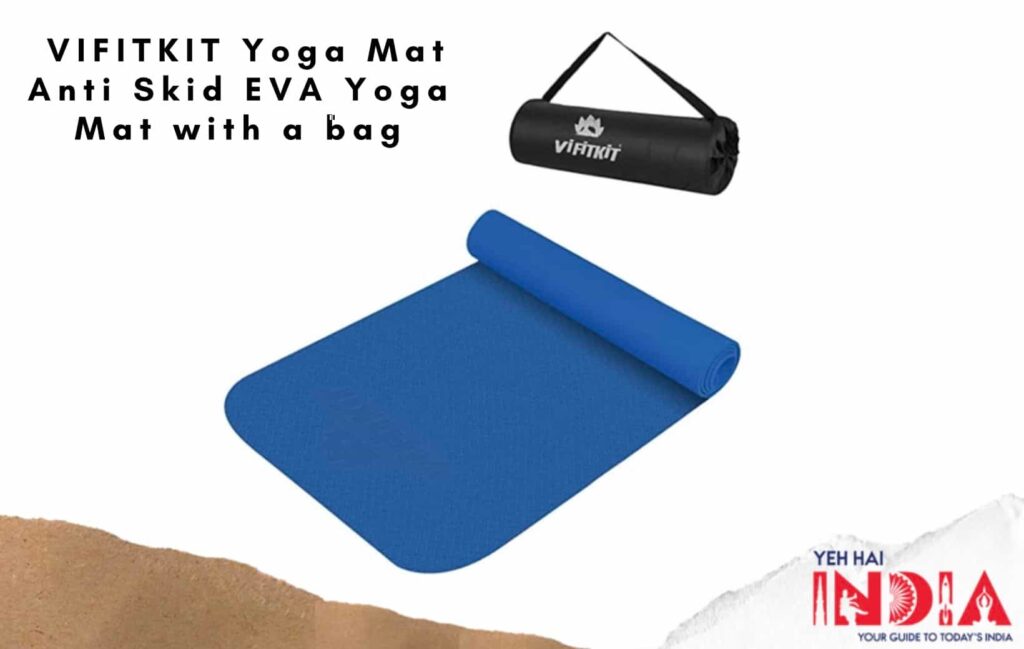 The front of the mat is smooth and water-resistant. It's made from eco-friendly material and comes with a carry case to hold it securely.
JURU Mandala Eco Friendly Cork Yoga Mat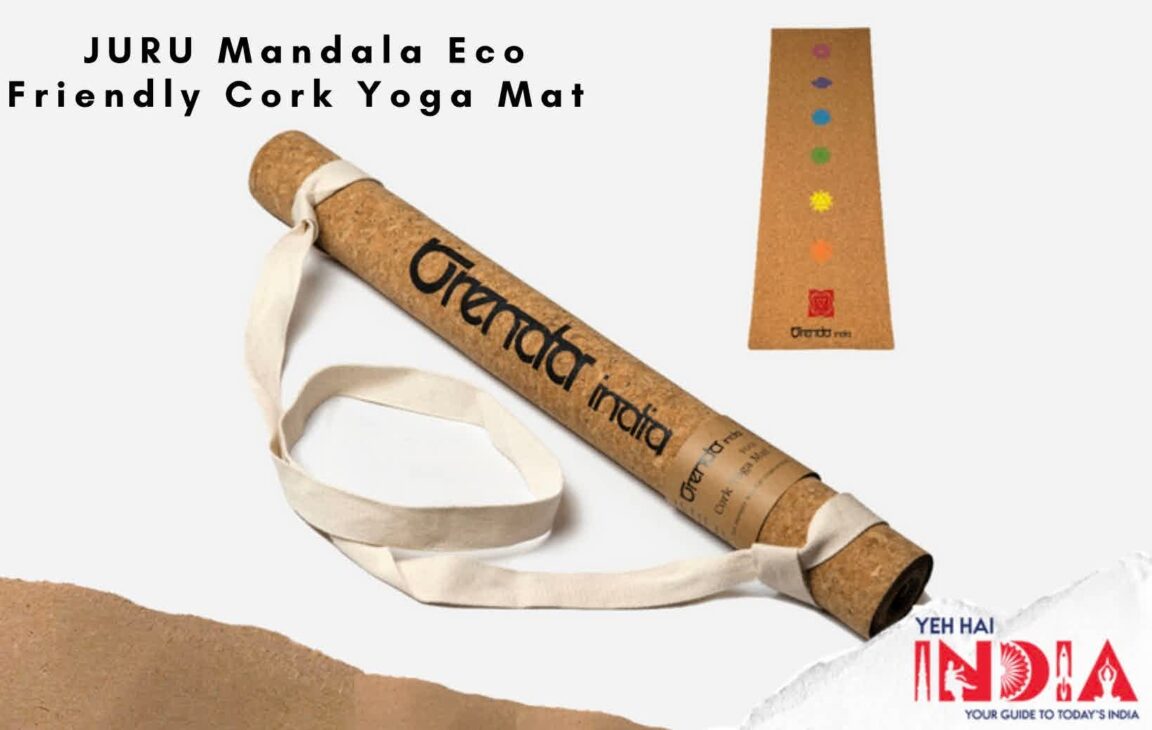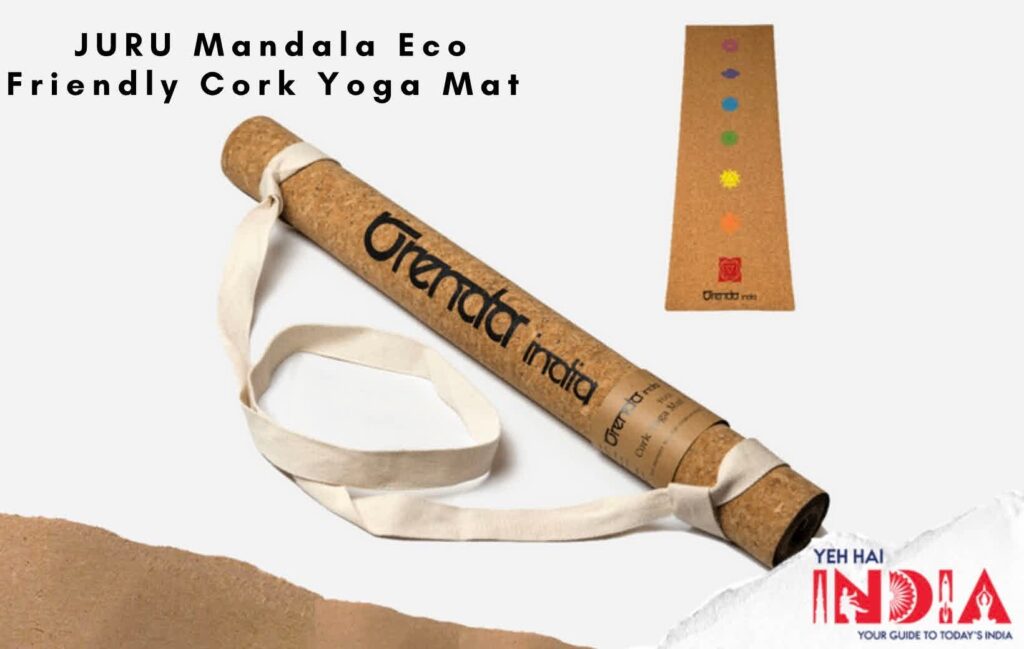 It's hard to find Cork Yoga Mats that are eco-friendly and this appears to be the best one in the Cork mats range. It presents a firm grip to the user and unlike other modern varieties of mats, it carrier A bit of weight. It is anti-microbial, reversible and easy to carry.
Vellora Yoga Mat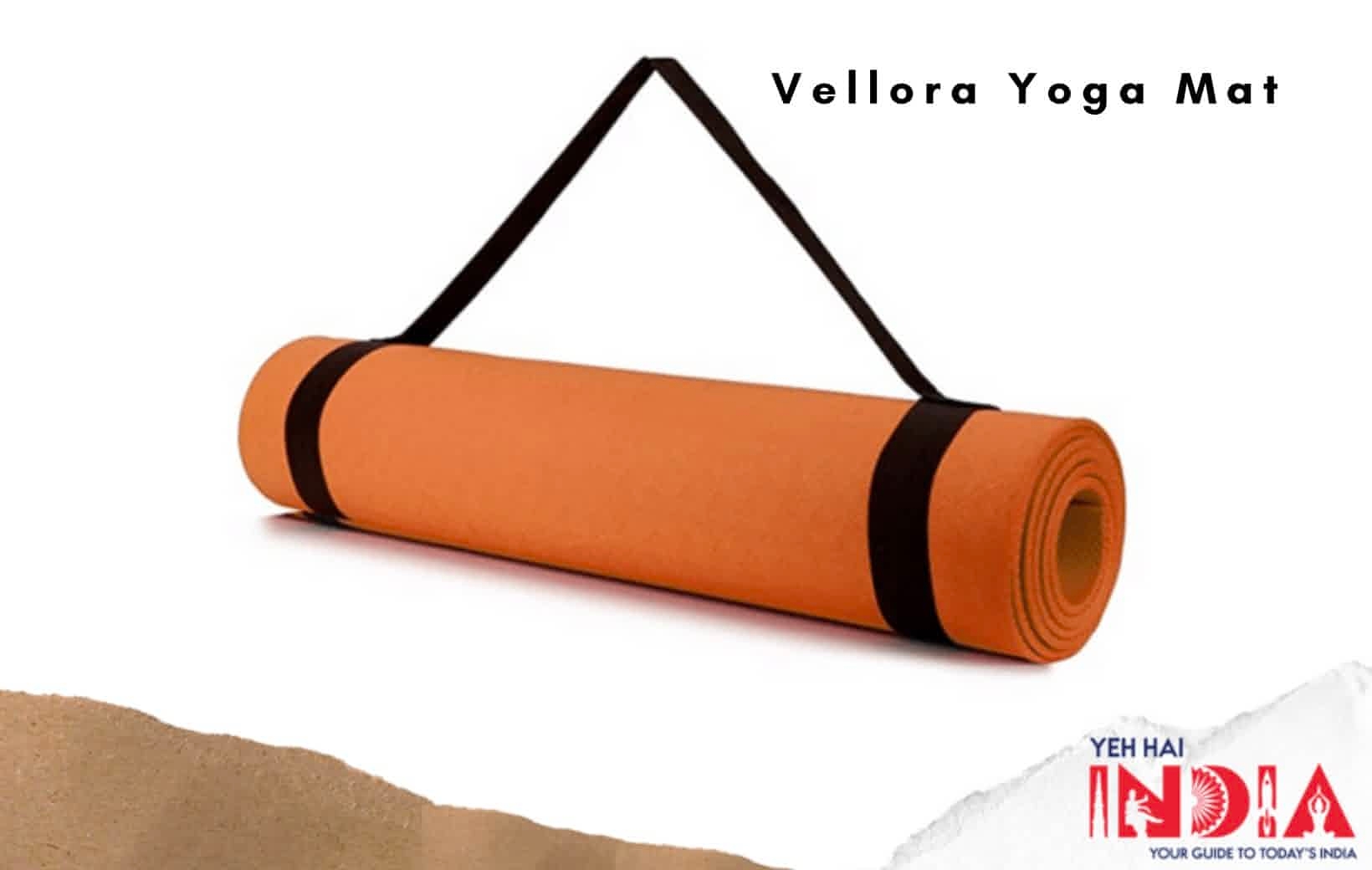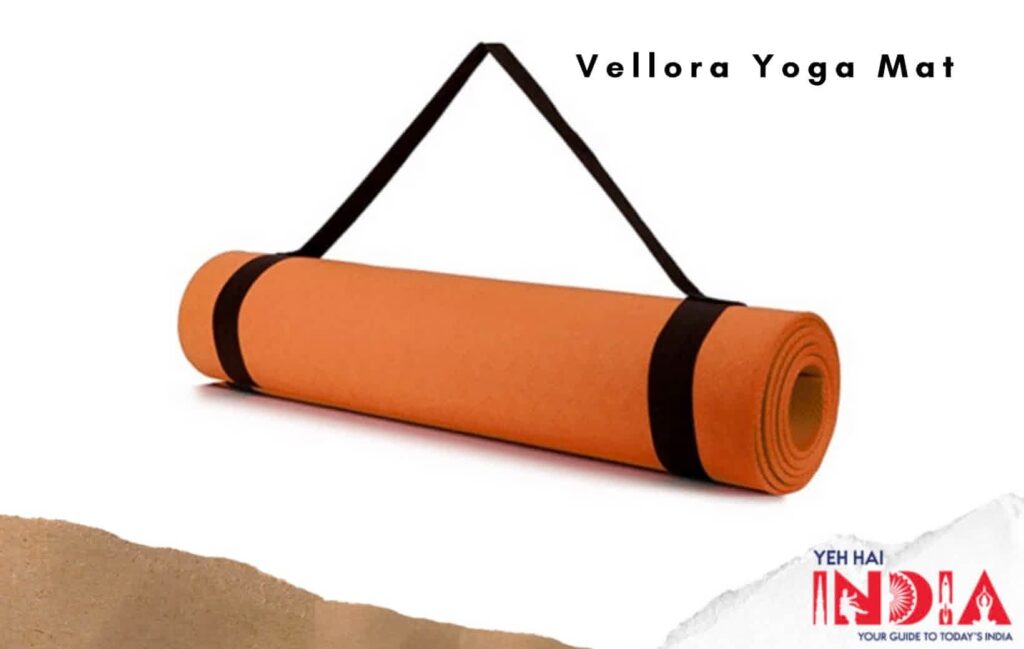 Vellora Yoga Mat is an affordable option for beginners or moderate yoga practitioners. You can buyer it in 4mm and 6mm variants. It's non-toxic and has anti-slip technology with great gripping power. The mat measures 6×2 ft which is an ideal size for most asanas. It must not be exposed to direct sunlight or heat and can be washed easily with water and soap after repeated use.
Strauss TPE Eco-friendly Yoga Mat in India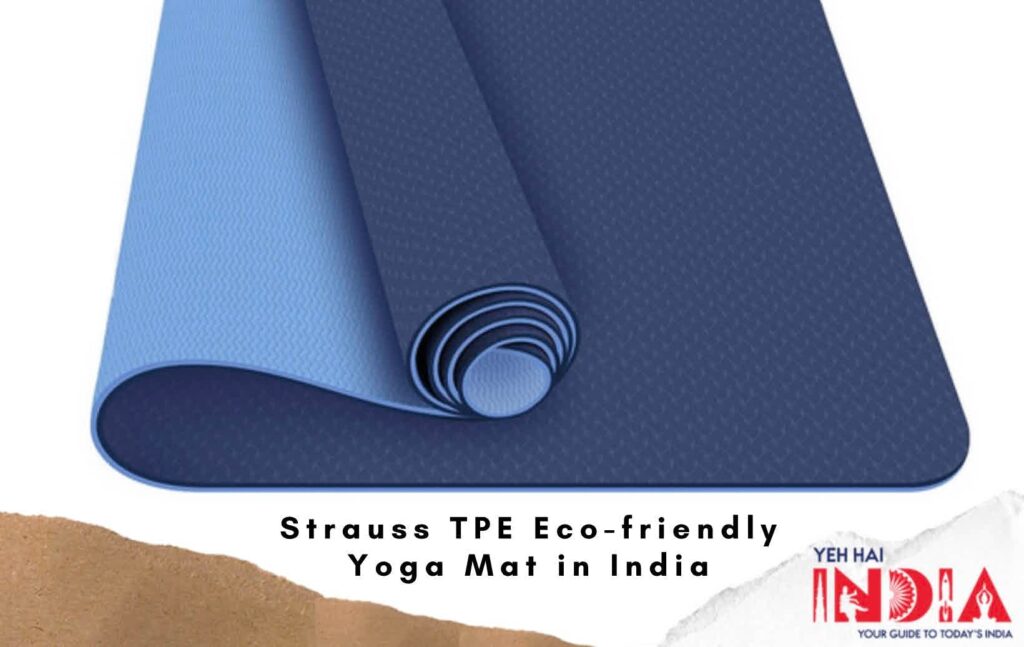 Strauss Yoga Mat is an eco-friendly biodegradable mat composed of high-quality rubber and super absorbent fiber material to make it comfortable and relaxing. It is easy to carry and lightweight for any yoga session you wish to perform amid nature. It is 6mm thick and provides excellent cushioning for effortless workouts.
Brandvilla Eco-friendly Soft Anti-Skid Fitness Workout Thick Yoga Mat
Brandvilla Yoga mats have endless design options to choose from and are suitable for all kinds of exercises. It is made up of natural rubber and other recycled materials. The mat perfectly cushions your joints, elbows, and knees and is sweat absorbant. The thickness is appropriate to protect you from serious injuries. The mat comes with a carry bag and is easy to wash.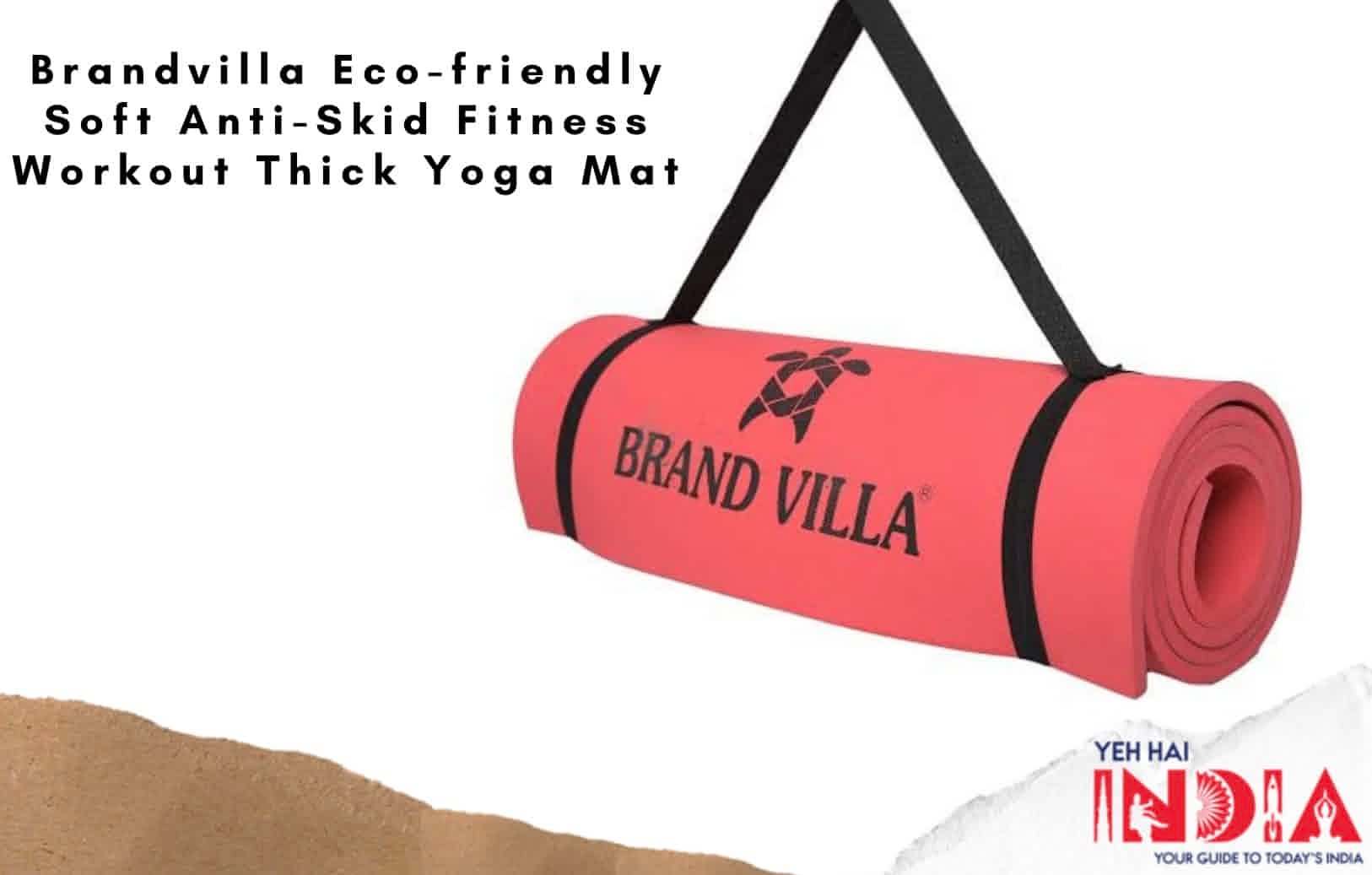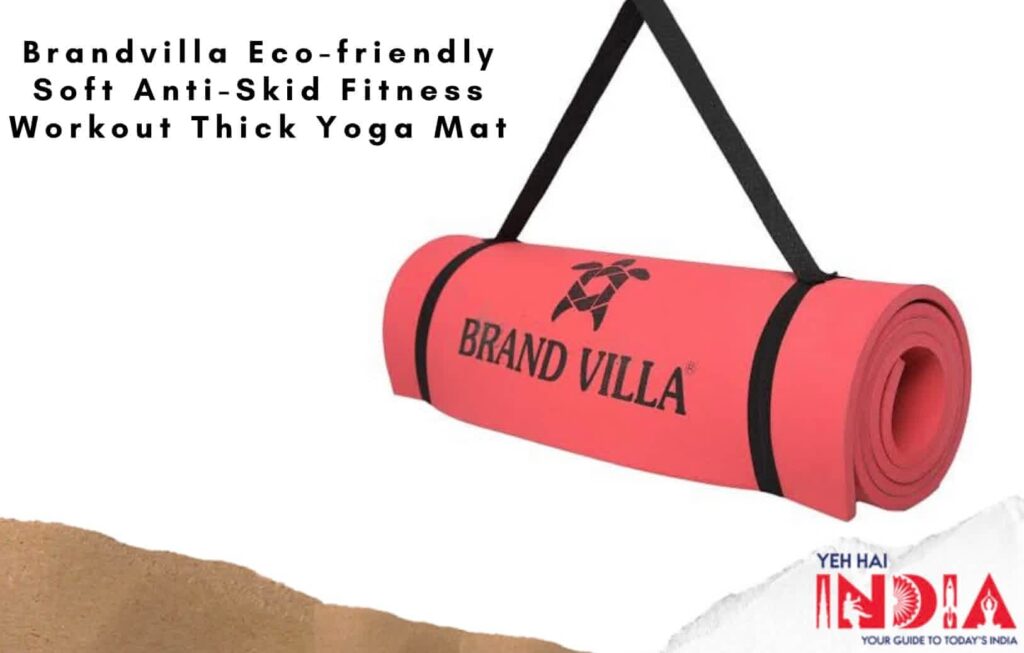 Whether you are a beginner or an advanced Yoga learner/teacher, you can refer to this list for choosing the best Yoga Mat suitable for your yoga postures. Yoga Mat is just another accessory that helps you attain all your fitness goals and leave you relaxed and rejuvenated.
Reach your full potential while doing Yoga by investing in any one of the mats suggested in the list above and transform your life into a happy and healthy one!
Also Read – 5 Yoga Asanas for a Healthy and Happy life