Chikankari is one of the most stunning works of embroidery and is famous not only in India but all over the world for its glistening elegance.
Be it a beautiful lehenga, dupatta or scarf, chikankari work can bring a touch of refinement into anything.
Most people like to wear traditional clothes with chikankari during the festive season including Diwali and weddings.
However, the light romantic vibes of the fabrics can make it ideal for casual and office wear as well.
The natural fabrics used for authentic work are also very gentle on the skin and free of irritants.
Traditional wear shines the brightest in this beautiful realization of handcrafted artistry brought to life.
Because of all these reasons, the demand for chikankari is increasing day-to-day.
One needs to know where to buy the best authentic chikankari work from as not all that shines is gold.
After all, even if you have to spend a few bucks more, nothing can replace the magnificence and comfort of original chikankari work.
In this article, we explore the best brands and online stores to buy Chikankari work from.
Recommended Story – Chikankari- The Exceptional Art of Embroidery
Best Online Stores for Chikankari: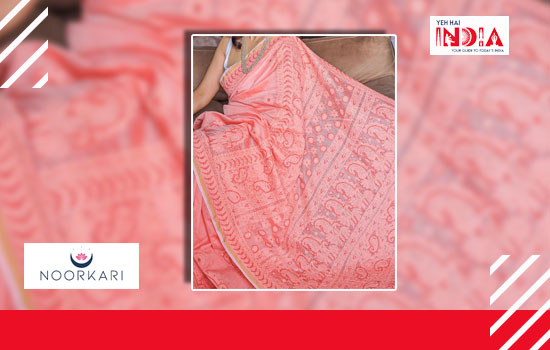 1) Noorkari Chikankari
Website: https://noorkari.com/
Noorkari's Chikankari work brings alive the beauty of nature through floral patterns embroidered on delicate fabrics like Banarasi, zari, organza, georgette, and cotton.
There is something for all kinds of occasions in the store.
For a casual look, try out the Chikan Kurtis and for a dolled-up look, go for the Anarkalis and Lehengas.
The sarees are available in darker shades as well as the signature soft colors which are often associated with regular chikankari items.
The store operates from Lucknow and the starting price is INR 1200 for dupattas which is pretty cheap for authentic handmade work.
More elaborate items like sarees start INR 6000.
2) Ada Designer Chikan Studio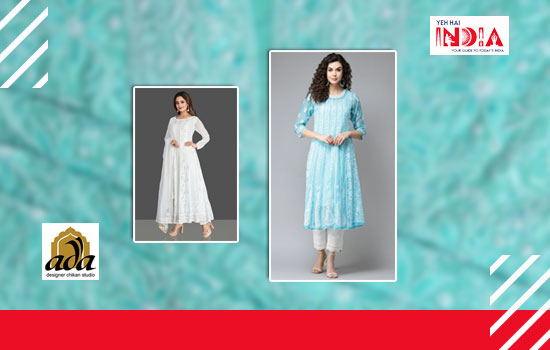 Website: https://www.adachikan.com/
This designer brand has some of the most exquisite work of chikankari created by mixing several different embroidery techniques, taking the chikankari art to a new dimension.
Different traditional items like sarees, kurtis, and dupattas for women are available.
For men, there's Pathani suits and due to COVID-19, they have also stocked up on designer face masks.
Apart from clothes, they sell various items for home decor including cushion covers, table linens, and designer curtains: all embroidered intricately with the magnificent chikankari.
So, with this brand you will not only decorate yourself with the beautiful traditional embroidery but you can also decorate your home to match your elegance.
The Kurtis start at an affordable rate of INR 999.
3) Anjul Bhandari Couture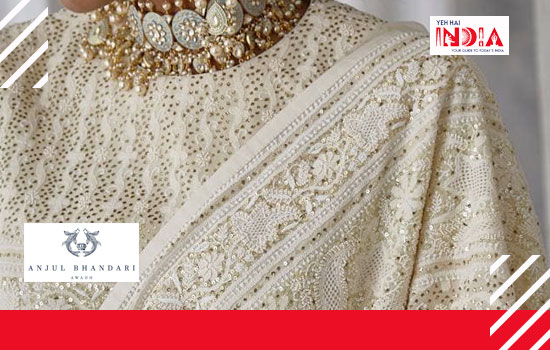 Website: https://anjulbhandari.in/
Anjul Bhandari is a skilled professional chikankari artist who learnt the embroidery from the master craftsmen in Lucknow.
She launched the high-end luxury brand in 2012 and employed over 1500 extremely gifted women and men.
Therefore, the brand is not only a handicrafts venture but also an empowerment drive aimed towards creating dignified and secure employment for poor yet skilled people.
The embroidery has been combined with Kamdani coloring technique which creates a very distinct result.
Each piece is embellished with extremely beautiful, sophisticated, and clean work that reflects the Nawabi elegance.
It has an immense imaginative power that has the power to carry you to another realm.
Different traditional outfits are available on their website including shararas, anarkalis, straight suits, lehengas, sarees, and shawls.
The Anarkali sets start at INR 15,000.
4) Ankaari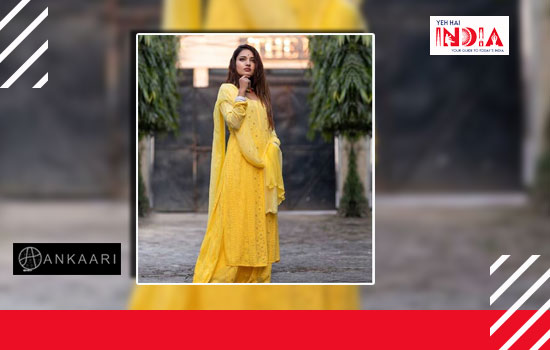 Website: https://www.ankaari.com/
Ankaari has all kinds of luxury traditional clothing with dreamy pastel colors combined with handcrafted grace which is like a dream come true.
Their collection is limited to women clothing and is a bit expensive but all of the pieces are worth your time and money.
Sarees, anarkalis, lehengas, dupattas, and kurtis are available at the shop.
Materials like Organza Silk, Chanderi, Georgette, Cotton, and Swiss voile are used for crafting these masterpieces.
The starting price is INR 3750 for dupatta.
You also can buy a gorgeous clothing material to tailor a fitted piece for yourself.
The embroidery is done on fabric of soft colors like whites, pastels, off-white, and cream.
Recommended Story – Top 10 Things to Buy in Uttar Pradesh
5) The Loom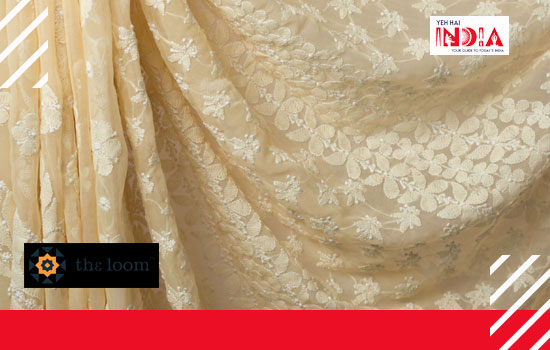 Even though not a specialized chikankari store, The Loom has all kinds of traditional Indian embroidery items, including stunning chikankaripieces.
They offer a unique style which mixes modernity with tradition.
The designs are really eye-catching and perfect as your next statement piece for the next wedding or party.
All the colors are vibrant and bright as opposed to the traditional chikankari that primarily features pastels and muted tones.
The label has a white range of collections including clothes for children and interesting accessories to go with your traditional outfit.
You can find many modern outfits like tops, plazos, suits, and dresses.
Therefore, it is perfect for the modern generation.
It has some of the most affordable products with tops starting at only INR 450.
6) The Grassroot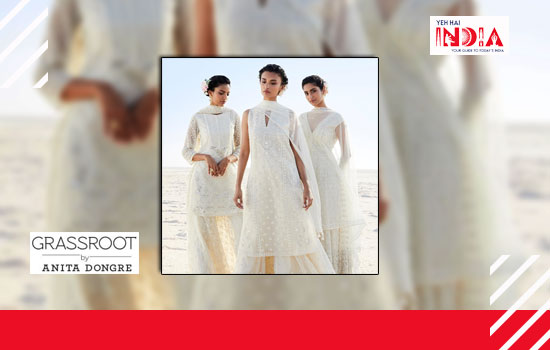 The Grassroot was founded by Anita Dongre who is a well-known Indian fashion designer.
It is one of those fashion brands whose main involvement persists beyond fashion and business.
The brand's motive is to expand women empowerment by employing rural women with capability and skills to create work that are cherished by the buyers.
It takes a lot of time to finish each piece because of the hours put into perfecting each item with hands.
The founder calls this type of fashion "slow fashion" which means everything—from the fabrics used to the process of manufacture is organic and sustainable.
There is a special wedding attire collection for the bride and groom combined with spectacular jewelry.
You can find designer collections with themes representing different seasons, artforms, etc.
Confused about what attire to choose or which jewelry will go with your favorite lehenga?
You can always book an appointment with the bridal consultant who can help you pick out a beautiful wedding outfit along with matching jewelry.
7) Sufia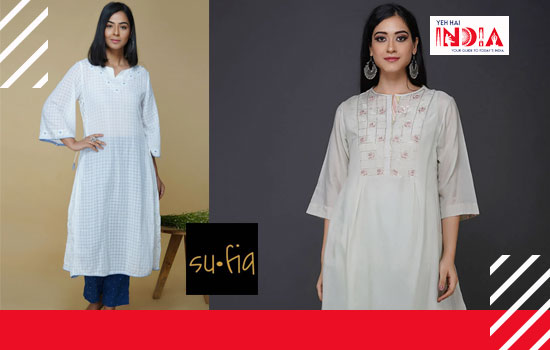 Sufia is a Lucknow based brand which produces some of the most phenomenal work of chikankari.
The style that differentiates the work of this brand is minimalism. One doesn't need to be 'extra' to be elegant.
Even though the embroidery on each piece is not extravagant or elaborate, it is very elegant and stylish looking.
These minimalistic pieces are great for formal or casual wear.
The fabrics, usually silk, chanderi, kotadoriya and even denim used have bright and soothing colors representing summer.
Chikankari embellished tops, tunics and dresses are also available for people who are not much into traditional wear.
Moreover, the rates are quite affordable, considering a luxury brand with Stoles starting at INR 1500 and Kurtis at INR 2250.
8) The Chikanartists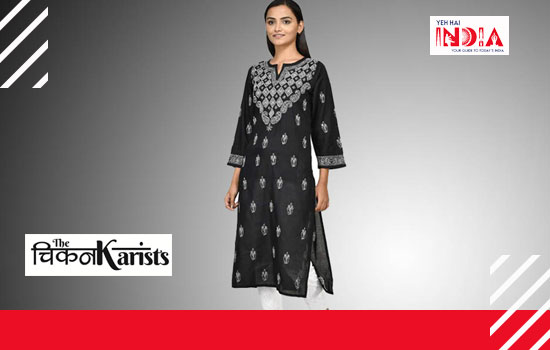 As the name suggests, The Chikankarists are a brand founded by a group of passionate chikankari artists who craft elegant items with embroidery.
The brand has a local store in Lucknow and has been operating since many years.
Many foreigners and socialites have visited their shop and even some leading ladies of Bollywood have been enchanted by their work.
All the work is carried out by hand by talented women artisans.
Even the fabric used is handmade, completely sustainable, and organic.
The most popular products on the website are Kurtis that start at an affordable price of INR 1550.
Several other products like plazos and dupattas are also available which you can mix and match with your kurti to establish a unique look.
Best Markets to Buy Chikankari: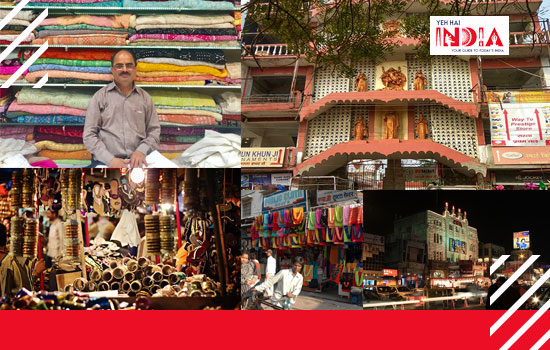 1) Hazratganj Market
With a history of over hundred years, the Hazratganj market used to be a favorite among the Nawabs of the city, the Zamindars and even Britishers.
The quality of the products used to attract these people and such authentic quality is available even today in many of the shops.
Some of the best places to buy chikankari in this market are Lovelane, Janpath Sahara Mall.
2) Chowk
Famous for all kinds of embroidery, Chowk is like the abode of art and tradition in Lucknow.
Visit Saraswati Chikan Store, Paridhan Chikan Udyog, and Nazraana Chikan Showroom in Chowk.
3) Aminabad
This market has been functional since the times of Nawabs of Awadh, making it the oldest market place in Lucknow.
Therefore, the chikankari work of artists in this place is one of the most authentic and ancient.
Different kinds of kurtis, suits, sarees, and fashion items are available here.
4) Bhoothnath
It is one of the most famous chikankari markets in Lucknow where several types of traditional clothing items for both men and women are available.
5) Alambagh
Even though it is one of the more modern markets, many traditional embroidery items including chikankari are available here.
Also Read – Top 10 Online Handicrafts Stores In India