A white liquid full of vitamins and minerals essential for everyone i.e from toddlers to adults.
This beverage has been enjoyed throughout the world for thousands of years. All female mammals produce it to feed their young ones. For human consumption milk comes from cows, buffaloes, sheep and goat. A glass of milk is recommended daily from the young to the old. Milk is considered a​ glass full of power.
Recommended Story – Top Organic Milk Brands Across India, Offering Doorstep Delivery
Nutrients present in organic milk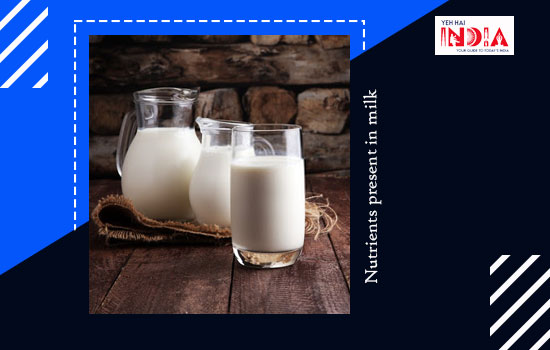 Milk contains protein, fat and carbohydrate and a lot of essential nutrients, like vitamins and minerals which include-
Calcium
Riboflavin
Phosphorous
Vitamins A & B12
Potassium
Magnesium
Zinc
Adulteration in Milk- Present Scenario
Milk is considered to be a wholesome food which provides nutrition and promotes good health. But in the present day scenario this wholesome milk provided to the people is adulterated which instead of being beneficial is leading to a lot of health issues.​
Adulteration in milk has become a cause of concern for both the Government and the Dairy Industry. The Indian Council of Medical Research has reported that "milk adulterants have hazardous health effects on the human body."
Common adulterants found in our milk are Water – milk diluted with water loses its nutritional value and contaminated water can cause health issues.
Other adulterants used are detergent, foreign fat, starch, sodium hydroxide or (caustic soda), sugar, urea, pond water, salt, maltodextrin, sodium carbonate, formalin, and ammonium sulphate. These can cause gastrointestinal ailments, heart issues, cancer and can even lead to death.
Once people became aware about adulteration and its harmful effects on health, they start looking for healthier options and one such option is Organic Milk
What is Organic Milk?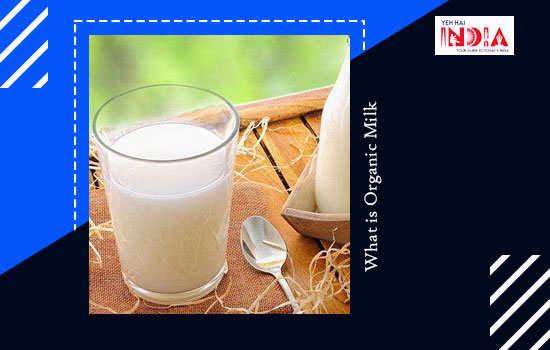 People today are quite aware about the health hazards related to an unhealthy diet. They now focus on healthy eating for healthy living, organic and natural foods have created a lot of buzz amongst people and are being seen as the panacea for many lifestyle diseases.
So the focus is on Organic Milk compared to regular milk.
Organic milk is obtained from animals that are fed with organic fodder grown on chemical-free soil, and are not injected with antibiotics and hormones. Organic milk is sourced from one farm, where there is complete control over the animals, their health, feed, the milk production, etc.
If the product is collected from several farms, it is highly difficult to maintain a certain level of quality and uniform organic standards. There is a quality check for​ Organic dairy animals as they are not pushed to their milk producing limits compared to non organic dairy cows. ​
Animals are fed on a diet free from artificial additives, chemicals and in hygienic conditions. Antibiotics are banned in the organic milk production system. Sometimes organic fodder too is fed depending on the health requirements.​ The udder of the animal is cleaned before and after the milking process; human interaction is zero in order to avoid any contamination of the milk.
Recommended Story – Oat Milk – The Ultimate Plant Based Milk for Everyone
Benefits of Using Organic Milk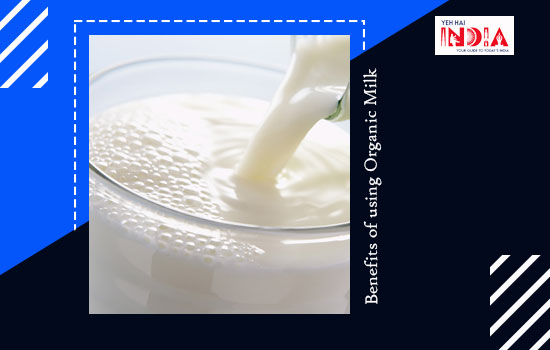 From our childhood we are fed milk as we know it provides kids with nutrients and vitamins needed to build strong bones and healthy muscles. But milk today isn't providing kids the vitamins and nutrients as the milk we get isn't pure.
Organic milk has been found to be healthier compared to the regular milk as it doesn't contain antibiotics, synthetic growth hormones or controversial pesticides.
The animals on these farms are happier and healthier compared to normal ones which leads to more nutritious milk . By opting for ​organic milk,​ one can get the nutritional benefits of milk without exposing one's family to chemical contaminants.
Studies have shown that organic milk has a higher nutritional content, and more healthy omega-3 fatty acids, and more disease-fighting antioxidants compared to non-organic milk.
List of Top Organic Milk Brands Available in Delhi & NCR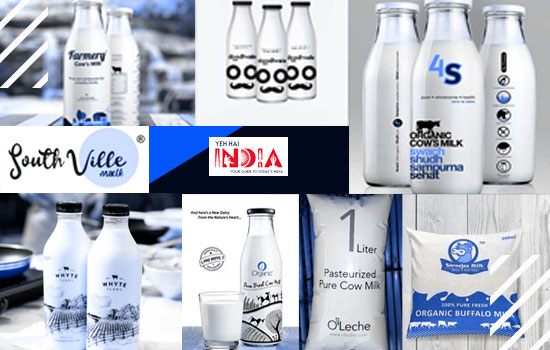 4S Foods
CowboysDesi – Organic Cow Milk
Milk Of Life – Pure Desi A2 Cow Milk
Beegal Organic Cow Milk (A2)​
Whyte Farms – Organic Cow Milk & Ghee
Organic Milk
Organic Cow Milk Farm In South Delhi
Delhi Binsar Farms Pvt. Ltd- Sonipat, Delhi
Farmed with Love ❤ – Amlaan A2 Milk
Sheerdham Dairy Products
Happy Nature Gurgaon
Wow Cow Milk – New Delhi, Delhi
The Celiac Store ,New Delhi,
Delhi Pure Cow Milk Delivery- New Delhi
Doodhvale.com- Delhi
Organic Cow Milk – 4S Milk- New Delhi, Delhi
iOrganic- New Delhi, Delhi
TruMilk- Delhi, Gurugram
Farmery- Gurugram, Noida, Delhi, Greater Noida
1. 4S Foods
Lead free glass bottles are used for storage and delivery of the milk. They have 1ltr packs and supply from farm to table.
Products Available
4SMilk-₹70/Litre
4S Organic Paneer-₹100/200gms
4S Organic Ghee-₹405/200gms
4S Organic Butter-₹400/250gms
4s- Organic Khoya- 100rs
Supplies in: Delhi & Gurugram
Website:
Farmery-​ Gurugram, Noida, Delhi, Greater Noida delivered in lead free glass bottles
Products-
Cow milk- INR 70/l
Buffalo milk- INR 75/l Curd 200ml- INR 35
Desi cow milk – INR 100/l Cow ghee- INR 600/500ml
A2Cow ghee- INR 1000/500ml Fresh paneer- INR 100/200g
TruMilk-​ Delhi, NCR​ You can choose from variants including whole milk, toned and double-toned. One can buy from retailers or get it home delivered. Price for
whole milk is INR 76/l onwards.
Products-
Milk- 2l &1l bottles Milk- 500ml pouches Curd-400 &200g Ghee-500ml and 1l
Cowboys.desi- South Delhi and Gurugram Products-
Milk in nifty sealed plastic bottles- INR 80/l
Whyte Farms- ​available in Delhi Products-
Milk-INR 75/l
Ghee- INR 650/500ml
These products are directly delivered to your doorstep by booking online on their personal websites.
It's cheers for life by drinking Organic milk throughout life.
Don't think twice about switching to a healthy lifestyle by opting for Organic milk instead of regular milk!
Also Read – Top Organic Milk Brands In Kolkata