Ever wondered about a unique cultural experience on white sand desert on a cold full moon night?
Well, the Rann Utsav gives you just that!
It takes you to the enthralling white desert of Rann of Kutch where a three month long extravagant fest takes place transporting you to a world of enigma.
If living in well lit tents on a white sand desert and chasing the camel is your thing then you definitely need to spend some time in Gujarat's Rann.
It doesn't stop there, the festival is a jam packed event, taking you on a cultural and natural pursuit.
Whether it's the panoramic view of the white sand desert or the music and dance in the full moon desert night or a heritage pursuit in the cities of Bhuj, Ahmedabad, Dungar, and Dwarka – it's an experience of lifetime.
The festival organizers rightly describe Rann Utsav as "Banao Apni Rann Ki Kahaniya" – where everyone makes their own story.
Recommended Story – Khajuraho Dance Festival – A Show about the Unique Heritage
The History of Rann Utsav –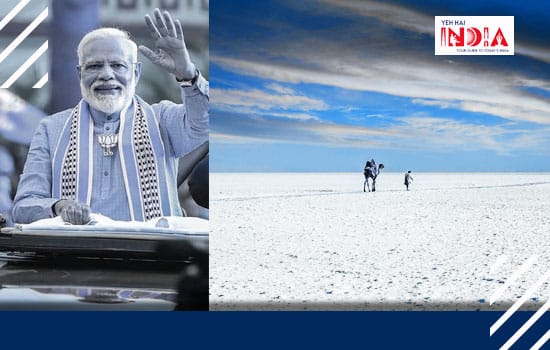 The usual lifeless desert of Rann of Kutch comes to life in this festival!
Back in 2005, the then Gujarat Chief Minister and our Present Prime Minister envisioned of this mega festival.
So, Rann Utsav started off as a 3 day festival under Tourism Corporation of Gujarat Limited (TCGL) which sought to bring the 'White Rann Experience' to the world.
This is a one of a kind festival where you get to have a complete white sand experience, a rare geographical landscape phenomenon.
As soon as the festivals began in 2005, photographs of full moon lit night in the white sand desert went viral, making it quite the rage amongst foreigners and Indians.
This transformed Rann Utsav into a 100 daylong event happening every year in the Dhordo village of Rann. This has been touted as cultural, spiritual, and natural world exploration.
Experiences in the Rann Utsav Festival –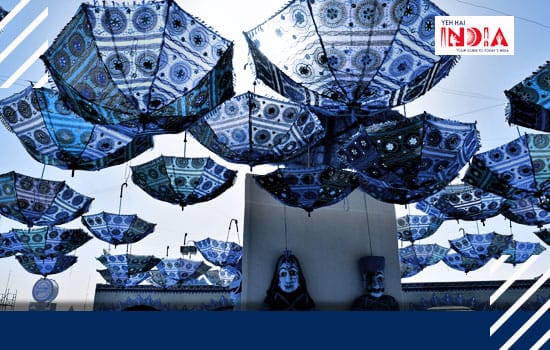 While you bask in the cultural stories of Gujarat, enjoying its folk art and music, gorging on distinctive Gujarati cuisine, the true 'White Sand Desert Experience' awaits in the form of camel rides, golf cart rides and ATV rides.
Para motoring on the vast white sand of Rann is what adventure junkies look for.
And of course when you are in such a calm place, spiritual excursions have to be a part of it.
Therefore, different sessions and retreats for yoga and meditation happen all through these three months.
The festival usually starts from Mid November to Mid February – an absolute pleasant weather for a desert experience.
All this has made Rann Utsav an international festival, one which attracts more than 5 lakh visitors from more than 20 different countries.
This extravagant carnival of Gujarati music, dance, art, and craft begins from Bhuj city and then culminates into the Rann Utsav; landing on the gorgeous Banni architecture in the semi grassland of Rann.
It's an iconic set up for a music carnival that makes you feel like no less than royals.
It is here that you get to witness the famous 'Bandhini' craft of Gujarat and enjoy Tippani, Padhar like folk dances.
You can even shop for traditional leather products and handicrafts in the festival.
Gujarati cuisine is a hit here with various options and dishes other than the usual heard ones such as Dhokla, Thepla, etc.
And of course you can go clicking camel rides, panoramic views of the white sand and the blue skies, swampy wetlands, and semi grasslands.
However, the best of all the experiences is viewing the whole desert from a hot air balloon. What a sight!
Places to Visit Nearby –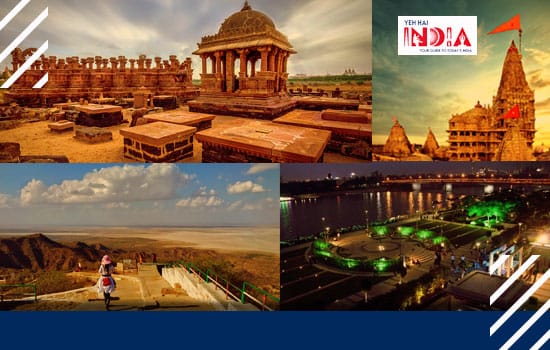 Edge of the Desert in Dhordo –
While the festival happens in Dhordo in Bhuj, many try to get more from it and travel to the edge of desert which is few miles away from the main space.
It's quite an experience at night. Therefore, people tend to stay at the edge of the desert to witness where it all begins and ends.
Bhuj –
Bhuj is an iconic city just few kilometres away from Dhordo. It takes about one and half hour to reach Bhuj from Dhordo by car.
It's the best place to experience Kutchhi heritage, architecture, and craft.
Do visit 'Aina Mahal' and 'Pray Mahal' to witness a Kutchhi architectural marvel.
Dungar –
Dungar or Kalo Dungar is a black mountain area in the Kutch region situated at an altitude of 1516 ft.
It's 75 km from Bhuj and you can easily enjoy the scenic beauty of the place and visit the 'Dattatreya Temple' while you attend the festival.
Ahemdabad & Dwarka –
Last but not the least is the heritage cities of Ahemdabad and Dwarka.
Although they are not close by yet both the places are a must visit to complete the true GUJARAT experience.
While the walled city of Ahemdabad is an obvious stopover to reach Rann from any other city in the world, visiting its museums like' Calico Museum', 'Adalaj Stepwell', 'Jama Masjid' and palaces like 'Bhadra Fort', 'Teen Darwaza' etc., are a must.
And obviously you can't miss the 'Somnath Temple' of Dwarka; the monument that placed Gujarat on the world map.
So, there you go an enthralling white sand desert experience of a life time that fulfils all your travel cravings.
Whether you are a music lover or a nature lover, a night owl or an early riser, a history buff or wanderlust – the desert sand is there for you.
Remember it's conducted by the Gujarat Tourism Department so book through their official packages and have a gala time!
Also Read – Pondicherry Heritage Festival