Karnataka is home to some of the finest handicrafts that beautifully showcase the rich culture prevailing in its different parts.
If there's anything that deserves to be in the spotlight in Karnataka, the most happening place in Southern India, then it sure is the state's art and craft.
Karnataka is a place that takes pride in its distinct culture that is thousands of years old. From the temple complexes in Badami and Aihole to the splendid geographical features, every part of Karnataka has been carefully preserved, and its handicrafts are no different.
Here is a look at some of the finest handicrafts from the state that are worth a watch.
10 Most Beautiful Handicrafts From Karnataka:
1. Stone Carvings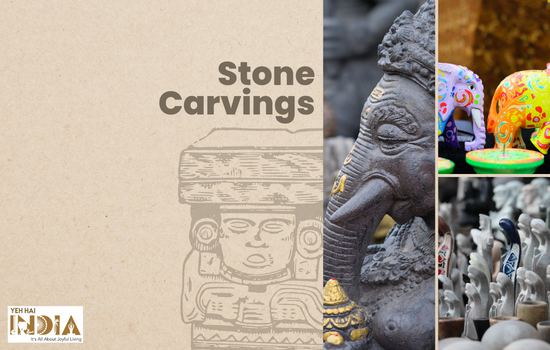 Stone carvings have been a staple in Karnataka since the rule of the Hoysala Kings. It has gone on to flourish in the area due to the abundance of soapstone which allows many artisans to practice and perfect this skill.
Stone carving in Karnataka is very diverse. Black graphite carvings are popular in Karkala in Udupi whereas carvings of deities out of soft stone can be found in Shivarapatna in Kolar.
An expert can identify stones on the basis of the sound that is made when they are tapped.
2. Toy Making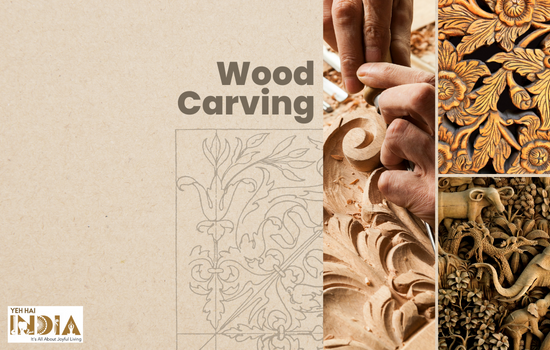 The ability of artisans from Karnataka to sculpt is not merely limited to stone carvings as they are equally as skilled in the art of toy making. Dolls in particular are a Carnatic speciality that comes into full force during the festival of Dasara.
This is due to the South Indian tradition that demands that dolls be uniformly decorated and adorned on several wooden platforms.
Channapatna dolls are also unique to Karnataka, specifically the town of the same name. Channapatna dolls are made out of ivory wood that is carved, painted and chopped to create beautiful toys.
Recommended Story – Handicrafts in India – Checkout the variety and craftsmanship
3. Mysore Paintings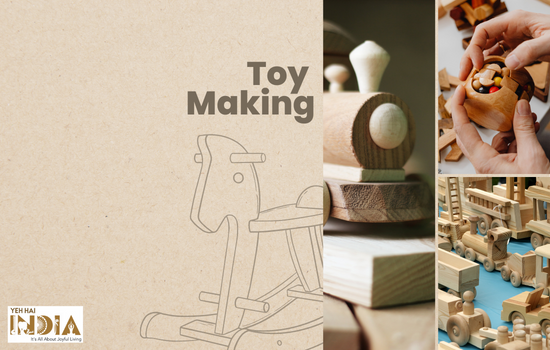 Mysore paintings emerged under the illustrious Vijayanagar empire. This particular style of painting also flourished in the region due to the rich patronage and staunch support of the many kings of Mysore.
Mysore paintings tend towards elegance that is evoked by their muted colours and deep attention to detail.
Mysore paintings also have a special detail: pointed brushes were developed to depict various types of foliage.
Thin gold leaves are embossed into all paintings. They are supposed to evoke a deep sense of emotion in the viewer.
4. Ivory Carving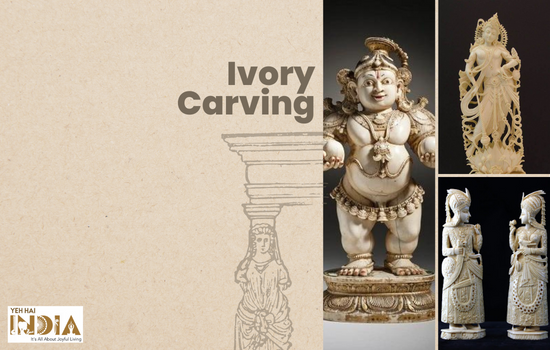 The first mentions of ivory carvings within India can be found in the Hindu epics such as the Mahabharata or the Ramayana.
South India is known for its elephants and therefore, it is no surprise that the skill of ivory carving has flourished in Karnataka.
It is a handicraft skill unlike any other in every single aspect. The skill required for it, the styles and even the beauty of the craft is unparalleled.
The ivory carvings are generally used to represent gods and goddesses. Portrayals of Lord Krishna are particularly prominent in his various avatars and moods.
5. Wood Carving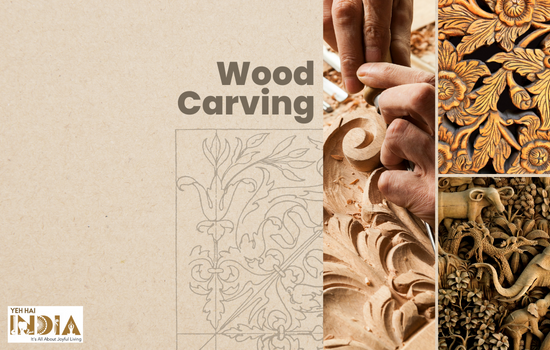 Traditionally, wood carving in Karnataka is done with the help of rosewood and sandalwood. Karnataka's ample forest cover provides tonnes of material for this practice. This is a practice that requires a lot of dexterity and skill.
Natural motifs such as flowers, animals, creepers and and birds are common in these carvings. The state is adorned with many such wood carvings and it is imperative that you keep an eye out for them whenever you visit.
6. Sandalwood Carving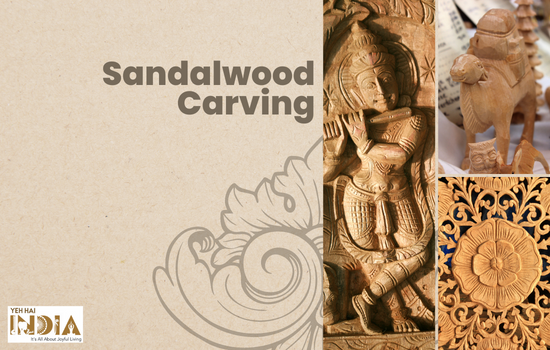 The art of sandalwood carving in Karnataka goes back at least a thousand years. These intricate, miniature carvings generally showcase natural motifs. The sweetly fragrant wood paired with the elegant carvings make for the most beautiful showpieces.
The forests of Mysore and the nearby regions are abundant with Sandalwood making it an apt trade for the people of Karnataka. The design is made by creating an outline with paper that is then carved over to create the beautiful designs.
7. Kasuti Embroidery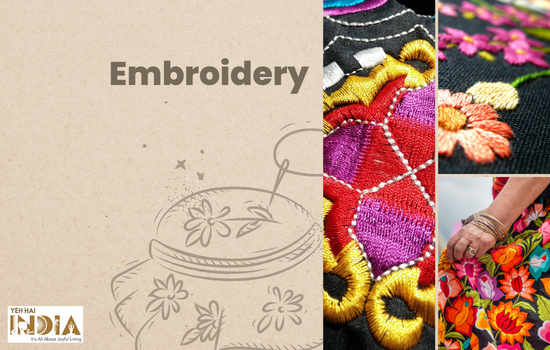 Karnataka's kasuti embroidery is also well known for its incredible quality. The designs can include anything from natural motifs to elaborate architecture. The designs are usually made with a double running thread in a zigzag stitch.
This type of embroidery can generally be seen in blouses and sarees as it looks best on heavy fabrics with a dark hue. However, Navalgund in the Dharwad district of Karnataka is famous for its brightly coloured durries.
8. Chittara Folk Art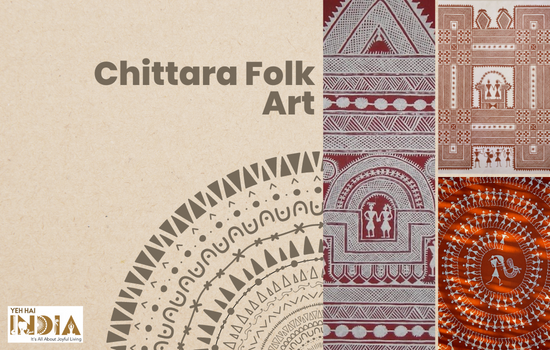 Chittara folk art refers to a style of painting that is unique to the Deewaru community in Karnataka. It portrays the auspicious celebrations and joyous moments of life in the form of a stunning geometric art form.
The paints are made, as with most traditional art forms, with naturally made colours. Ground rice paste is used for the white colour and the same rice grains are roasted to create a black colour. Strands of jute are used to create the paint brushes.
Recommended Story – Top 10 Online Handicrafts Stores In India
9. Weaving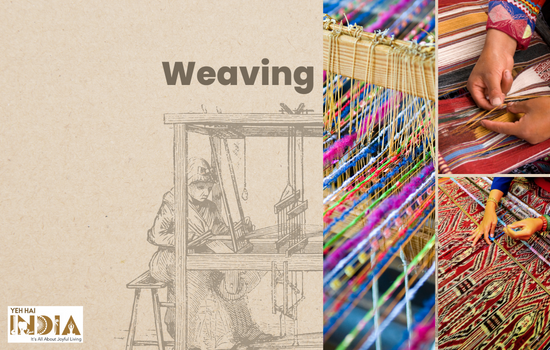 Traditional weaving is still very much popular in Karnataka. In fact, Karnataka is India's top producer of mulberry silk. Karnataka also produces a similar amount of cotton every year. This has kept the tradition of weaving in the state alive for over a thousand years.
Many styles of saree from Karnataka have received a GI tag meant to honour them and protect the craft. Mysore silk sarees, ilkal sarees, Karnataka Kasuti sarees, Udupi cotton sarees, etc are only a few of the stunning sarees weaved in Karnataka.
10. Bidriware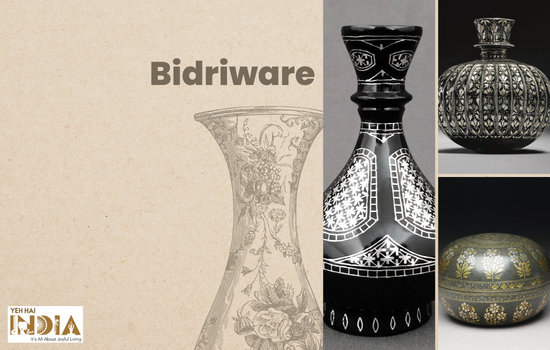 Bidriware is a craft that dates back to ancient Persia but was brought to prominence in India by the Bahamani kings because it was extensively used by them to decorate the royal residences and the court.
A zinc and copper alloy that is blackened using copper sulphate and ammonium chloride and inlaid with sheets of silver is used to create bidriware. The silver strips are used to create the intricate designs.
Get a glimpse of Karnataka's breathtaking culture and history in its handicrafts, that are a splendid depiction of what truly sets this place apart from other regions, in terms of heritage.