Worried about your blood sugar levels going bonkers or your once-smooth, bright skin turning pale and wrinkle-laden? Switch regular white rice with this brown super grain and experience marvellous ragi benefits on your health.
Ragi, also known as finger millet in common language, high-fibre cereal crop which crusades against a host of physiological conditions like diabetes, pre-mature ageing, indigestion, and poor blood circulation. Not only that, but it is also ideal for gluten-intolerant folks. 
We have quite many reasons to compel you to incorporate ragi into your diet. Let's dive deeper to unearth all the health offerings this superfood has in store for us.
Ragi – A Superfood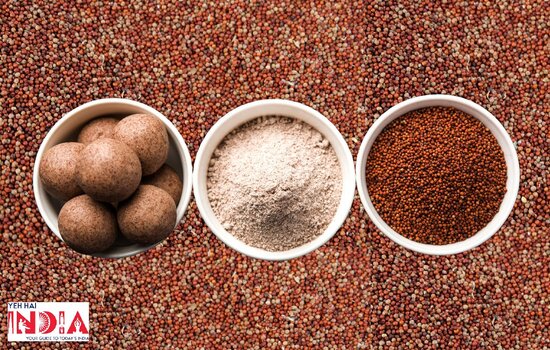 An annually cultivated crop, Ragi have been a repository of nutrients for a wide population around the world for centuries. Its cultivation is mainly distributed across the tropical regions of Asia and Africa, such as in India, Sri Lanka, and Ethiopia. 
Ragi is often referred to as finger millet due to the resemblance of its spikey head to the five fingers in a hand. The branches bear seeds, often in florets, which can be red, brown, or purple. Ragi is commercially available either in the form of whole grains or flour, which is prepared by threshing the seeds under high pressure. Subsequently, the flour is processed using techniques like milling and malting.
Recommended Story – 15 Best Foods for Healthy, Clear, and Glowing Skin
Nutritional Profile of Ragi
Each 100 g serving of Ragi packs in the following list of nutrients according to the nutrient database of NIN-ICMR (National Institute of Nutrition – Indian Council of Medical Research 
Total Calories: 320 kcal
Macronutrients:
Total fats – 2g
Omega 3- 68.58 mg
Total Carbohydrates – 67g
Dietary Fibre – 11g
Protein – 7g
Micronutrients:
Calcium – 364 mg
Iron – 4.62 mg
Phosphorous- 210 mg 
Folate-35 mg
Chromium- 32 mg
Magnesium- 146 mg
Benefits of Ragi
1. A Storehouse of Calcium: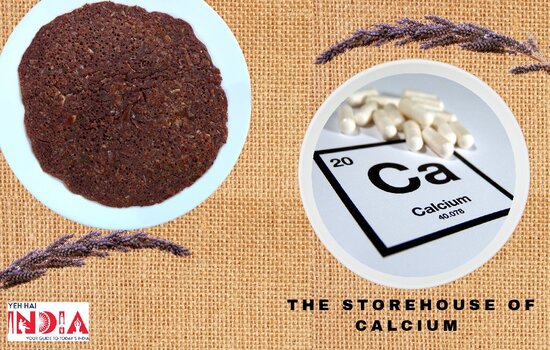 Calcium in the diet is of paramount importance due to its involvement in a wide range of bodily functions. Not only does it strengthen the bones but also helps to dodge a critical illness called osteoporosis. Data suggests 100 grams of ragi contains 364 milligrams of calcium. This is more than the calcium constitution of any other grain!
2. Ideal for Diabetics: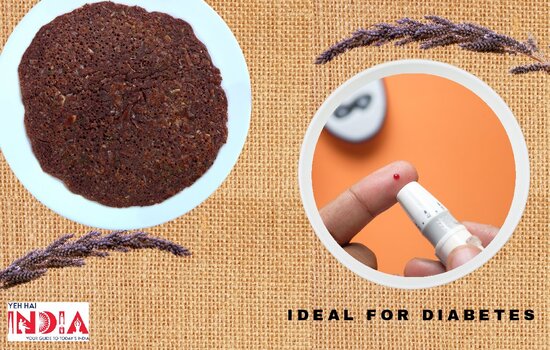 The high concentration of polyphenols and dietary fibres in ragi, as compared to other grains like rice, wheat, and maize, makes it ideal for diabetics to maintain blood sugar levels within the safe range. It also has a lower glycemic response than rice and wheat which means that the increase in blood sugar is low comparatively. Polyphenols present in ragi also prevent diabetes-induced cataracts by preventing the enzyme activity which leads to the accumulation of sorbitol.
3. Good for Cardiovascular Health 
Methionine, threonine and lecithin present in ragi helps remove unnecessary fat from the liver and decreases the cholesterol level. Phytic acid, a commonly known anti-nutrient, present in the ragi reduces the risk of coronary heart disease along with other diseases, such as breast cancer, and inflammatory conditions.
4. Secret Behind Youthful Skin & Voluminous Hair: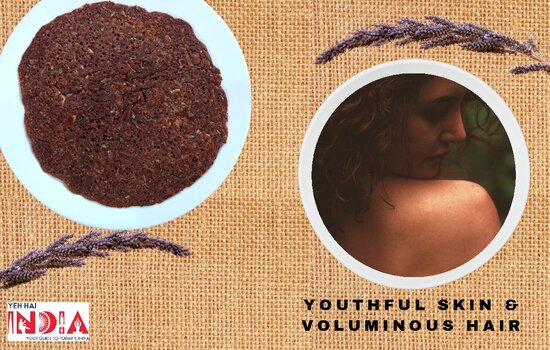 Ragi benefits are not limited to your health. It also has a role to play in maintaining smooth skin and preventing hair loss. Amino acids like methionine and lysine promote wellness of the skin and delay ageing. As well as the antioxidant and phenolic content prevent cross-linking of collagen, and glycation and revitalise the skin. While Vitamin E which is also present, aids in lubrication of skin. 
Bonus: Using ragi as a hair mask enhances hair growth and prevents loss of hair!
5. Losing Weight Made Easy: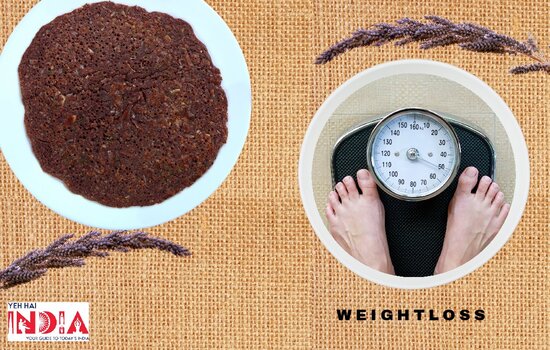 Ragi benefits for weight loss and management are invaluable. The high dietary fibre in ragi works to keep the stomach full. This prevents food cravings. It also contains tryptophan, which aids weight loss as it helps decrease hunger. 
6. Boon for Anaemic People: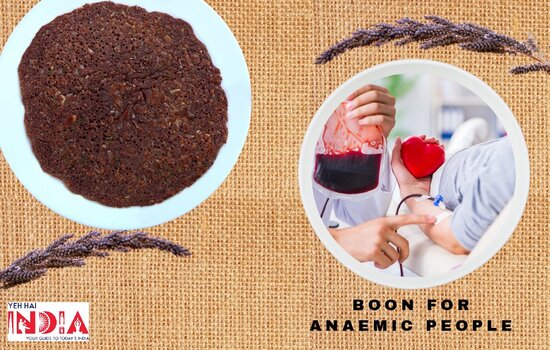 For oxygen to bind to haemoglobin molecules in the blood, the presence of iron (or ferrous ions) is indispensable. In anaemic patients, iron levels decrease in the blood resulting in reduced binding of oxygen to haemoglobin. Ragi is an excellent source to compensate for the diminished levels of iron in people suffering from anaemia. Vitamin C in ragi stimulates the absorption of iron into the bloodstream. 
7. Say Goodbye to Anxiety: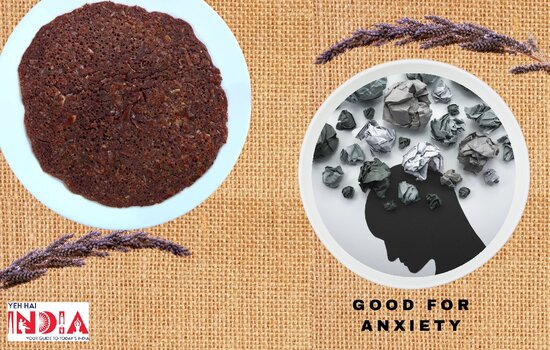 Reports suggest ragi consumption can turn out beneficial for people battling insomnia, depression and anxiety. The presence of amino acids like Tryptophan, in ragi, act as natural relaxants. What better way to bid farewell to anxiety than feasting on Ragi Dosas?
8. Reduce the Risk of Cancer with Ragi: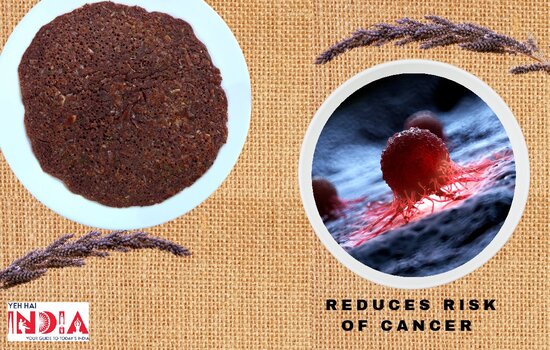 According to studies, the presence of phytonutrients in ragi can seemingly reduce the risk of developing cancer. This is a bonus for the ladies as lignans present in ragi convert mammalian lignans, thereby, preventing the possibility of breast cancer.
Tasty Ragi Recipes to Try
Tasting ragi for the first time might not turn out to be as pleasing as you might have thought. However, we have suggestions for you to enhance the way it tastes. Here are a few scrumptious ragi recipes for you to try and get a taste of:
1. Ragi Onion Masala Dosa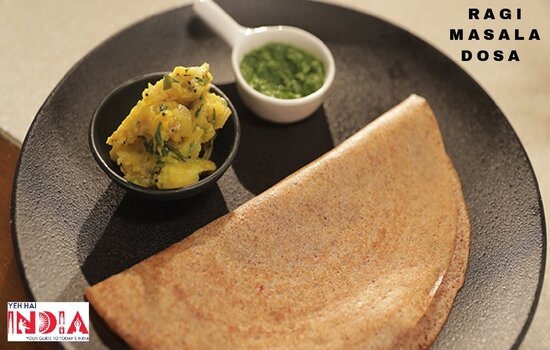 Let us start this mouth-watering ride with the staple food of South India – Dosa. Incorporating ragi flour into our all-time favourite dish will not only satisfy our taste buds but also our health. Just add ragi flour to your regular masala dosa and inch closer to leading a healthy, gluten-free life.
Recommended Story – Suffering from PCOS? Try these Superfoods!
2. Ragi Malt (Porridge)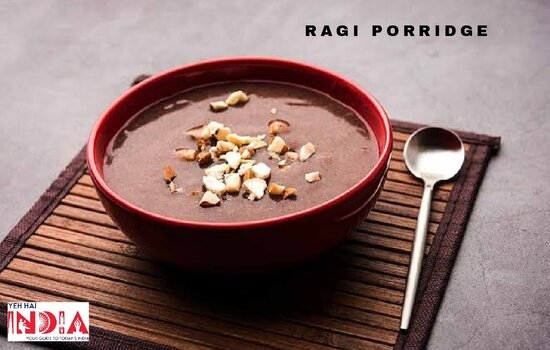 This dish is an excellent way to start your day. Being an easy way to prepare the recipe, ragi porridge is ready to serve in well under 5 – 10 minutes. This is an ideal breakfast recipe for babies and pregnant women.
3. Ragi Idli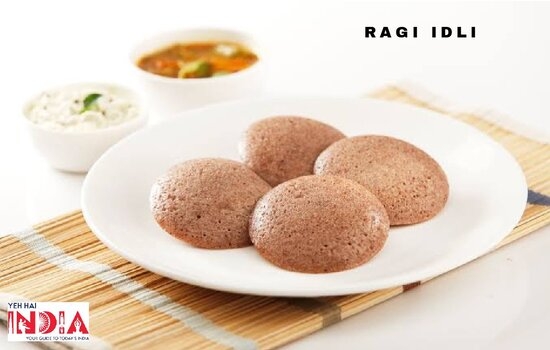 We bring you another south-Indian ragi recipe which is just as delicious as it is healthy. Just add ragi flour to your idli batter and there you have wholesome ragi idlis right on your plate.
4. Ragi Masala Bhakri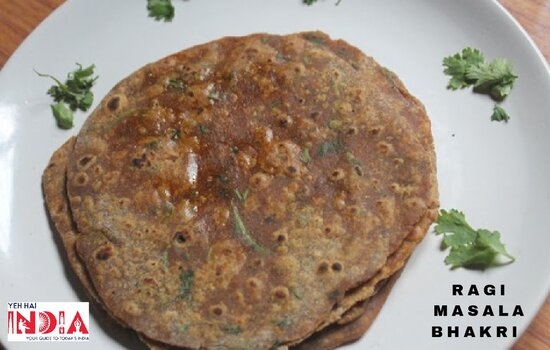 This ragi dish acts as a perfect substitute for chappatis. Replace flour with the healthier ragi flour while preparing your rotis and there you have your ragi masala bhakri.
Caution
It is highly advisable to refrain from excessive consumption, no matter the amazing ragi benefits. This is supported by the fact that ragi can increase oxalic acid levels in the body. However, a balanced intake of this superfood will make us as fit as a fiddle!
"Ragi" in Kannada, Hindi and Telugu, "Nachni" in Marathi, "Madua" in Bengali and "Kezhvaragu" in Tamil – whatever name you may call this indispensable component of a healthy diet, ragi is not losing its throne to any other grain anytime soon. From inducing weight loss to regulating blood sugar levels, ragi has succeeded in serving its people for centuries. Live the ragi-way and treat your health as wealth. 
Also, Read – 15 Most Widely Used Spices In Indian Kitchens And Their Health Effects