India is famous all over the world for its Leathercrafts. The art of Leathercraft has prevailed through the days of yore and holds a significant spot in the chronicle of Indian crafts.
A perfect fusion of style and culture, leathercrafts are uniquely designed and well crafted to produce attractive items. From clothing and footwear to bags and decorative objects, leather has been used in the creation of various products and has sprung a huge industrial sector in India.
This article will bring you closer to the artsy world of leather craft.
The emergence of Leather Craft in India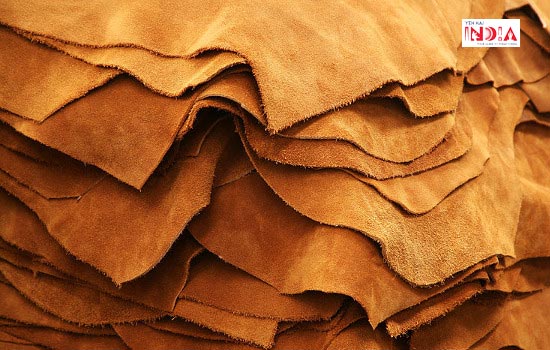 The emergence of Leathercraft goes back to the age of development when humans were still exploring, learning and evolving through unconventionality. Evidences show the existence of Leathercraft during the Indus Valley Civilization.
Recommended Story – Desi Hangover – Conscious, Fashionable Footwear
Like every other aspect of living life, the art of leather craft evolved as well. Animal skin and tree bark were the initial choices that men made for clothing purposes. The use of leather has also been famous for meditation as sages and ascetics used to sit over deer-skin.
The painting was done by using nature-based or natural ingredients in the olden times though today, it is painted with artificial dyes and colours.
The art mostly prevailed in the rural regions during its emergence however later on, it shaped itself as a great industrial-commercial industry. The sector gained success not just within the country but in the off-shore markets too, noting the quantum of export and international demand.
States and their specializations in Leather Craft
Each state has its own variety of leathercraft items with contrasting designs and colours along with distinctive features.
Rajasthan Leather Craft: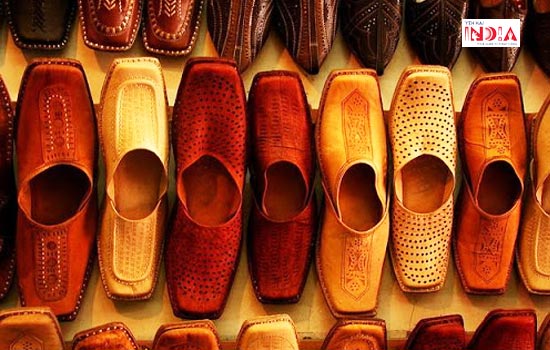 Rajasthan is known for crafting distinctively embroidered leather footwear with beautiful beads, silk, sequins and metal elements.
Jaisalmer and Bikaner are the significant hubs producing decorative saddles and 'kopi', a unique bottle made up of camel hide. The state also specializes in making leather crafted lamps and lampshades.
There are several communities of the state involved in creating various items through leather. There are people who create musical instruments called the 'debgars' and then community that makes saddie products known as the 'jingarhs'.
Other than the basic leathercrafts, another leather product is a knuclepad on which festive scenes and miniature landscapes are embroidered just like in a Rajput painting.
The leather book binding in the city of Alwar is of good quality where the covers are coloured in various shades with designs in leather and outline made with the brass block.
Maharashtra Leather Craft: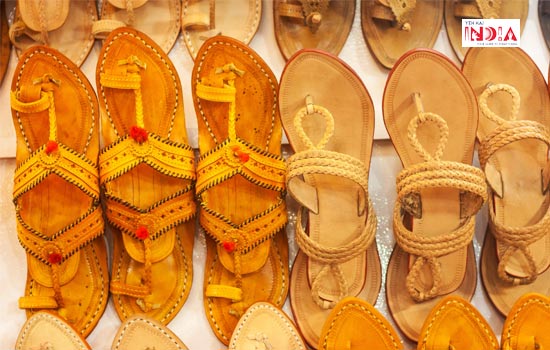 The state of Maharashtra is famous for leathercrafts in the form of sleek and strong footwear that are not only visually appealing but also gives the guarantee of longevity.
The footwear is exceptionally beautiful and goes almost with everything with its ingenious quality. This leather footwear is famous all around the world and works perfectly for both men and women.
Andhra Pradesh:
Brilliantly designed leather puppets are the extraordinary crafts made in the state of Andhra Pradesh. These leather puppets and toys are intricately designed and have bright colours that adds to the overall visual appeal.
West Bengal Leather Craft: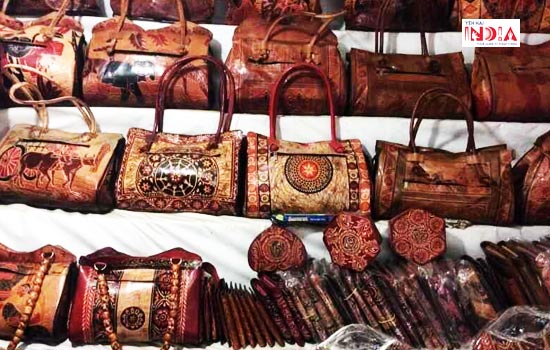 West Bengal creates its own form of leathercraft that is well detailed and decorated. The utilitarian products made here have different geometrical patterns and traditional designs.
The craft is famous with the name of 'Shantiniketan Embossed Leathercraft'. Not just this but other traditional artifacts also makes West Bengal a great center for leathercrafts.
Madhya Pradesh Leather Craft: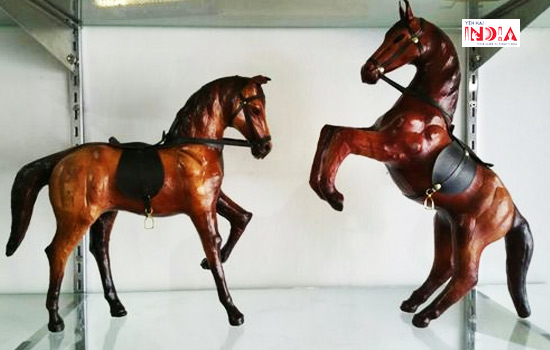 Famous for embroidered and painted red leathercraft, Madhya Pradesh wears the crown not just for its typical utility items but decorative statues and showpieces as well such as the leather animals.
Cities like Gwalior, Indore, Bilaspur and Dewas are the primary producers of everything from bags and footwears to jutis and mushks.
Karnataka Leather Craft: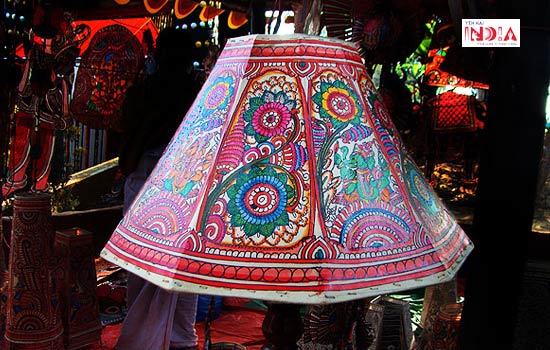 The element which differentiates the designs of Karnataka's leather products from others is the mythological and epic art painted all over them. The designs will catch your eye instantly and the curiosity will make you want to own one of these.
Tamil Nadu:
The artists in Pondicherry etch and braid by hand and colour the item with two main colours that are usually tan and brown mixed with black. The hand-etching is done on terracotta coloured leather in Auroville.
Uttarakhand:
In order to provide more opportunities to local artisans, the state government introduced leathercraft. Technical skills are taught through well-organised workshops and these activities are centered in Haridwar.
Punjab and Haryana:
The state's leathercraft is 'jutis' that are comfortable as the material is of high quality with deatiled intricacies of golden and multi-coloured threadwork.
The state of Haryana also has its footwear sewn and ornamneted with silk and metal embriodery along with the use of beads and designs done in appliqu with thin layers of different coloured leathers.
Recommended Story – Indian Footwear from different parts of the country
Footwear:
The leathercrafts are crafted into many items such as bags, clothing, pieces of furniture covers, and the list goes on.
Though the most famous of all these leathercrafts are the footwears coming from different parts of the country –
Mojris– Also known as Pagarkhiyas or Jootis, this form of leather footwear is produced in Rajasthan and is famous for its intricate designs.
Nagra– This form of leather footwear is known for the Mughal motifs embroidered with gold and bright coloured threads to make detailed designs and is produced in Gujarat.
Kashidakari– An artwork done over footwear with metal, silk and beads, Kashidakari also counts the applique work of coloured leather to create splendid pieces. Bagh Kashidkari is an unique piece of art produced in Punjab.
Kolhapuri Chappal – Coming from the state of Maharashtra and city of Kolhapur is the famous 'Kolhapuri Chappal' that are hand-crafted leather slippers tanned in vegetable dyes. It is well-known for its durability and variety.
Kapashi – You may have widely heard about the Kolhapuri Chappals but there is one more type that exists as the leathercraft in Maharashtra and it is known as 'Kapashi'. These are portable, and tiny enough that it can be folded and carried easily in bags, jackets, or also wallets.
Tilla Jutti – Punjab and Haryana are famous for 'Tilli Juttis'. Where in Punjab it is decorated with tilla zari traditional and phulkari embroidery, in Haryana, it is ornamented with silk, metal embroidery with beads and designs.
Indian Leathercraft has efficiently expressed the talent and skills of Indian artisans over the period of time and has grown to be a large-scaled industry. It not only adds up to the GDP but also takes the Indian heritage of art and craft forward globally.
Which one of these are your top favourites, let us know in the comments!
Also Read – Chamba Chappals of Himachal Pradesh