Mai Ni Miriae

Shimle de raahein

Chamba kitni door

Shimle ni basna

Kasauli ni Basna

Chambe Jaana Zaroor
The Town of Chamba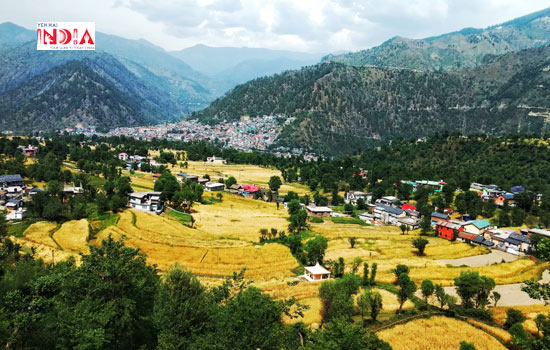 Chamba is perhaps the most adorable valley of Himachal. Unexplored, untouched, Chamba is like a fairytale town, at the foothills of the Himalayas, is home to a mere 20,000 residents and probably has more horse carriages (tanga) than cars, conveying locals and tourists across its length and breadth. Overlooking the snow-clad peaks on one side and offering a magnificent view of the valley, it is an unspoiled territory covered with lots of pine and deodar trees and offering you a never explored break.
Recommended Story – 10 Indo-Western Fusion looks to rock!
How do Chamba Chappals look
Handcrafted leather chappals are made in the dusky little town of Chamba, commonly called "Chamba Chappal". These are sturdy, comfortable and remarkably relaxed to put on, and well suited for the needs of hill areas. They are both, embroidered and plain, the embroidery is done in several colours and the glitter is added through zari threads. The craft of making these chappals is being practiced by the cobbler community in Chamba.
History of Chamba Chappals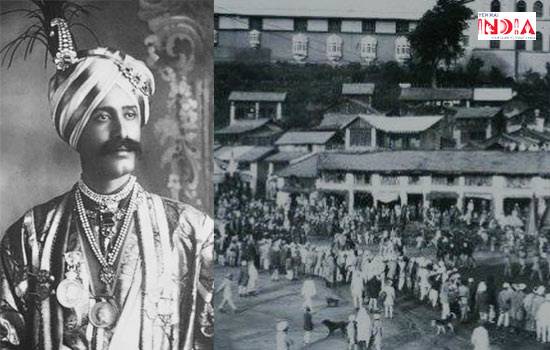 Since early ages, leather has been a crucial part of the human culture. Eventually it gained a part of the human body and soon, started catering to different shapes of different body parts.
Leather footwear came into existence in India in the 16th Century, via Mughals. Juties which were very famous in Lahore equipped the northern part of our map. Raja Shyam Singh the owner of Himachalis took a new step of inviting the Britishers to his palace. And this gave a new introduction of more designs to Mughal Juties by Lord Curzon which are now known as Chamba Chappals.
There is another famous version of the origin of Chamba chappal. Once upon a time, Chamba had a tradition of crude grass shoes. Things changed when princess of Kangra was married to a royal family in Chamba, and as a part of her dowry, she brought along a cobbler family with herself, who would be of service to the queen and the kingdom. With this arrived the culture of leather footwear.
Tools and Raw Materials Used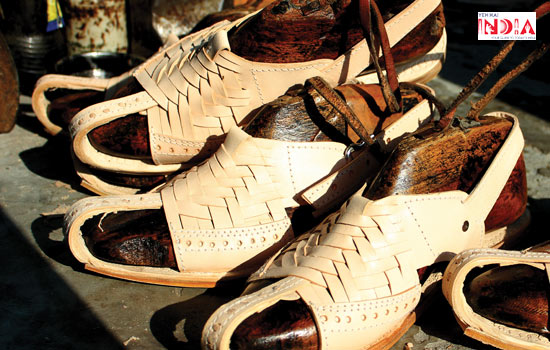 The materials which are needed to be sourced just before the process begins are as following –
The very basic material is the terracotta leather which is sourced from Jalandhar and it is also said, the leather in Jalandhar is being transported from Madras. 'Buff' leather is used for the upper and the sole. Goat and sheep leather is mostly used for the vamp, tongue and quarter.
Rubber for making the sole, originally it was leather itself which was used as sole but to make it cheaper rubber is used.
Wool for embroidery over the surface.
Velvet fabric is used on which the embroidery is done and then it is pasted on the leather.
Variety of dyes/colours to colour the leather.
Synthetic adhesive or neoprene to paste the leather for different parts.
Metal sheets for giving various contemporary patterns.
Oil is often used for colouring and to keep it softer.
Tools for cutting, pasting, lasting the leather Chappal.
A stitching machine to attach different parts together.
Recommended Story – Indian Footwear from different parts of the country
The Process of Making Chamba Chappals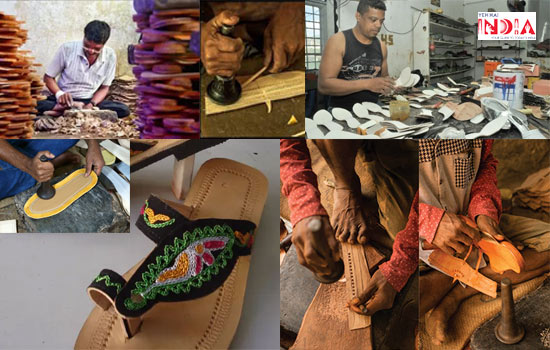 The designs for these chappals are decided on the basis of the market demands. Vamp, quarter, upper and sole designs are made into patterns, which are made from recycled parts of adhesive tin cans. Later, with increased experience, stencil is not required by the hand, the pen directly works on the leather.
Transportation of raw materials of various grades happens from Jalandhar. Graded leather is used for quarter component, while slightly defective portions are used for tongue and the back straps. Before it was banned, leather used to be processed and manufactured in Chamba, because of which artisans started outsourcing leather.
Cutting is done carefully, using different knives, to attain the exact part of the leather for the appropriate part of the shoe.
To give the desired shape and size, designs are made on leather and cut using appropriate tools
The leather pieces are skived to bring the right finished texture. Using a skiving knife the thickness of the edges are equalised as that of the surface.
To soften the leather and prepare it for embossing and stamping, leather sheets are dipped in water for at least half an hour and then laid out for drying.
Thinner is mixed with synthetic and powdered color, which is later dabbed onto the leather using a small piece of cotton cloth and left for drying. For long lasting and proper color, dye is mixed with spirits and alcohol. Sometimes oil and shoe polish are also user for the purpose as it makes the colour darker and long lasting.
The leather is damped in water to make it softer and easier to be stamped, to create preferable impression on it. This is how various designs are embossed on the surface. Metal punches of various impressions are used to make beautiful patterns. This process can be done manually or mechanically.
The embroidery is done on the velvet sheet using only chain stitch. At first the velvet pieces are cut out in the required shapes using the already existing patterns and then colourful threads (resham) and golden thread (Tilla) are used for doing the embroidery. 'Sitare' is another kind of embroidery which is mainly used for making bridal footwear. The leather work is done by the male, while embroidery is women centric.
Finally, the pieces, including the embroidered velvet pieces, are assembled together by pasting using neoprene or sewing together the various parts on the sewing machine.
The upper part of the closed footwear is mounter on the wood or plastic 'last' and fixed using adhesives or tacks.
Design and Inspirations of Chamba Chappals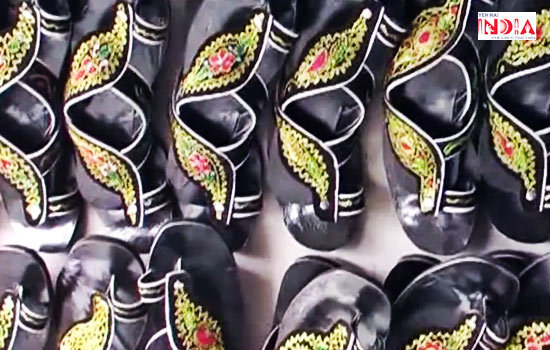 The designs are inspired by local flora and fauna, aquatic life motifs and a prestigious herbal leaf called Ambi. No pre drawings are done for the same and all the designs are original. The colour palette usually includes red, black, green, fuschia and yellow. There are several types of Chamba chappals like embroidered and punched Pathu, V- Shaped, chandani, nok wala Pathu, fish Style etc.
Men's chappals are naukdar and open toe with weaved straps to form the vamp, generally available in natural (leather) or black colour. These are the non-embroidered ones and are made completely with leather with vamp having motifs punched on leather surface.
Female chappals are both flat and heeled with not much variation in the heel size. They are mostly embroidered ones which have motifs designed in silk and golden threads.
Changes in the Craft Overtime
Modernisation had not only introduced various technology but also a new mechanics to a human brain, the day and night hard work has now reached to the machine needles. Due to the ban of leather in Chamba, it is outsourced from Madras and Jalandhar. Today, this craft not only attracts the people from Himachal or India but those colourful embroideries had attained a different position in the globe. Although the Chamba Chappals have high popularity but now it's near to the level of extinction because there are only old practitioners left, new generation is not keen to pursue this art form
Conclusions
They are highly considered for their comfort, lightness and durability. One pair can last you for up to 3 years.
It is sad that the future generation is not willing to carry forward this craft as they don't feel it has a recognized future. Also, this craft involves the use of leather derived from dead animals, so they cannot kill an animal just for the purpose as it is illegal according to PETA guidelines. Due to the use of animal skin, it is considered as unholy work by many. There is very minimal promotion and very less profit is derived from the craft.
Proper promotion of the product and the craft, along with partnering with recognised brands can help in creating an expanded market. Also, seeking promotions through various exhibitions could be a great exposure for the craft.
There are a lot of viable competitors in the market. Due to the lack of modern techniques, facilities and designs, people prefer buying other modern slippers over it. Very few artisans are interested in learning new designs, thus due to a smaller number of working hands they sometimes lack in fulfilling the market demands. With similar Kolhapuri chappals in the market, it'd difficult to keep up and outshine them.
Also Read – All about Sneakers in India aka Sports Shoes