Kathak is one of the most beautiful dance forms in India that has been practiced for centuries.
It is a special dance form which unifies dance, drama, and story.
The origin of the dance form can be traced back to ancient Hindu temples where it was practiced for storytelling.
The stories that were usually portrayed through Kathak had religious themes like Ramayan, Mahabharata, and Puranas.
After the foreign invasions in India, Kathak was banned in many regions.
However, the practice was kept alive by some of the gurus and today the dance form is still very popular.
Kathak is not only popular in India but also in many Western countries where Indian dance forms are appreciated.
The essence of the dance is more than just what meets the eye.
There is a "soul" in every classical dance form and Kathak is no exception.
To master the dance, one must learn and practice the right techniques for years.
The dance involves crisp hand and foot movements and facial expressions which bring out the true emotions in a story.
Many people start learning Kathak from a young age but it's not necessary as anyone can start learning the magnificent classical dance at any age if they're physically capable.
The situation of art and culture in India is grim due to the COVID-19 situation.
People are unable to pursue their hobbies in person.
That does not mean you cannot start learning the basics of Kathak from the comfort of your home.
Just like many other courses, Kathak too is available on the web.
The online learning programs are also helpful for people who reside outside of India and do not have access to Kathak classes nearby.
In this article, we are going to explore some of the best online Kathak classes:
Recommended Story – Kathak- The Classical Indian Dance Form
1. Learn Kathak Online By Guru Pali Chandra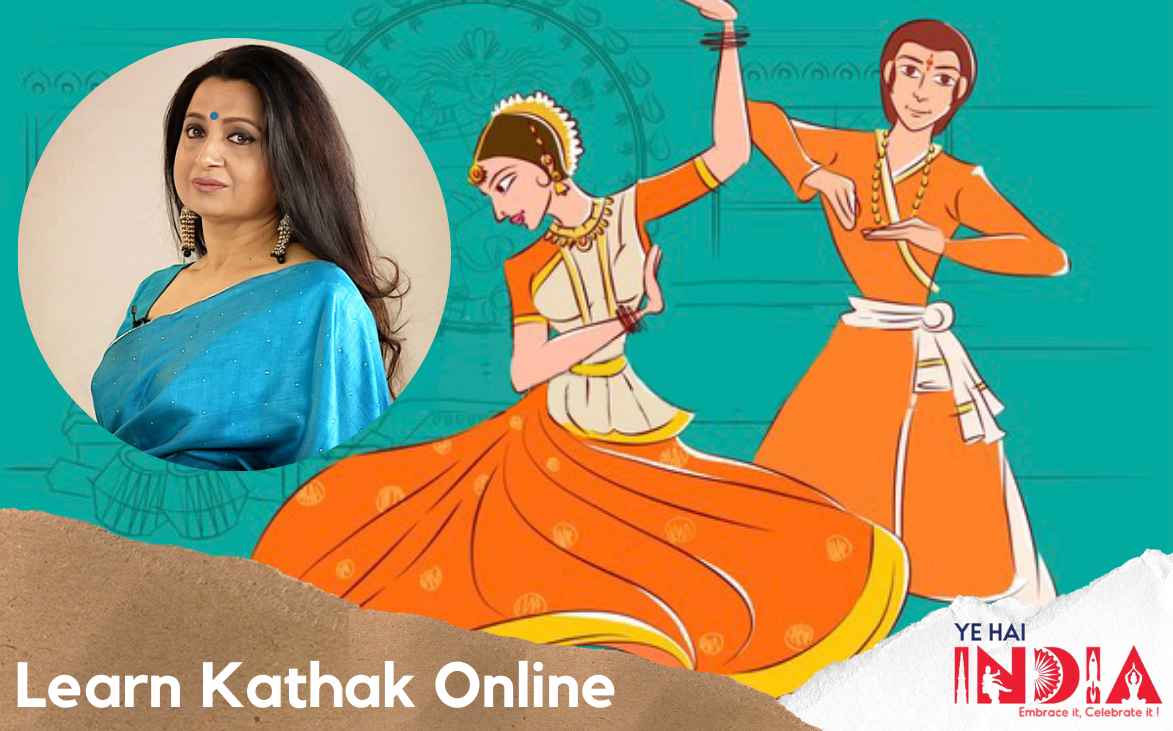 Guru Pali Chandra is a Kathak dancer from Lucknow Gharana.
She has trained as a Kathak dancer and performed professional Kathak for over two decades.
Guru Pali Chandra has taught hundreds of enthusiastic dancers and delivered lectures in different eminent universities like Oxford, Liverpool and in art and culture museums.
Her website has 26 model lessons which you can access for free and use as a trial to understand her teaching style.
The lessons are available in both English and Hindi language so that people from different backgrounds around the world can learn this beautiful dance form.
Online course has 52 modules and about 224 classes which will give you a complete basic knowledge of Kathak.
You can find many of her videos on her YouTube channel as well.
2. Studio J Dance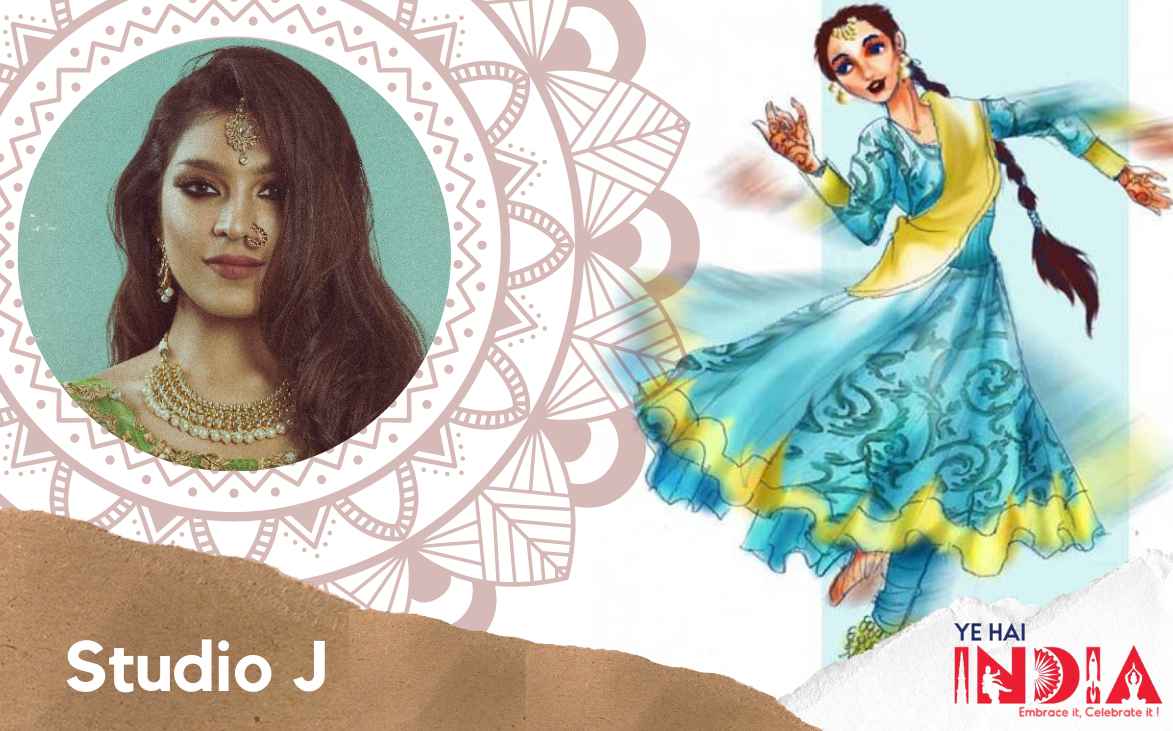 This website offers a unique short-term Kathak course at an affordable price.
The teacher is Ida Ghatge who has 18 years of experience in traditional Kathak dance and has been trained in three different gharanas: Lucknow, Banaras, and Jaipur.
Whole course is designed for beginners with no knowledge of Kathak and especially for adult beginners.
In the online course spanning 7 weeks, the students will be trained in foot work, spins, and hand gestures which are some of the very basic techniques in Kathak.
Kathak beats or "bol" will also be taught in this course.
The classes are conducted live through zoom calls which is great for interacting and doubt clearing with your instructor.
Further, you can interact with your teacher and fellow students through a private WhatsApp group.
Practice videos will be provided weekly to support your learning. But what if you miss your live class?
That's not an issue because you can easily get the recordings of each live class and contact your teacher later on for doubt clearing.
3. Archana Sinha on TeacherOn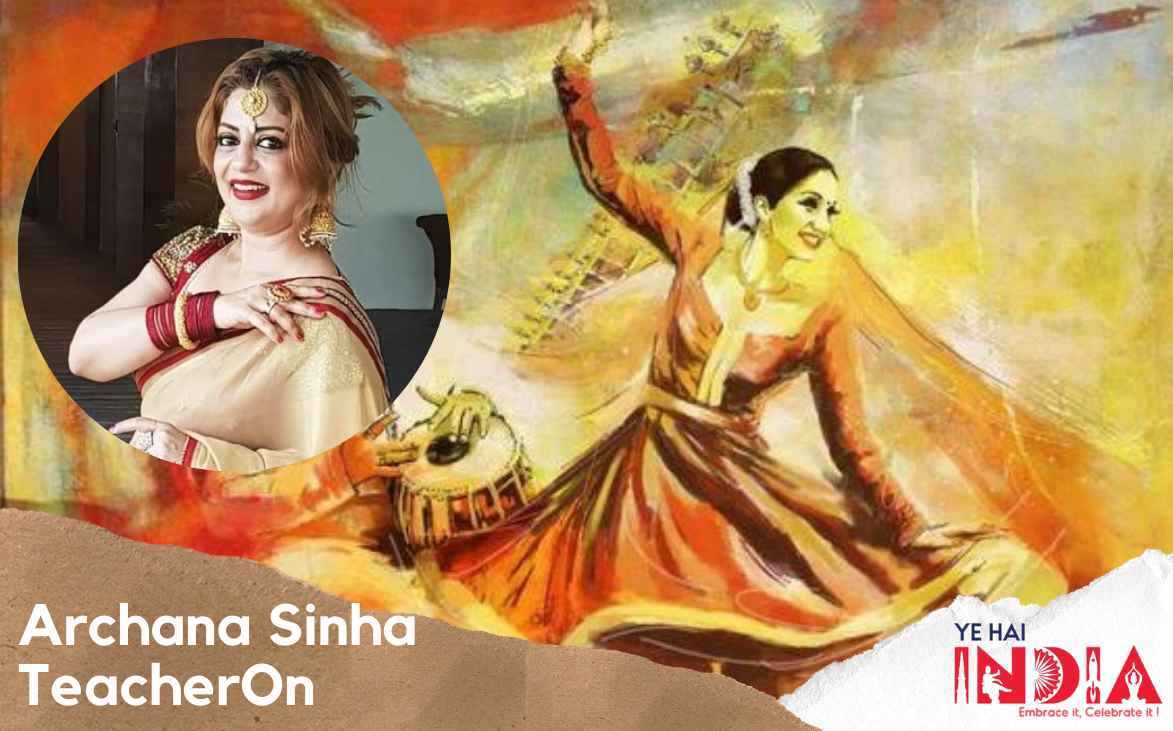 Archana Sinha is an expert in Bollywood Kathak and classical Kathak dance form of different Gharanas.
She was taught by Guru Arjun Mishra and has an experience of teaching Kathak for over 25 years.
Archana runs a Kathak dancing academy in Kuwait called Ghungroo Kathak Academy.
She teaches batches of 40 students from different countries including India, Canada, USA, Qatar, and Kuwait.
Classes are affordable at a price of $10 per 30 minutes.
Her friendly and patient manner makes for a great learning experience.
4.Reva University Online Kathak Certificate/Diploma Program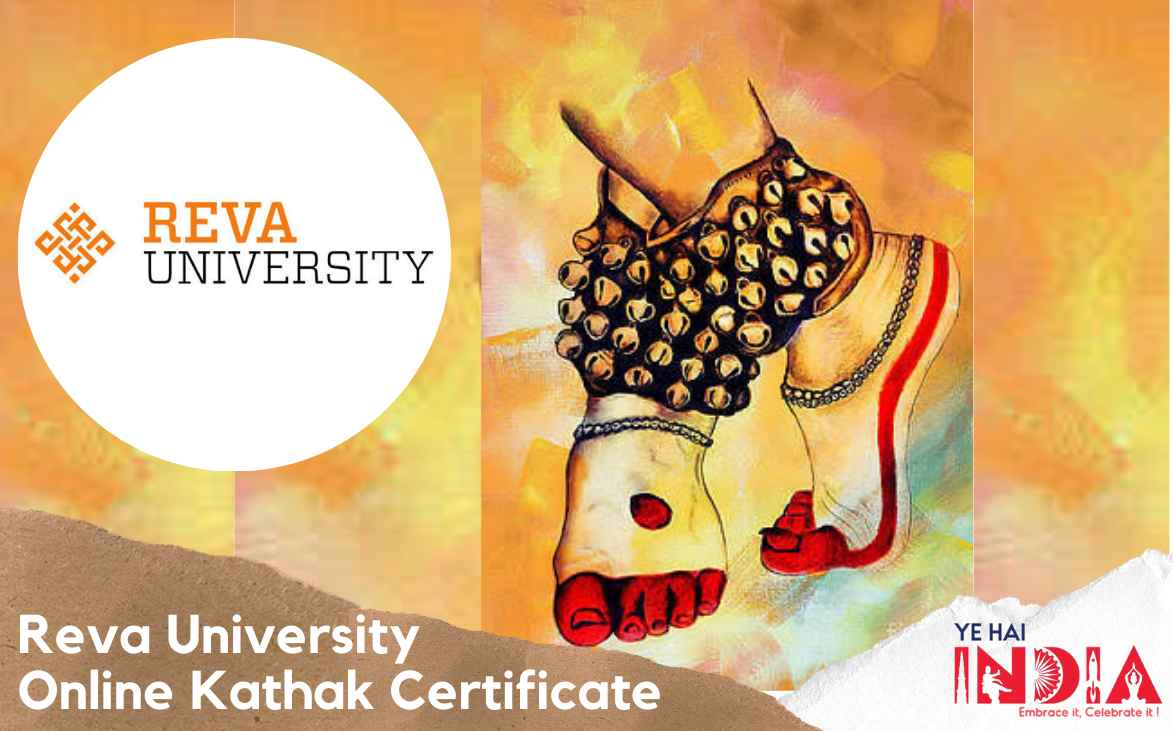 The Reva University School of Performing Arts provides online Diploma and certificate in Kathak.
Yes, it is a complete certification course.
For enrolment to the diploma program, the candidate should be at least 10th pass and above 16 years of age.
There are no educational requirements for the certification program and anybody with an interest in Kathak can apply.
The online diploma or certificate courses are meant to train you for a professional career in Kathak.
Certificate course is divided into two semesters.
Each consists of 4 units of practical and theory.
It teaches the different body movements, beats, expressions, and also about the history of Kathak and eminent dancers.
The cost of application fee is INR 500 and you can apply online.
Recommended Story – Kuchipudi – The Classical Dance Form from Andhra Pradesh
5. Ritwik Foundation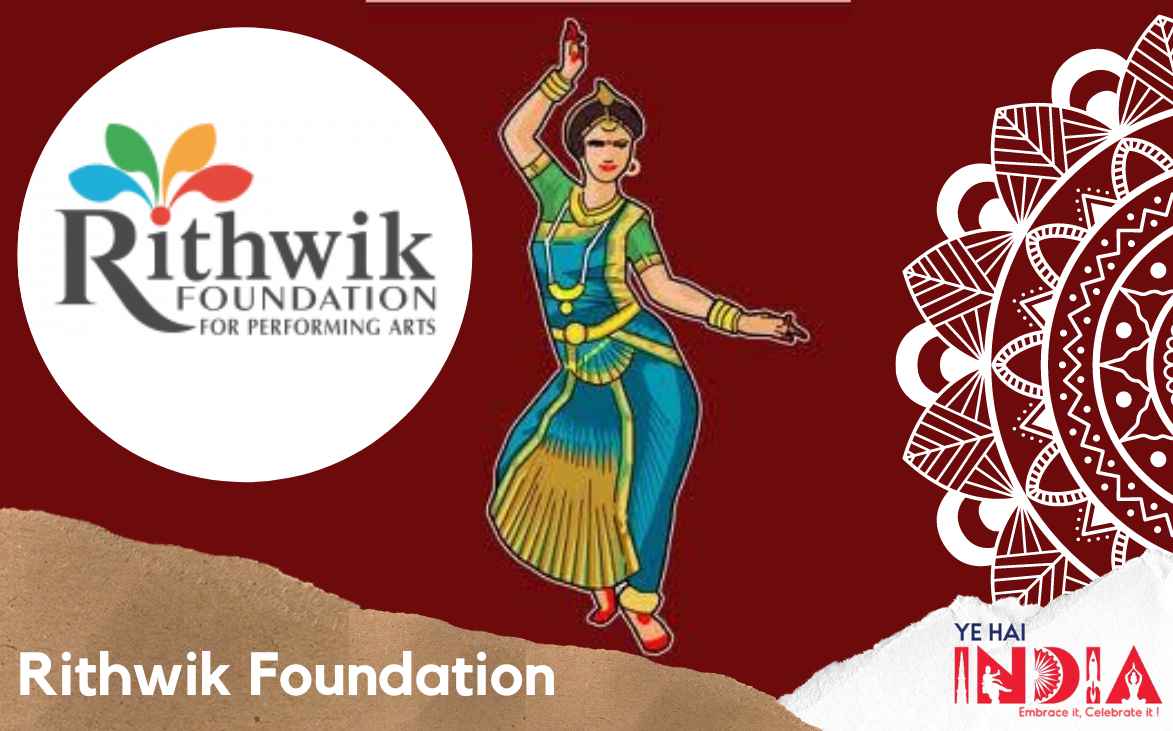 Rituja Soman is an experienced International Kathak dancer and teacher who founded her own Kathak academy called Rituja Soman Cultural Academy.
She was trained in different Gharanas of Kathak by eminent Guru Pandita Dr. Rohini Bhati for more than 20 years and has many prestigious productions in her name.
Rituja was awarded "Natya Alankar" by Akhil Bharatiya Gandharva Mahavidyalaya and received many other eminent awards.
Today, she teaches hundreds of students through her online classes and offline classes.
The online course deals with Kathak in detail and is divided into three levels.
First level is the beginner level and has 12 classes of one hour each for INR 6000.
Second level is for intermediate level dancers and has 16 classes of 1 hour each for INR 8000.
Third level has 20 classes of one hour each and is meant for advanced dancers. The fee is INR 8000 for this level too.
Live classes are scheduled once a week and each batch consist up to eight students.
6. Sangeet Gurugriha
They provide an online certification course of Kathak, recognized by the Prayag Sangeet Samiti Allahabad.
The course incorporates all the essential teachings of Kathak: both theoretical and practical through live online classes.
Classes are taken by experienced Kathak teachers and have live tabla.
Batch size is limited which makes it easy for students to communicate with the teacher.
The fee is INR 1700 per month for beginners and INR 2000 per month for intermediate.
Certification course is of one year duration and on the completion, you will be given a university recognized certificate.
Talented performers can also get the chance to perform in different cultural programs and shows.
7. Kathak Classes Online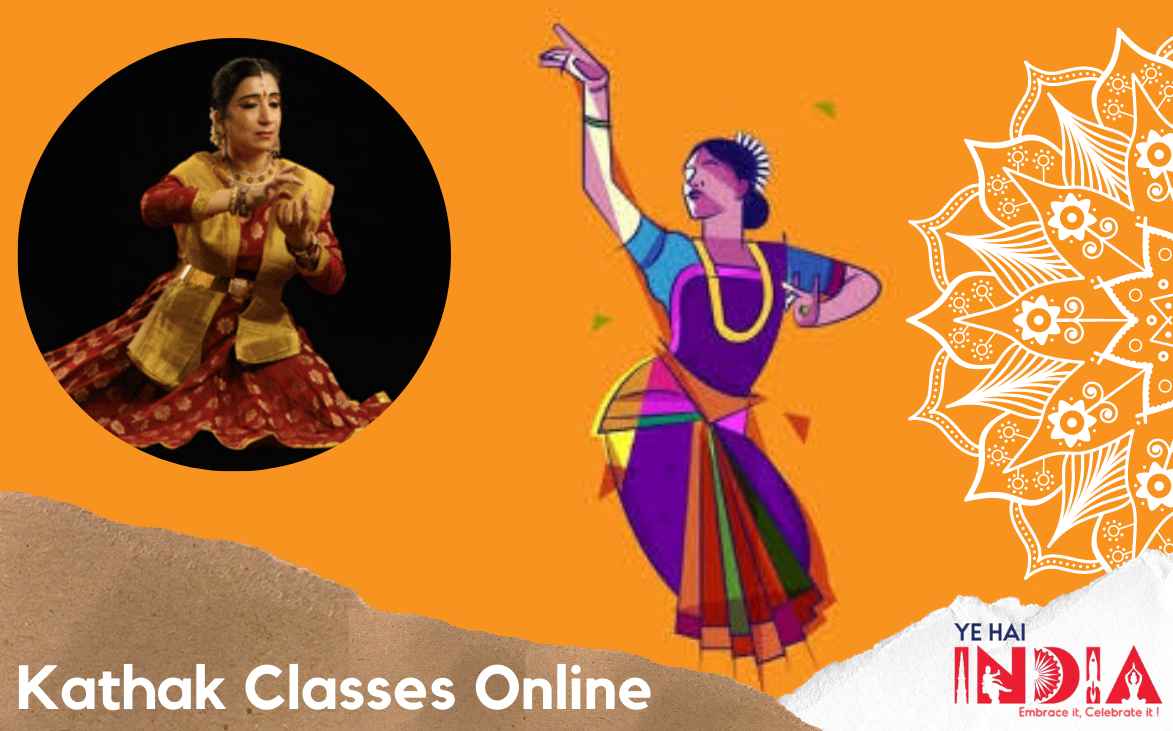 The Kathak classes is taken by one of the best Kathak dancers in India – Sushmita Banerjee.
Sushmita Banerjee has an experience of performing Kathak in different countries across the world.
She is known for magnificent choreography and has received many prestigious awards for her talent, including the Emirates fellowship and Arya Natya Samaj.
There are three different courses available on the website beginner, intermediate, and advanced level.
For registration you need to email your details, confirm the course and pay the fee, and then begin your Kathak training.
So, these were some of the best online Kathak classes in India.
Kathak is one of the most beautiful cultural heritage and interest is helping the dancers to promote this beautiful dance form around the world.
Also Read – Top Indian Classical Dancers of all times