Gond Art is a delightful depiction of tribal life and the bond humans share with nature.
Indian Tribal arts is known all over the world as the most lively form of artwork that liberally focuses on nature and rural life. Gond Art is one of the most beautiful tribal art forms of India that expresses the human association with nature in the best form.
Gond tribe originated in Madhya Pradesh, and the term "Kond," which means "green mountain", is the source of its name.
Even though the Gond tribe is thought to have originated in Madhya Pradesh, its art is equally well-known in places like Andhra Pradesh, Maharashtra, Chhattisgarh, and Odisha.
The Indian government has taken a number of actions to protect the Gond tribe's artistic heritage. These steps are being taken for the future generation's aesthetic fulfilment as well as to economically strengthen the artisans.
These endeavours increased the popularity of Gond paintings and art as the finest representations of tribal culture prevailing in India. These days, these folk art pieces are proudly displayed at numerous international exhibitions.
The Prodigious Past of Gond Art: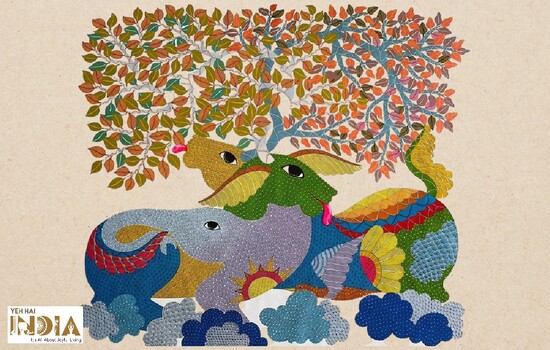 Paintings and other expressive art forms are common and customary among the Gond people. The Gond tribe created paintings and carvings on the walls of caves that date back more than 1400 years, many of which are from the Mesolithic Period.
The Gonds thought that looking at lucky pictures gave them good fortune. As a result, they typically painted designs, tattoos, and pictures on the walls and floors of their homes.
Additionally, they used paintings to preserve and disseminate historical knowledge and lessons.
The Pardhan Gonds are renowned for their paintings and singing and are very accomplished artists.
Urban and tribal art were to be displayed together, according to J. Swaminathan, director of the Bharat Bhavan Museum in Bhopal, in the 1980s. He sought artists for this purpose by sending some of his students to various communities in the Dindori district.
One of them was the talented Pardhan Gond painter Jangarh Singh Shyam. He was the first tribal artist to create artwork on canvas and paper.
Recommended Story – Kathakali: A Flamboyant Folk Art Of Kerala
Elements of Gond Art: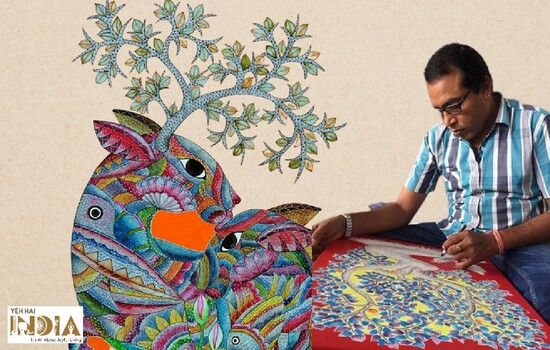 Gond and Madhubani paintings, commonly referred to as Mithila art, can easily be mistaken by the inexperienced eye. Gond art, however, has its own distinctive features that come to the fore only when you inspect it closely.
The brilliant colours of orange, yellow, blue, and red are used in the paintings, which are constructed using carefully placed lines and dots.
These lovely paintings are made using natural colours that are gathered from diverse sources, such as flowers, stones, etc. The Gond painters have created their own tools over time to use with a variety of modern mediums and materials.
To begin, dots are marked to estimate the visual volume. Connecting these dots creates an outline, which is then filled with colour.
Every object people see in life undergoes an aesthetic transformation as a result of their reactions to the current social context and environment.
The pictures are tattoos or simple depictions of people and animals, such as peacocks, chameleons, butterflies, elephants, cows, lions, fish, and other animals.
Despite being a centuries-old art style, Gond paintings have progressively moved from the mud walls of homes to canvases and papers throughout time and are hailed as one of the most popular art forms of India.
In addition to drawing inspiration from myths and stories, nature is a key theme in these works. The Hindu Gods and Goddesses (particularly Ganesha), the tree of life, and jungle settings are all well-depicted subjects in this style of painting.
These paintings, which feature a range of motifs and design patterns, have attracted the attention of many, including people from India, France, the UK, and the US.
Narratives and Symbolism in Gond Art: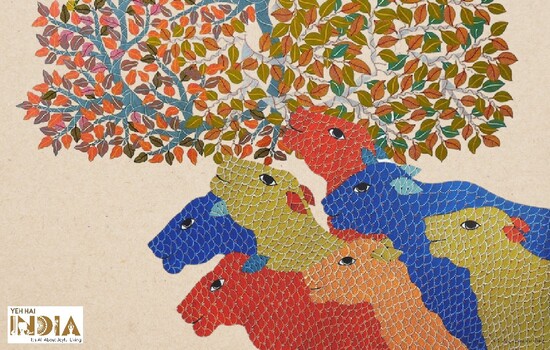 Ganja Mahua Tree: It narrates the tale of a Brahman girl from an upper caste and a Chamar guy from a lower caste who fell in love but were rejected by society.
They gave up everything and entered the forest, where they later came to life again as Ganja and Mahua trees.
Therefore, it is stated that Ganja and Mahua should never be consumed together because they can never mix.
Saja Tree: The Bada Dev (Big God) and the Gond community both revere the Saja Tree.
Pakri Tree: The Gond community consumes a dish (saag) produced from these leaves when the tree's new leaves blossom, which shields them from numerous diseases and ailments.
Peepal Tree: The Peepal tree is regarded as the most significant since it is the home of the Gods (Devtas).
Tamarind Tree: Tribal people depend on the tamarind tree for their livelihoods because they use the fruit to make chutney and sell it. Many members of the Gond culture build platforms under the trees for their gods or goddesses.
Conclusion: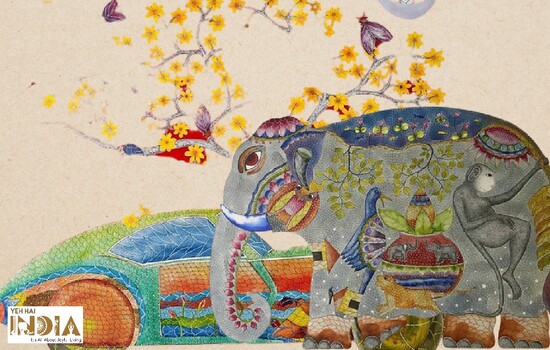 Similar to Australian Aboriginal art, the Gond paintings are typically created during significant festivals like Holi and Diwali. Gond art can be found on trays, boxes, and other items with smooth surfaces frequently in modern times.
They are no longer painted on floors and walls. Nowadays, artists favour canvas out of convenience. This increasing buying and exchange due to the ease of mobility has boosted the trend of using canvas for Gond paintings.
In order to portray their talent in the greatest possible way, modern Gond artists use poster colours and other man-made paints.
Along with this, using plain canvas has given modern Gond paintings more colour than their traditional predecessors, a reason that makes Indian art and craft much more famous in the modern times.
Get to know the finer elements of tribal life and its relevance in the modern context through Gond paintings.
Also Read – Kathputlis: A Vibrant Expression Of Rajasthani Folk Art