Who does not like beautifying their personal space?
Keeping the personal space beautiful and appealing has been a tradition since ages whether you do it with expensive materials or otherwise.
Carpets are considered to be a high priority decorative piece in Indian homes.
It serves the purpose of keeping the dirt off the floor as well as add to the overall beauty of the space.
Carpet Weaving is considered to be prime handloom and still continuous to be a source of livelihood for many artisans.
It is highly labour intensive and contributes significantly to the economy by boosting the exports.
Carpet weaving is a major business and with its majority of production happening in Bhadohi, Agra, Jaipur, and Kashmir.
In the recent decade, there have many various types of carpets that have emerged in the market.
Tufted Woolen Carpets, GABBE Woolen Carpets, Pure Silk Carpets, Handmade Woolen Durries, Synthetic and Chain-Stitch Rugs are few of them.
Though every region has its own specialty in carpet weaving but here we are going to see what makes Carpet Weaving in Bhadohi different! 
Recommended Story – TRADITIONAL INDIAN CARPETS
Carpet Weaving in Bhadohi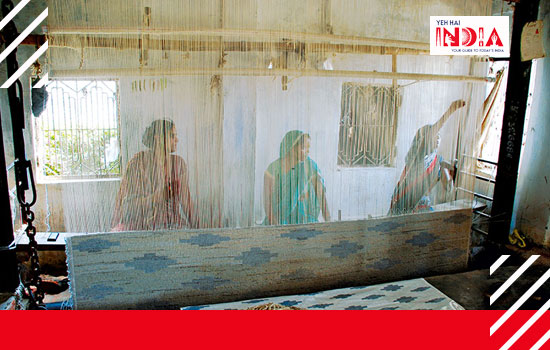 Bhadohi gets its name from the 'Bhar Raj' region which had Bhadohi as its capital.
One can witness the traces as mentioned on the ruined mounds and old tanks that were named after the rulers of Bhar.
The rulers of Bhar were part of the Kannauj Kingdom.
Bhadohi in Uttar Pradesh is also known as the 'Carpet City' as it produces maximum number of carpets in India with all types of designs and qualities.
This Mirzapur-Bhadohi region is the largest handmade carpet-weaving cluster engaging 3.2 million people.
Bhadohi district alone employs 22 lakh rural artisans against the background of 100 percent export-oriented industry.
Well-known carpets of Bhadohi are the Cotton Dhurries, Chappra Mir Carpets, Loribaft, and Indo Gabbeh.
Nepalese Carpets and Shaggy Type Carpets are also manufactured under various qualities.
Tool and Raw Materials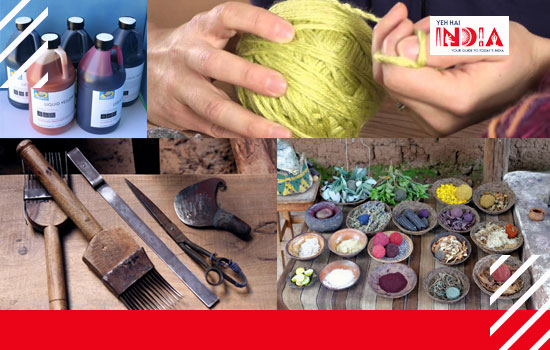 Following are the tools and raw materials used in the process of carpet weaving:
Machinery
Machinery and equipment used in the production are Hand Looms, Broad Looms, Finishing Machines, Dyeing Machine, and Washing Machine such as Scrapping Machine.
Hand Tools
Knife (for cutting the yarn), comb-like tool (for packing down the knots of weft), Pair of Shears (trimming the yarn), and Tufting Machine.
Wool
The main material used is the 'Yarn' which is basically made of wool.
It is either procured by local spinning mills or purchased from the market where you can find Tibetan Wool, British Wool and so on.
Dyes and Chemicals
In the earlier times, natural dyes for used to create colours such as indigo plant, cochineal insects, wild roses, and fruits.
Presently, weavers use synthetic dyes such as mordent dyes, vat dyes, and vegetable dyes.
Process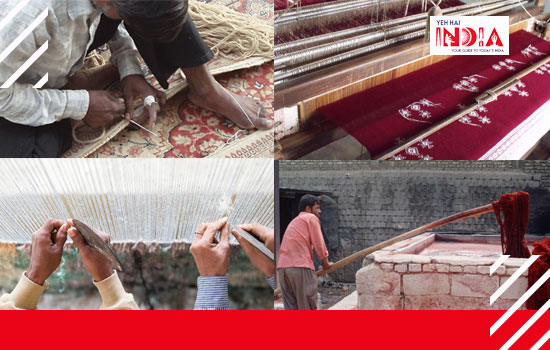 Washing to Dyeing
Washing and Drying
The wool used for the production usually carries dust and grease that needs to be first washed properly and kept for drying for 2-3 days.
Carding
Carding is used to detangle, clean, and intermix the fibers to produce a web.
This mechanical process ensures that the fiber strands flow smoothly while spinning.
Spinning
After carding, the wool is spun on a spinning wheel to produce the yarn.
The thickness depends on the quality and usually a 3-ply yarn is used.
Dyeing/Colouring
Various dyes and chemicals are used such as mordant dyes, vat dyes, sulphuric acid, soda ash, and carrier-type dyes.
Drawing
The drawing or designing part is started by drawing the design on a graph paper with proper measurements for accuracy.
Each square on the graph denotes a knot.  
Recommended Story – Top 10 Things to Buy in Uttar Pradesh
Warping to Trimming
Warping
Under warping, the arrangement of the yarn takes place so that it runs lengthwise while weaving.
The warps are first brought to a thick iron rod and then transferred to a thin steel rod.
Later, it is folded ad taken to the loom from where the weaving process starts.
Knotting and Weaving
Depending on the size, two or more weavers in some cases work on the loom. Each square inch has around 60-200 knots.
Higher the quality, higher will be the knots per square inch. Tying the knots is a skilled task and done row after row.
Two types of knots are:
Ghiordes or Turkish Knots
No matter which knot, the insertion of it is done in such a way that the tuft lies at an acute angle to the back.
Trimming
The finished carpet is taken from the loom and proper designs and patterns are trimmed.
Washing (Chemical Finishing)
The weaved carpet is sent for washing or chemical finishing where the dust, fine particles, swelled and soft fibers are removed and the softness and luster are achieved.
Washing takes place with the help of water mixed with soap. bleaching powder, and natural chemicals.
It is then dried under the sun for 4-5 days.
Latexing and Finishing
Latexing
It is a process where the rear part of the carpet is covered with rubber for durability and longevity.
Finishing
The carpets are given finishing touches by re-trimming, brushing, steaming, and stretching.
Its sole intention is to bring the woven fabric in level at the surface.
Quality Check and Marketing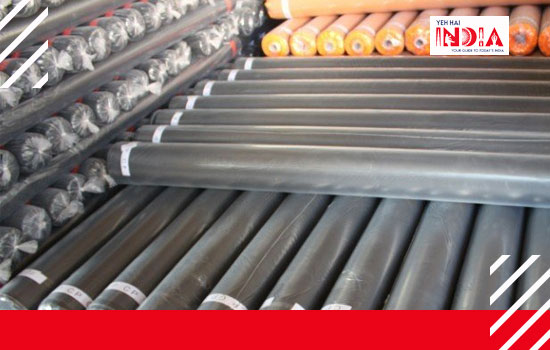 Quality Check and Packing
The quality of each carpet is checked for colour, type and quality of materials used, piles per inch etc.
Later, it is rolled and wrapped in a sheet and then wrapped with a jute fabric.
Marketing: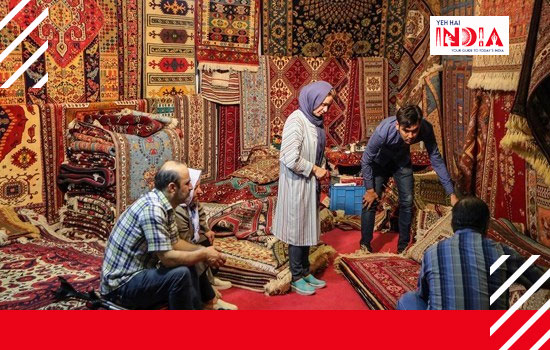 The finished products or carpets are loaded in trucks and sent off to local markets or exported to different countries.
India is a country rich in handicrafts and handlooms that represents the history and brings it back into the modern world.
Now that you know about the Bhadohi Carpets, which one of it are you placing an order for?
Also Read – The Tapestry of Life: The Art of Tana Bana