According to Hindu traditions, White Kurta is worn during someone's funeral. But it's high time one should experiment with their plain white kurta and not let it be just 'one-time worn kurta'. Let's give it the respect it deserves.
So, how can you make your boring kurta interesting? Adding elements like accessories, belts, etc? Pairing it up with certain bottoms? Well, there are numerous ways. What are you waiting for? Let's start!
1. The Lazy Version: Kurta- Jeans Duo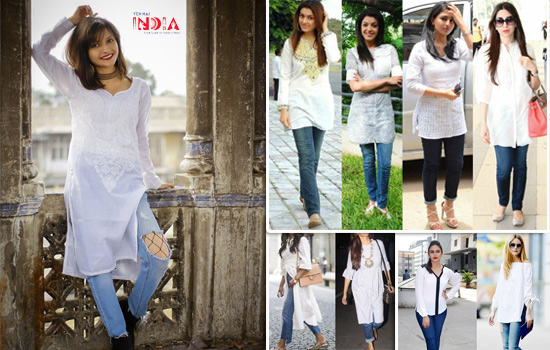 The very basic and minimal version of styling a white kurta is to pair it with a black/blue jeans. It doesn't require much effort or skill and that's the reason it's called the lazy version.
One can also tie a belt on the kurta to make it look more classy. This may work wonders if you have a long white kurta or an Anarkali. Well, you may have seen Bollywood celebs wearing white kurta and jeans as a part of their airport looks because it's very comfy.
Recommended Story – Salwar Kameez- Trends, Styles and Designs
2. Kurta and Pants: Office Look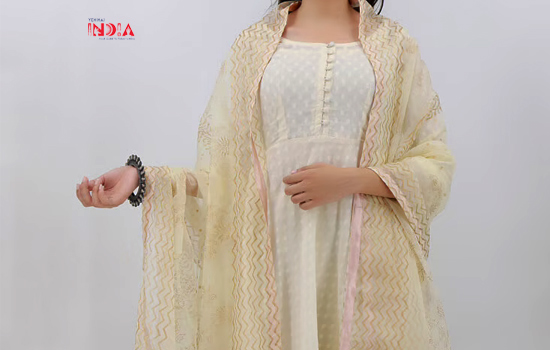 You can style your white kurta with crop pants, be it any colour. It looks very chic and pair it up with your favourite dupatta wrapped around the neck. You may have seen female politicians wearing plain kurta with dupatta around their neck so that it may seem professional and give a hint of our Indian culture.
One can slay this look in office or when you go out for shopping.
3. Transform your Kurta into a Dress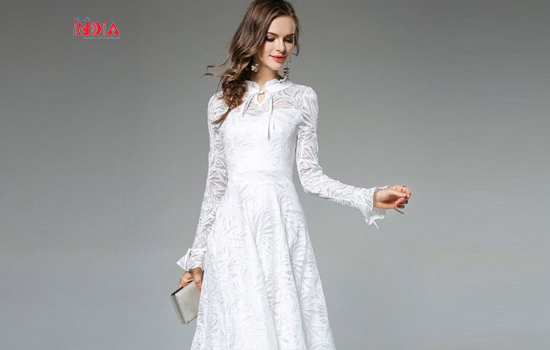 Usually, you don't need bottoms to make your kurta look expensive or fashionable. Just wear it the way it is. If you have a long white kurta, wear it like an A-line dress and tie a belt around your waist.
If you feel there's something still missing and it looks quite plain, then wear statement earrings or go with boho jewellery. Grab your favourite pumps and bag, be the ultimate fashionista. This can be your saviour when you don't have any dress to wear.
4. Forget Blouse or Bralette, White Kurta is Best
If you are unable to find the perfect match for your lehenga, don't worry white kurta has got your back. Forget bralette or a blouse, opt for a white kurta and match it up with your favourite lehenga.
It looks amazing! Go for some silver jewellery and ethnic juti to complete the look. Also, choose a dupatta which has heavy gota so that the kurta doesn't look plain or dull. This shaadi season go for a white kurta.
Recommended Story – 10 Ways To Look Stylish In Winters
5. Go Sharara Sharara with your 'Shararas'
One can never forget 'Shararas' when it comes to following new trends. So, what are your waiting for? Pick or buy your favourite shararas and match it up with your white kurta.
Wear some nice choker and pair it up with stilettos. Carry the most important thing i.e., your smile. Now you are all set to dance on the song 'Sharara Sharara'. Feel those moves like Shamita Shetty.
6. Ethnic Jackets are Love
If you find the sharara and white kurta look too basic, you can go for an ethnic jacket on the top. Even you can replace the sharara with a skirt or palazzo pants to make the outfit look comfortable. But do make sure that the bottom matches your ethnic jacket.
It shouldn't be a long one if your kurta is short. Also, it should have some embroidery work on it because the kurta is basic. Once the whole attire is done, adding jewellery is completely your wish. If you have Jaipuri Jackets, then it acts like a cherry on the cake.
7. Phulkari Dupatta: Heavy Embroidered Dupattas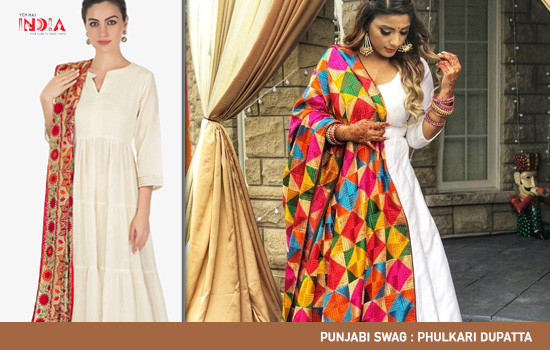 Well, Phulkari dupattas go well with any plain/ basic kurtas. It's not only the bottoms that works wonders but also the dupattas. If you have a plain white kurta or a white kurta-legging set, phulkari would be the outshining element in your attire.
Phulkari Dupattas are known for their heavy embroidery work. They are worn by Punjabis mostly with black kurta and Patiala. But now times have changed the 'Phulkari' is not confined to only Punjabis. Infact, anyone can wear them and look gorgeous.
Except Phulkari Dupatta, one can also go for Bandhani Gota work Dupatta, which again looks very beautiful. You can complement the outfit with heavy rings and jewellery that you like.
There are many options available for dupattas in the market. There is Banarasi dupatta which looks fabulous when paired with white kurta. Also, there are heavy maroon, pink dupattas which add a touch of glamour to your white basic kurta. You can choose anyone of them as per the occasion.
8. Stole/ Skirt/ Denim Jackets: Basic Looks
Are you someone who wants to style their kurta as per daily wear? Are you someone who's not looking for a very heavy chic look? Well, stoles, skirts and denim jackets are your saviour.
If you are a college going person and is looking for ways to style your kurta, this is the right place. Pick out your favourite stole or shawl (for men) and just drape it around arms or wear it like a dupatta. It would look simple and elegant.
If not stole, go for a skirt which is plain, long, and simple. The one which you wear for college. Pair it up with a ethnic sling bag and a pair of jhumkas. If neither of the two works for you, go for denim jackets.
Denim jackets are the most versatile piece of clothing in your wardrobe. You can style them with kurta, dress, tunics, etc. They give indo-western vibes, and you don't feel too 'ethnic'. Boys can opt for sleeveless jackets with a white kurta. There you go, you are all set to slay now.
Accessories play a major role in styling!
While the clothing changes a lot about the look and the attire you carry, accessories have a major role to play in it. Accessories like belts, clutches, handbags, shoes, jewellery, etc, add a touch of lavishness and make your plain white kurta look expensive and stunning.
One can go for beautiful and matching potlis, when you want to pull off the white kurta for a grande wedding. You can also wear matching jewellery (kundans jewellery works wonders), chokers, earrings, rings, maang tikka, etc. Even shoes and belts give the whole outfit a well-defined look.
Everyone has their own style statement. So, make sure you carry your outfit like a pro and shine!
Also Read – 10 Indo-Western Fusion looks to rock!