Palace on Wheels gives you the most royal experience you can have on a train.For many Indians, taking trains to commute to work or travelling to another state is very common. Most middle class people in India would opt for this medium of travel as it is cost effective, time saving and simply convenient!
Having said that local trains are for everyone, India also has some very luxurious trains that may not be everyone's cup of tea and Palace on Wheels might be one such train.
Usually travelling in local trains is a time & cost effective way but it can be a tiresome affair due to India's population; crowded train compartments and even more crowded train stations are a common feat for us Indians (fortunately or unfortunately!)
But on the other hand, there are also some extremely luxurious train experiences that India has to offer. The Deccan Odyssey, Maharaja's Express, The Golden Chariot, Royal Rajasthan on wheels, and Palace on Wheels to name a few.
The best of the best, however, HAS to be the Palace on Wheels which truly defines the royalty of India. It is also the first luxury train developed by Rajasthan Tourism Development Corporation.
TOURING RAJASTHAN IN A PALACE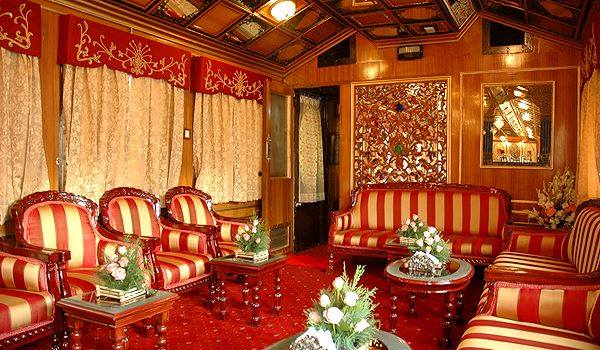 The train has a tour program in which the train takes you for a week long joyride wherein you can explore the mystic nature of Rajasthan with the best way possible. Passengers are transported to the era of Rajputana – the royal life whilst travelling in this train.
For more on Rajasthan please do check our Travel Guide to Rajasthan, it will surely be of help to you.
THE TRAIN ITSELF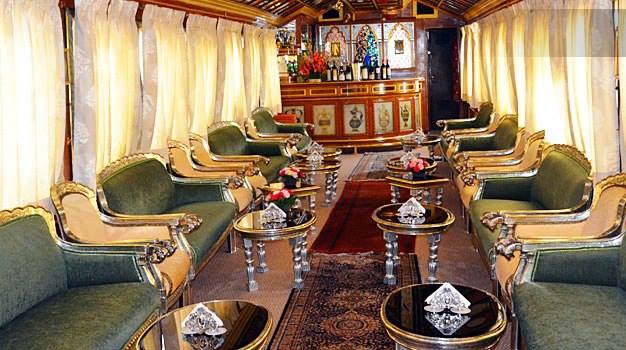 The train is almost as massive as a real palace. Comprising of thirty-nine deluxe cabins and two super deluxe cabins, equipped with air conditioners and all modern facilities you can think of; Wi-Fi, mini pantry, music channel, resto-bar lounges, ayurvedic spa facility, saloon with the personal attendants, this train is sure to make you feel part of the Royal Family. There are a few carriages uniquely designed keeping the architecture of the Rajasthan Palace & Forts The interior color scheme will further add to the royal feel of the train; hues of ruby, turquoise or pearl giving a proper royal look.
THE ITENIARY
Day 1 :
The tour commences from New Delhi on a Wednesday where guests are welcomed the traditional way with garlands, tikka, and a turban to top it off.
Day 2:
Holt at Jaipur to visit St. Albert Museum, Pink City Palace & UNESCO World Heritage Site of Jantar Mantar where believe it or not- you get to ride on an elephant and enter as real royalty! The Hill fort Palace of Amberin is the next stop, where you can enjoy a meal whilst understanding the culture and heritage of the place.
Day 3:
Dawn is reserved to visit the Ranthambore Tiger Reserve, one of the must see places in Rajasthan- (tip: make sure you sign up for the jungle safari!) Dusk is best spent at Chittorgarh Hill fort; which is sure to give you an insight into the heritage of the place.
Day 4 :
And you're in the city of lakes- Udaipur! Udaipur is known as one of the most romantic places in India- so if you are travelling with a loved one, make the most of it.
Day 5:
Jaisalmer is the next stop where you will begin your day in style by brunching at Jaisalmer Fort. Later in the day you'd visit the Patwon ki Haveli, one of the largest and most elaborate mansions Rajasthan has seen. Your day will also include an excursion to Sand Dunes in the Thar Desert, a Camel joy rid, a cultural program and royal dinner – we suggest you stay hydrated and keep munching on those energy bars!
Day 6 :
And you're in Jodhpur! Lots of palaces, forts & museums to visit. After 6 days of seeing forts you might find them similar and that's why do your homework on how each city is different from the other; and what you could do to distinguish your experiences at different cities.
Day 7:
The second last will begin with a visit to Bhatarpur Bird sanctuary where over 375 species of birds. Later on, the train takes you to the beautiful city of Agra where you can visit the famous Agra Fort and have lunch at ITC Mughal Hotel. Your trip would not be complete visiting the majestic Taj Mahal! The structure of beauty and eternal love- a must see when you're in Agra!
Day 8:
Ends with a royal brunch and rewind and reminisce the lovely week that went by!
With a whole package of 4 lakh, the tour takes you to visit every hidden treasure spot of Rajasthan giving you a complete tour of what the Royal's life looked like!
If you are into Indian history and heritage; and are up from some royal pampering- the Palace on Wheels is something to definitely consider!
If you love travelling in Train then do checkout the Mountain Railways of India, they for sure are mesmerising journeys as well.