A computer is one of the most fascinating wonders of science. The world is almost completely dependent on computers today. Right from waking up in the morning to going to bed at night, we are using computer applications- everyday, every moment of our lives. And isn't it interesting to know that all these amazing gadgets and machines run on applications that are written by the computer programmers? If you are also fascinated with technology and computers then a career in programming language is suitable for you.
The scope of this career is tremendous and increasing everyday. In fact, some experts predict that the world is going to be taken over by automation very soon. Because of the efficiency and sustainability of computers, automation is the choice of most industries. The application of computers is seen in so many industries including finance, law, research, medicine, arts, entertainment and media. So, it is no wonder that so many youngsters are choosing a career in programming.
Recommended Story – Graphic Designing as a career in India: Here's Everything You Need to Know.
What Is A Programming Language?
A language is a very important means of communication between people. Similarly, a language is required to communicate with the computer. Machines only understand binary language but humans don't. This is where programming languages steps in! These are the languages which are used to communicate with a computer. So it is simply a set of instructions given to a computer with which it performs actions.
There are several types of programming languages that have been created since the beginning of the history of computers. Nowadays different programming languages are used for different purposes like software development, game development, mobile software development, antivirus software development, etc. Some of the most popular programming languages are JavaScript, HTML, CSS, SQL, Java, Python, C++, PHP, Ruby, etc.
Is A Career In Programming Language A Good Choice?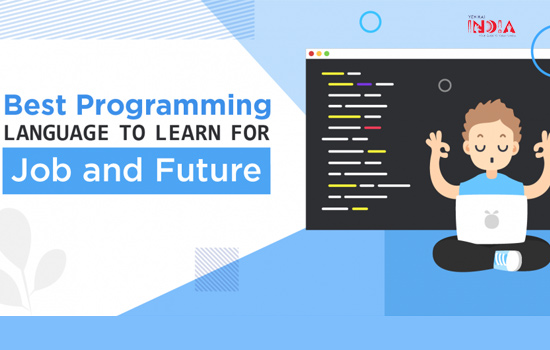 Career in programming languages is often one of the first choices for students of science. This is because this field provides employment opportunities if you are willing to work hard and are smart enough. The IT industry in India is expanding everyday. It contributes about 7.7 % to the GDP of India. Hence, it is one of the most popular options for people looking for a quick employment with a good package.
In recent years, the IT sector has seen a promising growth rate of 10% after the economic reforms of 1991 of companies and startups have been set up in India. The job opportunities in foreign are also very sumptuous. Though the job can be stressful at times, most people are rewarded with a good salary package at the end of the day which makes it worth the work! With proper training and skills, you can certainly make a good career in this field!
Job Profiles In Programming Language: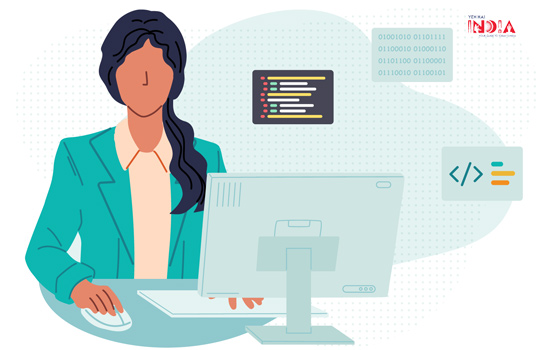 You may think that a computer science student can get only one type of job but it is not true as your job role will depend on your area of expertise. There are various job roles that you can apply for after a course in programming language such as:
Software Application Developer: They are one of the most common job profiles that B.Tech graduates apply for. Basically, you have to create software applications for different devices like phones, tablets and PCs. You need to be skilled in Java, JavaScript and Python.
Web Developer: If you love scrolling the internet and are fascinated with websites then web development may be the perfect job for you. You also have the opportunity to earn good money by freelancing in this field. To be a web developer, you need to be efficient in JavaScript, Java, HTML, CSS, bootstrap, etc.
Computer Systems Engineer: These are the people who maintain the different computer applications by solving several software problems and network issues that hinders the system. The common languages used for this purpose are Python, JavaScript and C++.
Database Administrator: Database is a large amount of data organised into the computer. The job of the database administrator is to keep the data secure and help in retrieving and analysing the information. Python, Java, Oracle, PL or SQL are the softwares that are used in this field.
Computer Systems Analyst: This is a career for those who have a good idea of not only computers but also businesses to strategize ways to merge both in a way that can be profitable for the company. The common languages include Java, JavaScript and Python.
Software Quality Assurance Engineer: They test the software for any defects and also help in creating manuals, etc. These are mostly beginner level jobs in programming. Java, Python and JavaScript are the languages that you need to comprehend for this job.
Computer Programmer: As the name suggests, this is one of the basic job positions after completing a course in computer programming where your job is to write programs and make sure they performed properly. Languages required include Java, JavaScript and Microsoft C#.
Network Systems Administrator: They mostly work with the company to provide security for the data by backing up the data and keeping a check on viruses. Python, Java and PERL are the main languages used.
Recommended Story – Career options in Digital Marketing in India
Skills Required For Career In Programming Language: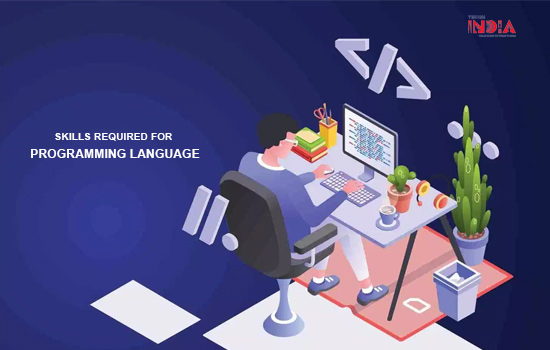 The skills required include both hard skills and soft skills. Hard skills are the ones which you will need for your job directly and are specific to your field, whereas, soft skills are non specific life skills which makes you a better person in general that also helps in the job.
A good grasp of some of the popular programming languages.
Analytical skills
Good communication skills
Good English
Good in basic mathematics
Spontaneity
Creativity
Courses In Computer Programming:
The various courses required to pursue a career in computer are as follows:
B.Sc in Computer Science
M.Sc in Computer Science
B.Tech in Computer Science and Engineering/ Information Technology
M.Tech in Computer Science and Engineering/ Information Technology
Certification courses are also available for these types of jobs but it is advised to go for a degree course to ensure better opportunities. You can also pursue a career as a data scientist for which you have to get an M.Tech. Some people might opt for a career in marketing and it is also a great option after completing for B.Tech. You can go for an MBA from a good institute to get attractive packages.
Top Institutes For Computer Science Courses: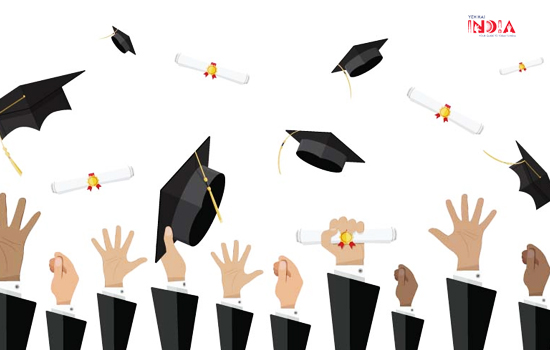 Indian Institute of Technology, Bombay
Manipal Institute of Technology, Manipal
College of Engineering, Pune
SRM Institute of Science and Technology, Chennai
Dayananda Sagar College of Engineering, Bangalore
Indian Institute of Space Science and Technology, Thiruvananthapuram
RV College of Engineering, Bangalore
Vellore Institute of Technology, Vellore
PSG College of Technology, Coimbatore
Indian Institute of Technology, Madras
Delhi Technological University, Delhi
Indian Institute of Technology, Delhi
Ramaiah Institute of Technology, Bangalore
Bharati Vidyapeeth Deemed University College of Engineering, Pune
Jadavpur University, Kolkata
Entrance Exams For Computer Science And Engineering: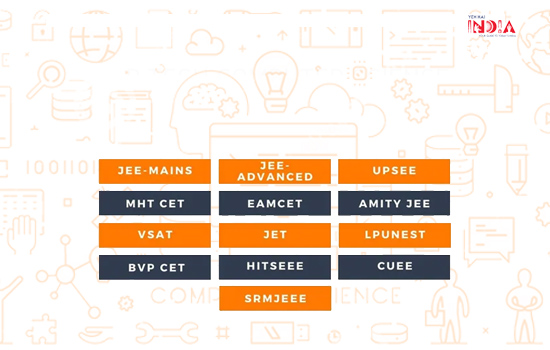 The main entrance exam which is very important for pursuing an engineering career is Joint Entrance Examination (JEE), which is held right after the board exams. admission to most government and private colleges are based on the marks of this exam. Apart from that, there are many exams for different colleges that you can appear for which includes:
BITSAT
VITEEE
EAMCET
MHCET
LPUNEST
COMEDK
MOUCET
These exams are specific for each university. Depending on your goals and also your educational budget, you have to select a college. Government colleges will have less fees as compared to private colleges. You can also opt for an education loan or you can choose some colleges which provide scholarships or have lower fees.
Career Prospects In Programming Language:
The IT industry is blooming and experiencing an exponential growth rate worldwide, so choosing a career in this field is never going to be a bad decision if you are ready to work hard and smart. No matter which college you come from, ultimately skills matter the most in this field, so you have to make sure that you keep up to date with your studies and gain all the marketable skills in order to achieve success. Jobs are available in both government and private sectors. You have the opportunity to choose various types of job roles depending on your taste and skills.
Top Companies Recruiting For Computer Programmers: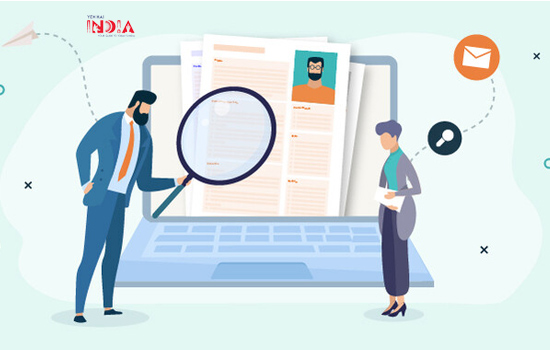 Hyperlink Infosystem
Tata Consultancy Services
HCL Technologies
Infosys
Wipro
Mphasis
Tech Mahindra
Capgemini India Pvt. Ltd.
Accenture
HData Systems
Average Salary Of Computer Programmer:
The average starting salary for a B.Tech graduate in Computer Science and Engineering or Information Technology is around 3-4 lakhs per annum. It increases with increase in experience. The salary for M.Tech graduates is higher. 
Also Read – Top Career Counselling Platforms in India for Students