Bored of celebrating your holiday season with the regular bottle of beer or whiskey?
It's time you tried some desi wine!
But first, take a sneak peek of the history of wine making in India.
Grapevines are believed to have been introduced to India from Persia at the start of the Indus Valley Civilisation in 5,000 BCE. By the 4th Century BCE the consumption of wine was widespread enough for Chanakya, in the court of Chandragupta Maurya, to write in great detail about the perils of taking too much "Madhu".
Fast forward to 1986, it was Sham Chougule of Indage who mastered wines from Vitis Vinifera grapes and launched "Marquise de Pompadour" sparkling wine, which was known to everyone as 'Champagne'. It was not until the launch of Sula in 1999 that Indian Winemaking gained momentum and popularity.
Back to 2021, December, the faint glows of fairy lights, whiffs of scented candles floating with he wind, snuggling in warm blankets and cherishing the warmer greetings, it's time for you to let loose and indulge in the holiday season with a glass of fine desi wine.
7 Wines To Buy This Holiday Season:
1. Sette2017 by Fratelli Vineyards – Red Wine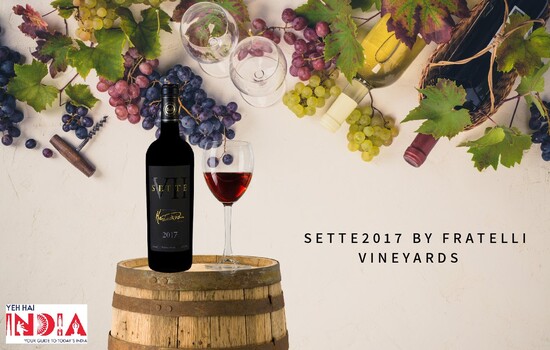 Winery: Akluj Vineyards
Manufactured: Pune, India
Grape Variety: Cabernet Sauvignon 50%, Sangiovese 30%, Cabernet Franc 20%
Alcohol Content: 13.5%
Suggested Food Pairing: Rogan Josh, HandiGosht, Veg Kolapuri, OssoBuco, Cassoulet, Hard Cheeses
Fratelli,the first Indo-Italian wine manufacturer, is known to serve premium wine that is not just rich in colour and texture, but also in flavor. Sette meaning "seven" in Italian, connotes the seven brothers that own and run Fratelli.
The Sette2017 is a blend of Sangiovese and Cabernet Sauvignon. Sangiovese with its distinct raspberry and violet essence and Cabernet Sauvignon with its blackcurrant notes give the Sette 2017 a fruity character.
With subtle hints of the vanilla flavor, this Sette is a perfect fit with most Indian delicacies. 
Also Read – Top Liquor (Alcohol) Brands That You Must Try in India in 2022!
2. La Reserve by Grover Zampa – Red Wine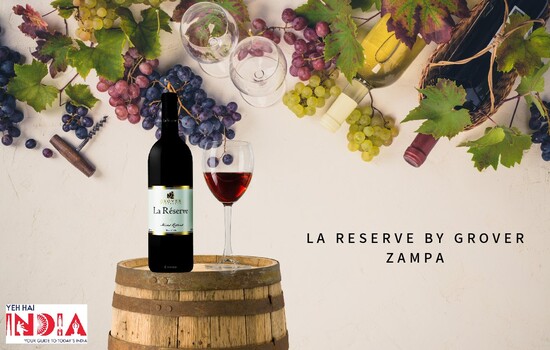 Winery: Grover Zampa Vineyards
Manufactured: Nandi Hills, Bangalore, India
Grape Variety: Cabernet Sauvignon-Shiraz
Alcohol Content: 13 %
To put it in the words of Mr.Steven Spurrier, renowned wine expert for "Decanter", the famous English wine magazine, La Réserve by Grover Zampa is the Best New World Wine.
The La Reserve is a well-balanced wine with complex layers that deliver a smoky aroma. If that's not tempting enough, La Réserve combines the flavours of chocolate, coffee beans and vanilla, making for a magical finish for your dinner dates.
3. KRSMA Sangiovese – Red Wine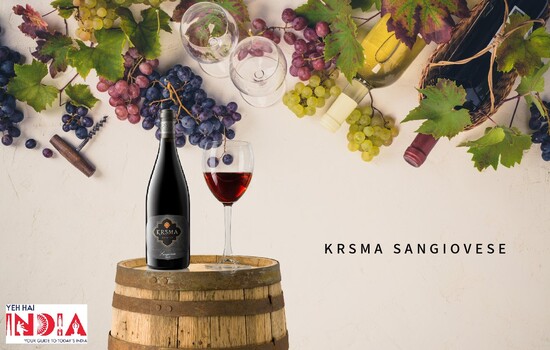 Winery: KRSMA Estate
Manufactured: Hampi Hills, India
Grape Variety: Sangiovese
Alcohol Content: 13.6%
Sangiovese, the first vintage from KRSMA Estates is their most notable and loved wine. This dark crimson wine, is packed with complex yet revealing layers of boysenberries, blueberries, dark plums, oregano, and smoke.
KRSMA'S Sangiovese has an enchanting whiff of cherries with a hint of clove on the palate. With an explicable finish, the Sangiovese leaves you craving for more.
4. Misfit by Myra Vineyards – Red Wine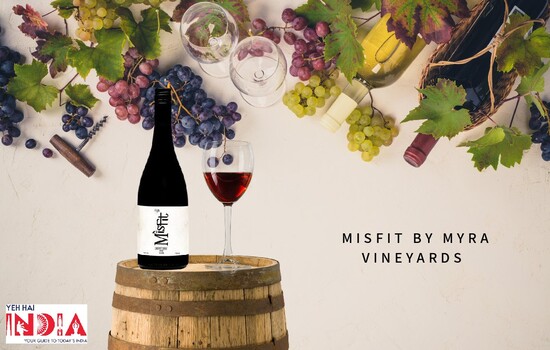 Winery: Myra Vineyards
Manufactured: Bangalore, India
Grape Variety: Cabernet Sauvignon
Alcohol Content: 13%
Suggested Food Pairing: Pizza, Pasta, Meats
Myra launched India's first unfiltered wine in 2016 with Myra Misfit, limited edition bottles. A blend of Classic Sauvignon and fruity Shiraz aged in French oak barrels for 18 months, Misfit's aroma is a fusion of a spicy, fruity taste.
It compliments and pairs perfectly with the most basic of meals. Next time you're home having a bland meal, just pop a bottle of Myra's Misfit and tell me if I'm wrong.
5. Sula Rasa Shiraz – Red Wine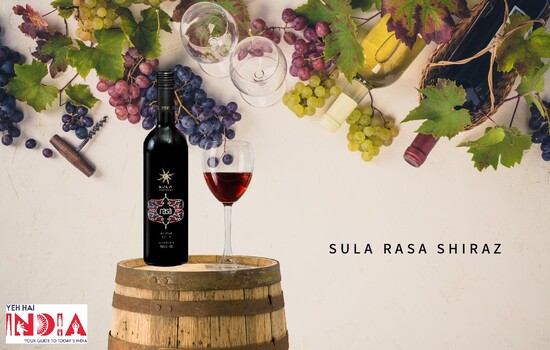 Winery: Sula Vineyards
Manufactured: Nashik Valley, India
Grape Variety: Shiraz
Alcohol Content: 13 %
Suggested Food Pairing: Barbeque dishes, Gouda and Parmesan Cheese, Chocolate
Sula Rasa Shiraz is produced from the estate vineyards of Sula, one of the leading wineries in India founded by Rajeev Samant in 1999.
Dubbed India's best reserve Rasa, this complex wine is stored in premium French oak barrels for 12 months and further matured in the bottle before release.
To fully indulge and enjoy the Sula Rasa Shiraz, it is recommended that the bottle be opened and poured out 30 minutes prior to being served slightly chilled. The Sula Rasa is the perfect choice for first timers and there's no going wrong with the classics.
6. Arros by York – Red Wine
Winery: York Vinery
Manufactured: Nashik Valley, India
Grape Variety: Shiraz & Cabernet Sauvignon
Alcohol Content: 14.3 %
Suggested Food Pairing: Grilled or Tandoori Meats, Steak & Cheeses
Arros is a limited production blend of York's best Shiraz (55%) and Cabernet Sauvignon (45%), aged for 13 months in American and French oak, and another 12 months in the bottle before release.
Arros is dominated by sweet vanilla notes of the American oak, along with the flavours of strawberries, raspberries, cherries and cinnamon. The wine opens up and softens in the glass, don't take our word for it, and try it yourself. 
Recommended Story – 8 Best Whiskey Brands To Try: Price And Other Details
7. H Block Chardonnay by York Winery – White Wine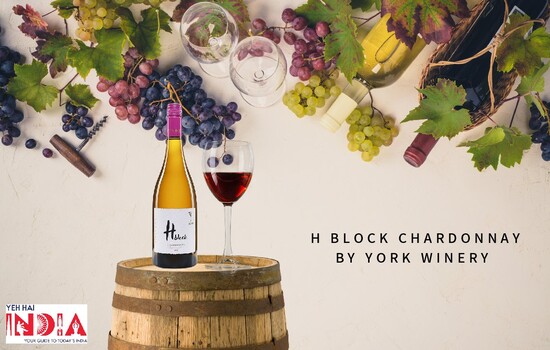 Winery: York Vinery
Manufactured: Nashik Valley, India
Grape Variety: Chardonnay
Alcohol Content: 12 %
Suggested Food Pairing: Shellfish, subtly flavored poultry, light salads, risotto
If you're done tasting the best of the Red Wines, here's a white wine that won't disappoint you. The H Block Chardonnay emanates a one of a kind citrusy and lemony aroma.
The wine is initially put through barrel fermentation which is then followed by ageing in French oak for 6 months. This adds complexity and richness in taste and fragrance supplementing the naturally buttery texture of Chardonnay grapes.
Do comment your favorites! Tell us about some other Desi Wines you enjoy.
Also Read – Famous alcoholic drinks of tribals in India ( Popularly known as "Desi Daru")