Face primer is the most talked about beauty essential that instantly lights up your face and adds a luminous finish to any makeup look.
Want to look like a million bucks sans any spots, wrinkles or unevenness playing spoilsport? Grab a face primer and achieve a glossy, youthful and glowing skin.
A face primer is a miracle potion that sits over your skin to hide imperfections, scars and wrinkles. It acts like a sheer veil of silk that embraces your skin and leaves it looking plumped up, moisturized and smooth.
It not only makes makeup last longer but also works to achieve a naturally radiant look minus any cakeyness. An expert skin corrector, it fills up fine lines and pores to even out your complexion and prevents product build up in skin pores.
A winning trait of this no-fuss skin essential is its feather light texture and satin smooth finish that lets you flaunt your skin with pride even when you don't want to put on make-up.
Its quick absorbing nature regards it as an excellent summer skin saviour that forms a barrier between the skin and external irritants, yet keeps it nourished and hydrated.
Natural Face Primers Vs Silicon based Primers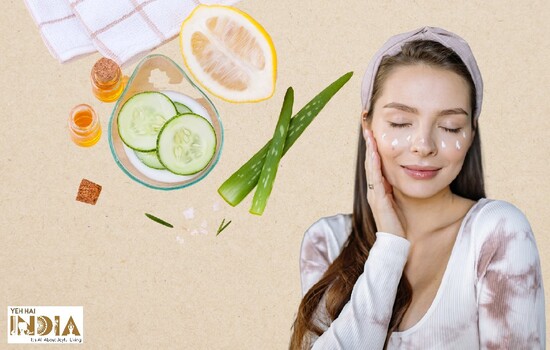 The flood of skin products in stores does make you want to examine the pros and cons of using natural and synthetic formulations. Most make up primers or illuminators you'll find are silicone based.
Though, they are proven to possesses expert camouflaging and skin correcting abilities, their extended use may lead to breakouts and skin sagging.
Silicon is a synthetic derivative that deflects light rays from crevices and wrinkles to create a perception of flawlessness. It's an impermeable fluid that fails to be absorbed into the skin to revamp the cellular structure of skin.
On first glance, it might appear to brighten up your skin within seconds, but it actually does quite the opposite to the health of your skin.
It seals skin pores which affects breathability of skin and results in premature aging and skin sagging. Any additional product such as a concealer, blush, foundation or compact applied on skin primed with silicone based primer hampers skin's own rejuvenation process, damages collagen and makes skin look aged.
For prolonged youth, use of natural and organic face primers or serums is the best course. There are a bunch of natural face primers and face oils that work just like a primer sans the hazards that come from primers containing silicon.
All you need to do is read the product details and ingredient list to know whether it's meant for your specific skin type, is non-comedogenic and can be worn underneath make up.
Though it might take a bit of effort in finding the purest product, we'll help you unearth formulations that can easily replace those attractive yet damaging skin priming fluids loaded with silicon.
Here is a list of some natural silicon free facial primers, illuminators, elixirs, serums and hydrators you can put under your makeup to get a dazzling glow on your face.
Recommended Story – 10 DIY Organic Face Packs To Say Goodbye To Suntan
10 Natural Silicon Free Face Primers To Buy In India
1. RAS Luxury Oils 24K Radiance Face Gel Serum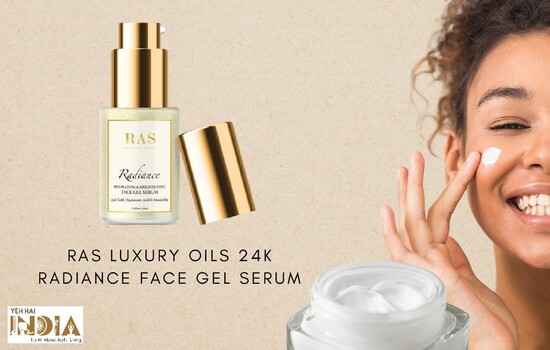 This miracle gel formulation can single handedly upturn the beauty of your face while establishing a healthy barrier between make up and the outer layer of skin. It's a powerful all-natural blend infused with the goodness of hyaluronic acid, 24K gold, Marshmallow flower extract and Manjishtha.
Applying a gentle face toner prior to this serum helps maintain smoothness for extended time durations and also provides a firm hold to foundation and concealer.
Just a drop or two of this serum refreshes and revitalizes your face and adds an irresistible glow to it. It's an all-in-one skin product that addresses nearly every type of skin concern minus any greasiness.
Price: Rs. 2,243
2. Lotus Botanicals Vitamin C Skin Brightening Serum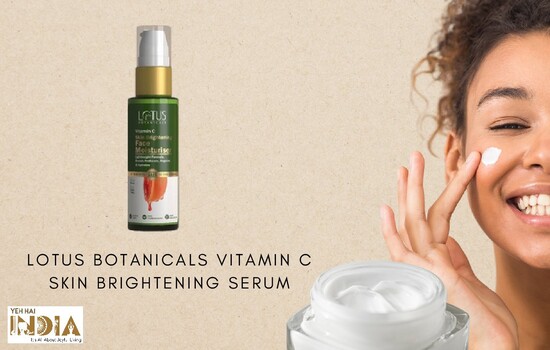 This serum from Lotus Botanicals is an expert skin saviour for dull, lacklustre skin. Loaded with 300X vitamin C, it immediately gets into your skin to restore elasticity and lustre and leaves it glowing and radiant.
It adheres well to make up products and offsets issues like skin ageing, pore clogging, acne and moisture evaporation brought on as a result of changing weather conditions. It's a weightless formula that gets easily absorbed into the skin to offer a burst of moisture.
This serum also contains Niacinamide, an ingredient known for its potent skin regenerative abilities. It works on fading blemishes, scars and spots to give you a naturally radiant and clear complexion.
Price: Rs. 559
3. St. Botanica Bulgarian Rose Otto Glow Mattifying Moisturizer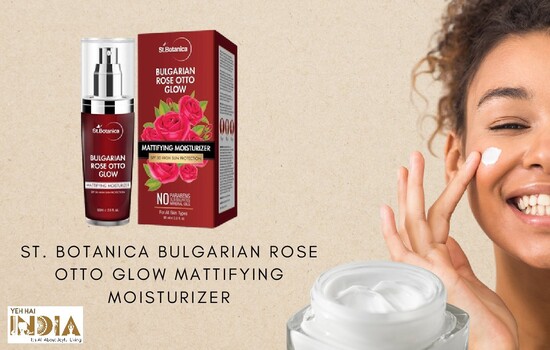 This serum is a perfect fix for skin that's in need of urgent hydration and repair. A blend of skin beautifying agents namely, jojoba oil, Bulgarian Rose Otto essential oil, rosehip oil in this hydrator help skin retain moisture for longer and allows it to carry a rose like glow on the face sans any buildup of oils.
Aloe vera and neem infuse moisture to dehydrated skin. Oats work to combat inflammation and irritation on skin. Contrary to other serums that add a glossy finish to face, this serum has a mattifying effect, yet maintains skin hydration for greater lengths of time.
When worn under makeup, it allows a hassle free application and prevents spills that might happen on a humid day.
Price: Rs. 620
4. Indulgeo Essentials Quench 100% Sugarcane Squalene Oil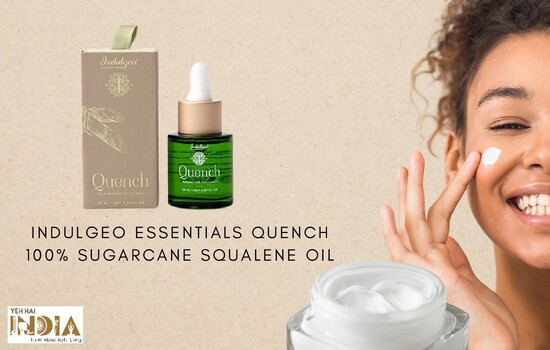 This beauty oil from Indulgeo Essentials is the newest skin ingredient that boosts glow and locks age. Derived from sugarcane, this squalane oil is 100% vegan and cruelty free, unlike the 'squalene oil' obtained from sharks.
It possesses a structure similar to skin's own natural oils and works on the cellular level to renew and hydrate skin from within. This quality makes it suitable for all skin types as there's zero chances of allergies or breakouts, when applied on a daily basis.
To make it work as a makeup primer, put a few drops on freshly cleansed face and let it absorb into the skin. Being lightweight and grease-free, the consistency of this oil is perfect to allow smooth application of makeup and let it stay put for hours at a stretch.
Price: Rs. 743
5. Just Herbs Gotukola Beauty Elixir Rejuvenating Facial Serum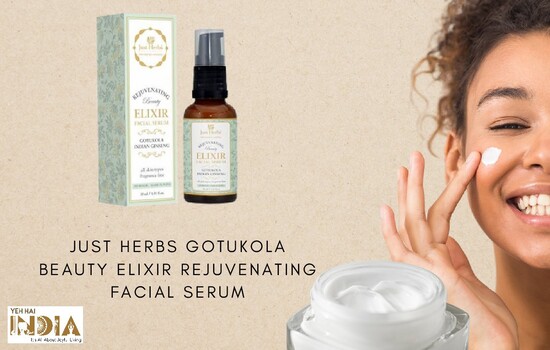 This facial elixir qualifies as a skin primer mainly due to its gliding texture and consistency. It's one of those rare skin products that come with the power of traditional Indian herbs along with modern ingredients with proven efficacy to nourish the skin from within.
This formulation consists of Indian Senna, known for its cell regeneration ability. It works similar to hyaluronic acid. Gotukola extract works to rebuild damaged tissues and collagen to restore suppleness. Rosehip oil and Moringa seeds extract add lustre to skin and maintain proper hydration levels.
Before putting this serum on your face, cleanse your skin properly to eliminate any chances of pore clogging that might result especially if you wish to top it with a layer of makeup.
Price: Rs. 1195
6. Bella Vita Organic Kumkumadi Beauty Oil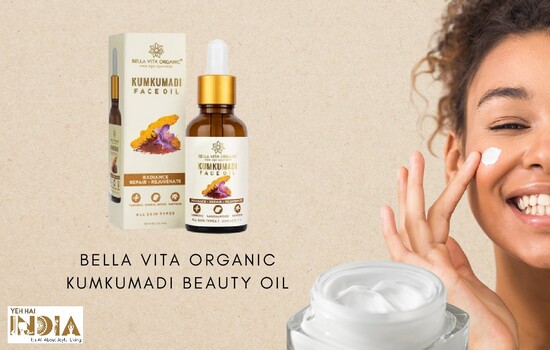 This skin rejuvenating face glow oil has terrific effects on skin prone to drying and ageing. Dabbing a few drops every night helps rid your face of blemishes, unevenness and pigmentation marks. It acts as an emollient for skin and helps lock in moisture for lasting hydration.
For day use, this Kumkumadi oil is light enough to go under the foundation as a primer. Just a drop of this oil is enough for your face. Always remember to use this oil on skin that's been cleansed previously. For even distribution, use your fingertips to apply it over your entire face. Once it absorbs into the skin, you can put makeup on for that much awaited dewy look.
A potent blend of skin actives like Sandalwood, Turmeric and Saffron, it works to treat acne, inflammation and spots and scars. The result is clearer, brighter and younger looking skin.
Price: Rs. 499
Recommended Story – 20 Best Face Serums Available In India
7. Biotique Advanced 24K Gold Concentrate Treatment Oil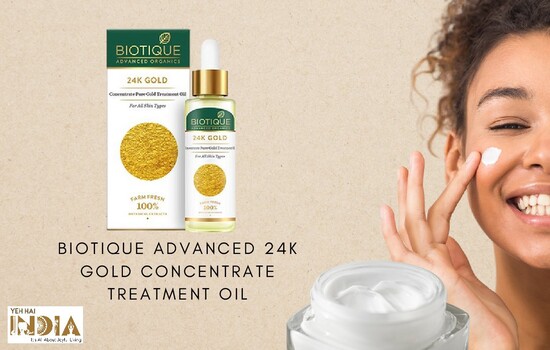 This oil infused with the goodness of 24K Gold is a quick fix for skin that's overly dry and does not respond to ordinary face serums. It not only makes your skin smooth and glowy but works to rid it of issues like acne, scars and sagginess.
As a make up base, you have to figure out the right quantity for your particular skin type as too much might dissolve the make up contents and too little may make your skin feel dry.
In the end, its all about the benefits you get from repeated usage of this oil. Less than a drop may work best in forming the right level of barrier over your skin.
Price: Rs. 560
8. Arata Face Serum Gel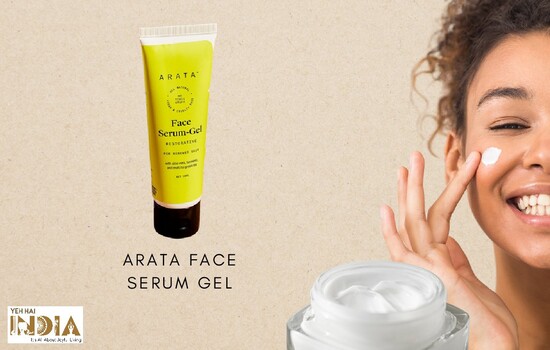 This serum brings forward a refreshing twist with its exotic ingredient list. Made from a blend of Matcha green tea, Aloe Vera and Turmeric extract, it proves to be the best remedy for skin that has suffered the effects of pollution. It provides firmness and agility to dull, dehydrated skin.
Liquorice extract helps detoxify skin and prevents buildup of extra sebum, yet keeps your face moisturised.
For hassle free makeup application, massage a few drops of this serum onto cleansed face and wait until your skin completely absorbs all the product. Follow up with a few strokes of concealer and foundation to give your face a dewy finish.
Price: Rs. 269
9. Earth Rhythm Glow Drops Face Brightening Serum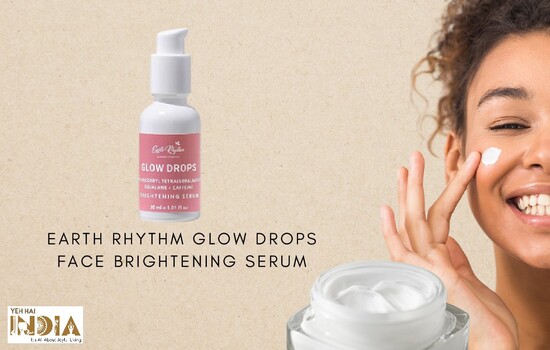 This glow serum is a great skin protector that works to keep infections and irritants at bay. A fine blend of skin firming and glow boosting agents like Vitamin C, caffeine, rosehip oil and squalane, this serum synergically maintains a healthy barrier between skin and makeup to prevent product buildup in pores.
It's a weightless formula that offers sheer coverage to skin and lets it breathe. With repeated use, your skin becomes clearer and firmer.
If you plan to put it under make up, make sure your face is thoroughly cleansed. Apply a few drops of the serum and massage until fully absorbed. Follow up with a sheer foundation or concealer to even out the complexion.
Price: Rs. 975
10. Natural Vibes Tea Tree Anti Acne Skin Repair Serum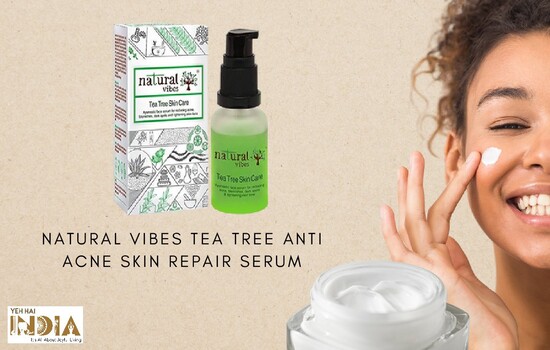 This serum packs in the goodness of Tea Tree oil to balance ph levels in acne prone skin and maintains optimum levels of hydration your skin needs on a daily basis. Aloe vera and Neem extract show brilliant results when it comes to addressing issues like pigmentation, large pores, lines and wrinkles.
Repeated use of this serum clarifies your skin and facilitates a healthy barrier against external irritants and moisture loss. It immediately plumps up your skin and works to improve the rate of collagen release for firmer skin.
All these qualities make it an excellent product to be put under makeup. It's particularly beneficial for oily and acne prone skin that most people find tough to deal with while putting on make up.
Price: Rs. 599
11. Wow Skin Science Green Tea Face Moisturizer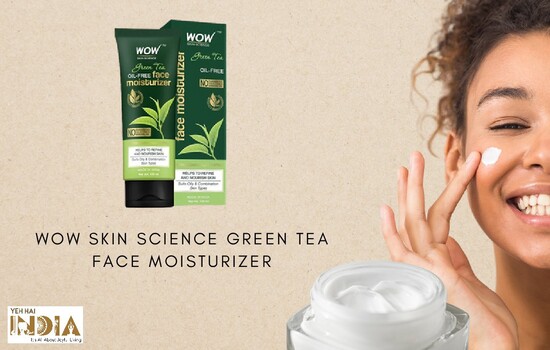 This face moisturizer is a multi use skin product that not only revives dull aged skin but also works to protect it from pollution and other residues that tend to collect on the surface of skin.
Enriched with Green tea extract, it offers a burst of anti-oxidants to repair and renew aging skin. Applying this moisture serum continuously overturns its ailing state and gives you a naturally radiant and supple skin.
Beetroot extract promotes skin elasticity and helps nurture skin cells to minimise the effects of oxidative damage.Shea butter repairs and hydrates damaged tissues and forms a protective coating on the surface of skin.
To use it as a primer, apply dots of this moisturiser on a clean face and massage it for a few seconds. Follow up with a single cost of foundation and concealer to even out your skin tone.
Price: Rs. 349
These natural serums, elixirs and moisturisers are great for skin suffering from moisture depletion and poor nutrition. For oily, acne prone skin, a serum with mattifying effect works best to soak up any excess oil collecting on the surface of skin and keep the moisture intact.
It's time to move away from high definition studio primers and embrace silicone free gels and serums to achieve a natural luminous glow on your face.
Also Read – Product Review: Bella Vita Organic's Exfoliate Face and Body Scrub